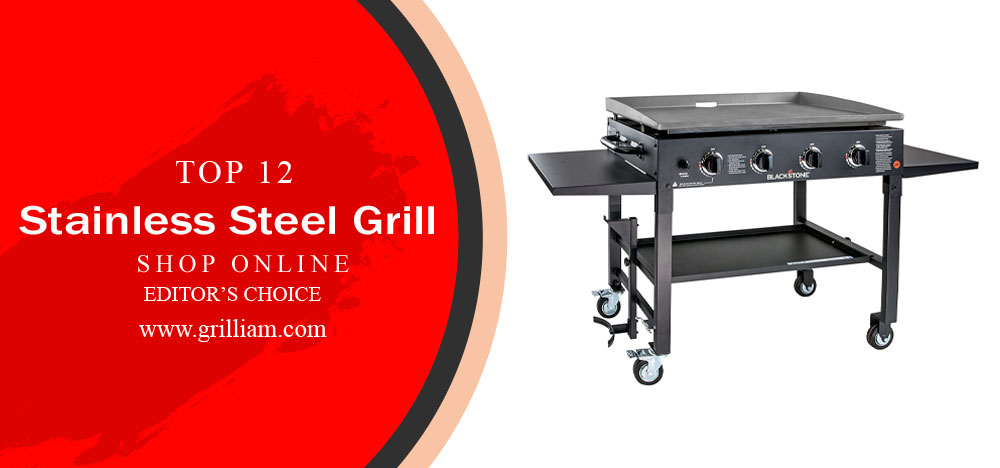 Stainless steel grills have always been some of the most popular and convenient home barbecue products. When it comes to grilling, you need to make sure you are buying a quality product for years to come. In this aspect, stainless steel grills are practical, affordable, and durable. But since there are hundreds of different options available on the market today, and not all of them are good, we've put together a quick guide for you with reviews on the best stainless steel grills.
Top 12 Best Stainless Steel Grills – Detailed Reviews
| Image | Product | Brand | Link |
| --- | --- | --- | --- |
| | Weber Spirit S-315 Liquid Propane Gas Grill, Stainless Steel | Weber | |
| | Char-Broil 463377319 Performance 4-Burner Cart Style Liquid Propane Gas Grill, Stainless Steel | Char-Broil | |
| | Broil King 956317 Regal S 420 Pro 4 Burner Natural Gas Grill - Stainless Steel | Broil King | |
| | Dyna-Glo DGN486SNC-D Heavy Duty Stainless charcoal grill, Large | Dyna-Glo | |
| | Z GRILLS ZPG-7002F2 8-in-1 Wood Pellet Stainless Steel Grill Smoker for Outdoor BBQ Cooking with Digital Temperature Control and Rain Cover, 694 Sq In | Z GRILLS | |
| | Blackstone 36 Inch Gas Griddle Cooking Station 4 Burner Flat Top Gas Grill Propane Fuelled Restaurant Grade Professional 36" Outdoor Griddle Station with Side Shelf (1554) | Blackstone | |
| | Monument Grills 17842 Upgrade 4-Burner Stainless Steel Propane Gas Grill with Rotisserie Kit | Monument Grills | |
| | Royal Gourmet GA5401T 5-Burner BBQ Liquid Propane Gas Grill with Sear Burner and Side Burner, Stainless Steel 64,000 BTU Patio Garden Picnic Backyard Barbecue Grill, Silver | Royal Gourmet | |
| | Weber Genesis II S-435 4-Burner Natural Gas Grill, Stainless Steel | Weber | |
| | | | |
| | Char-Broil 463371719 Performance TRU-Infrared 3-Burner Cabinet Style Gas Grill, Stainless Steel | Char-Broil | |
| | Dyna-Glo DGN486DNC-D Heavy Duty Charcoal Grill, Large, Black | Dyna-Glo | |
We have analyzed and tested many models. We have taken into account almost all the characteristics that are important to you, including size, number of burners, and power. Let's take a look at the best models we have prepared for you!
1# Weber Stainless Steel Spirit S-315 LP Natural Gas Grill – Editor's Choice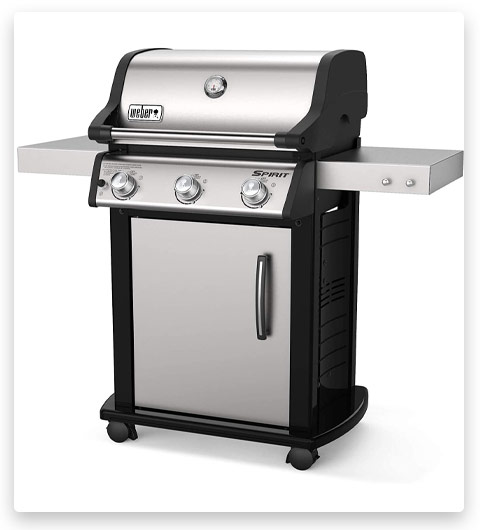 Our review reveals one of the best gas grills available on the market – Weber Spirit S-315. Spirit 315 is a grill with three burners, a standard rectangular shape. In addition to the three main cooking zones, the grill is equipped with a side burner for stewing food. In total, there are 4 burners in the system.
The grill provides uniform and high-quality heating of food thanks to the porcelain-coated cast-iron grates. The same finish is used on the grill body to avoid rust and corrosion on doors, cabinet, etc. Thanks to this, the grill retains its excellent appearance for a long time. The coolest thing about this grill is the aroma tiles, which catch the drips and return them to the food. We also noted that this grill has almost no flash problems and has an excellent fat management system.
2# Char-Broil 4-Burner Cart LP Gas Grill – Best Budget Pick
The next model in the review is this excellent Char-Broil grill for under $ 500. It is designed in much the same way as the Weber model and is equipped with 4 burners excluding the side burner. But on top of that, this model has a side table and a closed storage section under the grill grate. This grill is very easy to clean thanks to the porcelain-enameled cast-iron grates and the removable grease tray. Each component of the grill is made of stainless steel, so it is completely resistant to corrosion and rust. The best thing about this grill is fast heating and precise control of the burners. And the side burner is great for pots, stews, sauces, or side dishes.
3# Broil-King Regal Natural Gas S420 4-Burner Stainless Steel Grill – Best Design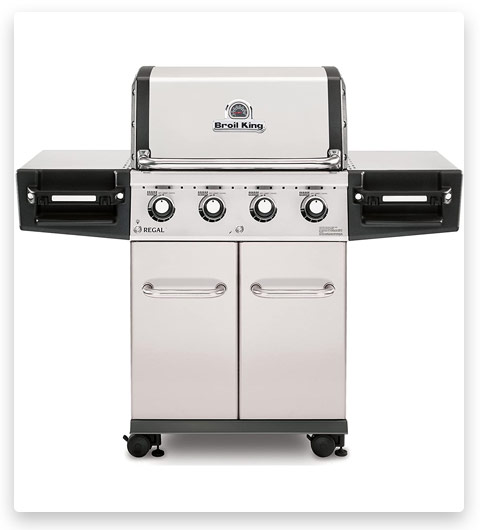 In third place is the time-tested model from the popular Broil King company. It is a beast with 4 gas burners with a total capacity of 65,000 BTU. Also, this grill is equipped with a side burner on the left, two side tables, and closed storage under the grill grate. A very useful and high-quality function in this grill is the LED-backlit knob. This makes cooking much easier in the evening and at night, and also makes this grill very stylish and aesthetically pleasing. Overall, the design and internal components of the grill are very well thought out. Users love this grill for its lighting and huge cooking area. You can cook a full meal on this grill in one go.
4# Dyna-Glo DGN 486NC-D Stainless Steel Charcoal Grill – Best Charcoal Pick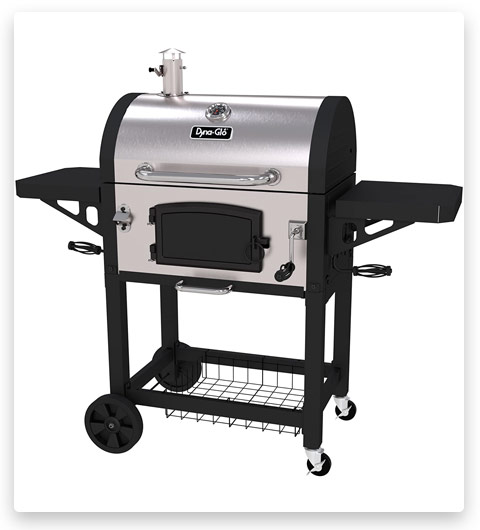 One of the biggest complaints about charcoal grills is the difficulty in lighting them up. And this is true for most charcoal grills, but not for Dyna-Glo DGN486SNC-D. This grill is equipped with an electronic ignition system which is very easy to use. You only need to unload the coal and press the button. This speeds up the cooking time considerably. Dyna-Glo also has one of the best cooking grates. They are made of enameled cast iron and are extremely durable and corrosion-resistant. These grates will serve you for a very long time. The grill design is very lightweight and easy to move. Most of this is achieved thanks to the large wheels on the trolley. Unlike many two-wheeled models, this grill has two large and two small wheels.
5# Z Grills 8 in 1 Wood Pellet Stainless Steel Grill – Best Barrel-Style Grill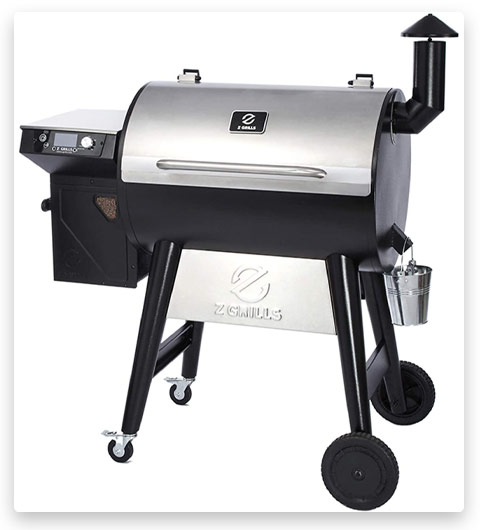 The barrel models are very handy and are quite good at cooking food. The model from Z Grills was no exception. This is not only one of the most traditional types of grill, but it is also extremely effective. Although the Barrel Grill does not have as large a cooking zone as rectangular grills, it allows you to smoke your food and add wood pellets for a special flavor.
This model has a sturdy, thick stainless steel body. Although the structure is quite heavy, the grill is very easy to move thanks to the convenient wheels. The handle is made of heat-resistant material so you don't have to worry about getting burned. The only downside to this grill is the grates, which are difficult to insert and remove for cleaning. But this will only be a problem when you decide to honor the grill. They will not cause problems with everyday cooking.
6# Blackstone 1554 4 Burner Flat Stainless Steel Gas Grill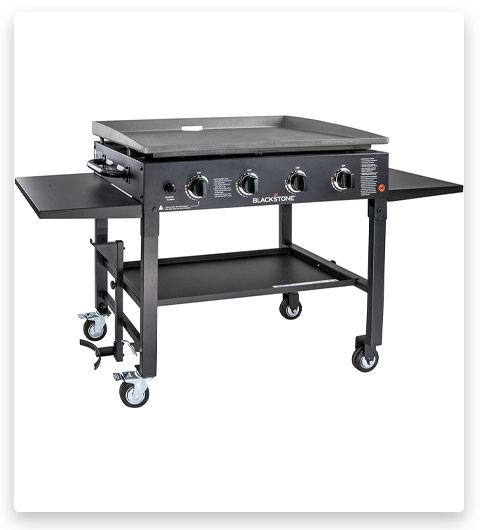 This model is one of the best stainless steel flat grills on the market. The Blackstone Propane Grill with 4 Burners is a great companion for camping or home barbecues. The grill has 4 wheels for easy movement, is quite lightweight, and comes with a tray for storing tools. Besides, it even features side tables on both sides and a handle for easier movement.
7# Monument Grills 4-Burner Stainless Steel Grill LP
The Monument Grills offers many useful features at an affordable price. This is one of the best grills in terms of price and quality. The grill looks reliable, is made of stainless steel, and will withstand years of heavy use. The grill has a very large cooking surface, side tables, and side burner. This allows you to cook, toast, and boil food at the same time. Users say that what they liked the most about this grill is the size, which allows it to entertain a large group of people and the ease and speed of cleaning the grill.
8# Royal Gourmet 5-Burner BBQ Stainless Steel Propane Grill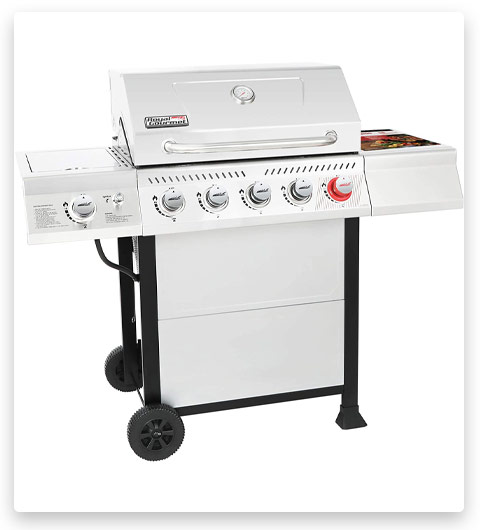 The Royal Gourmet is one of the best 5-burner grills with adjustable heating and a large cooking surface. Heavy-duty components are easy to remove and clean quickly. The model has a closet with plenty of storage space for everything you need. And the two wheels allow you to quickly move wherever you want. We are impressed with how accurate the burners this grill has and how much cooking space it has inside.
9# Weber Genesis II S-435 Stainless Steel 4-Burner Gas Grill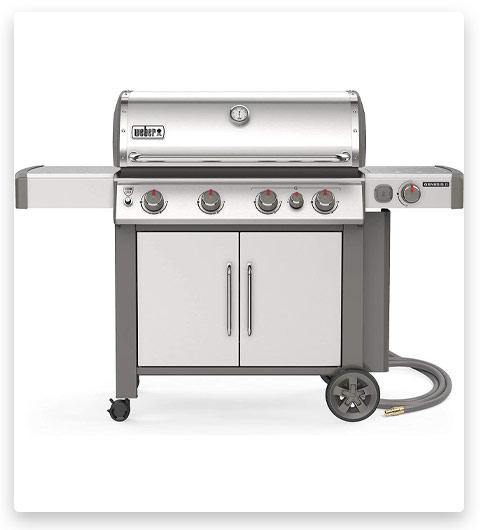 Weber's Genesis II series is one of the most popular and quality series of grills from Weber. This model uses 4 burners to evenly heat a wide cooking zone. And the side burner and sear station expand your barbecue options. It is very convenient to monitor the grill using a mobile application that tracks all indicators. You can safely take care of cooking other food while Weber is at work.
10# QSCFT Outdoor Stainless Steel Charcoal Grill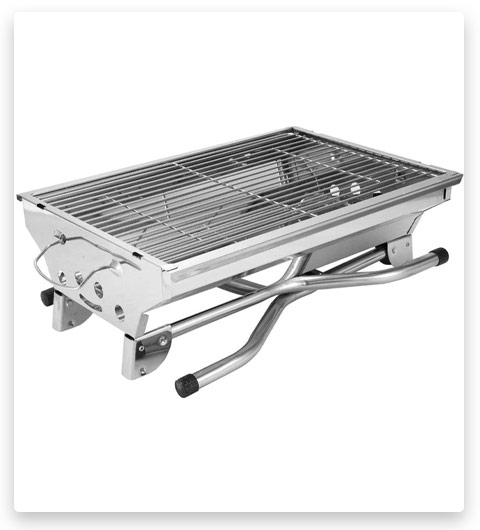 The smallest charcoal grill on our list. If you are a camping enthusiast or want to take your grill with you in your car, then this model is what you need. This model has an excellent stainless steel foldable design, quick-release grates, and a cooking surface large enough to feed 3-8 people with great food.
11# Char-Broil 463371719 TRU-Infrared 3-Burner Gas Grill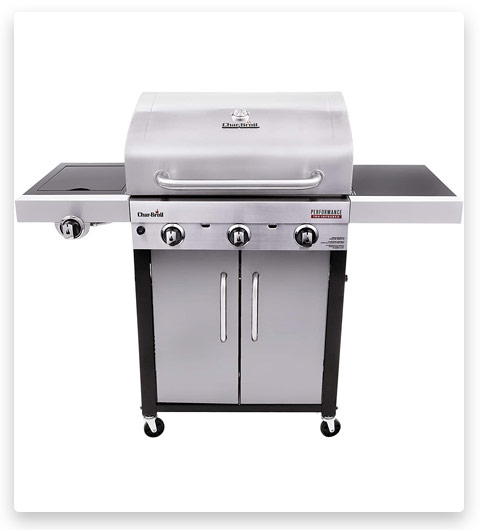 Another standard size stainless steel gas grill from Char-Broil. This is a sturdy grill with 3 main burners. Char-Broil also has a side burner on the right (4 burners in total in the entire grill), which is common with larger grills. This model also has a large 450 square inches cooking surface, allowing you to cook for a large number of people. The new model – Char-Broil Performance Black And Stainless 5-Burner Liquid Propane Gas Grill With 1 Side Burner costs a little more and is currently one of the most popular on the market among buyers.
12# Dyna-Glo Charcoal Stainless Steel Black Grill
Another great grill from Dyna-Glo in black stainless steel. This model has an electronic ignition function, convenient and quick cleaning, and a high-quality and reliable design.
FAQ – Best Stainless Steel Grill
In this section, we have collected your answers to the most popular questions about stainless steel grills, so that you are sure of what you are going to buy.
Summing Up
The best stainless steel grill always has quality construction, a large cooking surface, and is easy to clean. Additional features like side burners, side tables, storage cabinets, and electronic ignition will help you cook faster and reduce your worries. Aside from incredible performance, all of the grills on our list have a premium look that will enhance your outdoor experience. Whichever grill you choose, you can't go wrong, we have provided models for different budgets and griller needs!
The best gas model for us was Weber Stainless Steel Spirit S-315. This is a great grill with 4 burners, durable construction, a large cooking area, and many additional features.
The best stainless steel charcoal grill is the Dyna-Glo DGN 486NC-D. It is a quality model with electronic ignition function, lightweight and portable.
We hope our article was helpful to you. Have a nice grilling!
Tags: #best stainless steel grill / #best grill brush for stainless steel grates / #best stainless gas grill / #stainless steel grill / #best way to clean stainless steel grill / #stainless steel grill grates / #stainless steel charcoal grill