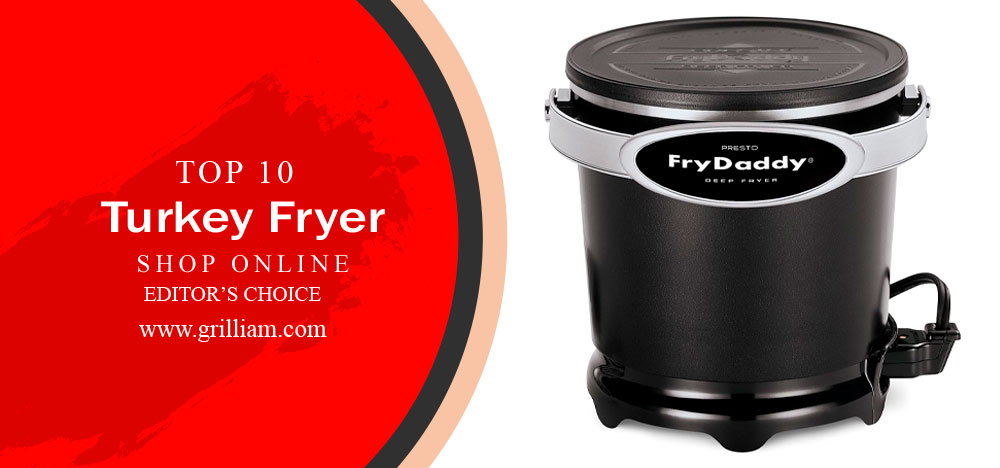 The 10 Best Indoor & Outdoor Turkey Fryer Reviews

Tasty and high-quality cooked turkey – it's not just cooking a burger or steak on the grill. This is a much more difficult process that requires much more strength, skill, and time. There are many ways to cook a turkey. But the easiest and highest quality is to use the turkey fryer. So in this article, I'll move away a bit from the "classic grill topic" and we'll talk about which turkey fryer is best to choose.

| Image | Product | Brand | Link |
| --- | --- | --- | --- |
| | Masterbuilt MB23010618 Fryer, XL Stainless Steel | Masterbuilt | |
| | Char-Broil Big Easy Oil-less Liquid Propane Turkey Fryer | Char-Broil | |
| | King Kooker 1265BF3 Portable Propane Outdoor Deep Frying/Boiling Package with 2 Aluminum Pots | King Kooker | |
| | FRYER FRY DADDY | Presto | |
| | Cuisinart CDF-500 Extra-Large Rotisserie Deep Fryer, Silver | Cuisinart | |
| | | | |
| | Bayou Classic 800-144 44 quart Boil and Brew, Stainless | Bayou Classic | |
| | T-fal Deep Fryer with Basket, Stainless Steel, Easy to Clean Deep Fryer, Oil Filtration, 2.6-Pound, Silver, Model FR8000 | T-fal | |
| | Chard TFP30A Aluminum Turkey Fryer Pack, 30 Quart | Chard | |
| | Oversized Turkey Deep Fryer Kit 42 Quart Aluminum Grand Gobbler for 25+ LBS Turkeys by Bayou Classic | | |
| | Enterprises Turkey Deep Fryer Oversized 44 Quart Stainless Steel Big Bird Kit by Bayou Classic for Big 25 lbs Huge Turkeys Complete KIT TOP of The LINE | Enterprises | |
| | King Kooker SS1267SBSP Stainless Steel Cooker, Pot and Basket System | King Kooker | |
| | Enterprises Oversized Big Turkey Fryer Complete Kit 44 Quart Stainless Stockpot w/Steel Burner Turkeys 25+ Pounds or Diameter of 13.5" | Enterprises | |
Types of Turkey Fryers
Turkey fryers are slightly different and have their own characteristics. So, I think that it'll be useful to distinguish them into several types so that you can immediately determine which type you need and for what. In appearance, they are somewhat similar to standard deep fryers and are the safest because they don't use gas. Often these turkey fryers come with a built-in thermometer that helps monitor the temperature and an automatic shut-off function that saves the oil from overheating.

Propane or Outdoor turkey fryer. It works the same as a gas grill. The turkey fryer is connected to the propane bottle with a large hose, after which the burner heats the large oil boiler. When the oil reaches the needed temperature, you can use it for frying. These fryers are cheaper but dangerous. Propane turkey fryers are not recommended for use indoors because they can harm people if they are handled inappropriately.

Oil-less turkey fryer. It also works on propane but doesn't require oil, so it takes a little longer to cook. The principle is the same as in air-frying: a turkey fryer uses the circulating hot air to cook a juicy and crispy turkey. Although it's necessary to wipe the turkey with a small amount of oil before frying, it's still considered the safest way because it uses the least amount of oil. Like propane turkey fryers, oil-less turkey fryers can only be used outdoors.
Reviews of the Best Turkey Fryer

1# Bayou Classic 32 Quart Aluminum – Best Turkey Fryer Overall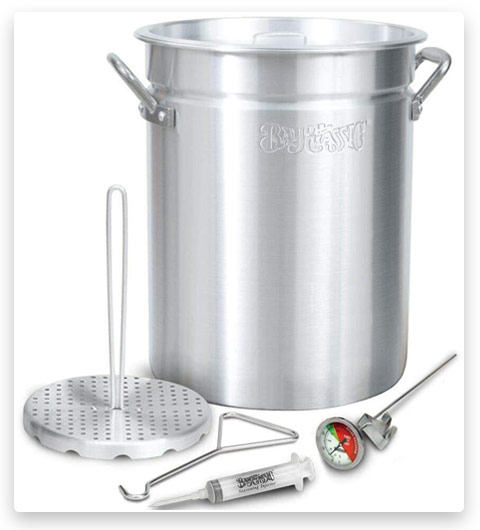 No need to spend money on an additional source of heat if you already have a burner for heating turkey oil. And this is the most common problem that users write to me. It's hard for people to decide which turkey tank is better to take. This aluminum model includes a 32-quart tank that's easy to clean and very durable. Moreover, this turkey fryer is universal. You can use it as a large pot for making soup or tomato sauce for cooking vegetables etc.
The top lid is ventilated and the perforated basket is suitable for steaming. Tank handles are strong enough to move it even when the tank is full. Speaking of accessories, I note that the turkey fryer comes with a built-in thermometer that allows you to monitor the temperature of the oil inside. As well as a seasoning 1-oz. injector, hook, and bird tray. At the bottom of the tank, there is a 1.75-inch recess for steaming. The $50 price tag is very attractive, but you can pay another $40 for a set of stainless steel and a set of skewers. Or you can take a complete kit including a burner, tank, and accessories.
2# Masterbuilt Butterball XL Electric – Best Indoor Turkey Fryer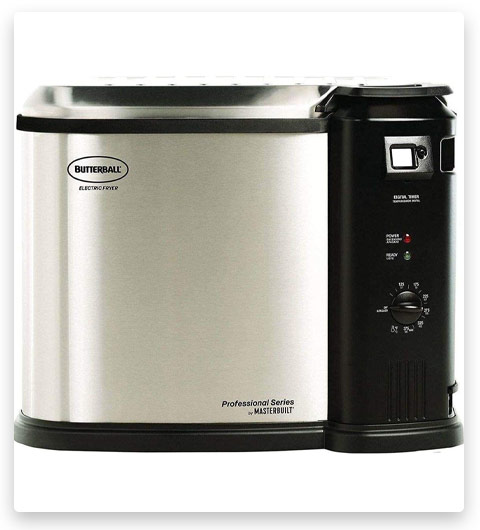 Many people don't like to cook outdoors, and due to weather conditions, this is not always possible. The Masterbuilt turkey fryer allows you to cook a turkey without leaving your home. Also, it's much safer than propane turkey fryers. This is, without exaggeration, a huge stainless steel turkey fryer capable of holding a turkey up to 20 pounds or up to 5 pounds of chicken wings. The model uses 33% less oil, so you can be sure to eat meat that's not completely saturated with oil.
After the cooking process is complete, you can easily pull out the turkey and drain the remaining oil. The removable parts of the turkey fryer can be easily washed by hand or in the dishwasher. Thanks to this turkey fryer, you avoid dangerous fire and propane tanks. Using the controller, you can adjust the temperature to 375 F degrees. The indicator will tell you when the oil reaches the needed temperature. Moreover, you can even set a timer that reminds you to check the turkey. By the way, this is the same universal turkey fryer as the previous one and you can use it not only for a turkey but also for boiling and steaming. 
3# Char-Broil Big Easy Propane – Best Oil-less Turkey Fryer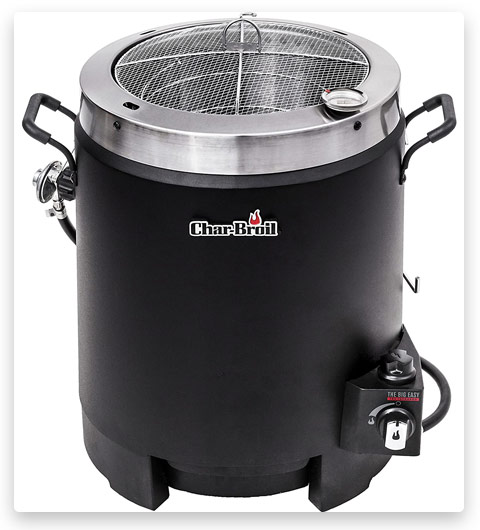 Many turkey fryers use large amounts of oil when working. This makes the turkey juicier but let's not forget that it's also very unhealthy. The Char-Broil Big Easy doesn't use oil at all in its work and cooking with it is completely safe. Moreover, you avoid splashes and burns from oil. The fryer can hold a 16-pound turkey or other meat like chicken or beef. Cooking takes place on the technology of TRU-Infrared thanks to which you get a crispy bird from the outside but juicy inside.
The turkey fryer comes with a built-in thermometer that monitors the temperature inside the meat. Also included is a removable lid, a basket for meat, a burner, a manual, a removable drip tray, and a hook. There are only two grips on the fryer – one for turning on and one for adjusting the burner. The turkey fryer is very easy to store due to its compact size. Although the turkey fryer doesn't use oil, don't be surprised to find a drip tray. It's necessary to collect fat from meat being cooked. After work, the pan can be cleaned as easily as the grill.
4# King Kooker 1265BF3 Propane – Best Complete Kit Turkey Fryer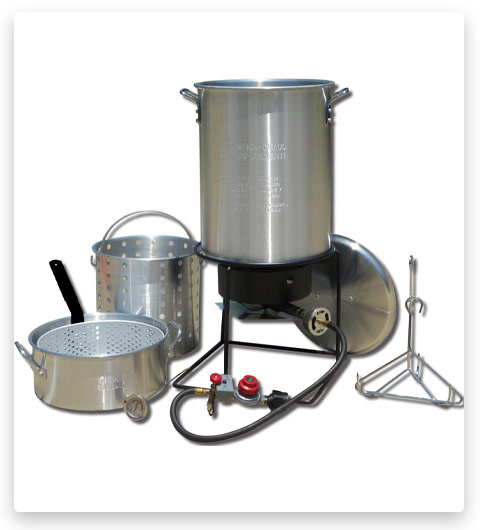 If you're not looking for a separate tank for cooking turkey, and you need a complete set, then this is what you need. The tank comes with a 12-inch burner with a capacity of up to 33,000 BTUs from cast aluminum. All you need for its work is a propane bottle of gas. A basket can hold up to 20 pounds of turkey or some other meat. Alternatively, you can use the 29-quart pot for steaming or boiling. A turkey stand and a lifting hook will help you easily lower the turkey into the oil and take it out afterward. The thermometer has an elongated sensor, which allows you to control the temperature without risking oil burns. The built-in controller is adjustable, so you decide which flame you need to maintain the temperature. And the cherry on the cake is a battery-powered timer that warns you that it's time to check the bird. (But the batteries are not included in the kit so you need to purchase 2 AAA batteries in advance.)
5# Presto 05420 FryDaddy Electric – Best Compact Turkey Fryer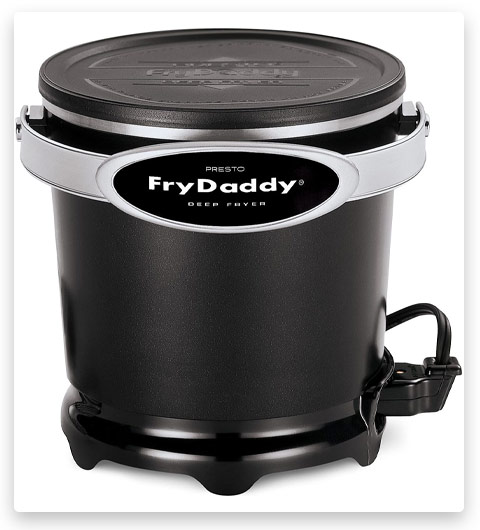 Many of my friends often complain that they have too little space in the kitchen to fit a turkey fryer. "I have a coffee machine there, a toaster there, a refrigerator there, and there's absolutely no place for a turkey fryer." Well, in this case, Presto already solved this problem. The dimensions of this turkey fryer are only 10 x 10 x 9 inches, so it even fits in the drawer of the kitchen table if you want. This model doesn't use gas and is powered by electricity and has a power of 1500 W, so you don't have to worry about finding propane bottles or burners.
Although the turkey fryer is made of cast aluminum, it has a non-stick legs coating. It may be a little difficult to clean from the outside, but the cleaning inside is definitely effortless. The kit includes a retractable drip tray, snap-on lid, and magnetic safety cord. The turkey fryer is also equipped with non-slip rubber feet. But because of its size, FryDaddy turkey fryer can't accommodate a large or medium-sized turkey. It's best suited for chicken or small turkey. It goes well with frying wings, legs, and beef.  Here you already have to choose between a large and luxurious turkey on the festive table or saving space in the kitchen.
6# Cuisinart CDF-500 Rotisserie Electric – Best Versatile Turkey Fryer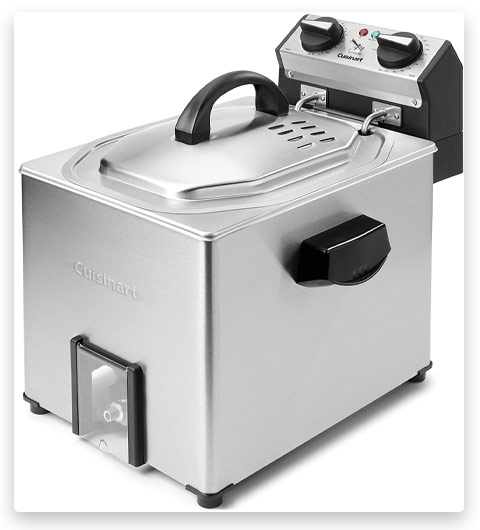 And what to do if you want rotisserie and deep fryer at the same time? Buy separately? No, even for such a situation, I have a solution. With this turkey fryer, you can evenly cook crispy and juicy turkey weighing up to 14 kg in just 1.5-2 hours. This turkey fryer comes complete with a stainless steel basket for any of your products that you can fry or steam. The turkey fryer is very easy to use. A red light indicates that the fryer is on or off, and a green light indicates that the bird is ready. The controllers are responsible for the timer (120 minutes max) and temperature and are also easy to manage. Unlike standard turkey fryers, this model uses much less oil in its work. So the food on your table will be much safer. After cooking, you can easily clean the fryer with the drain valve and even wash the parts in the dishwasher.
7# Bayou Grand Gobbler 42 Quart Propane Kit – Best Capacious Turkey Fryer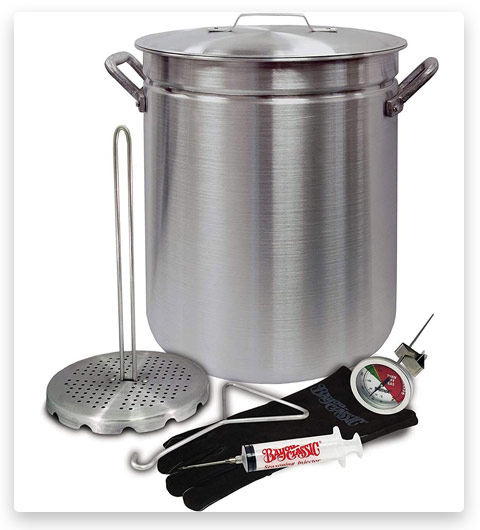 I very often cook a very large turkey for a large number of people. But it doesn't always fit into a standard turkey fryer. If your turkey weighs more than 20 pounds, then it's unlikely to fit in most turkey fryers. Then it's better to think about getting a larger turkey fryer pot. Bayou Grand Gobber is just one of those. It can cook a turkey weighing up to 25 pounds or several chickens at once. A 44-quart stainless steel basket allows you to not only roast a turkey but also cook steamed vegetables or other foods or boil them.
In addition to the pot itself, the kit includes a propane burner with a 48-inch hose, a 1-oz. seasoning injector, an insulating glove, a 12-inch thermometer up to 750° F, and a ventilated lid. All you need to work is just a bottle of propane gas. The height of the burner is 12 inches from the ground, which is very safe for removing or adding food to the pan. You can even use the pot to cook tomatoes, cucumbers, and other acidic foods that you intend to preserve. My friend is an experienced brewer and he speaks very well about this turkey fryer because stainless steel is very easy to sterilize. The legs of the turkey fryer are not static, and at any time you can disconnect them for more convenient transportation. And yes, the tank can be washed in the dishwasher, but I don't think that you'll find such a huge dishwasher in which this fryer fits somewhere.
8# Bayou Classic 44-Quart Stainless Steel Big Bird – Best Turkey Fryer In Terms of Accessories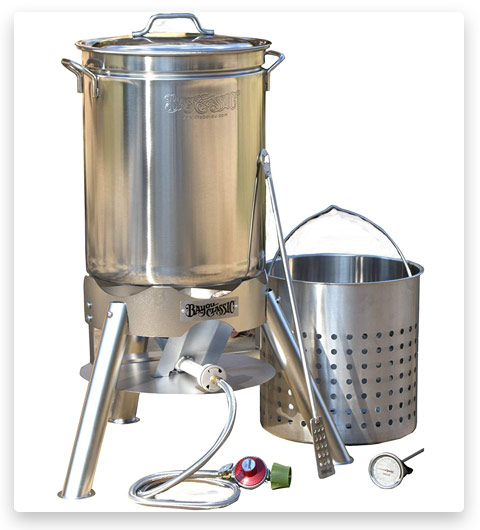 This turkey fryer is very similar to the previous one. But if you prefer turkey fryers that come with a lot of accessories, then this option is a favorite here. The large bird is also made of stainless steel and can accommodate up to 25 inches of turkey. The basket supplied with the tank is suitable for steaming or boiling. The burner is 12 inches high and is made of the same material as the entire turkey fryer. Below is a hose for connecting to a propane bottle (bottle not included). But unlike the previous model, this turkey fryer comes with a lot more accessories. These include a vented stainless steel lid, a hook for lowering or removing meat, a built-in 12-inch thermometer, a steel seasoning injector, a glove, and 2 skewers.
9# T-Fal Stainless Steel 2.6-Pound Electric Fryer – Best Profitable Turkey Fryer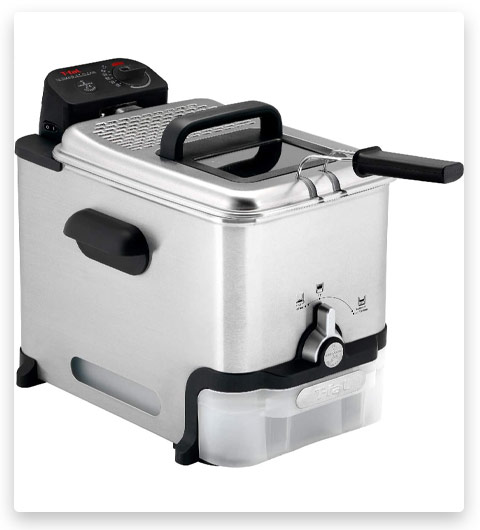 We all want food on the table to be as healthy as possible. There are turkey fryers that do not use oil in their work. There are turkey fryers that use a few % fewer oils than usual. And it looks safe. But I bet you hardly ever saw a turkey fryer that filters the oil itself, making it safe for the next use. Then I have one in store for you. The T-Fal turkey fryer doesn't require assembly and all of its parts can be washed in a dishwasher. But you'll need a rather large dishwasher to put all the details there. Removable parts include a turkey basket, a removable lid, a bowl, and an oil container.
The fryer has a capacity of 3 liters for liquid or 2.65 liters for food. This is about a dozen wings or a small chicken. Alas, the average and even the large turkey doesn't fit here. The most unique property is oil filtration. You can use one container of oil several times because the fryer itself cleans it. Just use the controller on the front panel. The device is quite easy to use and contains very detailed instructions in the box. And thanks to the construction of stainless steel, it will work for a long time and efficiently.
10# Chard TFP30A Aluminum Propane Set – Best Value For The Money Turkey Fryer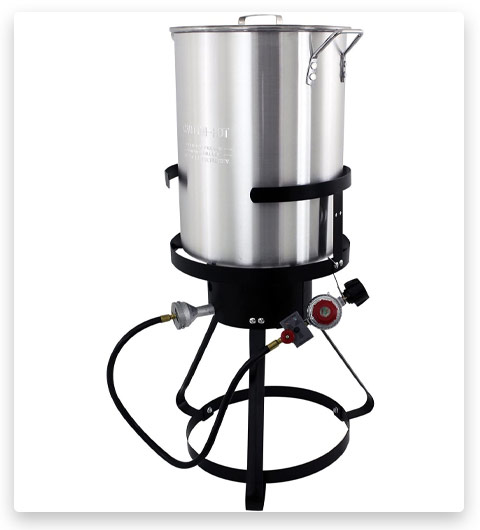 Last but not least is the Chard TFP30A. This is a complete turkey cooking kit. It includes a pot, a propane burner, a removable lid, a hose, a built-in thermometer, a hook, and a frame for turkey. The burner has dimensions of 17 inches and can generate power up to 50,000 BTU. It's made of stainless steel, which makes it corrosion-resistant. But the pot and lid are made of ordinary aluminum. Although aluminum doesn't cope well with rust, it weighs much less. Therefore, the pot is easy to transport even when it is full.
Also, the burner is equipped with an off-timer that will prevent the oil from heating up too much. The pot has a capacity of 30 quarts, so almost any turkey and more than a dozen chicken legs or other meat will fit here. The hook and stand are standard, nothing special can be said about them. But the built-in thermometer has an increased length of 12 inches. So, you don't have to look deep, because the thermometer is almost always near the lid. In general, this is a pretty good budget turkey fryer.
Is Frying Turkey Dangerous?

In the United States, there's a company Underwriters Laboratories (UL), which determines the safety of certain types of devices for home use. So, not a single turkey fryer has been certified by UL yet. Therefore, and just for logical reasons, I always follow, and I advise you to follow some safety rules when working with turkey fryers:
First. Never dip turkey not yet completely dried in boiling oil. You know how boiling oil reacts with water. A "microexplosion" occurs, the oil begins to spray very strongly and the water evaporates almost instantly. And this can lead to certificate burns. Therefore, it is better to make sure that the turkey is completely dried and then dip it into the pot. The same goes for a frozen turkey.
Second. Outdoor grills should only be used outdoors. No exceptions in the form of cooking a turkey in a garage with an open door. Gas is a pretty dangerous thing. For the same reason, keep the propane bottle and burner away from children and animals.
Third. Always keep an eye on the temperature. No need to save on a thermometer if it is not complete with a turkey fryer. Because hot oil can easily catch fire at temperatures above 205°C (440°F)
Fourth. Use protection. Splashes of oil cause burns, and the most annoying – they are very painful. Therefore, always wear gloves, glasses and put your hair back. Even loose clothing is not recommended when using a turkey fryer. 

FAQ About Turkey Fryer


Tags: #best turkey fryer / #best turkey deep fryer / #best oil less turkey fryer / #best electric turkey fryer / #best oil for turkey fryer