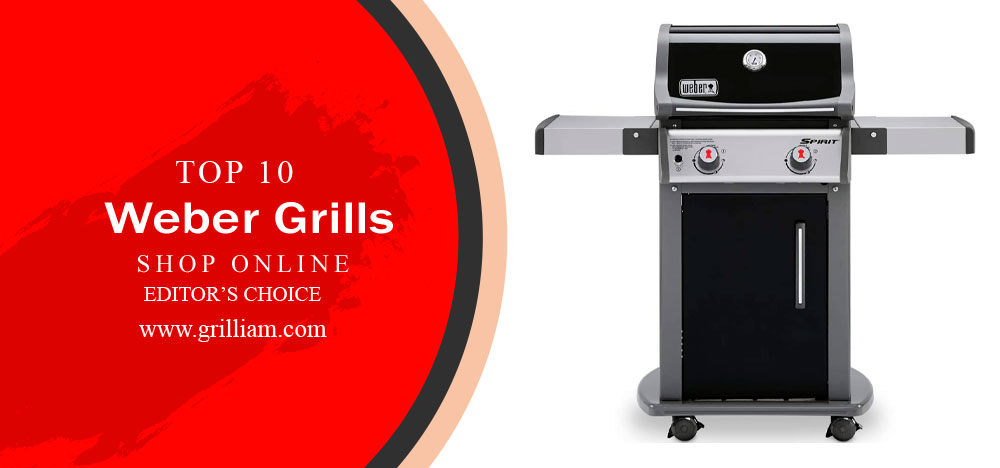 Best Weber Grills For BBQ – Top 10 Rated Models

| Image | Product | Brand | Link |
| --- | --- | --- | --- |
| | Weber Original Kettle 18 Inch Charcoal Grill, Black | Weber | |
| | Weber Original Kettle Premium Charcoal Grill, 22-Inch, Black | Weber | |
| | Weber Performer Deluxe Charcoal Grill, 22-Inch, Touch-N-Go Gas Ignition System, Copper | Weber | |
| | Weber Q1200 Liquid Propane Grill, Titanium | Weber | |
| | Weber Spirit E-210 Gas Grill | Liquid Propane, 2-Burner | Black | Weber | |
| | Weber Jumbo Joe Charcoal Grill 18 Inch Black | Weber | |
| | Weber Q2400 Electric Grill , Grey | Weber | |
| | Weber 18-inch Smokey Mountain Cooker, Charcoal Smoker | Weber | |
| | Weber Smokey Joe 14-Inch Portable Grill, Black | Weber | |
| | Weber 23510001 SmokeFire EX6 Wood Fired Pellet Grill, Black | Weber | |
Let's imagine that a grilling season will soon be upon us. Everyone is getting their machines ready for outdoor cookouts. It's just the right time to ask yourself: "Am I prepared"? Is my equipment up to the task? If you're wondering what is the best grill on the market, then I have an answer for you! Today, I'm going to introduce you to the top-rated Weber grills!
Why "Weber grills", you might ask? The answer's simple. Weber products offer high-quality solutions for every BBQ enthusiast! Today's article covers some of the best liquid propane, charcoal, pellet, and electric models from this exceptional company. Want to find out why Weber grills are considered one of the best on the market in more detail? Then continue reading. I promise to tell you everything about it!
Why Should I Buy a Weber Grill?
As my experience tells me, you are probably already familiar with Weber if you've done research about the best grills on the market. Well, at least you should have heard about them. It's one of the most popular manufacturers of BBQ-related products, as well as the most recognizable brand on the market. There are undoubtedly many grilling products available online. What makes them so sought after? Let me explain.
To determine the quality of the grill, I focus my attention on the following aspects: 
Durability. This is one of the most critical factors for any product. And I mean not just grillages but literally any decent devices. How do Weber grills and accessories fare in this category? Absolutely fantastic! These stand among the most reliable products on the market. If you buy it once, you can expect to use it for a very long time.
Affordability. Now, not all products perform equally. However, Weber offers excellent performance and sturdiness for both low-range and middle-range budgets. And if you seek premium solutions – believe me, you also won't be disappointed.

Performance. When I test grills, I check the temperature range and capacity, cooking space, as well as how evenly it distributes the heat. Don't worry, though. In today's top 10 best Weber grills for BBQ, every product has shown great performance.
Control. How easy is it to adjust the temp? Can a grill produce good airflow convection? When I was compiling this list of top-rated machines, I focused on how easy and efficient each of them works.
Design (User-Friendliness). Last but not least important factor. I think it's crucial how easy your grill bends to your will. The majority of Weber grills feature a delightful and intuitive design, thus making them straightforward in exploitation.
What Types of Grills Does Weber Produce?

There are many types of grills out there. Some are better suited for outdoor cooking, while others allow you to barbeque in the confines of your kitchen.
Let's go through some of the most popular categories of Weber grills this article covers:
Charcoal. Weber charcoal grills come in two variations – standard charcoal and kettle grills. The first one allows for cooking large portions of food at a time. The standard version comes in a barrel or box style, ensuring a tight seal, as well as good searing. Kettle-styled grillages are more compact and straightforward. As the name suggests, they resemble kettles with removable lids. These grills usually have less cooking space compared to standard ones. However, they also require less charcoal to operate.
Gas and Liquid Propane. An excellent solution for grillers who don't like charcoal and want better temperature manipulation during cooking. Weber natural gas grill is an excellent option if you need fuel-efficient machinery that is easy to start up. Furthermore, unlike charcoal-based devices, constant refills won't bother you. The propane apparatus is basically the same thing that operates on a different type of gas, which makes it slightly more expensive.
Pellet. Do you want precise control over your temperature? How about adding a smokey flavor to your meals? Then make use of Weber's pellet grills. These machines use wood pellets instead of fuel. Wood-pellet machines tend to distribute heat and smoke evenly across the cooking area. At the same time, they offer built-in devices for thermoregulation.
Electric. Are you tired of caring about the lack of fuel and regular refills? That's where electric grills come into the picture. I should warn you, electric grills won't grant your food a distinctly smokey taste like other types of devices would. However, Weber electric grills tend to be a great solution for two types of BBQ enthusiasts: those looking for a simple way to cook and for people who like barbequing indoors.
Be selective about your future product. Consider what type of food you want to produce and how skilled you are. Needless to say, electric grillage would suit you better if you're an amateur. Just remember what matters to you the most: simplicity, compactness, efficiency, or the taste of the food itself.
Top 10 Best Weber Grills For BBQ

Looking for a sturdy and efficient machine worthy of the place in your backyard? Then get ready! It's time to look at models I picked for this list of best Weber grills you can find. 
1# Weber Original Kettle – Our Choice as the Best Classic Weber Charcoal Grill Under $100
Original Kettle delivers an excellent grilling experience with a whiff of classical backyard barbequing. Maybe it doesn't have the widest of cooking areas. So what? It's a sturdy porcelain-made machine that can take a big BBQ party. Due to the great value and reasonable price, this machine is one of the most popular Weber charcoal grills on the market for under $100. Original Kettle is very easy to operate if you know the basics of grilling.
Key Features:
Charcoal kettle grill.
18 inches, which translates to 240 square inches of cooking space (can hold up to nine steaks or burgers simultaneously).
Easy to clean and maintain.
Durable construction.
Heatshield keeps the handle cool during cooking.
Very easy to assemble.
The machine's legs are too short.
Pretty useless ash-catching tray.
Compact and transportable. 
2# Weber Original Kettle Premium Charcoal Grill – Our Choice as the Best Premium Weber Kettle Grill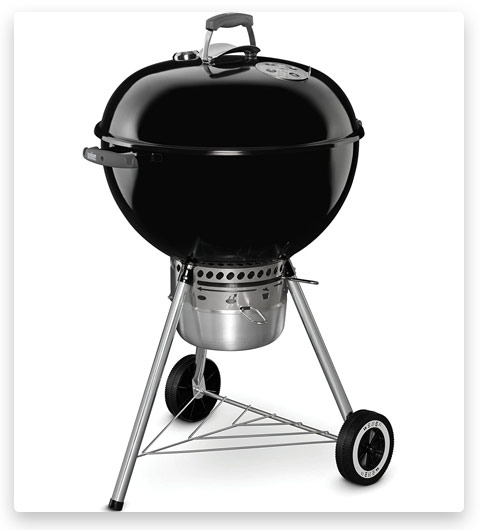 You can look at this product as a more advanced version of the previous model. It features all the pros of the original kettle but has significantly more cooking space. At the same time, it remains pretty affordable as far as premium grills go.
Key Features:
Charcoal kettle.
22 inches, which translates to 363 square inches of cooking space (13 burgers at the same time).
Built-in thermometer.
Straightforward cleaning system.
It comes in 3 colors (black, copper, green).
Easy to assemble.
Lacking ashtray and short legs.
Sturdy.
Almost twice as expensive compared to the 18-inch model.
The handle keeps cool during grilling.
Easy to add and replace charcoal even during cooking.
Compactness.
3# Weber Performer Deluxe Charcoal Grill – Our Choice as the Best Weber Charcoal Kettle Station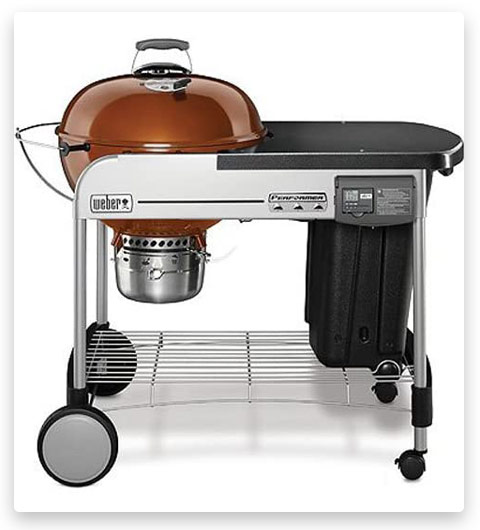 You might wonder if this charcoal kettle grill is worth the price of admission? If you want extra cooking space, electric ignition, and faster heat up – then my answer is "yes." As with other Weber charcoal models, it's built with the customer in mind. You'll also enjoy a more precise temperature control if you master how to operate the lid during cooking.
Key Features:
Charcoal grill.
22-inch diameter and over 363 square inches of actual cooking space.
Available in 3 color variations (black, copper, green).
Electronic Touch-N-Go gas ignition system.
Fast and intuitive assembly.
Built to last.
One-Touch, effortless cleaning.
Convenient heatshield.
Built-in thermometer and LCD cook timer.
Expensive.
The cooking grate's position can't be raised or lowered.
It can be hard to adjust temperature due to limited lid positioning. 
4# Weber Q1200 Liquid Propane Grill – Our Choice as a Compact Liquid Propane Grill for $200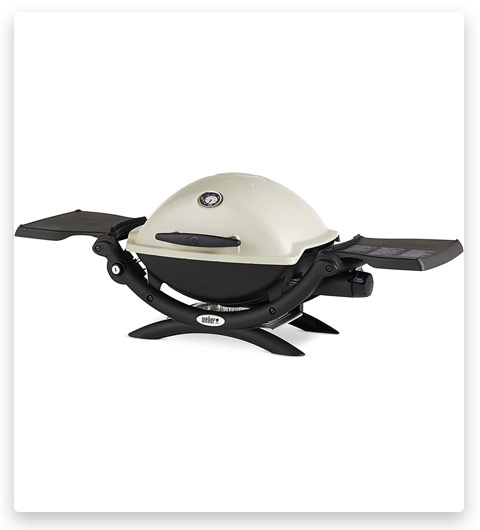 Incredibly compact and straightforward liquid propane grill with electric ignition. Weber Q1200 can work as a transportable picnic grill, indoor cooking station, or as a part of your RV set up. Despite the small size, this machine is surprisingly heavy to move around with bare hands. At the same time, its 189-inch cooking space will produce large quantities of food at once. Weber Q1200 can be a grill just for you if you're looking for a small and easy-to-use solution for in-home cooking.
Key Features:
Cook box liquid propane grill.
Active space of 189 square inches.
It comes in 6 colors.
Cast-iron cooking grates and aluminum lid.
Long-lasting.
Comes fully assembled and ready to go out of the box.
Electronic ignition.
Built-in thermometer for temperature control.
Effort-free cleaning process.
No lid latches.
Compact, but a little heavy.
Not ideal for camping on high altitudes (above 3000 feet). 
5# Weber Spirit E-210 LP Gas Grill – Our Choice as a Medium-Sized Weber Propane Grill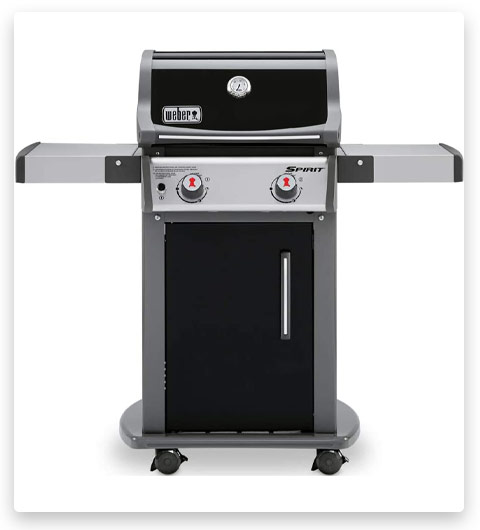 Cooking on this grill is both pleasing and incredibly simple. Weber Spirit E-210 offers fantastic value for its price tag. It takes some reasonable time to heat up but keeps the desired temp with minimal human interference. With its vast cooking space, you'll feed a whole lot of guests during backyard parties. At the same time, this machine isn't bulky, thus making it easily movable (on flat surfaces).
Key Features:
Liquid propane 2-burner.
About 357 square inches of cooking space.
Cast-iron and porcelain-enameled cooking grates for maximal durability.
Six accessible tool hooks.
Effortless maintenance and cleaning.
Takes some effort to assemble.
Discontinued model, which means it's hard to find replacement parts (though you probably won't have to).
Bulky, but easy to move on flat surfaces in an assembled state.
It needs a reasonable time to heat up. 
6# Weber Jumbo Joe – Our Choice as the Best Portable Charcoal Grill for Trips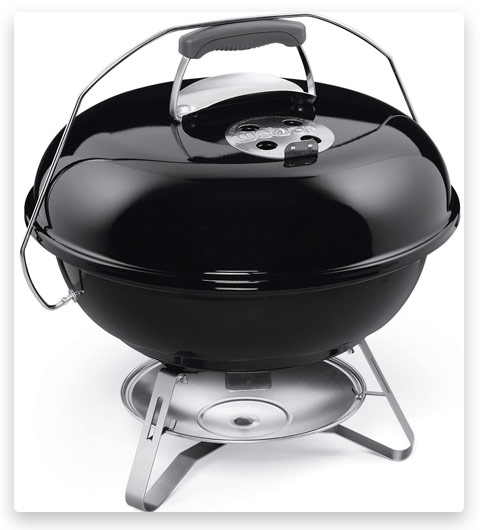 Do you like taking your grillage with you on holiday trips? If you're looking for a portable charcoal grill with a reasonably wide cooking surface – then Weber Jumbo Joe is made for you! Cook steaks, hot dogs, or good old-fashioned burgers outdoors or on picnics with this lovely little portable grill for under $100.
Key Features:
Charcoal grill.
18-inch diameter and about 240 square-inch cooking area.
Compact and easy to take with you everywhere you go.
The lid can be locked in place for more comfortable transportation.
Poor plastic handle design.
Tiny latch.
Very sturdy and built to last.
You shouldn't encounter any difficulties during assembly.
Fantastic price and value. 
7# Weber Q2400 Electric – Our Choice as the Best Weber Electric Grill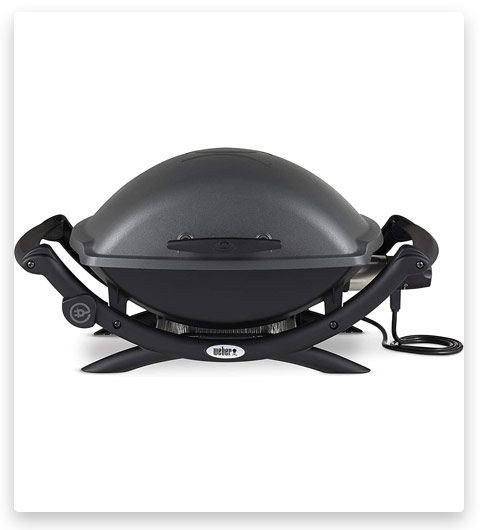 An all-around improvement over the Q1200 model. Are you looking for a grill that uses no external fuel, wood, or charcoal? Do you want maximum efficiency with the least amount of effort for your grilled delicacies? If you also don't really care about smoking your meat, then this model is made for you! Give a complete novice a piece of steak and this grill, and he'll surely make something edible. Why? Because it's exceptionally durable, easy to maintain, and requires almost no learning curve, making it the best Weber grill of this category.
Key Features:
Electric grill with 1560-watt heating.
280 square-inch cooking surface.
Ready to go out of the box.
Compact and easily transportable.
6-foot grounded cord.
Built to last.
Easy to maintain.
It requires virtually no learning curve.
As with every all-electric grill, you won't get a smokey taste.
Needs no wood pellets, charcoal, or fuel.
A little expensive.
8# Weber Smokey Mountain Cooker Smoker – Our Choice as the Best Weber Smoker Grill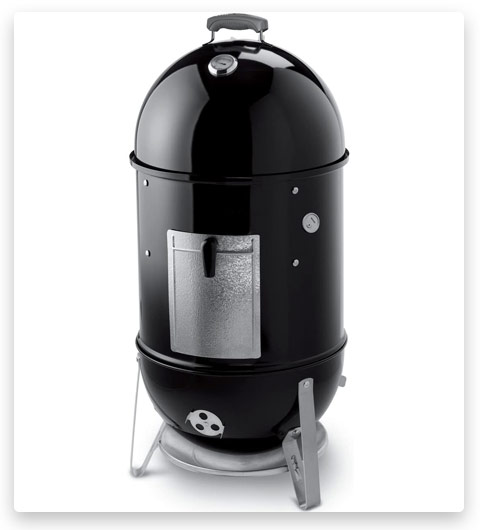 This machine is one of the best smokers available on the market. Weber's Smokey Mountain features everything you can think of for maximal comfort during cooking. You can easily maintain the temperature using the top and bottom vents, as well as adjustable dampers. It should be noted that this smoker can leak some heat at first, but it gets sealed much better the more you use it. In my opinion, the 18-inch version if one of the best Weber grills for smoking on the market.
Key Features:
Smoker grill.
Works on both wood and charcoal.
Optimal size with an 18-inch diameter (254 sq. inches of the cooking surface)
Two cooking grates.
Extra-durable.
Dampers for precision heat control.
Built-in lid thermometer.
Great heat retention.
9# Weber Smokey Joe Portable – Our Choice as the Best Weber Portable Kettle Grill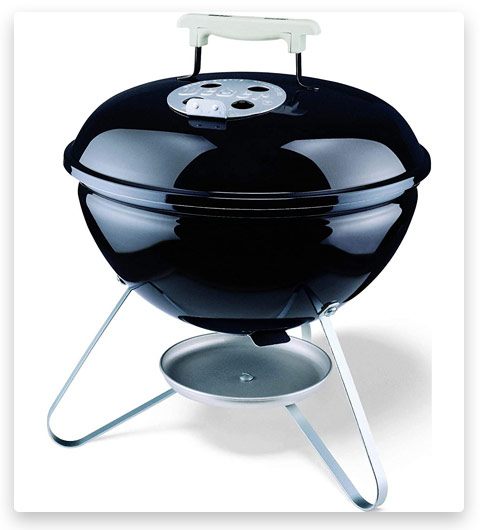 One of the best smoker machines for grilling on the go. Do you want a portable grill that can serve a small group of your buddies? Then you'll find its lightness and compactness a perfect fit for your needs, even if it lacks some of the versatility of other camping grillages.
Key Features:
Portable Kettle grill.
Operates on charcoal.
Plated steel cooking grate for better heat retention.
14-inch diameter with about 145 square inches of cooking area.
Durable and long-lasting.
Compact and lightweight.
Easy to clean.
Too small for my taste.
It has no proper handles.
Affordable.
Lacks thermometer.
10# Weber SmokeFire EX6 Wood-Fired Pellet – Our Choice as Pellet Grill for Producing Mountains of Food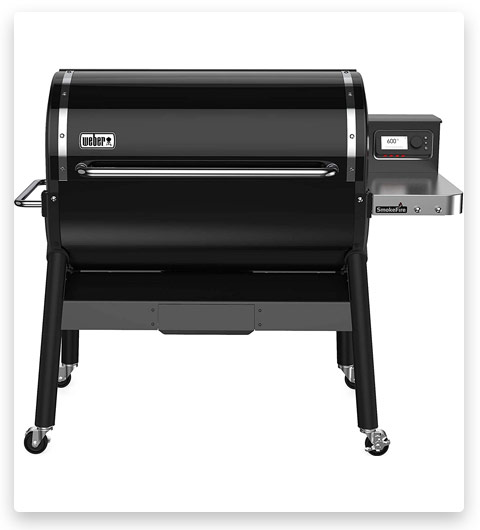 This beast is one of the largest Weber pellet grills available in 2020. It has its share of pros and cons. For example, SmokeFix EX6 has a wide range of possible temperature regimes that are easy to control with a smartphone app. Do you want to cook for enormous amounts of guests? Then you'll find plenty of space on its 1008 square inch cooking space. However, it has some frustrating issues. For some reason, the pellet hopper may stoop feeding pellets to the auger. You'll have to manually check the grill every once in a while to make sure it's burning. Also, grease fire is a significant problem. To sum it up, it's an incredibly powerful machine with some major problems that are hard to overlook, given its price tag.
Key Features:
Pellet grill that operates on wood.
Smokes and sears with a 200-600 Fahrenheit temperature.
Over 1,000 square inches of the cooking area!
DC-powered engine.
WiFi connectivity and a smartphone app for temp control.
Sturdy and built from quality materials.
Uneven heat distribution.
Extremely expensive.
Produces too much grease.
Frustrating and challenging cleaning process.
Easy to set up. 

Frequently Asked Questions
Final Thoughts
Now you should know why Weber remains one of the world's most reputable manufacturers of grill machines and BBQ accessories. No matter what you look for in a grill – this company offers exceptional solutions for every budget. I hope you enjoyed my list of the best Weber grills for indoor and outdoor cooking. The models featured today are among the top-rated machines you can get. So, are you ready for a barbeque season now? Now it's up to you to make every lunch unforgettable!
Tags: #best weber grill / #best weber gas grill / #best time to buy a weber grill / #weber grill best prices / #best weber grill for the money / #best way to clean weber grill