The 10 Best Kamado Grills – Buyers Guide and Reviews
As with any investment (and as you'll soon see, a Kamado is an investment, not a purchase), you will want to know about its essence before investing your money. By the time you reach the end of this article, you should have all the knowledge you need to go out and choose one of them!
We suggest you plunge into the world of kamado by studying our article. We will tell you about these grills, talk about their pros and cons, and how to use them. And of course, we have put together a comprehensive buyers guide for you. We have collected the best models on the market, studied their manufacturers and reviews, and are ready to share with you. So, be sure that by the end of the article you will definitely know what kind of kamado grill you need!
10 Best Kamado Grills – Editor's Choice
| Image | Product | Brand | Link |
| --- | --- | --- | --- |
| | Kamado Joe KJ23RHC Classic Joe II 18-inch Charcoal Grill with Cart and Side Shelves, Blaze Red | Kamado Joe | |
| | | | |
| | Weber Summit Kamado E6 Charcoal Grill, Black | Weber | |
| | VESSILS 12.6-in W Kamado Charcoal BBQ Grill – Heavy Duty Ceramic Barbecue Smoker and Roaster with Built-in Thermometer and Stainless Steel Grate | VESSILS | |
| | Broil King 911470 Keg 5000 Kamado Grill, 18.5-IN Diameter, Metallic Charcoal | Broil King | |
| | Lifesmart Kamado Grills (SCS-K15A) | LIFESMART GLOBAL | |
| | Kamado Joe BJ24RHC Big Joe II 24-inch Charcoal Grill with Cart and Side Shelves, Blaze Red | Kamado Joe | |
| | Grill Dome Infinity Series Ceramic Kamado Charcoal Smoker Grill, Red, Large | Grill Dome | |
| | Viemoi Kamado Grill 21" Cooking Grid ø18.4 Large Charcoal Grill Barbecue Cooking System with Stainless Steel Grid and Stainless Steel Trolly with Wheels Stand All in one Black | Viemoi | |
| | Char-Griller E16620 Akorn Kamado Charcoal Grill, Graphite | Char-Griller | |
Kamado Grill – What Is It?
Kamado is one of the latest innovations in the barbecue area. But despite this, the kamado is almost one of the most ancient forms of cooking (except cooking in a fire). Kamado-like stoves appeared several millennia ago in Japan. It was a large clay pot for cooking rice. The Japanese called it "Mushikamado", which translates as "cooking stove".
In the mid-twentieth century, American soldiers were stationed in Japan. It's not hard to guess that on the way home they grabbed a lot of souvenirs. Among them was a kamado. But in America, rice is not so common and it's not eaten so often. Therefore, the Americans decided to make a grill out of a rice cooker. First, someone added a lid and hinges. Then came the air control technology.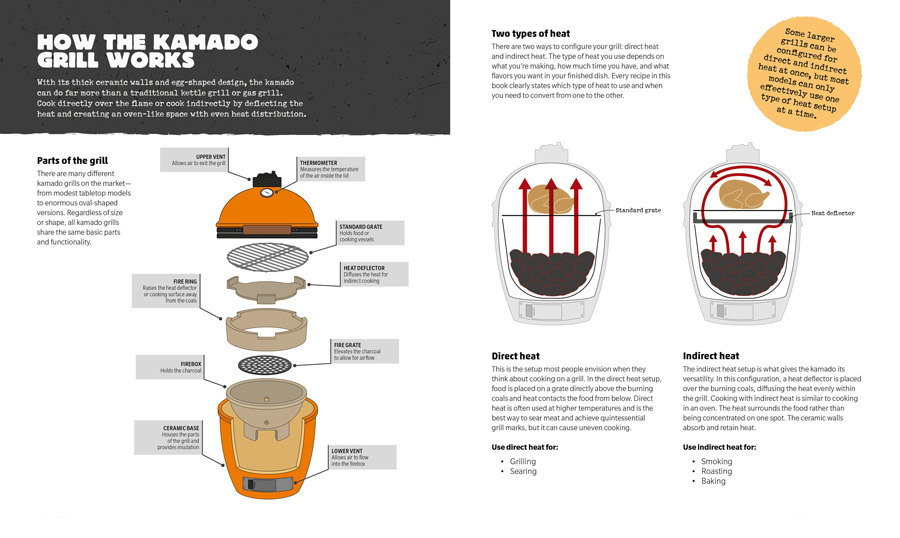 And one of the most arrogant enthusiasts was an exporter from Atlanta. He began selling these grills in the early 1970s, gradually improving grill models. So, gradually moving from clay to ceramics, he created one of the largest companies selling kamados – Big Green Egg. The Egg has been the largest producer of kamado for many years and remains to this day, but now there are far more manufacturers.
How Does A Kamado Grill Work?
The most striking hallmark of kamado will be an elongated egg shape. This vessel usually stands on a stand or legs, but there are exceptions. Some grills have work surfaces on the outside of the grill. In the lower part of the grill, coals burn under the grate, and the upper part consists of a work surface and a lid with a thermometer. The kamado grill has special ventilation holes for adjusting the temperature.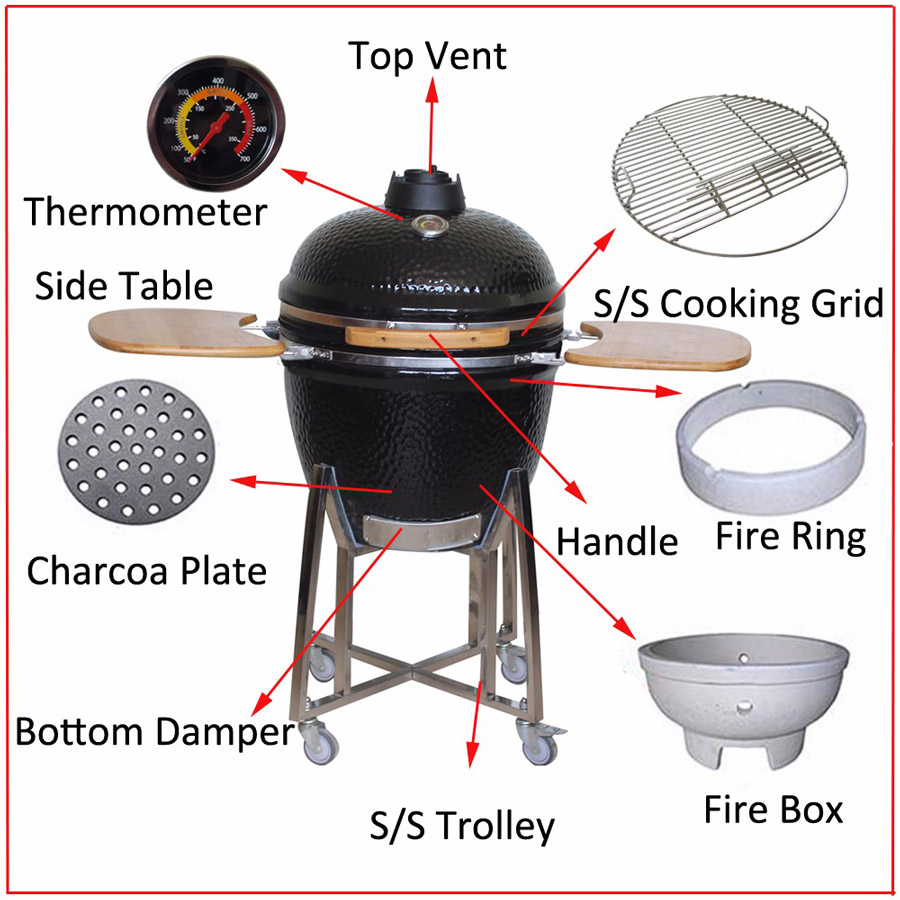 The fact is that when the lid is hermetically closed, the heat inside the grill is evenly distributed to perfectly cook the meat. The most popular material in making kamado is ceramics. But often you can find metal grills in the market. You can add pieces of wood for smoking to coal. The meat won't burn because the tree is under embers, and the ash can't clog or stain the grill because it'll fall into the ash collector.
Why Are Kamados So Good?
Kamado is a universal solution for cooking almost any kind of meat. With perfect airflow control, you can maintain the right temperature for as long as you need it. Therefore, all those who switch to the use of kamado never return. Due to its shape, you can cook almost any dish evenly. If you ever tried to cook pizza on a barbecue, then you know how hard it is. Uniform heating allows you to cook pizza, bread, and other dishes without much effort. With the help of such a grill, you can cook meat not only always evenly. If you want, you can cook the meat at maximum temperature by simply opening the ventilation holes wide. It's good to searing steak in this way.
Disadvantages Of Kamados
Although kamado is almost a universal tool for cooking outdoors, it still has some disadvantages that you should pay attention to:
The Weight – Most models are heavy, so it's very difficult to move or take them with you. On average, a stove weighs about 150 pounds or more. If you're going to often move the grill around the yard, then always buy the grill on wheels. If the ceramic grill falls when moving, it'll probably crack.
Size – Size is one of the most common problems. Many cookers have small hobs. To feed a large enough group of people you need a large grill. If you cook irregularly or just for your family, then you can get by with a small grill.
Only One Heating Zone – At the barbecue, you can cook the meat on direct heat to get traces of the grate and finish cooking in the indirect heating area. Kamados heat the meat evenly anywhere, so they have only one direct heating zone. But this problem has a solution. You can install special grill inserts to create additional heating zones.
Temperature Control Training – Kamados can easily develop very high temperatures. It's great for frying something, but not for cooking something thick. To learn how to properly meat is thicker than half an inch, you need to master the ventilation system and temperature control. Some people think that kamados are only suitable for smoking but if you learn how to control the temperature, you can master any frying technology.
Flashback – If the fire doesn't have enough oxygen and a new source suddenly appears, then it suddenly fills its entire volume and flashes. Kamados can retain heat by sealing between the lid and the surface. But if you close all the ventilation holes, then the coal will use up the entire supply of oxygen. And if you open the lid before the coals are completely extinguished, then you risk flaring up.
Features To Consider Before Buying
All kamados have differences between each other, but each has certain features that distinguish a good one from a poor quality one:
Material – Most models are made of ceramic or enameled steel but there are also metal grills. Each material has its pros and cons, so you can choose the one that you like. We prefer ceramics because it's rust-resistant and heats up much faster. But if you need more mobility and you want to move your grill, it's better to think about purchasing a metal grill.
Size – Kamados have a great variety of sizes from a small nightstand to a huge grill. The average grill has a smaller work surface than a gas or charcoal grill. Make sure that the device you've selected is large enough for your needs. If you cook a big steak and you always have a lot of guests who need to be fed, then you need a large grill. If grilling is just a hobby that pleases your family, then a small grill will suit you.
Build Quality – Kamado is a very popular product, so you can find very inexpensive options on the market. But cheap doesn't always mean poor quality. Cheap models have thinner walls that will try to keep the temperature as high as possible. But this is not a big problem with cheap grills. Always make sure that the kamado has a quality fit and finish. Also, low-quality metal can often rust and corrode. Don't believe the small price because a large investment will pay off over time.
Work Surface – We already found out that kamados have small cooking zones. In such cases, there are special models with additional work surfaces. Many manufacturers offer custom trolleys and tables to suit grills. But you can buy any other table or stand.
Resistance To External Conditions – Since kamados are in the yard for a year, you need to think about protecting them from the weather. Rain and snow can cause metal grills to corrode, and strong hail can scratch the grill's ceramic coating.
Accessories – Despite the versatility of the grill, you can find additional pans, ash containers, hooks for kitchen appliances, etc. Some of them come with a grill, for some you have to pay extra. Before deciding on a specific grill, check what additional features and accessories are included.
Manufacturer's Warranty and Service – Any things will break sooner or later. Especially ceramics, which are prone to chips and cracks. And the hinges and seals in the kamado can wear out. Look for a warranty that lasts a long time and offers comprehensive coverage. Some manufacturers give a lifetime warranty, some for a couple of years, and some don't offer at all. You'll not know for sure the quality of customer service until you try it yourself. But you can check the answers to people's questions to the manufacturer. Look for user support forums or a feedback section on the manufacturer's website to test the quality of user support.
Customer Reviews And User's Opinion – If you have friends who once used such a grill that you want to buy, then ask them about the experience of using. Ask about the price, quality, working hours, pros, and cons, about everything you can ask. Also, many forums and sites are always actively discussing kamados. There you can learn from users about their experience in using. Finally, you have the manufacturer's websites where you can find out information about the grill. But no manufacturer will write bad about his product. So you won't own all the information, reading only the site.
Price – For many, the budget plays a decisive role. Everyone wants to save money, but let's be realistic. A good model will not be cheap. Kamado prices start at $300 and end in a few thousand. When choosing a price, keep in mind how long you'll use the grill and what you get for the money. It's always better to save money to get a better product than to be content with a piece of iron for a couple of dollars.
Best Kamado Grills – Top 10 Reviews
It's time to start the kamado reviews. In this list, we'll consider the most high-quality and proven models that have been on the market for several years. Each of them has its own characteristics and qualities, but they are all unique. Let's take a look at each!
1# Kamado Joe KJ23RHC Classic II Ceramic Charcoal Grill – Editor's Choice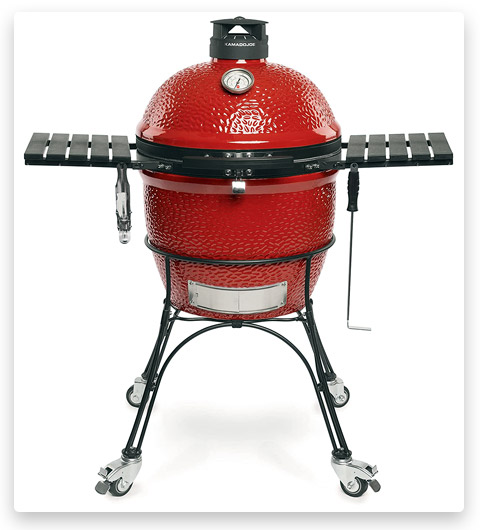 Kamado Joe was one of the first to achieve the same popularity as the Big Green Egg. It may not be so original, but it brought a lot of innovative achievements in the field of kamado. You can forgo the add-ons, however, if you want to go with a larger table on which to set up. in this case, you buy a 'standalone unit' and a table on which to set the grill in. This is a very well constructed unit, made of high-fired ceramic with a porcelain glaze. The Classic is rather thick, so the outside should stay reasonably cool to the touch during cooking.
In 2017, the manufacturer not only changed the design of the grill but also improved its characteristics:
Now you don't need to be afraid to rotate the grill by accidentally slamming the heavy lid. The new Air Lift Hinge allows you to release the handle and leave the lid in any position.
The top vent has also been modified. Now it provides more control and prevents rain from getting inside.
At the bottom, it has a box for ash, which collects unnecessary ash. And in the middle is an automatic latch that locks the lid.
Another excellent feature of this grill is the ability to expand from 256 sq. inches up to 660 sq. inches. But how is this possible? The fact is that you get a grill expander as a supplement. This allows you to cook in several zones at once. You can even set different temperature zones with a deflector.
Kamado Joe has always been a great grill but with new updates, it has become even better.
2# Primo 778 Extra-Large Oval Ceramic Charcoal Smoker Grill
People who are used to cooking on wide and large grills will find it difficult to get used to the shape of a kamado. The dimensions don't allow the creation of several cooking zones. Fortunately, this grill is free from such drawbacks. Primo has an oval shape. The extra width allows you to create two heating zones with coal. The first is strong direct heating on one side. And the second is indirect heating on the other side for final heating. Although on wheels, this grill has an impressive weight of 250 pounds. Anyway, you get a cast-iron ventilation hole at the top and 300 sq. inches of cooking space.
Even if this is not enough for you, then you can always expand it to 500 sq. inches. You can also purchase Primo XL. It has 400 sq. inches and is available in two versions, including the Jack Daniel's version. There are smaller versions – the standard 18.5-inch and 210 sq. inches.
The spring hinge greatly facilitates the lifting of the cast-iron lid. And, as you know, reversible grills have a very long service life. You can find a lot of cooking information on the Primo website, and if you really like grilling, you can order the Primo branded products that you will use. But no accessories are included unless you buy an all-in-one kit that adds a trolley, folding side tables, an ash tool, and a grill lift. Want to expand your grill? Buy separately. Same thing with the firebox divider.
3# Weber 18201001 Summit Kamado E6 Charcoal Grill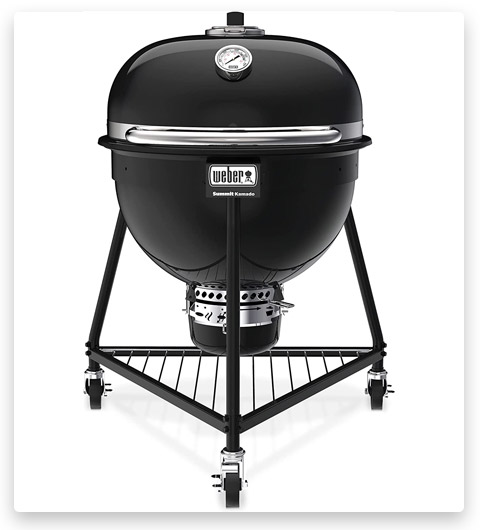 The process of firing up the grill with charcoal is very long. Although various means have already been invented to speed up this process (a chimney trigger, for example), there are still devices that support the convenience of a gas barbecue. As soon as Weber became known in the market, it immediately included gas igniters in his grills.
They work on propane and are activated using a button. You no longer need to bother with a lighter, chimney and starting blocks. The igniter will cause the coals to burn for several minutes or even seconds. Don't be surprised if you don't find references to kamado on the Weber website. They want to see it as a multifunctional grill, and not as a separate model. But it looks more like a traditional barbecue than a kamado grill.
Thanks to the large size of 24 inches, you get a lot of space for cooking. Although large, it weighs just 111 pounds. This ease is achieved through the material kamado. This is not solid ceramics, but enameled steel. In addition, the double-walled kettle has air insulation. This reduces the weight of the grill but doesn't prevent it from retaining heat just as well. All other parts are made of stainless steel and aluminum. This item has several functions that we'd like to highlight. You can lower or raise the fuel grate for cooking at high or low temperatures, depending on your preference. Also, you can split your fuel and create 2 temperature zones for more control. And the ash box is a nice addition to all of this.
4# VESSILS 15 Inch Kamado Charcoal BBQ Grill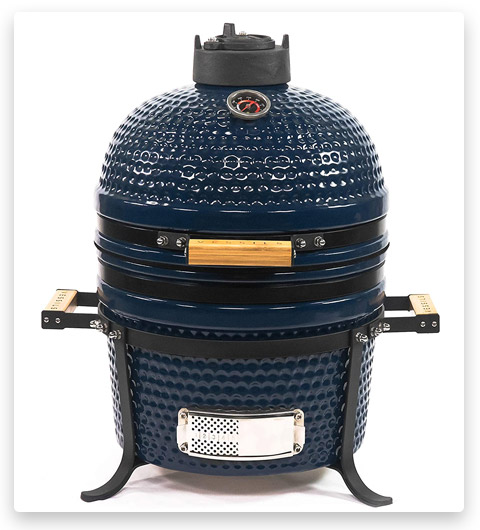 We came to a unit that is the progenitor of all kamados in the American and European markets. Grills from this manufacturer have millions of fans around the world. They even got a funny nickname – "eggheads". Unlike brands that are popular only for advertising and good marketing, this brand is truly one of the highest quality and most trusted. The best ceramics are used here, and the upper and lower ventilation openings are so carefully made that complete temperature control is created.
The stainless steel grate will always be clean and shiny like the ceramic outside. The Big Green Egg offers you seven sizes: Mini, Mini-Max, Small, Medium, Large, X-Large, and XXLarge. You can easily find the size you need. XXLarge will suit you if you have 8 hands and you want to cook 30-40 burgers at a time. In most cases, for home use, such a size will be too large. For ordinary users, the size Large is completely enough.
The biggest disadvantage of this item is that apart from the kamado itself, nothing comes in the kit. Grates, side tables, carts, deflectors, and other accessories are sold separately. Also, several users on the forums complained that they had a broken gasket in the Big Green Egg. But the gasket wears out on any kamado, and replacement doesn't take much time and is not so difficult.
5# Broil King 911470 Keg 5000 Kamado Grill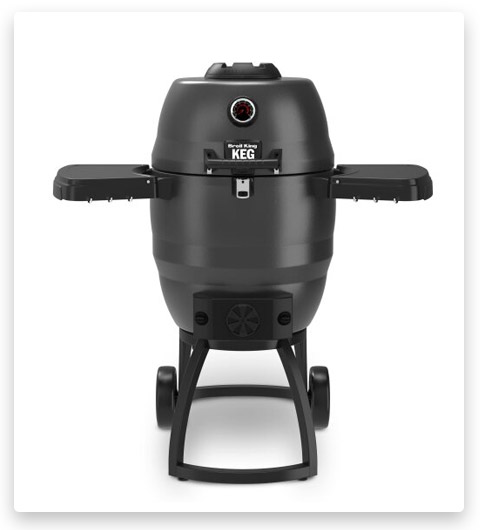 Suppose you are very fond of traveling and hiking. But ceramic grills have one drawback: they are hard to move and heavy. Also, they crack during rough handling. Broil King knows how to solve your problem – metal. Only the inside of the grill is made of ceramic to better retain heat. All other components are made of metal. This model looks like a barrel and not like an egg. You can take this barrel with you wherever you go because it comes with the ability to trailer using an adapter.
You'll have as much as 280 inches for cooking on a 19-inch cast-iron grill. But even if this is not enough for you, you can always add a rack for more meat. The grill weighs just 126 pounds. Broil King is known more for gas grills than kamado. But the buyer can still be sure of the quality of the produced grills. The manufacturer has improved its products many times and added useful features. For example, not long ago, built-in bottle openers on the front handle were added.
Many users complain that cast-iron grates often crack. This is one of the unpleasant drawbacks of cast iron. This material may be fragile but great for cooking. And replacing the grate is not so expensive.
6# Kamado Guru Monolith Classic Pro Series 2.0 Ceramic Grill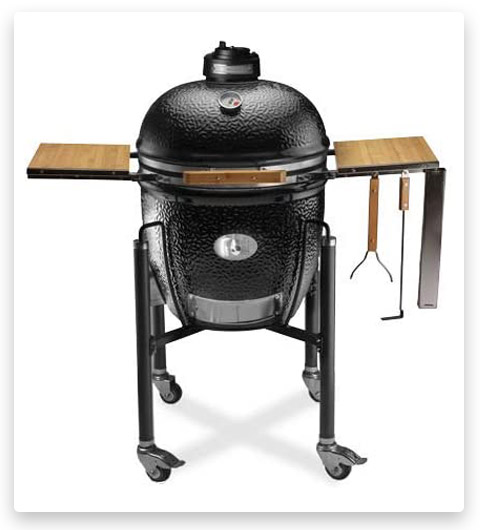 Like many high-quality kamados, Monolith is made of heavy-duty thick-walled ceramic with enamel coating. It has a multi-level grill system and advanced cooking. A coal tray is included in the standard kit so you can create several cooking zones. The Monolith differs from other models in that it was created for shaving and is more adapted for this. If you go down 25-30 cm down from the lid, you'll see a small handle.
This is the handle of a drawer tray in which you can put flavored chips and pellets directly on top of the charcoal. Also, you'll almost not lose heat in the grill. You can buy the device in red or black. Also included are many accessories, such as deflectors and stackable grates. It is possible to order on ceramic legs or with a cart on wheels with two side tables.
The Monolith doesn't have a damping lid for upper ventilation. But many others don't have this lid, so this is a small minus. The biggest minus is a hard search. This grill is made in Germany, so it'll be quite problematic to find it in the USA.
7# Komodo Kamado Grills 42 Serious Big Bad Kamado Grill Smoker & Oven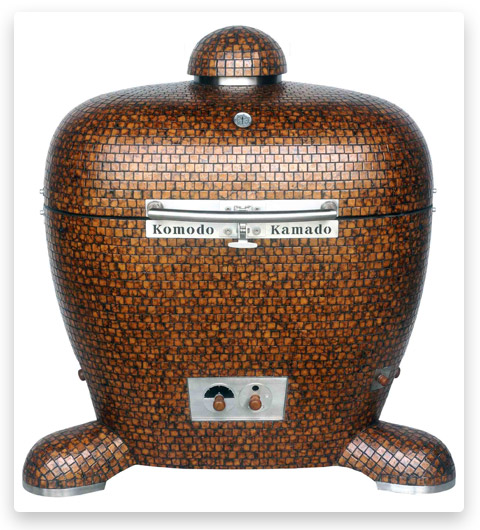 If you don't have a limited budget problem and you are ready to spend enough money to cook with pleasure on your favorite grill with an excellent view and functionality, then Komodo Kamado is what you need. And yes, it really looks great. But behind the appearance, there is an equally chic set of functions and attributes, so this grill is not just considered the best in the world.
These kamados have innovative features and impressive looks. Since 2007, the manufacturer began to improve its product and now on the market, there are already as many as six sizes of this grill. How many color variations do you think? 5? 10? 15?
No, here you get as many as 40 colors that have become possible because of the tiles on the outer surface. The case consists of a multi-layer insulated grill, where the lid alone weighs 120 pounds. But you don't have to open the cover spending a lot of effort. A hinge that works at the click of a latch does it all by itself. The grill closes as easily as it opens.
The insulation of this grill and the quality of the materials are designed so that a sack of coal weighing 16 pounds can burn for up to 85 hours. Imagine how much money you can save on fuel. Everything here indicates that this grill is designed incredibly well and is definitely worth the money.
8# Grill Dome Infinity Series Ceramic Kamado Charcoal Smoker Grill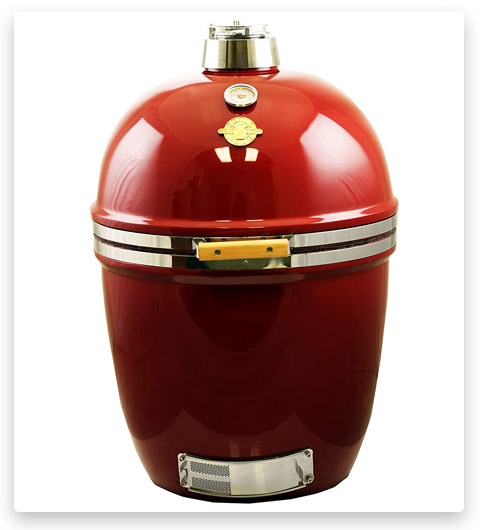 Grill Dome provides the quality that very expensive kamados have without biting your wallet. The manufacturer claims that he produces kamados of the highest quality and it's difficult to disagree with this. This grill is slightly thicker than its counterparts by 1.25 inches. In addition to the high lid and the thickness of the grill, it doesn't have so many differences from other models. This grill has several stylish colors and shapes. The only problem is the lack of fine-tuning of the upper ventilation valve. But after some practice, it can be customized and used for various cooking styles.
9# Viemoi Kamado Grill 21″ Large Charcoal Grill Barbecue Cooking System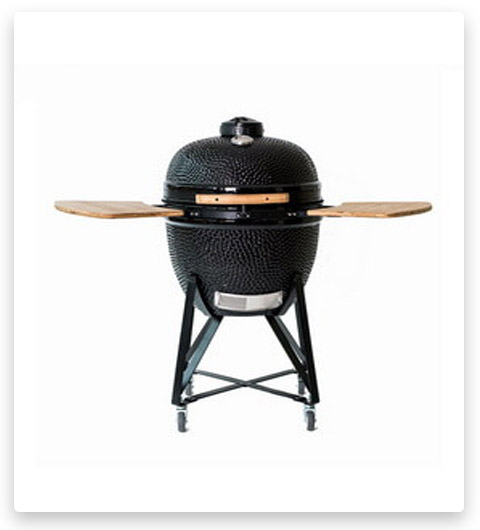 It seems that this guy came down to us from the 80-s. Viemoi Kamado Grill has a rocking design and will look very stylish and colorful in your yard, but that's not the end of it. Just look at it: stainless steel mesh, the handle of high-quality bamboo straight, the ability to withstand temperatures up to 10,000 degrees, and much more exciting features – all this with a weight of only 53 pounds! Viemoi Cooking System will do all the work for you, your food will get an unforgettable taste, and your guests will be satisfied.
10# Char-Griller E16620 Akorn Kamado Charcoal Grill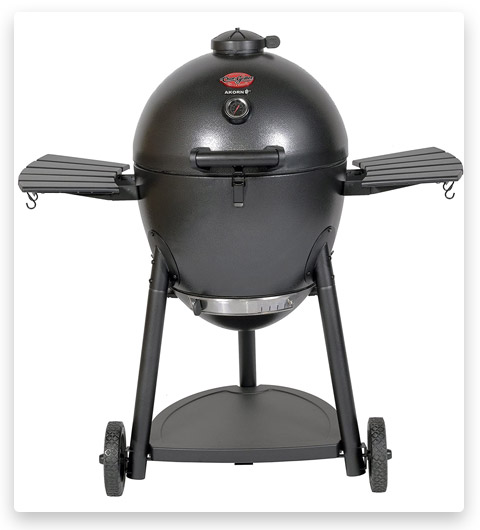 Cooking with Char-Griller Akorn Cocker will bring you sheer pleasure. After all, he has everything that a lover of delicious steaks needs – a lid with a lock, two metal shelves with the ability to fold, a convenient ash pan, and shock absorbers at the top and bottom for easy temperature control. And modern technologies with which it is equipped with E16620 will make it even more durable and convenient. Lightweight materials have come to replace ceramics at Charcoal Barbecue Grill and Smoker, making it more mobile and convenient.
Summing Up
Now that you have read this article to the end, we hope you find the answer to the question: "Do I need a kamado?". This is one of the most versatile cookers and the right choice will provide you with delicious food for many years. Maybe they are more expensive than a common barbecue but we can undoubtedly say that they are worth the money invested. Some of the grills presented contain a lot of accessories, some have an excellent build quality, some can cook in several zones at the same time, some are something else. Whatever kamado you choose, we hope that it'll make your food immensely gorgeous and delicious. If you have a favorite kamado or story that you want to tell, then leave comments and share this article on social networks. Have a good grilling!