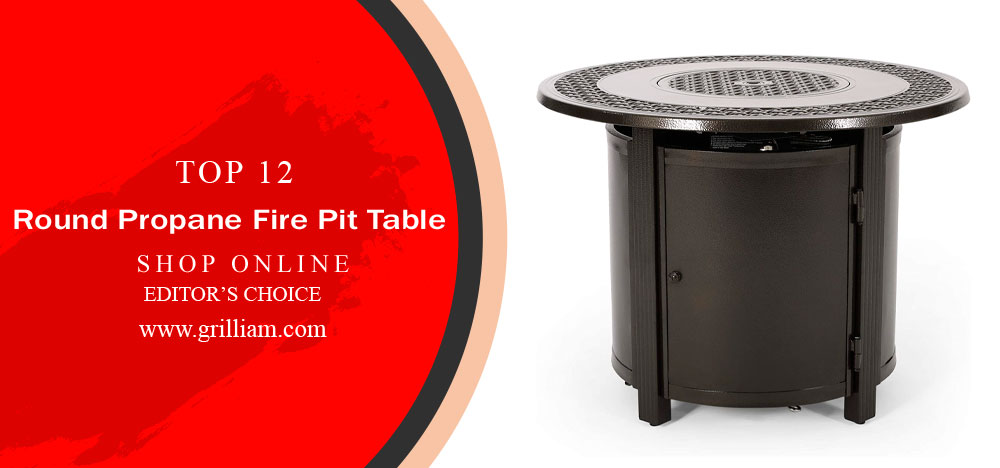 Firepit tables are now becoming wildly popular because of their attractiveness, convenience, and practicality. They will not only delight you on cold nights but also serve as a bright decoration for your patio. In this article, we'll talk about round propane fire pit tables and review 12 of the best models for your house.
Our Selection 12 Round Propane Gas Fire Pit Table Tables Reviews
| Image | Product | Brand | Link |
| --- | --- | --- | --- |
| | COSIEST Outdoor Propane Fire Pit Coffee Table w Dark Bronze 40.5-inch Round Base Patio Heater, 50,000 BTU Stainless Steel Burner, Free Lava Rocks, Waterproof Cover | COSIEST | |
| | Verona Aluminum LPG Fire Pit | Fire Sense | |
| | Peaktop HF09501AA Round 40,000 BTU Propane Gas Fire Pit Stone Look for Outdoor Patio Garden Backyard Decking with PVC Cover, Lava Rock, 28" x 28", Gray | Peaktop | |
| | AQUILLA Outdoor Propane Fire Pit Table Brown 42 inch Round Base Patio Heater, 50000 BTU Stainless Steel Burner w Free Lava Rocks, Glass Wind Guard, Waterproof Cover for Poolside, Backyard | AQUILLA | |
| | Sunnydaze Outdoor 29-Inch Rope and Barrel Design Propane Gas Fire Pit Table with Lava Rocks | Sunnydaze | |
| | Christopher Knight Home 312973 Richard Outdoor Round Aluminum Fire Pit, Hammered Bronze | Christopher Knight Home | |
| | Bluegrass Living GN3R111S 42 Inch Outdoor Round Aluminum 50,000 BTU Propane Fire Pit Table with Crystal Glass Beads and Fabric Cover, Silver | Bluegrass Living | |
| | Napoleon GPFGN-2 Patioflame Natural Gas Fire Pit, Stainless Steel | Napoleon | |
| | COSIEST Outdoor Propane Fire Pit Table w Compact Ledgestone 16-inch Round Graphite Base and Glass Wind Guard, 40,000 BTU, Free Lava Rocks, Fits 20lb (Grayish-Green) | COSIEST | |
| | Best Choice Products 30,000 BTU Gas Fire Pit for Backyard, Garden, Home, Outdoor Patio w/Natural Stone, Propane Hose, Handle, Cover | Best Choice Products | |
| | Fire Sense Dylan Aluminum LPG/NG Fire Pit Table Antique Bronze Finish 37000 BTU Output Fire Bowl Lid Vinyl Over Clear Fire Glass Included - Round - 34" | Fire Sense | |
| | | | |
Round fire pit tables are the most convenient for use, very practical, compact, spacious, and ergonomic. And thanks to propane power, you can easily change fuel tanks and always have the opportunity to enjoy the fire on a warm evening. Let's get down to reviews on the best propane fire pit pits. For more information read our article on these types of grills in the article – Propane Fire Pit Table.
1# Cosiest Outdoor Propane Fire Pit Table Dark Bronze – Best Pick Overall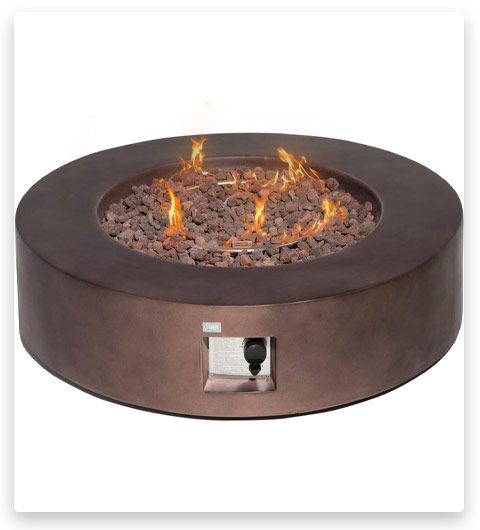 This dark bronze pit is one of the best round fire pit tables for your patio. We chose this unit as one of the best because it has excellent width and height dimensions. When you sit or stand by this fire pit table, the fire is at the correct height to keep you warm enough. At the same time, it has sufficiently wide edges to keep the delivered drinks cool. The controls are very accessible and straightforward. You can easily control the height of the flame and heating, and the round shape will accommodate a large number of people. The only thing you may have difficulties with is the initial launch. Comes with a protective cover to keep your pit on fire. But it is very thin, so be careful not to burn it.
2# Fire Sense Verona Aluminum Round Fire Pit Table – Best Lightweight Pick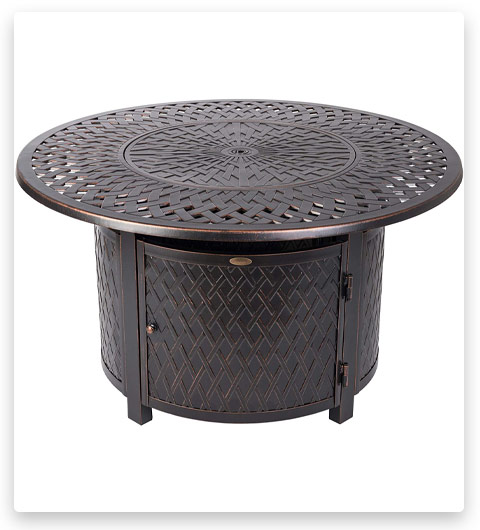 Excellent fire pit table from Fire Sense. The pit is quite large and roomy, so you can be sure to get plenty of heat. The pit is made of aluminum and is quite lightweight, so you can easily move it from one place to another. The fire control panel is very simple and straightforward.
The only difficulty with this model is the assembly. We had to read the assembly instructions very carefully and spend quite a lot of time, although this is not the first fire pit table that we assemble. But when assembled, the pit works and looks great. The kit includes stones that look great in the pit, but they are not fixed inside. Please note that you will need an AAA battery for the starter.
3# Peaktop Outdoor Propane Fire Pit Table Stone Look – Best Stone Pick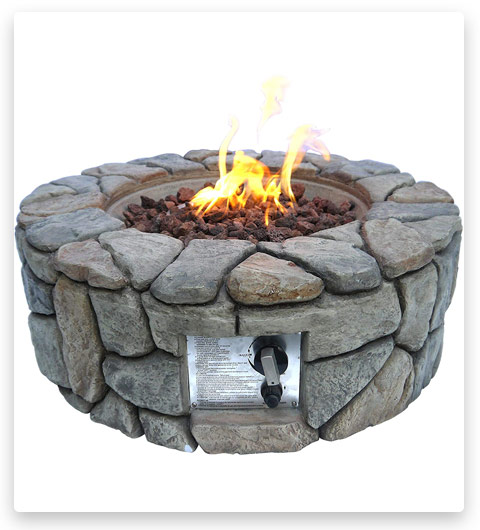 A traditional stone fire pit table is a great style to decorate your yard. If you don't want a permanent pit, then this option is a great choice. The inside of the pit is made of steel, while the outside is surrounded by stone trim. The pit is connected with a hose to a propane tank. Inside is a nice 40,000 BTU burner. Despite its appearance, the pit is fairly easy to assemble and use. The only thing we didn't like about this pit was the loose knob and the fact that the tank could not be placed inside the pit.
4# Aquilla Stainless Steel Outdoor Propane Fire Pit Table – Best Powerful Pick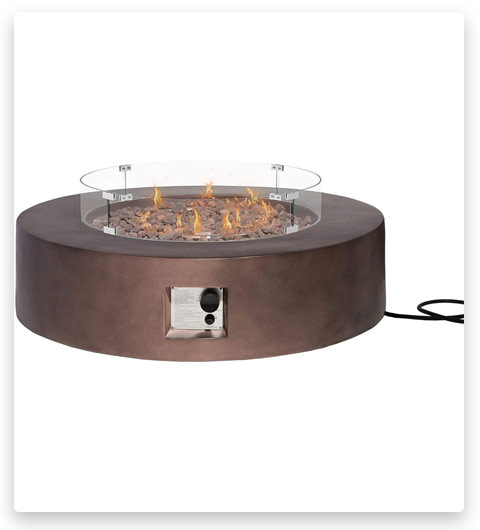 Very attractive and high-quality fire pit table. With this table, you can have a great rest by the fire in a large company. The fire pit table has a 42-inch base and a 50,000 BTU burner, which will allow you to stay by the fire for a long time and enjoy the warmth. At the same time, the table is quite attractive in price and if you have been looking for a large table with a powerful burner, large diameter, and beautiful lava stones for a long time, then this is your choice.
5# Sunnydaze Propane Gas Fire Pit Table Barrel & Rope – Best Design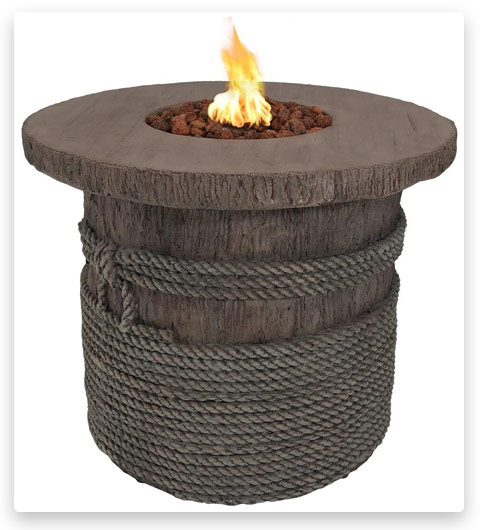 A very compact and lightweight unit for your patio. The fire pit table gives off a lot of heat, despite its size, and has an excellent design in the form of a rope barrel. The table is quite easy to assemble and does not take much time. But we recommend you read the instructions carefully when installing the knob and igniter because many users have had problems with this. Despite the small area for fire, the fire pit table heats up quite well and you will be warm near it.
6# Christopher Knight Home Propane Gas Fire Pit Table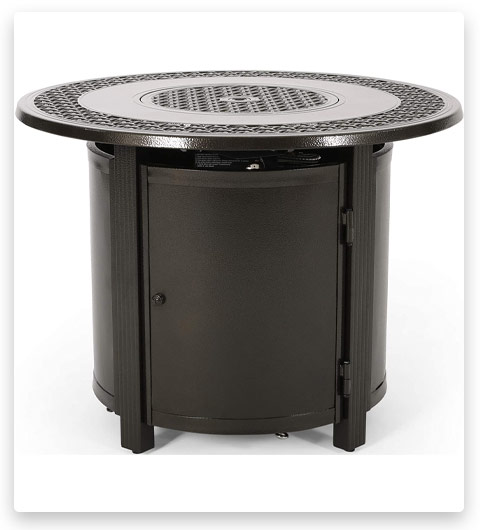 If you're looking for a great aluminum fire pit table, you'll love the Christopher Knight model. This round fire pit table can accommodate 4 to 8 people. Built-in propane tank storage allows you to constantly power the pit and have constant access to the fire. The table is very affordable and easy to assemble and does not have any knob or gas connection problems.
7# Bluegrass Living 42 Inch Outdoor Aluminum Round Propane Fire Pit Table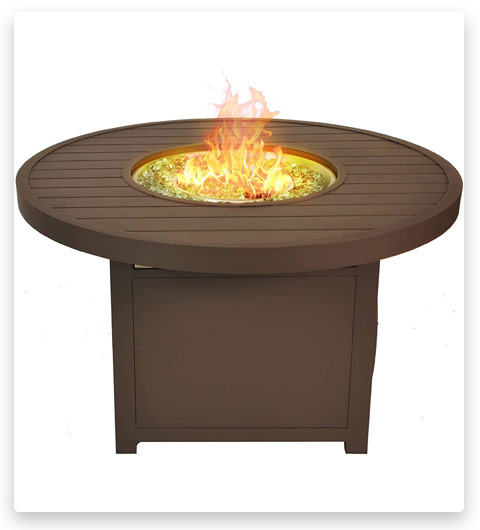 This propane fire pit features a stylish design that suits both traditional and modern homes. You get a great 42" table with glass beads and tank storage. It will take a while to put all the pieces together and line up the holes. But when you do that, you get a great and enjoyable fire pit table.
8# Napoleon GPFGN-2 Patioflame Propane Round Fire Pit Table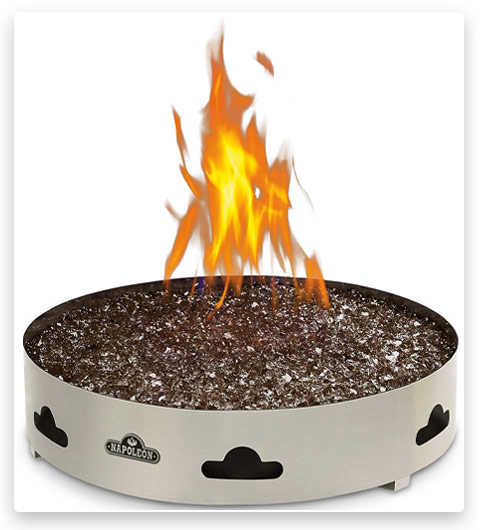 This small unit is great if you have a small yard or patio. At the same time, the fire pit is quite powerful and emits 60,000 BTU of heat. Its diameter is 20 inches and its height is only 5! So it will be very convenient for you to store this fire pit table in your garage or closet. Besides, this model comes with a few pounds of stones and has a sturdy and durable construction. Long hose allows propane tank to be placed out of sight.
9# Cosiest Outdoor Propane Fire Pit Table 16-Inch Round Graphite Table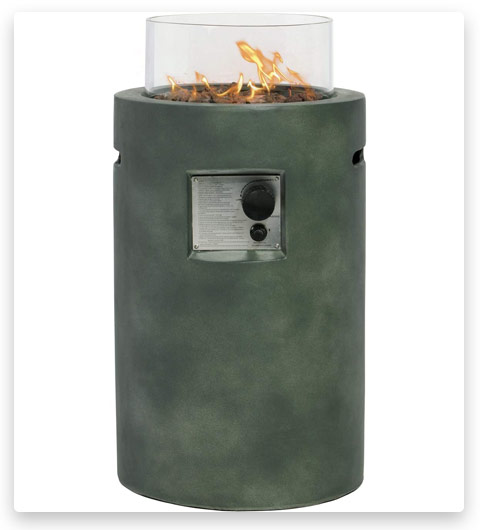 If you need a compact fire pit table in the form of a tower, then we highly recommend this model. The table is very high quality, has excellent packaging and design. You do not need to suffer from the ignition for a long time, since the fire pit starts up very easily with the press of a button. You can choose from two options with dark lava stones or blue fire glass. Both look great, but this glass is simply mesmerizing. This pit even comes with touch-up paint. The included lid is very beautiful and protects the device from bad weather when not in use. The only negative we noticed is the loose top glass. It would be great if the kit included metal clips that would allow you to do this.
10# Best Choice Products Stone Fire Pit Table For Backyard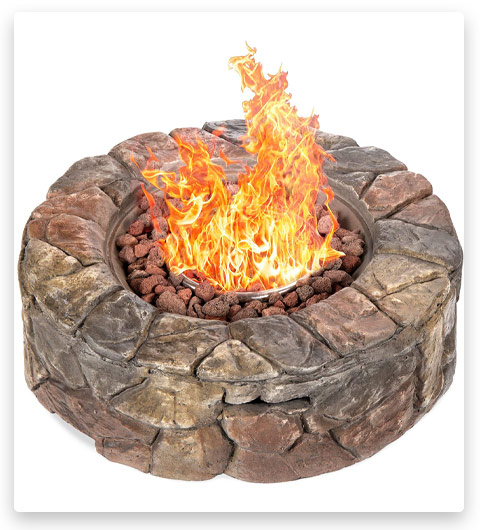 You can easily enjoy the flames on your patio without overly pushing your budget. The table is made of magnesium oxide, which increases its strength and durability. And the stone finish on the outside adds to the appeal. The pit has a decent 30,000 BTU burner and comes with cool lava stones that will make the fire look natural. Plus, you get a great hose to hide your propane tank and a lid to protect the pit when not in use.
11# Fire Sense Aluminum Round LPG Fire Pit Table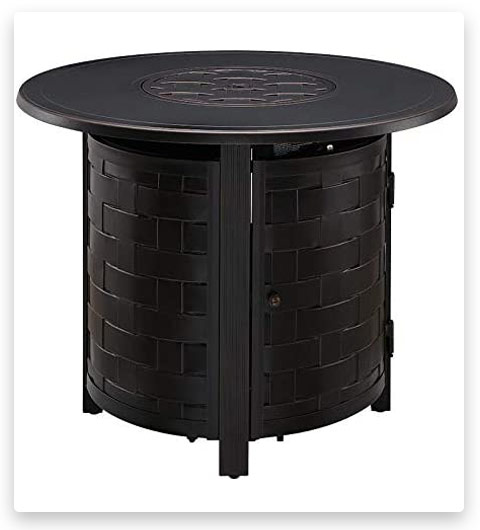 This beautiful table is a 34" Fire Sense Dylan. It is ideal for outdoor lighting and produces 37,000 BTU of heat. The body is very lightweight despite being made of durable aluminum and glass stones add beauty to the fire.
12# Christopher Knight Home Elizabeth Outdoor Propane Fire Pit Table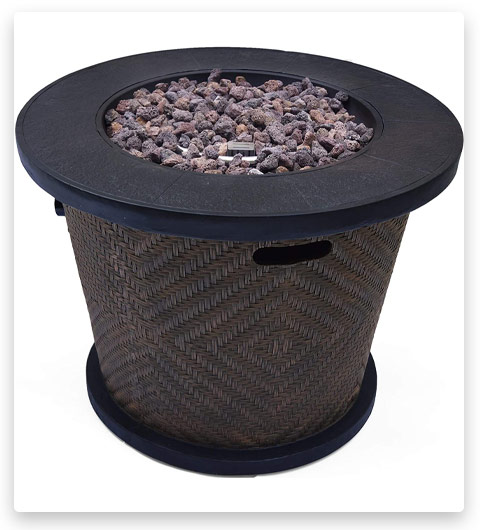 This is a very small but high-quality unit for your patio. The table looks nice, doesn't take up much space, and produces enough heat to keep you warm on a cold evening.
Advantages of Round Propane Fire Pit Tables
A fire pit gives you excellent warmth and atmosphere but compared to classic wood fire pits, gas ones have several advantages:
Unlike wooden pits, gas fire pit tables do not emit sparks. This means that you will protect your yard and yourself from falling ash and flying sparks.
Gas is very clean compared to wood. You will not have to move away and change from the smoke flying in you, your eyes will not water, and your nose will not feel cut.
Very fast ignition. You don't have to spend hours standing over a pit trying to light a tree. Most gas fire pit tables are set on fire with the push of a button.
How To Use Propane Fire Pit Table Safely?
Every time you come into contact with live fire, there is some danger. Nevertheless, by following all the manufacturer's safety advice, you reduce this danger to zero. Here are general tips for using a gas fire pit table:
Read the manual carefully and follow all the manufacturer's safety advice.
While the fire pit table is in operation and before it has completely cooled down, try to keep children away from the fire or keep an eye on them.
Do not bring flammable objects and make sure that no one brings them close to open fire. And just in case, keep a water hose or handheld fire extinguisher handy.
Why Should I Buy A Round Fire Pit Table?
Although propane fire pit tables vary in price, it is a worthwhile long-term investment. A quality table made of good materials will provide you with not only warmth but also comfort. You can relax by the fire with family and friends thanks to the safe and reliable fire pit. Plus, you don't have to repeat your purchase every year as with classic pits. A propane fire pit will serve you for years and keep you warm season after season. Not to mention that the propane pit requires less maintenance than other options.
Our Final Thoughts
A fire pit table is a great upgrade for your patio. It adds radiance, warmth, comfort, and romance to your yard. A round fire pit table is very convenient due to its shape, can accommodate a large number of people and in most cases has a powerful burner to keep warm.
If we are talking about the best round fire pit table, then for us, it is obvious Cosiest Outdoor Propane Fire Pit Table Dark Bronze. This table is very attractive in price, very quick to assemble, has a convenient flame control knob, and is very comfortable in size. But our entire list contains the very best round fire pit tables. Whichever choice you make, any model will be a great decoration for your yard.
Tags: #round propane fire pit table / #round fire pit table propane / #propane fire pit round table / #round propane gas fire pit table / #round table propane fire pit