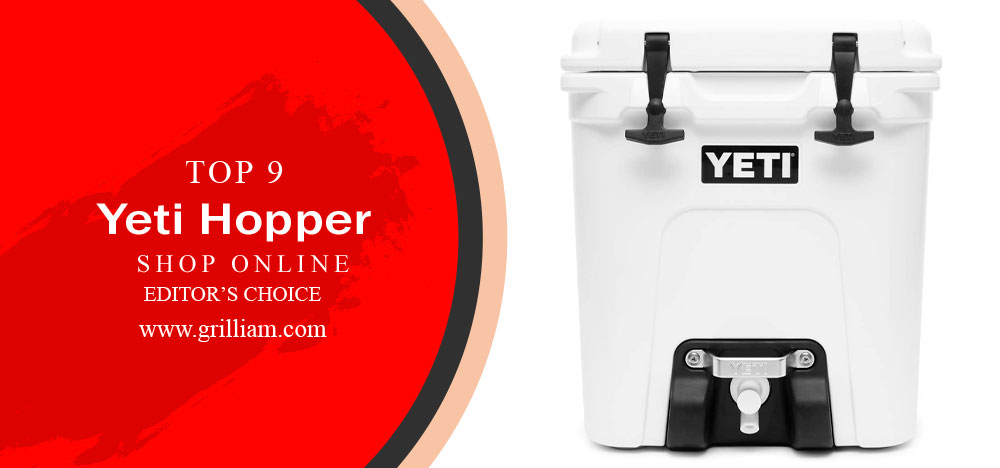 In the warm season, you often want only one thing: cold drinks. Because you want to enjoy the sun or sit in a comfy travel chair and let your rod hang in the water. But if you only have warm drinks or food, it will quickly ruin your enjoyment. It is all the better that in recent years, many new modern portable coolers have appeared on the market, thanks to which the food and drinks that you brought with you will be fresh and cool. In this review, I want to tell you about the Yeti soft coolers.
About Yeti
This brand was founded in 2006 by two brothers who were fond of fishing and hunting. They often went on trips with their father and the only thing that spoiled their good mood was bad coolers. And it was this bad experience that led them to create their own hopper portable cooler. Their products are created both for those who love adventure and long trips where it is necessary to always have fresh food and cool drinks on hand, as well as for those people who just want to enjoy refreshing drinks in their backyard with friends.
The 9 Best Yeti Soft Cooler Review – Editor's Choice
| Image | Product | Brand | Link |
| --- | --- | --- | --- |
| | YETI Hopper Flip 18 Portable Cooler, Sagebrush Green | YETI | |
| | YETI Hopper Backflip 24 Soft Sided Cooler/Backpack, Charcoal | YETI | |
| | YETI Hopper M30 Portable Soft Cooler, Navy | YETI | |
| | YETI Tundra 35 Cooler, White | YETI | |
| | YETI Silo 6 Gallon Water Cooler | YETI | |
| | YETI Camino Carryall 35, All-Purpose Utility, Boat and Beach Tote Bag, Durable, Waterproof, Navy | YETI | |
| | YETI Tundra Haul Portable Wheeled Cooler, Navy | YETI | |
| | YETI Roadie 24 Cooler, White | YETI | |
| | YETI Tank 85 Bucket Cooler, Desert Tan | YETI | |
In this review, I will introduce you to the 9 Yeti hopper portable cooler. After reading it, you can choose the one that suits you best.
1# YETI Hopper Portable Cooler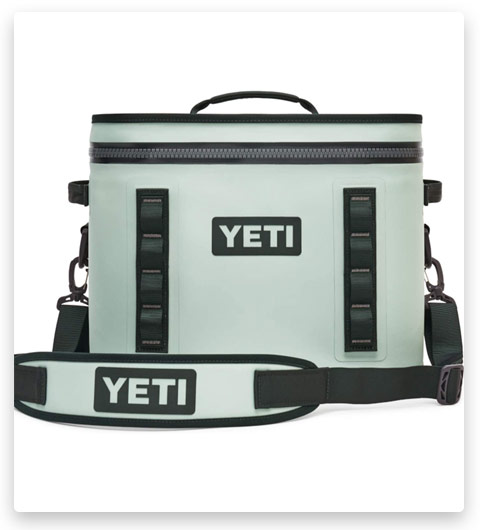 This is an incredibly stylish and functional soft cooler. This model is ideal for short trips and holds about 16 cans excluding ice. This cooler has closed-cell rubber which provides excellent insulation. In addition, this model has a sealed HydroLok zipper, which provides a secure closure. You will also like the wide-mouth opening, which allows you to have convenient access, as well as an overview of the contents of the cooler. You can easily take this hopper with you on hunting, fishing, and other places as it is waterproof.
2# YETI Hopper Backflip Soft Sided Cooler/Backpack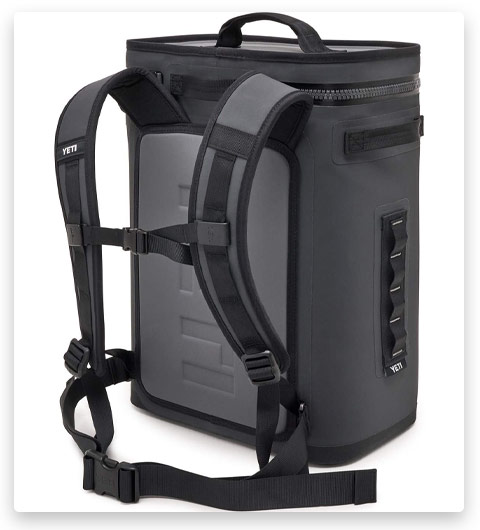 If you are looking for a mobile refrigerator, this model is the right choice. This model is large enough to accommodate all your drinks as well as food. This Yeti hopper portable cooler is made of high-density fabric that is not only waterproof but also UV resistant. This model has excellent cold resistance thanks to the Closed-cell rubber foam. This cooler also features a durable zipper that closes the device securely. I also really like the design of this model. You will be able to carry it like a backpack and thus not burden your hands.
3# YETI Hopper M30 Portable Soft Cooler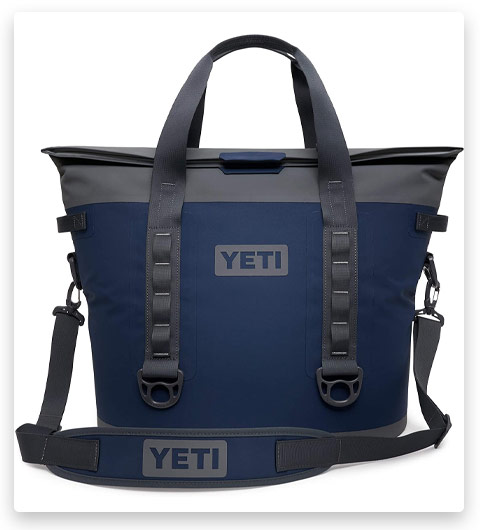 This model is presented in several colors so everyone can choose the right one for themselves. You can easily open and close this cooler thanks to its clever design. Closing the cooler is done not with a zipper, but with magnets. Thanks to the wide-mouth opening, you can put and take out drinks without any difficulties. This model is also equipped with dual, quick-release buckles. This is why you can be sure that your Yeti hopper will not open suddenly.
4# YETI Tundra 35 Cooler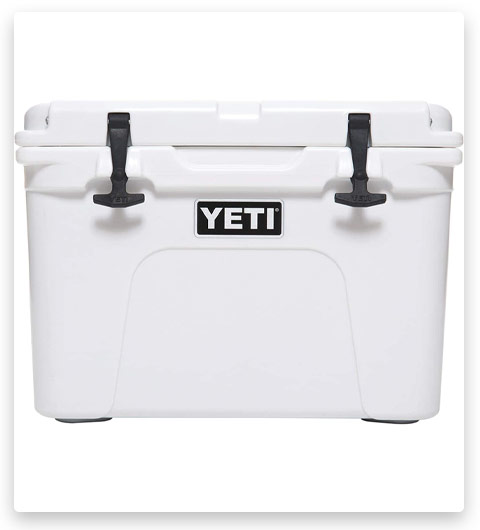 This portable model stands out for its high storage capacity. It is capable of holding up to 20 beverage cans. Your ice won't melt thanks to up to 3 inches of PermaFrost insulation and the thick FatWall construction. It is the perfect travel product. Wherever you go, you can take this Yeti soft cooler as it will withstand any rigors thanks to its solid construction.
5# YETI Silo 6 Gallon Water Cooler
This is a handy and roomy portable cooler designed to cool water. Versatile and comfortable to wear, this model will keep your water cool in the summer heat. It has an ergonomic SurePour spigot. It delivers water at a high speed and thus allows you to quickly pour the right amount of water. This cooler will help you out during a country walk, long trip, or outdoor recreation.
6# YETI Camino Carryall All-Purpose Utility, Boat and Beach Tote Bag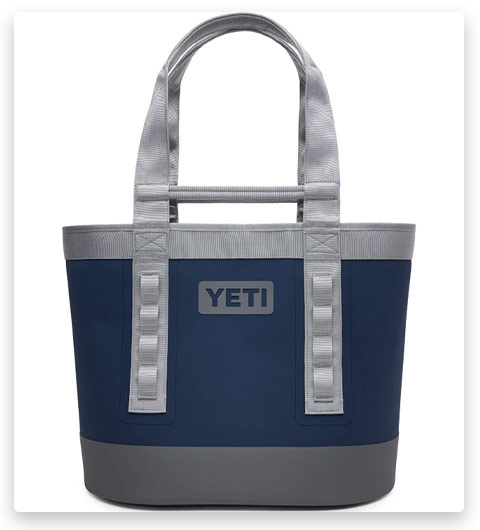 This is a convenient and roomy cooler bag, used to maintain the temperature of food and drinks. Versatile and comfortable to wear, this model will keep your drinks or other food cool in the summer heat. This cooler is made of wear-resistant materials with multi-layer thermal insulation and is designed for storing and transporting food or medicine.
7# YETI Tundra Haul Portable Wheeled Cooler
This model keeps food and drinks cool for a long time. What makes this cooler unique is that it features two wheels and a sturdy welded aluminum arm. This allows you to transport the cooler wherever you go with no problem. This is especially true on long trips. Whether you are fishing or hunting, this model was made for you. With industrial-grade polyurethane foam, your ice won't melt.
8# YETI Roadie Cooler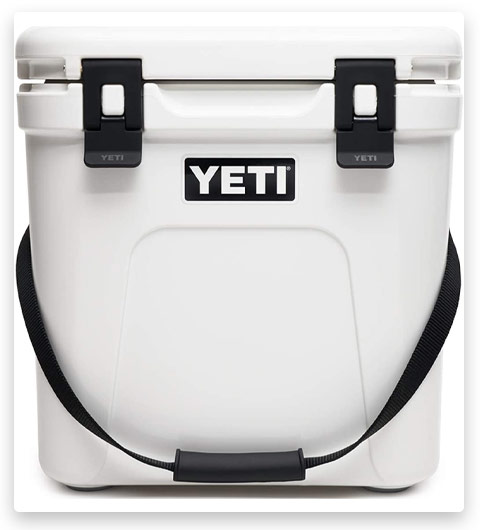 This cooler differs from its predecessors in its higher design. This allows you to chill not only standard soda or beer bottles, but wine bottles as well. It also holds 2-liter water bottles upright. This model has a swivel design that allows you to easily transport the cooler. This model is also quite light and thin.
9# YETI Tank Bucket Cooler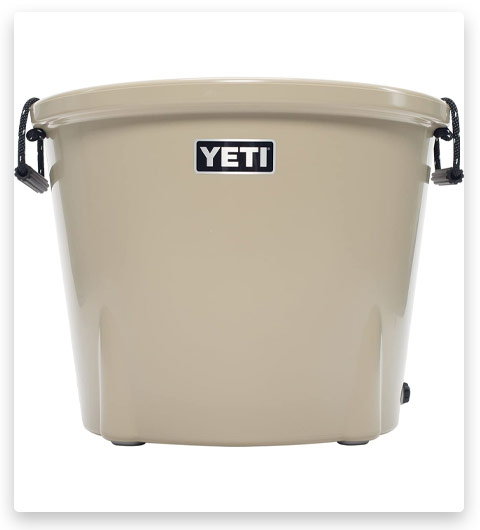 This cooler can be used not only for cooling drinks and food but also for storing fish while fishing. Permafrost Insulation keeps your drinks cool for a long time. This cooler is equipped with a Vortex drain system and also has DoubleHaul handles. It is ideal for family picnics as well as fishing, hunting, and other activities.
What Is a Portable Cooler?
The cooler is defined in your cooling system and is available in stores as active or passive. The easiest and cheapest option is a passive refrigerator. It consists of a sturdy plastic and polyurethane foam body with a lid and handles, and the interior is well insulated. It is equipped with ice packs to keep the contents cool. It can be foreseen that this process is limited and usually only lasts a few hours.
However, with good workmanship and insulation, there are very high-quality passive boxes that also allow up to 12 hours of operation. The passive box is well suited for carrying drinks and food, does not require an electrical connection, and is therefore very flexible in use. The handle on the box can be folded down for transport and then folded and integrated into the lid when not in use.
The active cooling box can also be transported in this way, but it operates electrically with different technology and thus provides cooling. Active refrigerating chambers work either with a compressor, an absorber, or thermoelectrics. All three options have their own merits and demerits. Cooling is possible for longer, even in a deeper cooling zone. The compressor and absorber models also allow, for example, the cooling of frozen food. Electric models require a connection to a power source, for example directly in the 12-volt car or into a regular 230-volt outlet. The temperature of an electric refrigerator can be adjusted and is usually shown on a small display or by an LED.
In addition to electrical boxes, there are also refrigerated boxes with gas mode. They are ideal for travel and camping and can also be plugged into electricity. All boxes have the same structure, are easy to transport, and have a volume of 20 to 60 liters. A lid and one or two holding handles are attached to it, which have recessed handles and can be folded back. In many refrigerated boxes, folding the handle is associated with the simultaneous closing of the box.
The refrigerator with an electric or gas engine also has additional insulation. It consists of polyurethane foam, respectively, of an insulating and insulating layer, consisting of plastic layers, sheet steel or cast elements. This not only insulates the cold well but also the heat. In addition, the refrigerator compartment is very stable, durable and scratch-resistant, and not too heavy when empty. In testing and comparison, the electric refrigerator is often ventilated, which not only makes the cooling more even but also provides good internal ventilation.
How Does a Portable Cooler Work?
The functionality of the passive and active boxes is different, which determines the cooling efficiency and the duration of the cooling. The passive drawer is well insulated and equipped with additional ice packs that are placed around drinks and food, as well as directly on the sidewalls and in the lid area.
When used in a refrigerator, the frozen state is maintained for some time until the inside becomes liquid again. Cooling times can be increased accordingly by using additional batteries or, as a rule, determined by testing and comparison by the number of batteries. In the case of a high-quality box, the materials and density of the box determine how long cooling can take.
Ice or ice cubes can also be used, but they have a shorter retention time. The passive refrigerator works independently of electricity and without any electronics. It is very efficient with high-quality insulation and can be used flexibly in testing. An electric refrigerator is heavier, equipped with a compressor and thermoelectrics or an absorber. It connects to the mains or directly to the car battery. The boxes are often illuminated when open and are also well insulated. At a good ambient temperature, you can reach temperatures from plus 10 to minus 20 degrees.
Conclusion
As soon as the first warming rays of the sun hit us, we love nothing but really good chilled drinks. Throw in some delicious snacks and nothing gets in the way of a trip with friends or family. But of course this only works with a suitable cooler, otherwise the drinks will be warm and inedible. The best manufacturer of such products is Yeti.
In this overview, I have covered the Yeti hopper in detail. If you find it difficult to make the final choice, take a closer look at these models: 1# YETI Hopper Portable Cooler, 2# YETI Hopper Backflip Soft Sided Cooler / Backpack, and 3# YETI Hopper M30 Portable Soft Cooler.
Tags: #yeti hopper / #yeti hopper review / #yeti soft cooler / #yeti soft cooler review / #yeti hopper portable cooler