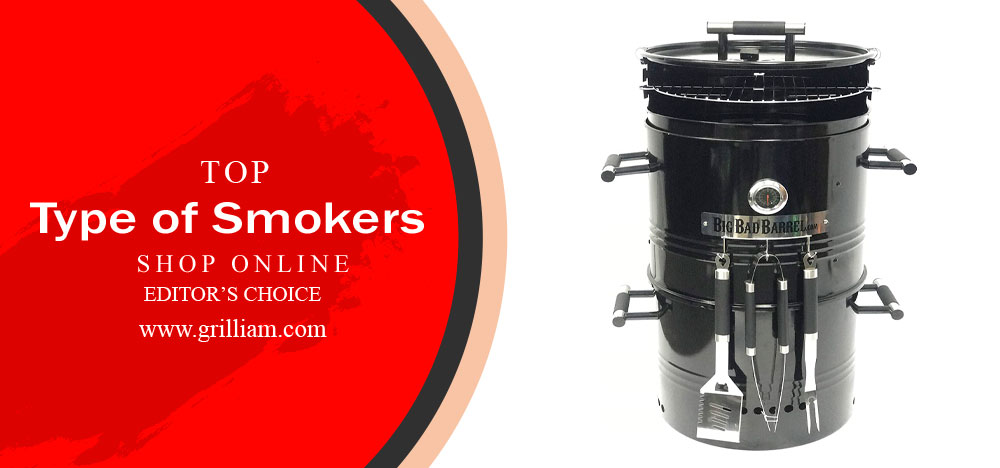 How to Buy the Right Smoker for Your Needs: Guide for Buyers
| Image | Product | Brand | Link |
| --- | --- | --- | --- |
| | Char-Griller E22424 Table Top Charcoal Grill and Side Fire Box, Black | Char-Griller | |
| | Weber Original Kettle Premium Charcoal Grill, 22-Inch, Copper | Weber | |
| | Dyna-Glo DGO1176BDC-D Vertical Offset Charcoal Smoker | Dyna-Glo | |
| | Char-Broil 19202101 Deluxe Black Digital Electric Smoker, Large, 725 Square Inch | Char-Broil | |
| | LANDMANN MCO 32954 Landmann Smoky Mountain 26" Electric Smoker-Black-OPP w/Viewing W | LANDMANN MCO | |
| | Char-Broil Classic 280 2-Burner Liquid Propane Gas Grill with Side Burner | Char-Broil | |
| | Masterbuilt 205 Stainless Steel Gas Grill, Tabletop (Old Version) | Masterbuilt | |
| | Dyna-Glo DGY784BDP 36" Vertical LP Gas Smoker | Dyna-Glo | |
| | Cuisinart CPG-4000 Wood BBQ Grill & Smoker Pellet Grill and Smoker, 45" x 49" x 39.4", Black | Cuisinart | |
| | Z GRILLS ZPG-450A 2022 Upgrade Wood Pellet Grill & Smoker 6 in 1 BBQ Grill Auto Temperature Control, 450 Sq in Bronze | Z GRILLS | |
| | Cuisinart COS-118, Vertical Charcoal Smoker, 18" | Cuisinart | |
| | Dyna-Glo DGX780BDC-D 36" Vertical Charcoal Smoker | Dyna-Glo | |
| | Royal Gourmet CC1830FC Charcoal Grill Offset Smoker (Grill + Cover) | Royal Gourmet | |
| | Big Bad Barrel Pit Drum Smoker Charcoal Barbeque Grill - 5 in 1 - Smoker, Grill, Pizza Oven, Table and Fire Pit | EasyGoProducts | |
| | Char-Griller E06614 AKORN Jr. Portable Kamado Charcoal Grill, Red | Char-Griller | |
| | Big Green Egg Wooden Shelves EGG Mate for Medium, Large & XLarge Big Green Egg - EGG (2 shelves) Authentic Big Green Egg Grill & Smoker Accessories Are A Must For Big Green Egg Users - (X-Large) | Big Green Egg | |
| | Weber 18-inch Smokey Mountain Cooker, Charcoal Smoker | Weber | |
With summer officially here, thoughts begin to turn to summertime fun with family and friends and, of course, backyard barbeques.

Barbequing and grilling are as much a passion for me as is fishing, and I will be doing plenty of that throughout the summer season.  A subset of barbequing that I enjoy smoking foods – I'm talking smoked pork ribs, beef brisket, seafood, and so on!
But, maybe because I'm an angler who also sometimes loves eating his catch, I think that smoked fish is in a league by itself. If you have the patience and love of phenomenal-tasting food, smoking fish will reward your palate with a slice of culinary heaven in a way that can only be imagined.
But to get the best-tasting smoked fish results we need the right backyard equipment. In this article-guide, we will take a look at 4 familiar and popular types of food smokers and 6 different design configurations.

The goal of this guide is to give you enough useful information about each type, including their most relevant pros and cons, to help you choose the type and design that best fit your budget and needs as well as a level of experience and patience… yes, patience. That is because, although smoking involves a confluence of several elements to produce good results, perhaps the most important of these is represented by the phrase "low and slow". This common and overused slogan best describes the smoking process.
Whereas conventional outdoor grilling can cook foods in a matter of minutes using direct heat, its close cousin, smoking, will cook fish at lower temperatures and slower rates using indirect heat. It is this low and slow process that is largely responsible for that rich, smoky fish flavor that many of us can't get enough of. Be it trout, tuna, mackerel, or salmon, smoked fish has a distinct aroma and flavor that just can't be achieved through conventional cooking methods – but you will need a good smoker to pull it off.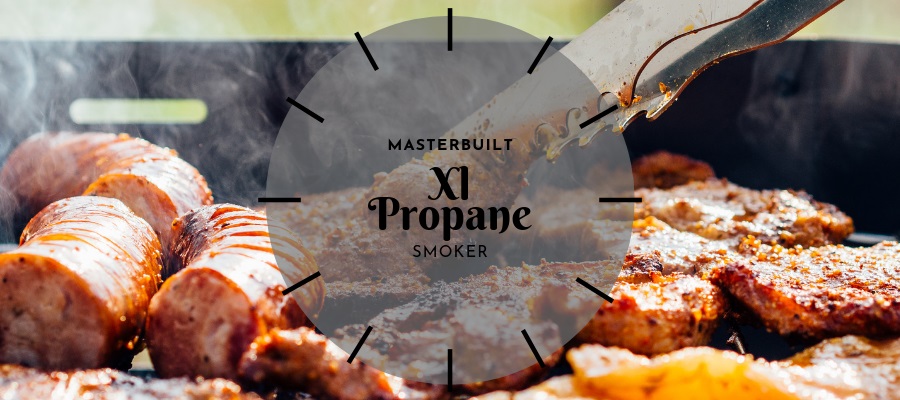 Whether you're cooking your catch or just love to eat fresh fish from the supermarket, investing in a quality food smoker will bring you years of tasty rewards. And, as a bonus, the standard smoker grill also works just as well with meats of all types, making it a versatile piece of hardware that almost everyone can appreciate. Smoking fish, meat, and other foods are nothing new – it's been done by various cultures around the world for eons – but the methods have certainly changed throughout the years.
Long before refrigeration, smoking was done to preserve food probably more so than to give it flavor. Today, the opposite is true – we smoke fish, meats and other foods because we like the incredible taste it imparts. Traditionally done in a smokehouse, the modern fish smoker is a standard BBQ smoker used for cooking food with the bonus of tasty smoked flavors. Today, there are a variety of home smokers for sale – we're talking dedicated charcoal, electric, gas (propane and natural gas), and wood (wood pellet) smokers at our disposal for smoking fish and meat.
4 Main Types of Smokers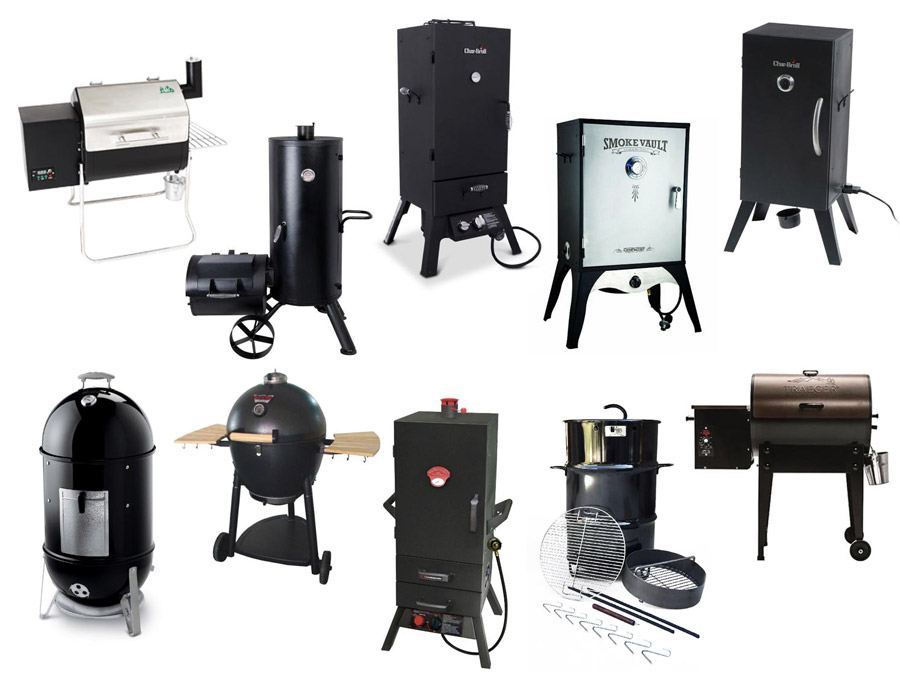 There are several types of smokers available, which are typically based on the fuel they use, and each one has its advantages, so it should be easy to find something that meets your preferences. The most popular types of smoker include:
First Type – Charcoal Smoker Grills
The Best Charcoal Smokers For The Money:
Best Choice Products BBQ Grill Charcoal Barbecue
Perhaps the most widely available type of smoker, they use charcoal as fuel to provide a deliciously smoky flavor. Charcoal grill smokers let you fine-tune the smoke-flavor density you want, from light to strong, once you master them. This results in probably the most authentic tasting smoked fish. The other major benefit of charcoal smokers is that it is easy to find an affordable model without losing any of that smoky goodness. On the other hand, charcoal requires lighter fluid, takes longer to start, adding to the total time to complete the smoke,  and can be quite messy to clean up.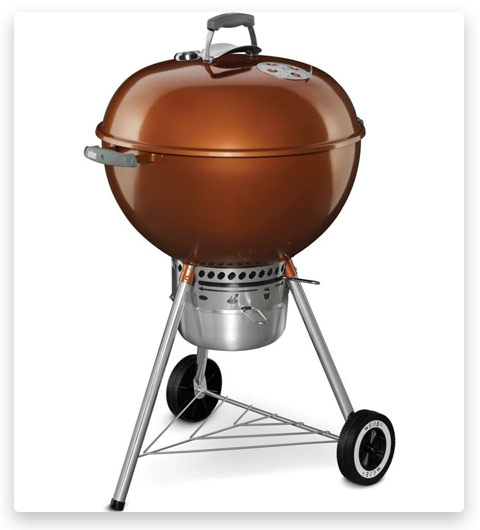 You will also need to have a good supply of charcoal on hand, and it is not the most cost-effective fuel for smoking fish or anything else for that matter! Charcoal smokers come in basic to feature-loaded models and various shapes and sizes.  While it's possible to find charcoal smokers that can be considered expensive, the vast majority fall squarely into the affordable category. Keep in mind, however, that the higher cost of charcoal as fuel will negate, over time, any savings from the charcoal smoker's lower initial cost.
Our choice is number #1: EasyGO EGP-FIRE-017 Big Bad Barrel Charcoal Barbeque
For beginners in smoking, this grill will be the best Kamado that will help you take the first steps.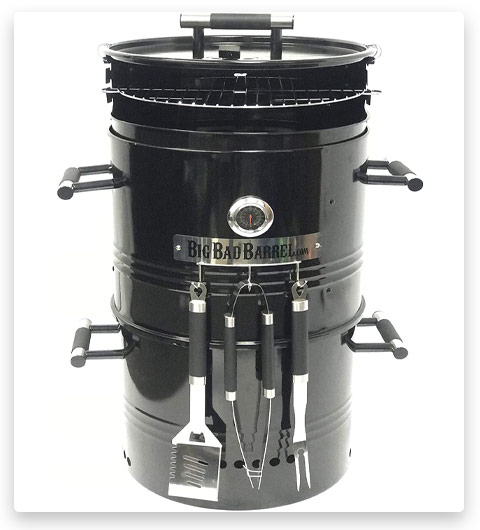 It has 6 stainless steel hooks in the set, on which you can hang 3 cutlery also going with a grill. It is very easy to set it up, and in the yard, it will not take up much space. EasyGO will make the taste of your food perfect thanks to a special design that allows you to adjust the temperature to 225 degrees for many hours.
Second Type – Electric Smoker
Best Rated Electric Smoker For Sale:
Powered by electricity, these smokers offer the most convenience for smoking fish. Simply place your fish into the smoker, adjust the settings accordingly, and let it do its thing. This hands-off approach is certainly appealing to many people seeking an easy way to smoke their fish, although the taste isn't quite as authentic compared to those using charcoal or wood. Electric smokers come in two flavors: analog (Rheostatic controller) and digital (Thermostatic controller) temperature control versions.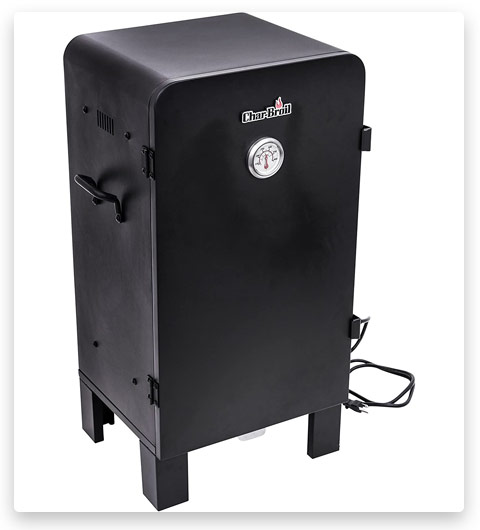 Analog (dial temperature control) smokers are cheaper but will still require some monitoring of the temperature. Though still far less than other types such as wood or charcoal. Digital food smokers, on the other hand, while more expensive, will perfectly maintain the temperature inside the smoker for a virtual "set and forget" operation. But regardless of the controller type of controlling the temperatures is generally very easy on an electric smoker, making it ideal for both hot smoking and cold smoking fish.
Third Type – Gas Smoker: Propane and Natural Gas
Best Gas Smoker: Propane and Natural Gas:
Propane gas units make up the most common type of grills and smokers in the U.S. (about 7 out of every 10), with good reason. For starters, they are affordable, convenient, easy to use, and produce consistent results. An alternative to propane is natural gas smokers. Though not as abundant as propane smokers, natural gas models burn cleaner and are cheaper to operate – however, natural gas smokers and grills are more expensive.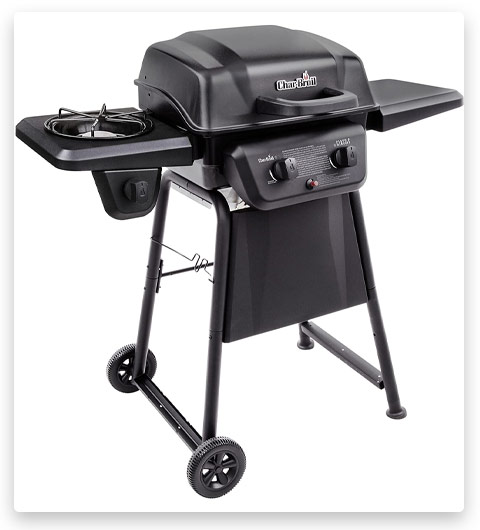 A propane smoker is quite comparable to an electric smoker in that it is easy to use and smokes a lot quicker than other fuel types. Also, they don't necessarily need to use propane, with natural gas now available as an alternative fuel source. A propane gas smoker is simple enough to use. Once you set it up by connecting the gas you simply toss the fish on and set to the appropriate heat, after which the fish will slowly smoke. The flavor produced by propane smokers, although not quite as smoky as wood or charcoal smokers, is still good.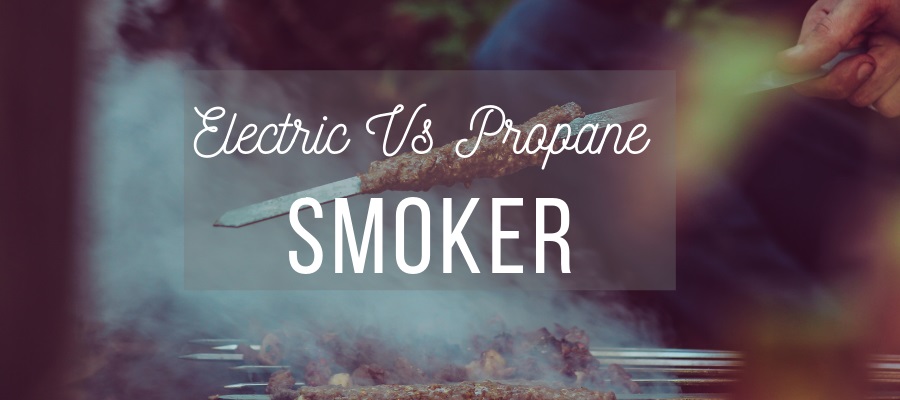 A great alternative for those who love the convenience and consistent results of propane but may also want a more robust, smoky taste from time to time, is a hybrid smoker that can run on gas or coal.
Fourth Type – Wood Pellet Smoker
Top Best Wood Pellet Grills:
There was a time when all food was cooked over a fire using wood as the source of fuel. We now have all sorts of other options as we've seen, from charcoal to electricity and gas. Today, though wood is not the main source of cooking fuel for the masses anymore, it holds a prominent place in modern-day cooking, grilling, and smoking. For smoking fish and meats, there is no better way to get authentic, smoky-flavored results than with a wood smoker.
In fact, the taste that various blocks of wood impart to smoked foods is so desirable that you will see all sorts of kiln-dried wood chips, chunks, and pellets for sale meant to be used in combination with smoker boxes and smoker tubes to infuse charcoal, gas, and electric smokers with the irresistible aroma and flavor of wood. Apple, Cherry, Hickory, and Mesquite are just a few of the most popular wood flavors available.
This highlights the importance of wood in smoking and adding flavor to smoking and leads us to the wood pellet smoker grill, considered by many to be one of the best smokers for home use. The wood pellet smoker is a relatively new entrant into the food smoker category, coming onto the scene in the late 1980s with the introduction of the Traeger wood pellet grill. The wood pellet smoker is an interestingly effective design. Hardwood pellets are held in a hopper or repository where they are released onto a powered auger that transports the pellets to a firebox where they are ignited by a hot rod. A combustion fan below then stokes the fire and circulates the heat and smoke throughout the smoker for unparalleled smoked flavor.
Different types of wood can be used to achieve distinct results, giving the smoke master plenty of room to experiment and find that perfect blend of smoky aroma and flavor on a level not achieved by other types of smoker grills. Pellet smokers are excellent for smoking fish due to the low and consistent heat they deliver, They maintain temperature well, and though not as "set and forget" as electric models, they are one of the easiest smokers to use and are low maintenance.
One of the great strengths of a wood pellet grill smoker is its incredible versatility. In addition to smoking your favorite catch, they can also be used to roast meats, grill, barbeque… you can even bake a pizza on them. It is worth noting that though pellet smokers use electricity to power the digital electronic controls, auger, and fan as well as heat the hot rod, they should not be confused with electric smokers. The fish or meat you put onto the grill is cooked strictly by the heat and smoke created by the burning wood pellets.
Some of the higher-end pellet smokers for sale on the market will even let you monitor and control the settings and so much more via Wi-Fi and Apps. This lets you change the smoker's temperature and other settings from the comfort of your backyard chair. All that said, wood pellet smokers don't come cheap.  They are more costly than the types of smokers in this guide. And to boot, pellets are neither cheap nor as readily available as other smoker fuels.
Fish Smoker Design/Configuration
The build of a smoker is important to consider as it will impact how easy it is to use, not to mention how much space it takes up in the yard. While I don't break down the pros and cons of each design type in bullet points (I feel design choices are more subjective and preference dependent and would need their separate post for a fair treatment), the broader important considerations, positive and negative, are outlined in each section.
Vertical Smokers
Top Best Vertical Smokers:
Also commonly known as water or bullet smokers (due to their bullet shape), vertical smokers are usually powered by charcoal, wood, or gas. They use a chamber of water to help regulate the heat and to ensure the fish retain moisture as they smoke. These compact upright smokers tend to be broken into separate compartments, with a section for the fuel that produces heat and smoke, a pan of water above this section to control the heat, and a final top section for the fish. The vertical smoker's smaller footprint makes it ideal for situations where outdoor space may be limited.
Offset Smokers
Best Offset Smokers For The Money:
An offset smoker looks very similar to a horizontal barbeque in shape and size. It consists of two sections, one for cooking/smoking and another that acts as a firebox. The smoke from the wood burning in the firebox is transferred into the larger section and funneled out through a chimney.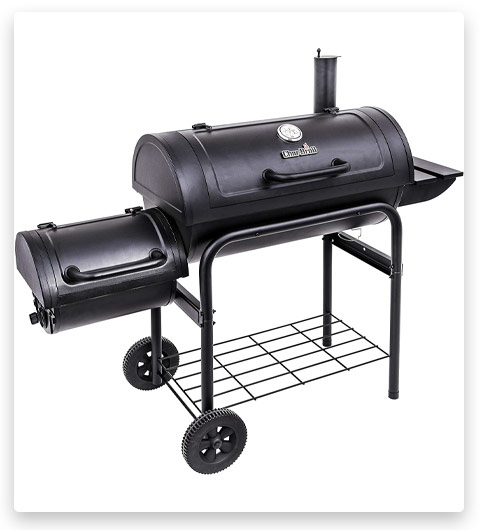 One issue with an offset smoker is their quality can vary significantly depending on the make. Those made poorly leak smoke and don't heat the fish evenly, especially when using thinner metal that doesn't retain heat well. However, reliable models produce wonderful results, with delicious wood-smoked flavors that are hard to replicate. Look out for tightly sealed doors and seams, along with models that use reverse flow to help heat food evenly.
Box Smokers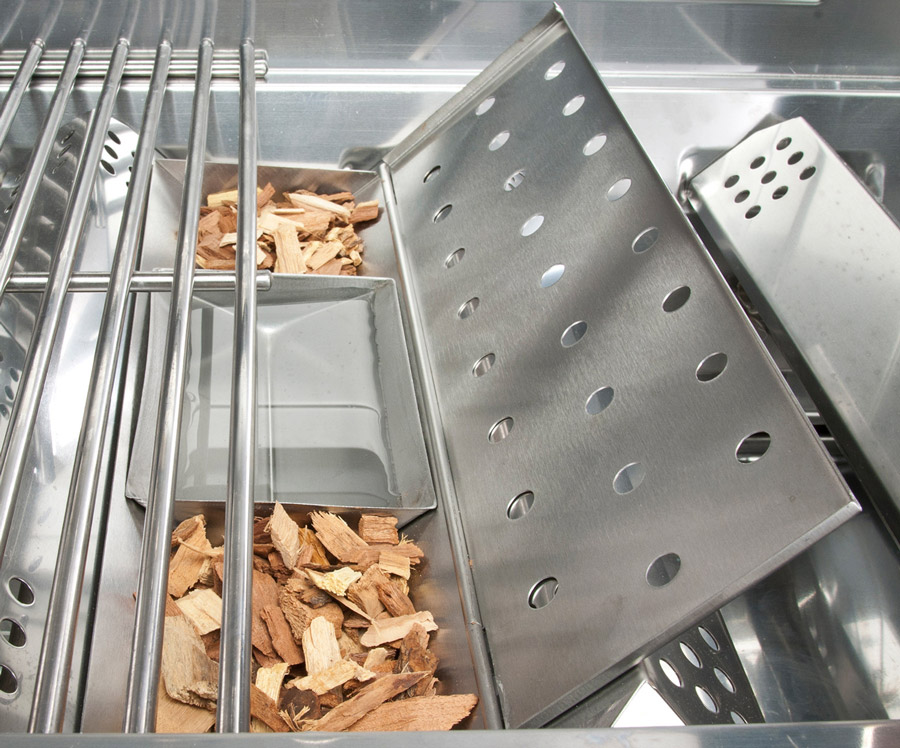 Top Box Smokers BBQ:
As the name suggests (they are also called vault smokers), this smoker features a large box shape that will contain your fish for smoking. The heat source is found at the base of the smoker, with heat sources varying from gas to electricity.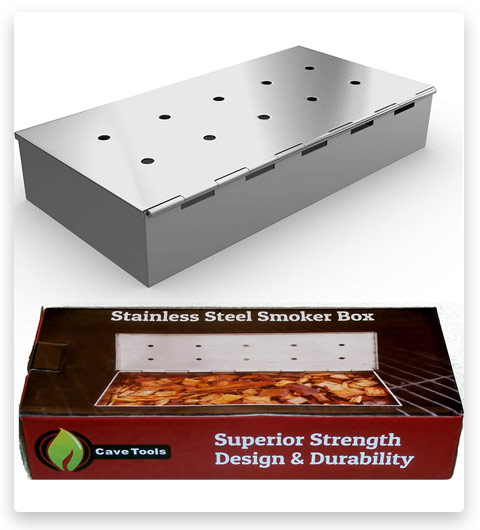 Box smokers are very convenient to use, as you simply place your fish in the main body of the smoker, close the cabinet door and then leave it to do its thing. Available in most price ranges, these smokers can also be found in compact and large sizes, making it easy to find the right size for your yard. However, it is worth mentioning that if you want to find a box smoker with good insulation, look for one with a robust cabinet door made from thick metal to ensure optimal performance.
Our choice is number #1: Weber Smokey Mountain Cooker 18-Inch Smoker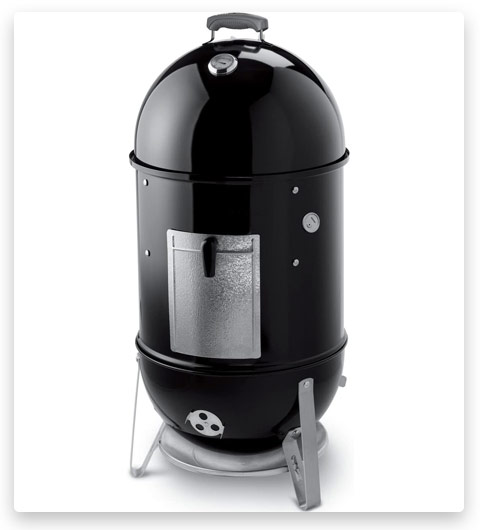 Weber Smokey Mountain Smoker is a barbecue veteran. This is a very convenient and popular grill. It is very simple to use, and it can maintain the temperature for many hours. On the Internet, this grill even has its own fan clubs. Yes, it differs slightly from the other grills, but it has more useful features: for example, a larger, but intuitive front door handle. It has a thermometer on the lid, but you can install your own, more accurate thanks to the sleeve on the side, as well as the equally useful lower heat shield, which makes Mountain Smoker the best for its price.
Drum Smokers
Top Best Drum Smokers:
If you just need an effective fish smoker, then you can stop at the purchase of a drum smoker, who was called the "ugly drum smoker".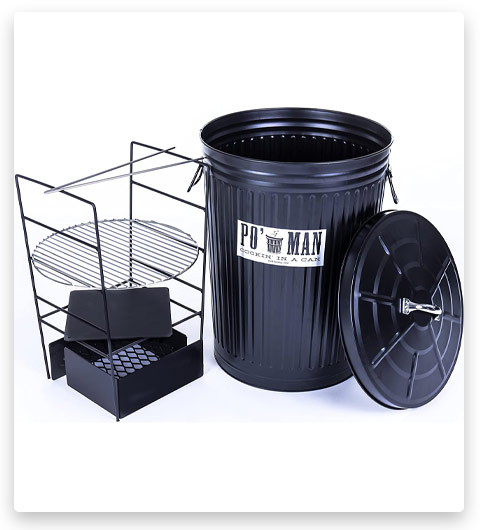 This is a large metal drum/barrel repurposed for smoking, featuring a fire basket at the base for the heat source (usually powered by charcoal or wood) and a wired grate near the top to hold the fish. Despite a basic design, a drum smoker is excellent for smoking fish and other meats. A lack of oxygen in the drum barrel creates the perfect smoking environment, with convection heat producing an even cooking temperature throughout for that smoky fish goodness.
Kamado Smokers/Grills
Char-Griller E06614 AKORN Jr, Red Charcoal Kamado Grill;
Big Green Egg Wooden Shelves EGG Mate;
Char-Griller E16620 Akorn Kamado Kooker Barbecue Grill and Smoker;
Viemoi Kamado Grill Mini Kamado Charcoal Grill Barbecue Steel Grid;
Weber Smokey Mountain Cooker 18-Inch Smoker;
EasyGO EGP-FIRE-017 Big Bad Barrel Charcoal Barbeque.
Kamado is the best residential outdoor oven going. These charcoal-fueled devices are modern versions of the Chinese and Indian earthenware cooking ovens that came into use several thousand years ago. Most look a bit like ancient giant eggs.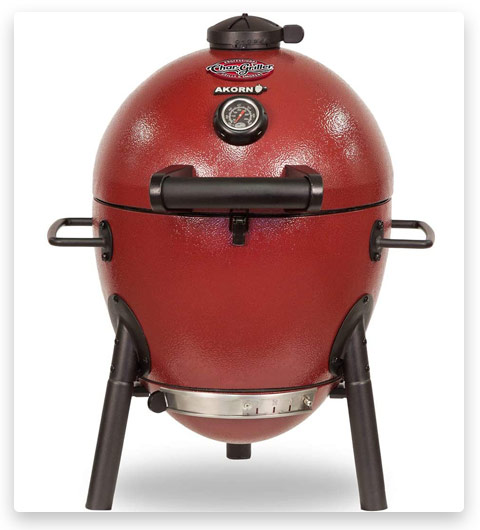 Some are made of ceramics or refractory materials, the same stuff used to make kilns, crucibles, and pizza ovens—all extremely good insulators that store and radiate heat effectively. So it's no wonder that ceramic grills, and smokers are a fast-growing category every year. The Kamodo (meaning stove in Japanese) smoker-grill is a striking piece of backyard equipment both in terms of looks and efficiency.  It's hard to ignore one when you see it.
Though it has that cool factor, the kamado grill is not something new. It is surmised that its basic design can be traced back to early China and later to Japan where it picked up its name. The kamado was introduced to the American market following World War II by ex-servicemen who experienced its wonders while stationed in Japan. A favorite among grilling and smoking enthusiasts, the vertically designed egg-shaped smoker is effectively a two-in-one unit, working as both a smoker and grill with equal efficiency.
Additionally, larger models can be used for 2-zone cooking, allowing basically to grill/sear and slow cook different foods at the same time by using direct flame heat and indirect convection heat simultaneously. The overall build quality of the kamado smoker is high, using heavy-duty materials such as ceramic and thick-gauged steel to produce exceptional insulation and durability. Originally found only in the more expensive ceramic build, today they are also available in cheaper but still high-quality heavy-gauge steel construction.
A Kamado smoker grill is a great purchase for those serious about smoking and grilling fish, meat, and much more with very little downside. However, possibly the biggest drawback with this grill is its price. It is up there with the most expensive smokers on the market, with even basic models costing several hundreds of dollars. But you get what you pay for with these terrific grill smokers.
Our choice is number #1:  Big Green Egg Wooden Shelves EGG Mate
The representative of the classic line Kamado – Big Green Egg Wooden Shelves EGG Mate.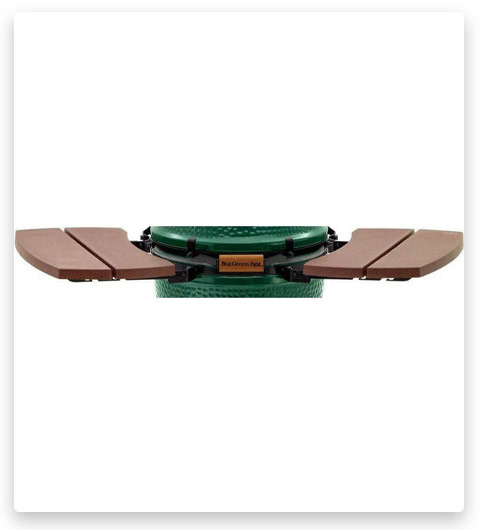 This 15-inch diameter grill is perfect for you and your family. Thanks to this green circle «chef», you can enjoy a delicious turkey, steak, or burgers. Although it is very roomy (some models hold 18 chickens!), it doesn't weigh much – 50-60 kg on average. Also, this type of grill is trustworthy, because its manufacturer on the market for a long time.
Dual-Purpose/Combination Smoker-Grills
PK Grills PK360 Outdoor Charcoal Grill and Smoker Combination;
Cuisinart CPG-4000 Wood BBQ Grill & Smoker Pellet Grill and Smoker;
PK Grills PK Original Outdoor Charcoal Portable Grill & Smoker Combination;
Dual Fuel Combination Charcoal/Gas Grill;
Green Mountain Grills Davy Crockett Pellet Grill;
Z Grills ZPG-450A 2019 Upgrade Model Wood Pellet Grill & Smoker.
Lastly, we come to the combo smoker/grills. While Kamado grills can be used as dual-purpose units, there are combination smoker grills made specifically for people who want maximum backyard options. They come in just about every fuel type including charcoal, propane, and wood pellet.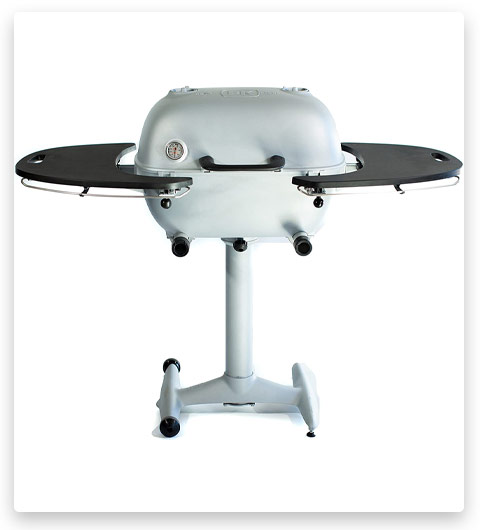 These are ideal for anyone looking for a flexible piece of hardware for smoking and grilling a variety of their favorite fish, meats, and other barbeque classics. Most models are reasonably priced considering what you are getting. Designs vary, but most tend to be a horizontal shape with dual compartments for smoking and grills. Heat sources also vary, ranging from charcoal to wood pellets to electricity. Dual-purpose grills are a great pick if you want to have the best of both worlds in a single pit.
Video Tips and Tricks on the Big Green Egg
Tags: #best type of smoker / #best type of smoker / #best type of smoker for beginners / #what is the best type of smoker / #what type of smoker is best