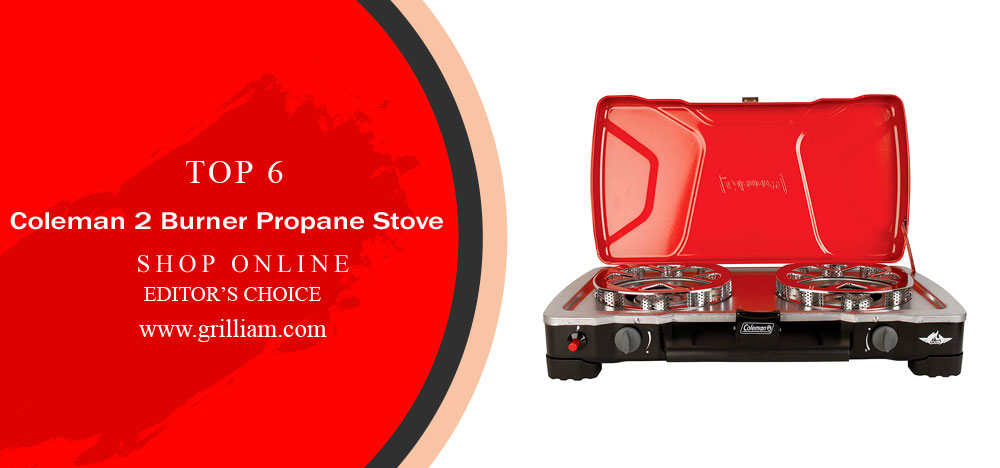 Coleman 2-Burner Propane Stove – Best Propane Stoves for Your Outdoor Cooking
| Image | Product | Brand | Link |
| --- | --- | --- | --- |
| | Coleman Gas Camping Stove | Triton+ Propane Stove, 2 Burner | Coleman | |
| | Coleman Fold N Go Propane Stove, 2-Burner | Coleman | |
| | Coleman 2-Burner Propane Camp Stove | Coleman | |
| | Coleman, Stove Propane Fyre Captain 2-Burner | Coleman | |
| | Coleman Gas Camping Grill/Stove | Tabletop Propane 2 in 1 Grill/Stove, 2 Burner | Coleman | |
| | Coleman Camping Stove | FyreCadet Propane Portable Stove, 2-Burner | Coleman | |
Modern camping stoves are devices that bring something incredible to your cooking. With them, you can forget about raw, salty, and tasteless food. Camping stoves allow you to cook on site or a picnic with just 50 sq cm of space and a little propane. Below you will find 6 of our favorite 2-burner camping stoves. These are very lightweight and compact options to help you prepare food away from home.
Top 6 Best Camping Propane Stoves Review
Camp stove sizes range from small compact propane burners to giant freestanding units with multiple burners. For information on the best Coleman camping stoves, check out our list below.
1# Coleman Triton 2-Burner Camping Stove – Best Value for Money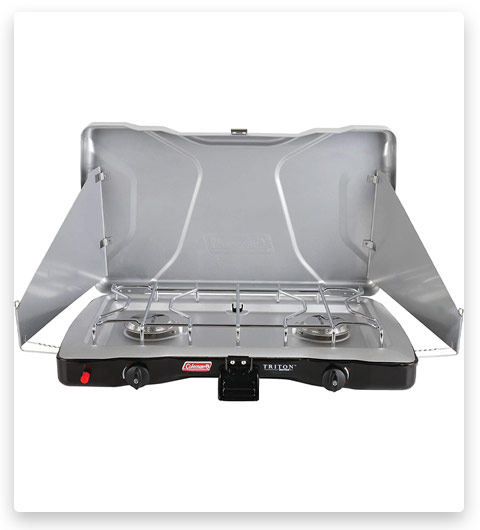 A great option if you are on a medium budget and want good power and performance. The design includes two 11,000 BTU adjustable burners compatible with a standard 16 oz bottle (can be adjusted via 20 oz bottle adapters). This is one of the few stoves that will allow you to cook a variety of foods with good power and temperature control. Last but not least, its 11-pound design allows the stove to be transported anywhere, anytime.
2# Coleman Fold'N Go 2-Burner Red Propane Stove – Our Best Pick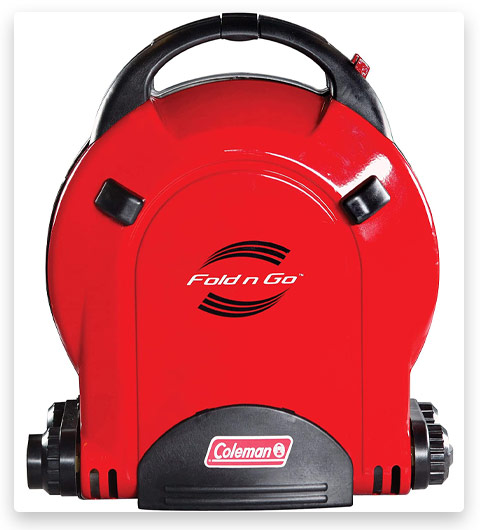 The main reason why we put this grill in the first place is the most convenient folding and transport system. When folded, it measures just 13.75 x 12.25 x 5.25 inches (35 x 31 x 13 cm). The stove itself is thin enough to be stowed away in a travel bag or backpack. No additional covers or cases – you just grab it by the handle and carry it with you.
Besides, this stove is equipped with the renowned InstaStart technology and flame control with PerfectFlow and PerfectHeat technologies, which ensures constant fire and heat even in windy conditions. It actually doesn't work as well as you'd like at very low fire, though.
The stove is very efficient – with two burners you can cook for over an hour at full power and a 16.4 oz propane tank. Everything you need for camping is in this stove – compactness, stable performance, convenience, and an attractive price.
3# Coleman Green Propane Camp 2-Burner Stove – Best Budget Pick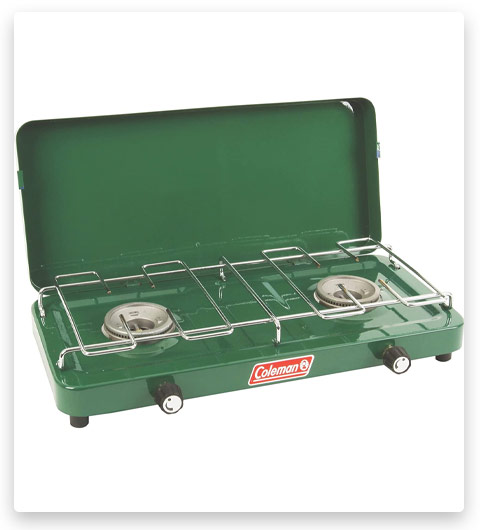 This model will not offer you such modern features as the previous two. But on the other hand, this is one of the cheapest models with a steel body. Great for a quick weekend getaway if you don't want to spend too much on a portable stove. With this product, you get two 14,000 BTU adjustable burners as standard with PerfectFlow and PerfectHeat technologies. For the price, this is a pretty good option for outdoor cooking.
4# Coleman Fyre Captain 2-Burner Propane Stove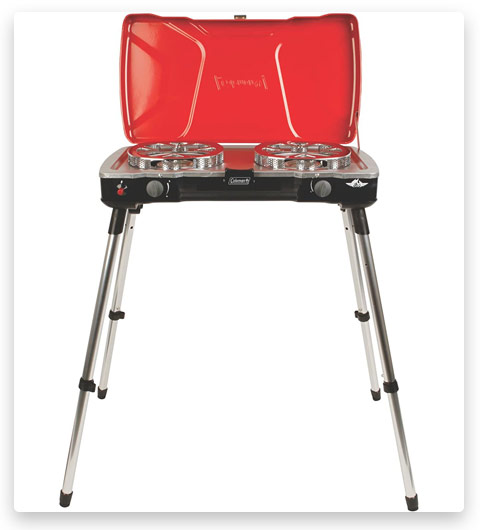 One of the best features of this stove is the legs. They are tall enough so that you don't have to bend over the cooking zones, which is very convenient. You don't even need a picnic table to cook on this stove. But you can remove the stove from the legs and move it if you want.
The burners are large enough to accommodate two large pans. So you can cook eggs and meat at the same time. A piezo sparker is built inside for automatic ignition, so this stove will be very easy to use. The only thing that upset us about this model is the slightly wobbly legs. So we recommend that you also support it with stones or woods so that no one accidentally knocks over the stove.
5# Coleman Grill/Stove Gas Camping Grill 2-Burner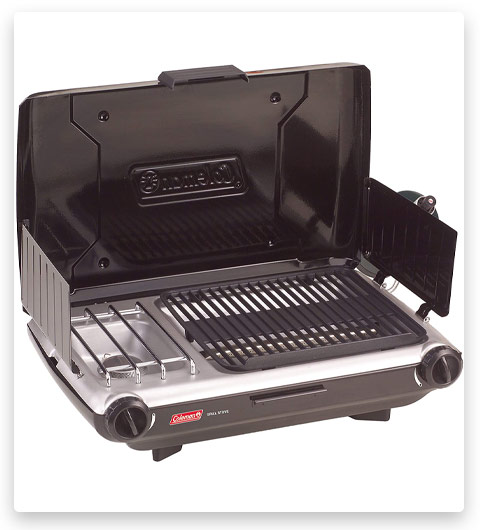 The best that this stove can give you is the combined functions of a grill and a camping stove at the same time! The model performs well in strong winds, is easy to carry, and has a large cooking surface. This is the best option if you are looking for a grill and stove at an attractive price.
6# Coleman FyreCadet Camping Propane Portable Stove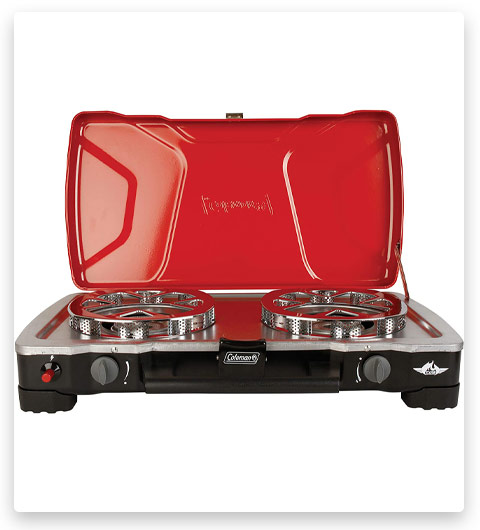 This camp stove performs much better than most camp stove designs. And wind protection is just incredible. The only drawback is that the stove does not have a supporting structure for the propane bottle and it constantly protrudes from the side.
Which Type of Camping Stove To Choose – Freestanding or Tabletop?
Camping stoves are of two types: tall freestanding models with legs and compact tabletop stoves.
Freestanding stoves usually give you more productivity and cooking space, but take up more space and are not as compact. But in return, they give you more cooking options. These models are perfect for experienced tourists who demand the power of the burners and the cooking space. Besides, most legs in these stoves are removable, so you can always remove the stove from the legs and use it on a picnic table as a tabletop stove.
But most of the users prefer tabletop stoves. Their small size and weight make it easy to carry or store the stove in the car, and with high-quality assembly and good wind protection, you will always be provided with a good fire. The disadvantage is that you need some kind of surface on which you will run the stove and place the propane tank. And doing this on the ground or a low table is not very convenient. Although you will need a table for prep work and food placement in anyone, so many users do not consider this a significant disadvantage.
The Optimal Number of Burners
Most manufacturers make 2-burner stoves for a reason. This amount is sufficient for most users and their needs. Just like at home, two burners are enough to cook several meals on time. Three or more cooking zones are rarely used. It is also the most common choice because the two-burner stoves fit easily into a backpack and are very compact. But for larger companies, there are 3-burner stoves, although they are used more rarely.
There is also an alternative – to connect several stoves in one system with one propane cylinder. This allows you to increase the space for cooking without having to carry a separate footed cooker with you.
About the Power of The Burners
BTU or British Thermal Unit is the main measure of the heat output in burners. Now they serve as the standard for determining the potential of burners and the entire stove as a whole. Although burners are measured in terms of efficiency, not just BTU power, this is a very accurate metric to compare cookers as a whole. If you are choosing between two 10,000 and 20,000 BTU burners, you will notice the difference.
What gives you a high BTU? First, you can cook more food in a shorter time. For example, you will boil a pot of water much faster. But high power comes with higher fuel consumption. So if your propane tank lasted an hour on a 10,000 BTU stove, a 20,000 BTU stove would empty the tank in half an hour. So always keep an eye on the optimal number of propane cylinders.
FAQ
We often receive questions regarding the operation of camp stoves and the Coleman brand. So we decided to collect the most frequent ones and put them in one section. Below you will find the answers to them.
Summing Up
A good camping stove doesn't always have to be complex and expensive. We reviewed these 6 stoves for you to prove it. Each has unique features, but they all boil water and cook food quickly, and are tough enough to withstand frequent backseat trips. After researching over 100 camping stoves, we decided that the Coleman Fold'N Go Stove is one of the best options for outdoor cooking. It's simple and gorgeous.
Tags: # coleman triton propane 2-burner stove / # coleman 2-burner propane stove / # coleman 2 burner propane stove / # coleman 2 burner propane camp stove