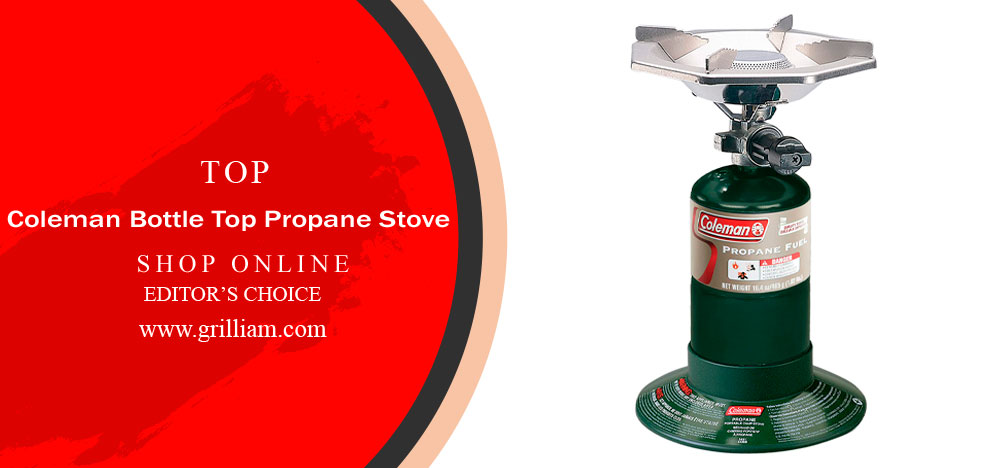 In summer, I want to get out into nature and taste juicy ribs, fried sausages, kebabs, or grilled vegetables. Everyone is accustomed to using a charcoal grill for barbecue. But recently, bottle top propane stove has become more and more widespread. The portable gas stove has long been a reliable companion for tourists, fishermen, and summer residents. Today on the market there is an impressive range of models of portable fire sources, differing in technical characteristics, design, functionality, and cost. However, in this article, I want to tell you about a unique model such as the Coleman bottle top propane stove.
About The Coleman Brand
The American company Coleman has existed for over 100 years and during this time has won the trust of more than one generation of tourism and outdoor recreation enthusiasts. Coleman was founded in 1901 by William Coleman in the small American town of Wichita (Kansas). At first, his company was exclusively engaged in the production of flashlights, but soon Coleman invents a liquid fuel lamp.
The invention was patented and began to be in demand, bringing success to the company. In 1905, the company received a large order for the manufacture of its miracle lamps for full-fledged lighting of the playing field during sports matches held at a later time. Coleman successfully coped with the task, and the products of his company continued to rapidly gain popularity. Several decades later, the brand is gaining worldwide fame.
Coleman currently occupies one of the leading positions in the world in the production of camping equipment. The company employs almost 4,000 people, most of whom are engaged in the production of products. All products combine simplicity, reliability, functionality, and safety in use. It doesn't matter whether you are going on a picnic with your family, or a serious multi-day hike that requires careful preparation is waiting for you – Coleman has everything you need for a comfortable pastime away from the usual city bustle.
Safe gas burners and compact tourist stoves will help you prepare delicious food, reliable tents, and comfortable inflatable beds will ensure a sound healthy sleep, and various accessories, inflatable boats, and circles will allow you to get the most out of your trip and give you a lot of positive emotions. Also, under the Coleman brand, tents, sleeping bags, sports backpacks, air mattresses, boats, tourist utensils, watches, shoes, clothing, and much more are produced that may be needed while traveling or for outdoor recreation.
Coleman Bottle Top Propane Stove – Editor's Choice
1# Coleman Gas Stove – Amazon's Choice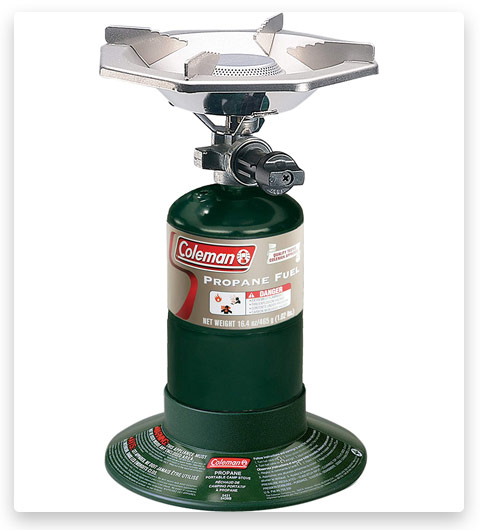 This Coleman Gas Stove is designed for hiking, cooking, and reheating food. Low weight, as well as modest dimensions, play a very important role in transportation because, during long pedestrian crossings, any additional weight is an undesirable factor. Portable Bottletop Propane Camp Stove with Adjustable Burner can be a reliable and helper in extreme conditions, as well as an effective solution to many household tasks.
A special knob is used to fine-tune the flame. Thanks to the adjustable burner, you can control the temperature. This model has a highly stable base so you can stir food during cooking without any problems. Even if a strong wind thinks, you can be sure that your food will be cooked. This stove is fitted with wind baffles. For tourism, fishing, hunting, car travel, this stove comes in handy wherever you need to quickly and without straining to boil water or prepare a simple camping meal.
How To Choose Camp Stove?
This article is exclusively dedicated to the Coleman bottle-top propane stove. You can't go wrong with this model! This is the best option both for those who have never used a stove for camping and for those who have already used a similar device. However, you should still read this information for a general overview. When choosing a device, it is important to consider a number of characteristics that determine its operation. The following parameters deserve special attention:
Power
On average, 1 kW of heating power is required to cook 1 liter of product. Therefore, it will not be difficult to calculate the required power of the device. According to experts, a gas appliance with an indicator of 1.5-2.5 kW will be an ideal option for a small company.
Fuel consumption
The less time it takes for the device to cook food or heat water, the greater the gas consumption. This parameter can be specified as the time it takes for one liter of water to boil or expressed as gas consumption per hour of operation. The buyer can find out information about fuel consumption in the technical passport attached to the device.
Dimensions
The size of the hob determines the permissible width of the dishes used for cooking, as well as its possible volume. In order not to be mistaken in the choice, it is worth using the recommendation of specialists. If the device is purchased for preparing various dishes for 6-7 people, it is better to stop at the unit, the width of the hob of which allows you to install a container with a volume of 5 liters.
Weight
Depends on the dimensions of the housing, the materials used, the burner area, and the presence or absence of a built-in reservoir. But it is important to take into account that when going on a hike, the user will have to carry the structure on his own, which is not always convenient.
Safety
High-quality equipment must be equipped with a gas leakage prevention function, an option to protect against an incorrectly installed gas cylinder, and a built-in overpressure relief valve.
Piezo ignition
Most modern camping gadgets are equipped with a function that allows you to light fuel on the burner with the push of a button. The presence of this option makes working with the device more comfortable and saves matches. However, if the humidity level is high, the piezoelectric element may fail.
Equipment
Some manufacturers supplement their technology with removable windproof covers, a plastic case for compact storage and transportation, as well as an adapter for connecting the unit to external gas sources. Gas cylinders and protective sleeves are sold separately.
A Little History of Gas Burners
Given the breadth of the modern range of gas burners, it is difficult to imagine that for a long time they were outsiders among the portable fuel equipment used by outdoor enthusiasts. The problem lay in the gas itself – the propane and butane used in the industry were extremely capricious and very sensitive to temperature changes, not ensuring proper operation of the burner when the thermometer dropped below zero.
Because of this feature, gas was used for a long time only in tiles and lamps intended for camping and auto tourism. It wasn't until 1989 that MSR began selling gas cylinders containing isobutane, propane, and butane. All its constituent gases had different boiling points, which ensured the stable operation of the burners in a wide range of temperatures and at different altitudes.
Improvement in the design of the gas cylinders themselves made it possible to increase the gas pressure inside the tanks, which significantly increased the altitude above sea level at which normal operation of the burner was possible. These factors, coupled with other advantages, predetermined the success of gas equipment and its widespread use in modern hiking practice. Despite the variety of designs of tourist gas burners, they are all endowed with operational pros and cons that are common for the entire class, which are dictated by the fuel itself.
Advantages of Gas Burners
The gas mixtures used have a very high energy value of the order of 11,900 kcal/kg – higher than that of gasoline and kerosene, which ensures their relatively low consumption. Manufacturers care about the purity of the fuel they sell – the burner is not clogged with foreign impurities, which removes the issue of its difficult maintenance. The gas does not need to be preheated, which makes the burner design much simpler. This makes it lightweight and easy to handle – just connect the burner to the cylinder, open the valve and ignite. The gas does not smoke and burns odorless. The by-products of its combustion are only carbon oxides (carbon monoxide and carbon dioxide) and water vapor.
Disadvantages of Gas Burners
The once key disadvantage of tourist gas burners was unstable operation when the thermometer dropped well below zero. Today it is practically overcome. The improvement of gas mixtures, as well as the designs of the burners and cylinders themselves, ensured their uninterrupted operation at temperatures down to -22 ° C, which more than meets the needs of most outdoor enthusiasts. But at lower thermometer readings, it is still recommended to use oil burners, especially on long expeditions.
The key problem in the operation of gas burners lies in the cylinders themselves and comes down to a high specific gravity of the capacity relative to the weight of the fuel contained in it. Manufacturers have to create heavy enough metal cylinders that can withstand the high pressure of the gas mixture they contain. Given the current trend of the entire industry to lighten equipment as much as possible, this is becoming a serious problem, especially on long autonomous routes. In addition, users are often faced with the task of proper disposal of cylinders in the field, which is not always possible for environmental and ethical reasons.
As the gas leaves the cylinder, the pressure inside it drops, which causes unstable operation of the burner with a small amount of fuel in the tank. This problem can be solved by inverting the cylinder, but this is only possible with gas burners equipped with a fuel hose and a fuel preheating tube.
Do not forget about the relatively high cost of gas for portable tourist burners. When feeding a large group on a long hike or expedition, the required amount of fuel will not only noticeably delay the backpacks, but also hit the wallet, in comparison with much cheaper gasoline or kerosene.
Conclusion
The burner in the modern tourist world has long and firmly entered into ubiquitous use. It doesn't matter what kind of travel you are fond of: climbing snow-covered Elbrus, riding a bike along mountain trails, or simply getting out of the city's stone jungle for a weekend with your family in nature, you will definitely need energy for accomplishment. We get it with food, so the issue of cooking on a hike takes an important place.
A properly selected burner will significantly speed up and facilitate the preparation of food and hot drinks. Coleman Bottle Top Propane Stove is able to help out both on a long hike and in conditions when there is no way to use full-sized equipment.
Tags: #coleman bottle top propane stove / #camping stove / #camp stove / #propane stove / #propane burner / #coleman stove / #coleman bottle top propane stove windscreen / #coleman bottle top propane stove vs camping stove