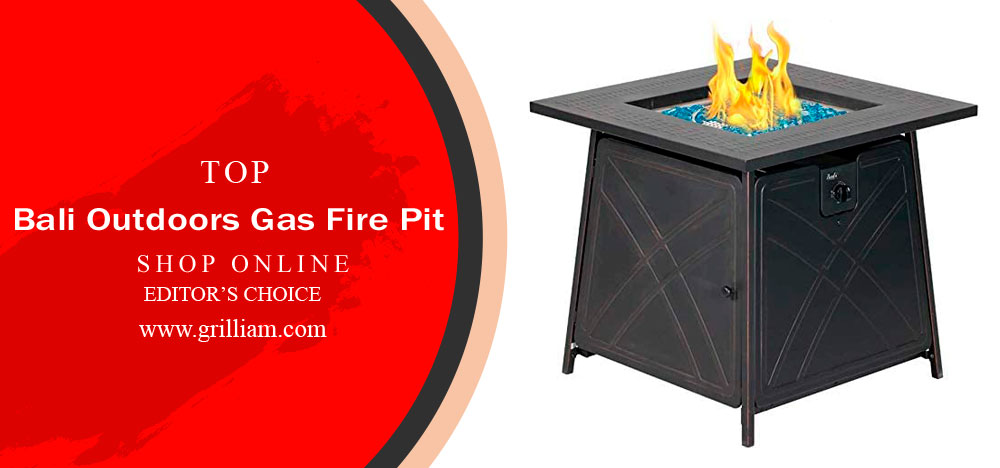 A fire pit table is a great purchase that will decorate any yard or open space where you want to install it in your home. But the most important thing to consider is the qualities that the table has to offer.
Many fire pit tables look very good these days, but your impression of them diminishes a lot as you learn about their intrinsic characteristics. But the most annoying thing is realizing that you made a bad purchase.
The quality of the fire pit table you choose is very important if you want to use it for years. It is an essential element of your yard and we want to review a great model for you now. For more information and reviews, you can read this buying guide.
BALI OUTDOORS 28 inch Propane Gas Fire Pit Table – Editor's Choice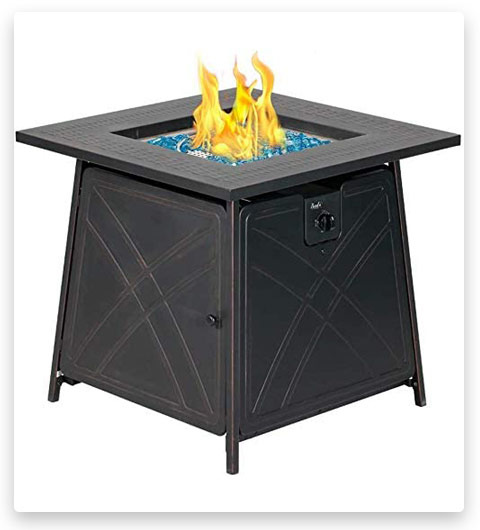 This is a fire pit table from Bali Outdoors and has already received thousands of satisfied reviews from users who have purchased it. We also decided to buy it and check if it is as good as users say about it.
Performance
Maintaining & Regulating Heat
For many, thermal power is a rather important quality of a fire pit table, and a BTU rating may not always show the actual level of pit heating. The Bali Outdoors fire pit table is rated at 50,000 BTUs and emits very severe heat. The thermal range is very good. And if you put anything metallic on fire, it gets hot very quickly. The heat from the flame can be felt 4-6 feet away. The flame focuses very well in the center and the heat is distributed throughout the entire table area.
This pit has good heating levels and controls, but even at the lowest level, it is still hot. So if you put your feet on the table to warm up, you will get hot pretty quickly. It would be great if the manufacturer added more adjustments to the lower levels. The table is perfectly adjustable at high temperatures. This table can really keep you warm in cold weather or repel mosquitoes. And if you do not need good heating so much, you can set the fire to minimum power and feel comfortable.
Fuel Consumption
Another thing to consider when using fire pit tables is the amount of gas it consumes. This table, despite its size and power, does not consume much heat. Of course, this depends on the settings you set and the intensity of use. We used this table for half a month on medium power and it used up one 20 lb. propane tank. If you set the temperature much lower than this value, then at the minimum setting it can easily last a month on one bottle of 20 lb. propane.
Design
Before you can start using Bali Outdoors, you will need to assembly it. And although the assembly is not the most interesting moment of using the fire pit table, here it is as simple as possible. The manual is very simple and easy to read with excellent English. The company has gone to great lengths to make it as easy as possible for you to assemble this table. You don't need any additional tools as this fire pit table comes with the necessary bolts, nuts, screws, and assembly tools. All you have to do is assemble the bottom of the table, put it on its legs, and connect the tank. The upper metal part is a solid piece, and the burner plate runs in the center.
Size
The fire pit table should not be too large so that you can sit close enough to feel the warmth of the flame. And it shouldn't be too small to comfortably sit, drink, eat, or spend time with family or friends. This is exactly what the Bali Outdoors fire pit table gives you. Its length and width are 28 inches and its height is 25 inches. You can easily sit comfortably at this table and receive the heat it emits. You can even fry something on this table if you want.
Gas Storage
The tank storage is located inside the table itself, which makes it very convenient to use. It makes the table look very clean and aesthetically pleasing. At the same time, you always have quick and convenient access to the tank through the magnetic door. The storage easily holds a 20 lb. propane tank. Besides, the fire pit table is supplied with a hose, with which you connect the gas tank to the burner. So all you have to do is connect the tank to the burner. After that, you can turn on the table. The only drawback of the storage is that the door closes very loudly. It would be much quieter if the magnets were rubberized or there was some kind of soft-close mechanism.
Ignition
The control knob is also located on the bottom of the fire pit table. To ignite it, you just need to turn the knob to set the desired flame level and the burning of the pit. In almost all cases, the pit ignites itself, but if you set the fire to a very low level, it may not ignite and you will have to light it with a match or lighter. At the top of the fire pit is the central tray where you put stones. This model already comes with beautiful blue glass. The glass is really high-quality and makes the fire shine and sparkle. It is much brighter and more aesthetically pleasing than lava stones.
Material
Bali Outdoors fire pit table is completely made of metal. It is one of the best materials, but, unfortunately, it is not stainless steel. This means that you will have to use a cover or umbrella to protect the table from rain and elements that can cause the fire pit to rust. But unlike shale, metal does not crack or break. This means that this table will serve you for a very long time and you will be able to enjoy the warm fire and atmosphere for many years. Most importantly, make sure the table is protected from rain and water.
Summing Up
Performance: This is a fairly powerful fire pit table with good temperature control. You will be comfortable sitting with it in both warm and cold weather. It is not, however, quite hot even with minimal heat.
Design: The table has a great design with easy assembly. It is not too bulky, not too small, and ideally sized to fit several people around it. Assembling and igniting is a very simple process, and the stones will make the fire sparkle very beautifully.
Material: Build quality is pretty good, but the frustrating thing is that the table is not stainless steel and can start to rust over time. You need to constantly monitor its condition – so that it does not get caught in rain or snow and store it in a safe place.
Bali Outdoors Gas Fire Pit – FAQ
In this section, we have collected your most frequently asked questions about this fire pit table from Bali Outdoors. If you do not know any subtleties of this model or you are interested in something regarding material, design, or functionality, then most likely you will find the answer here.
What to Look for in A Good Fire Pit Table?
You need to know why you are taking a fire pit table and why you want it. Here are the most important aspects to look out for when choosing a fire pit table:
Price
The size
Weight and mobility of the structure
Material
Power
Fuel type
Design
When you consider all these factors, you can be sure that you have chosen the right fire pit table. Bali Outdoors for each of these parameters has very high indicators and ratings.
Advantages of Gas Fire Pits
Compared to wood-burning, gas fire pit tables have many advantages. Here are some of them:
Fast ignition – you can start the fire pit in a matter of seconds, whenever you want thanks to electronic ignition.
Customizable – gas fire pit tables are highly customizable. For example, you can put your own filters there, etc.
Precise temperature adjustment – with the control knob you can adjust the temperature at different levels and BTU powers.
Environmentally friendly – operation of gas pits is environmentally friendly and does not harm the environment as much as wood burning.
Propane or Natural Gas?
When using a gas fire pit table, you can choose whether to use it on propane or natural gas.
If you choose natural gas, then you are solving the problem of the fact that your supplies will eventually run out, because you connect the pit directly to the lines of your house. But on the other hand, connecting directly to the lines is a rather long and difficult process and not everyone will want to deal with it. But if you do decide to use natural gas, then make sure that the lines are installed correctly and correctly to ensure a stronghold and safety.
Using propane is more flexible as you use a compact and mobile tank and you don't have to worry about connecting the pit to your home's lines. The downside of propane is that gas tanks always run out, sooner or later. So make sure you always have a supply of propane and can always connect a new tank to the burner when the current one runs out.
In Conclusion
Now you have a complete understanding of what the Bali Outdoors Gas Fire Pit Table is and why it is a great model for the money. All you have to do is think about your needs and determine if this model is right for you. Bali Outdoors is one of the best options. It provides you with a powerful 50,000 BTU burner, so you will get a lot of energy and heat from it. Besides, this table features excellent material quality, lightweight, and flexibility, and gives you many possibilities of use. A detailed and understandable user manual will allow you to assemble the table quickly and easily. We hope our article was helpful to you. Have a nice rest on the patio!
Tags: #bali outdoors gas fire pit table 28 inch review / #bali outdoors 32-inch outdoor propane gas fire pit table 50000btu firepit/ #bali outdoors 30 slate table top gas fire pit / #bali outdoors 52 in rectangular gas fire pit table /#bali outdoors 42″ rectangular gas fire pit table / #bali outdoors 52 in rectangular gas fire pit table reviews