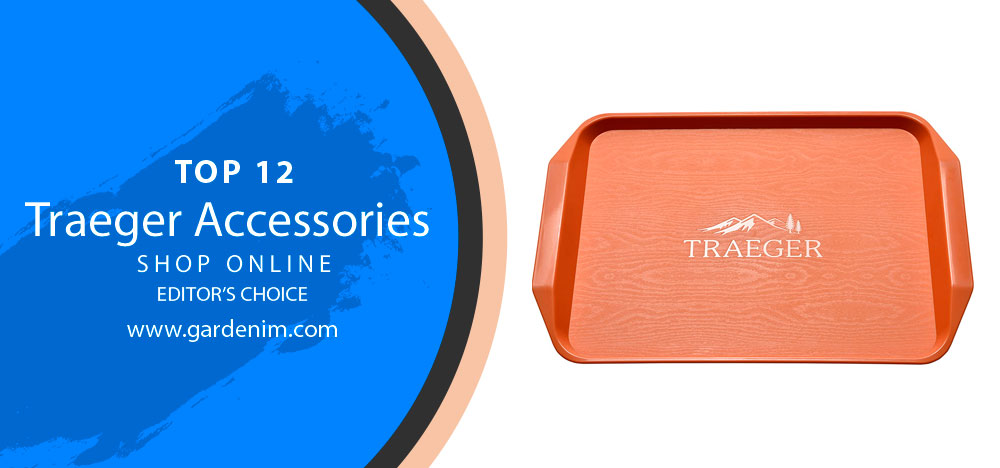 Traeger Smoker Accessories – Best Accessories for Your Grill
You are very lucky if you have a Traeger grill. Because the company produces so many accessories for its grills that will make it easier for you to cook and use a grill or smoker. In this article, we'll take a look at the best Traeger accessories for your grill.
Top 12 Best Traeger Accessories Review
For the most part, Traeger pellet grills are among the best due to the large number of accessories available for them. Some of the accessories on the list are very important and necessary, while others are optional but very handy. It all depends on how often you use the grill and how. This article will not touch Traeger Grill directly. We will only touch upon additional accessories that you may want to buy to make your grill cooking process easier. Let's begin!
1# Traeger 5-Pack Disposable Liner Grill Drip Tray – Best for Fast Cleaning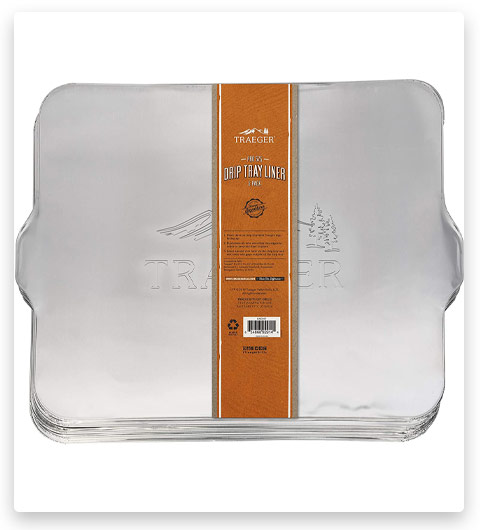 Any grill needs to be cleaned of grease and dirt after use. And it is not very convenient to clean the drip tray every time. That's why Traeger offers you a set of 5 disposable aluminum liners. They are very strong, reliable, and will not melt even with the hottest cooking. And most importantly, they are very easy to recycle. So you don't have to mess around with cleaning your grill for a long time. The main thing is to check that these liners fit your grill model. Because many users underestimate the liners simply because they did not fit the grill in size.
2# Traeger Grills Reversible Griddle BAC382 – Best Versatile Unit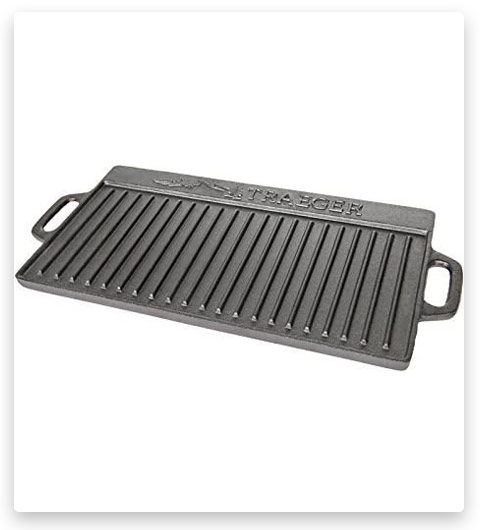 This accessory greatly simplifies and speeds up the grilling process. Its design is very versatile and can be used from both sides. And the side handles make it very comfortable to grip and use. The cast iron material is highly durable and fire-resistant. It heats evenly and makes it easy to maintain the needed temperature. As we said, this accessory is very versatile and can be used for many different purposes. Thanks to the ribbed surface and even heat distribution, you can cook steak or fish on it. And if you flip it over to the flat side, you can make pancakes, cheese, or potato pancakes.
3# Traeger Grills 5-Pack Bucket Liner BAC407z – Best Buckets For Drips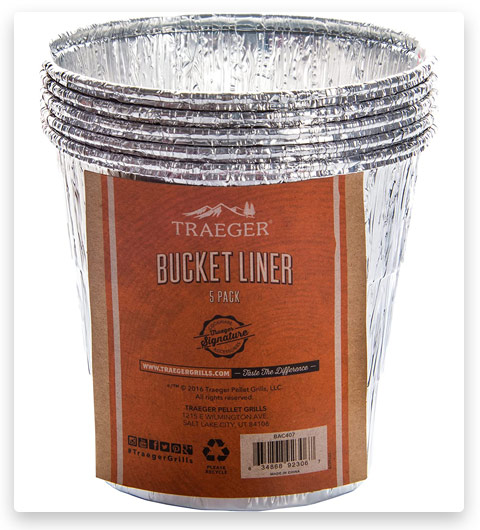 Cleaning can be tough, not only for the trays but for the buckets, which are needed to collect grease in many grills. If you don't want to scrub your bucket of grease and waste time cleaning it every time, you can simply buy these liners and insert them into the bucket before every cooking. After the liners are full, you can simply throw them away and not have to do a long cleaning. They are made of aluminum so you don't have to worry about leaking grease or melting from high temperatures.
4# Traeger Grills Wooden Scape Grill Scraper BAC454 – Best for Safe Cleaning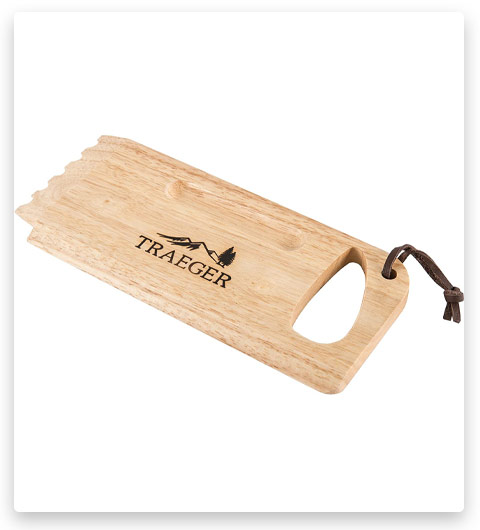 This is one of the most important and convenient grilling accessories in our opinion. Cleaning the grill, especially of burnt food, is difficult and can damage the surface material. Plus, cleaning your grill effectively can often take some effort and you may feel tired after cleaning. The wires and brushes, which many people use to clean the grill, are incredibly often damaging to the surface. A safer way is to use tools that are made from natural ingredients and will not scratch the grill surface.
The Traeger wooden scraper fits most Traeger grills. This allows the grill to be cleaned very quickly and safely after you have finished cooking. The scraper is made of durable wood, so you can be sure it will last you for years. What's more, this scraper is much cheaper than many less-than-perfect cleaning products.
5# Traeger Grills Stainless Steel Grill Basket BAC273 – Best For Small Food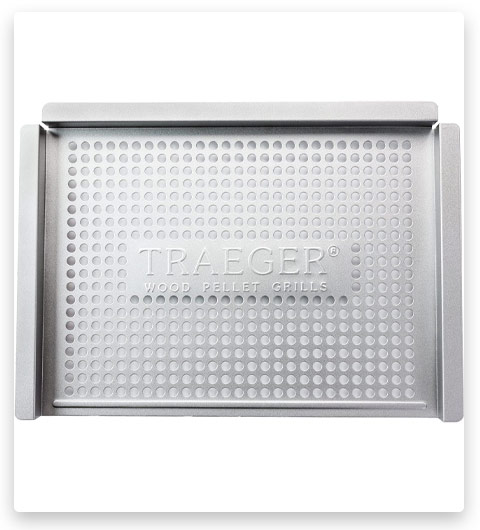 Almost every griller sooner or later comes across the fact that he needs to cook small pieces of food. And when you turn food, there is a very good chance it will fall through the grill grates. To avoid this problem and save your small food, Traeger offers you this basket. How does it differ from a standard grill basket? Very simple – there are only small holes in this basket. This ensures that small pieces of meat, vegetables, or seafood will not fall onto the grill tray and ruin your dinner. You can safely turn the food while it cooks in this basket without fear of falling. Of course, this is not the most important accessory if you are not preparing small food on your grill or if you are really neat. But if you are going to cook shrimp or asparagus, then this accessory will be very useful for you.
6# Traeger Grills Chicken Throne for BBQ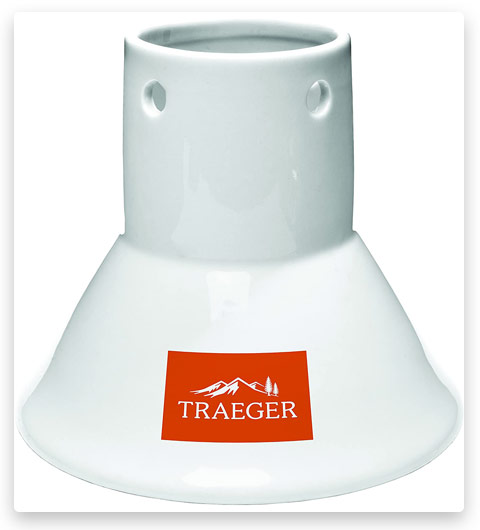 This is a great accessory if you are a fan of grilling chicken or other poultry. This chicken throne is very versatile and has a unique and very user-friendly design. The throne is very easy to use. If you are cooking a whole chicken, you just need to place the chicken in the center and fill it with some kind of marinade (like wine, beer, or juice). The throne perfectly permeates the meat from the inside and makes it very juicy and rich.
7# Traeger Grills Apple Wood Pellets 20 Lb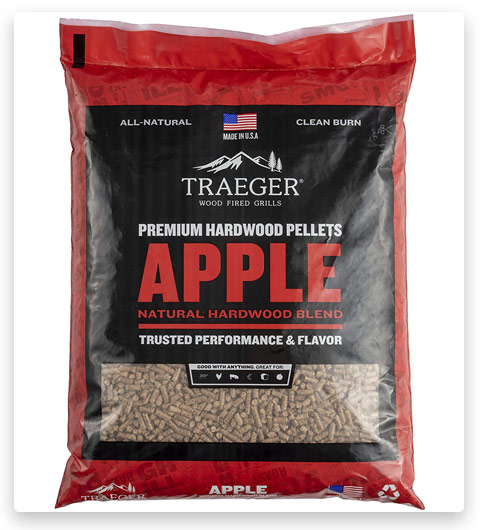 This is an excellent set of pellets directly from the manufacturer. It smells like an apple, but if you like, you can choose hickory, cherry, mesquite, pecan, or the original blend. With these pellets, you get a light smoke aroma that permeates your grilled food and allows you to enjoy not only the taste but also the aroma of the food. The unique and balanced structure of the pellets results in an even and reliable combustion of the pellets. This is one of the best pellet models you can find on the market.
8# Traeger Grills BBQ Tray Grill Accessories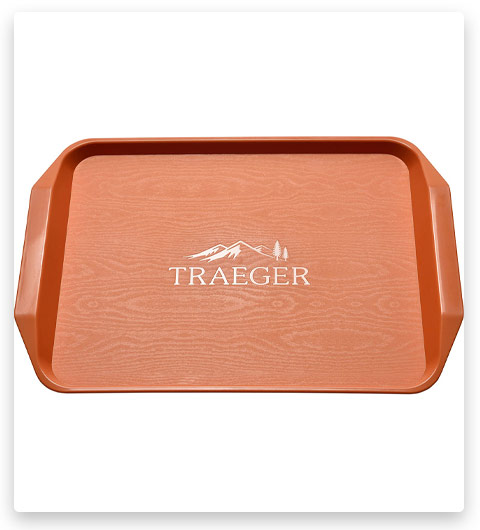 This is a great tray in which you can cut and carry small pieces of meat or vegetables. Thanks to the high sides of the baking sheet, you don't have to worry about food falling to the ground. Plus, it looks very stylish and you can use it to serve food on the table. The trays are quite wide and can hold a lot of food. This accessory will help you save a lot of clean dishes if you want to place food somewhere. Plus, you don't have to worry about cleaning the tray. Because it is dishwasher safe.
9# Traeger Grills Folding Shelf BAC362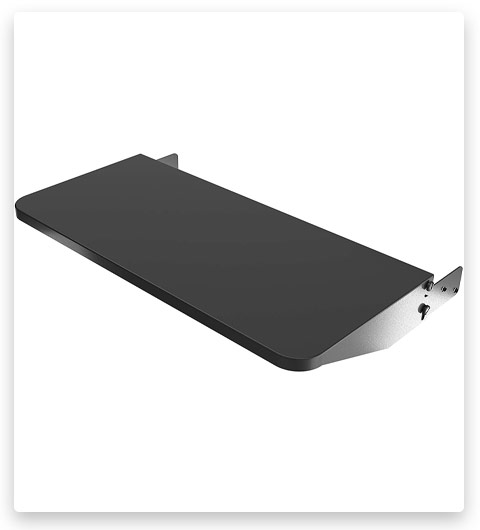 Folding shelves are included with the grill only starting from the Traeger Pro Series. So if you have a grill with lower specifications, it is logical to consider buying a shelf. This is a really handy grill accessory. We cannot call it irreplaceable, but it is very useful. For example, this is great when you are cooking meat or fish and applying sauce or marinade. Plus, when the food is cooked and you decide to shift it, you don't run the risk of the food dropping. The foldable shelf gives you another advantage. You will be able to stand much closer to the cooking surface when the shelf is lowered. Also, if you store your grill off, the folded shelf saves space.
10# Traeger Grills All Natural Cleaner 950 ml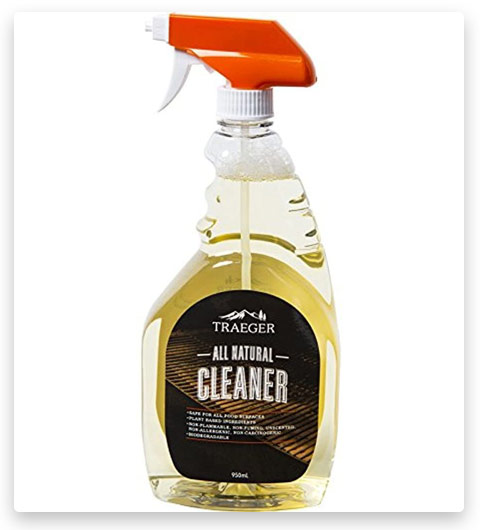 Choosing a safe grill cleaner is very important. Many users recommend regular household cleaners. But the problem is that many of them are unsafe to eat. And if you want, for example, the grates that come into contact with your food to be safe for cooking, you need to consider buying quality and safe cleaner. It is an all-natural cleaner that works great on the grill surface and helps you not spend too much time brushing. You can also cleanse the smoker with this cleaner. The cleaner is not too abrasive, so you don't have to worry about damaging the paintwork on your grill or smoker.
11# Traeger Grills BBQ Tongs Accessory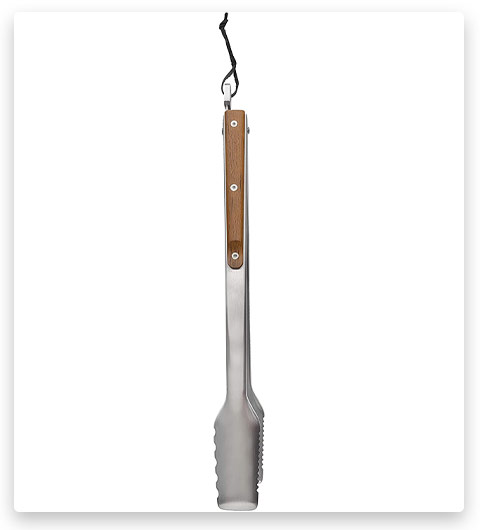 It often happens that turning food on the grill is not very convenient with a fork or spatula. Therefore, the Traeger Grills offers you excellent tongs with which you can easily flip ribs, vegetables, or fish. They are very durable as they are made of stainless steel and have comfortable wooden grips that will save you from the heat. The tongs have pointed barbs at the edges for a more secure and firm grip on food. And the locking mechanism keeps the pliers closed.
12# Traeger Grills Digital Instant Accurate Thermometer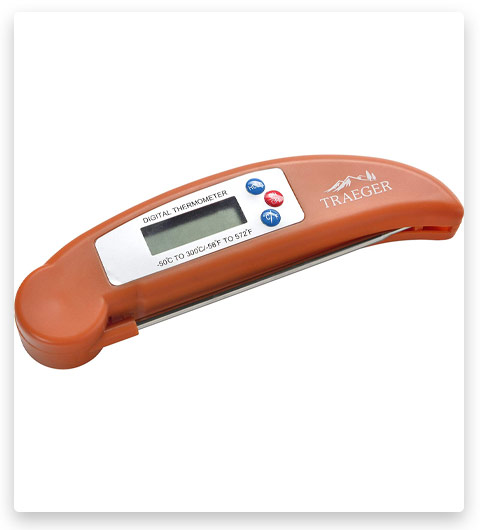 Not all grills have a built-in thermometer, much less a good built-in thermometer. Therefore, you can take advantage of this digital thermometer from Traeger. It is very easy to operate, has a large temperature range of -50 to 300 degrees Celsius, and can be switched between Celsius and Fahrenheit.
Pros & Cons of Traeger Accessories
Now let's discuss whether the Traeger accessories are so good and whether you personally need them.
Pros
It doesn't matter what purpose you use your grill for baking, frying, or smoking. In any case, you will need special kitchen utensils for successful cooking.
How can accessories help you with this? Whether you need to keep an eye on the temperature, cook small meals, or clean your grill safely and reliably, then the Traeger accessories are what you need.
The best thing about them is that they are very easy to use, durable, and fit almost all Traeger grills.
Cons
The main disadvantage of these accessories is their individuality. Most of them are suitable for Traeger grills and only for Traeger grills.
You can of course use some of these for other grills (eg. cleaner). But how do you repurpose a grease tray or foldable shelf for a different grill?
Unfortunately, they are not suitable for other brands but do a great job on Traeger models.
Final Words About the Best Traeger Accessories
Traeger manufactures a wide variety of accessories. And many of them have cheaper and better quality counterparts. We have listed only those that have several advantages over other brands. For example, a cleaner that is approved by the brand itself or very handy tongs. You will not get any problems using your grill if you use them.
All of the products on our list stand out for their excellent quality and are highly rated by Amazon users. These are the accessories you can trust. We hope you found this article helpful and helped you choose the accessory that is right for you. If you are interested in learning more about Traeger grills or wood pellets themselves, you can check out other articles on our website. Have a nice grilling!
Tags: #best traeger accessories / #best accessories for traeger / #traeger grill accessories / #accessories for traeger grill / #traeger pellet grill accessories / #best accessories to use with traeger / #traeger smoker accessories