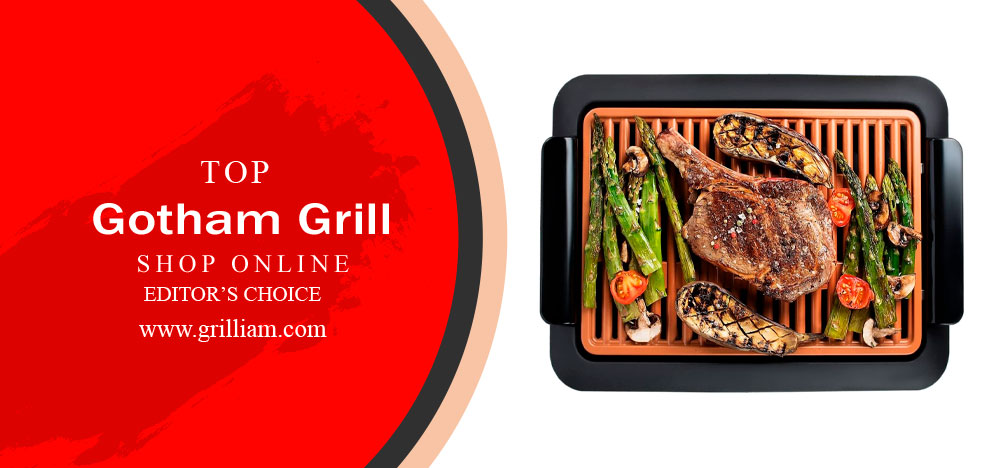 Gotham Grill Review – Best Gotham Smokeless Indoor Grills
| Image | Product | Brand | Link |
| --- | --- | --- | --- |
| | Gotham Steel Smokeless Grill, Indoor Grill, Nonstick Ceramic Electric Grill – Dishwasher Safe Surface, Temperature Control, Metal Utensil Safe, Barbeque Indoors with Virtually No Smoke, As Seen on TV | GOTHAM STEEL | |
| | Gotham Steel Indoor Smokeless Grill Electric Grill Ultra Nonstick Electric Grill Dishwasher Safe Surface, Temp Control, Metal Utensil Safe, Barbeque Indoors with No Smoke! | GOTHAM STEEL | |
| | Gotham Steel Smokeless Electric Grill, Portable and Nonstick As Seen On TV! - DELUXE | GOTHAM STEEL | |
| | Gotham Steel Electric Grill Low Fat Multipurpose Sandwich Grill with Nonstick Copper Coating – As Seen on TV Large | GOTHAM STEEL | |
| | Gotham Steel Sandwich Maker, Toaster Panini Press Breakfast Sandwich Maker with Nonstick Surface, Makes 2 Sandwiches in Minutes, with Easy Cut Edges and Indicator Lights, College Dorm Room Essentials | GOTHAM STEEL | |
Many of us love barbecues, but unfortunately, not all have enough space in the yard to accommodate a full charcoal or gas grill. And in the house, we have rather limited space. Plus, you need pretty good ventilation to use your grill at home. This is difficult to find if you live in a small apartment or condominium.
But don't worry. Even if you do not have a big yard and good ventilation in your apartment, I have found a solution for you that will allow you to cook right at home and enjoy a great barbecue. In this post, I will review 5 of the best grills from Gotham for you.
Why Did I Choose Gotham?
Obviously, Gotham isn't the only brand that makes smokeless grills. But I chose it for three reasons. First, the company makes some of the best smokeless grills on the market and has very high user ratings. Secondly, the grill can be easily installed anywhere on a flat surface. All you need is a nearby power source. And thirdly, these are the only grills that have very accurate and high-quality temperature control and are dishwasher safe.
Top 5 Best Gotham Steel Smokeless Grill Full Review
Now let's take a look at the best models from Gotham and move on to the review
1# Gotham Steel Smokeless Grill Ultra Non-Stick – Editor's Choice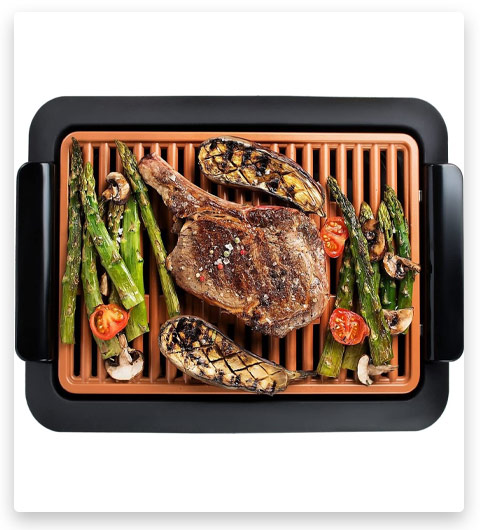 This is one of the best Gotham smokeless grills and will cook your meat perfectly and leave dark brown and black marks on it, just like a real charcoal grill. This is achieved thanks to the Gotham non-stick ceramic surface. The heat passes evenly through the wire shelf and is distributed over the entire surface for toasting and browning food.
The grill does not emit any smoke at all, except for steam from vegetables or meat with high moisture content. Even so, the grease tray catches any droplets that come out of the food. And high-quality ceramics, from which the cooking surface is made, will not let your food burn.
Both parts of this Gotham steel grill are removable for cleaning. You can wash them either by hand or in the dishwasher.
Gotham has set 4 temperature regimes here. Depending on your needs, you can set the temperature control knob to 1 of 4 positions. And when you are not using the device, you can disconnect the metal connector from the temperature plug. This makes it easy to store and maintain your grill.
2# Gotham Steel Indoor Smokeless Grill Griddle – Best Versatile Pick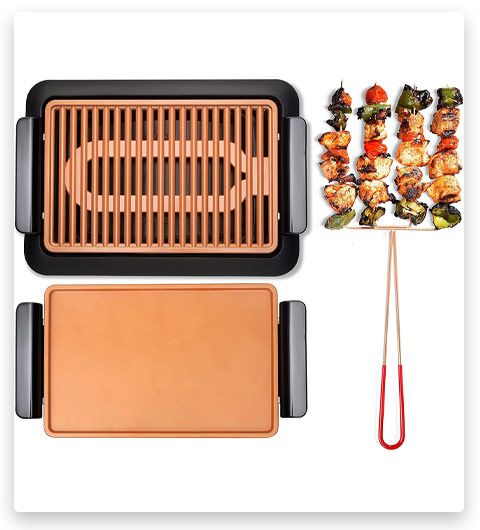 A very convenient smokeless grill if you are an ardent lover of kebabs or scrambled eggs. It has a refrigerated drip tray to collect grease and drips if you have very fatty meat ready. The droplets will not overheat or emit smoke or odor, so the only smoke you will have is from meat or vegetables on the grill itself.
The unique feature of this Gotham grill is the pitchfork. It has 4 large skewers to securely grill meat or vegetables. It also comes with a non-stick skillet if you want to make pancakes or eggs. They slide very easily onto the plate thanks to the non-stick surface.
Both the grill and the pan are very well made and distribute heat evenly. Besides, they each have their own heating element for better cooking.
3# Gotham Steel Electric Steel Non-Stick Coating – Best Large Pick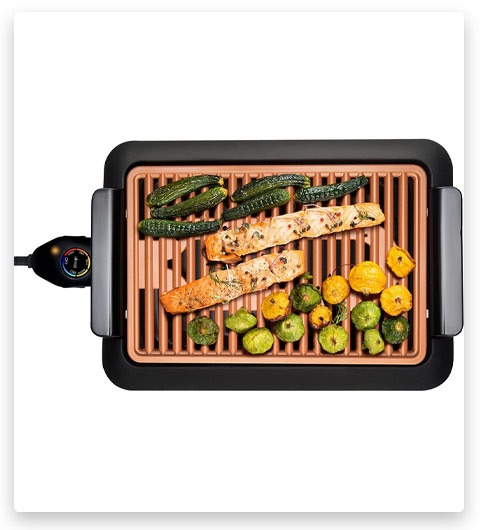 Many people today know that non-stick coating containing PTFE, PFOA, and PFOS elements is harmful to the human body. Especially if you are cooking at high temperatures. The steel smokeless Gotham grill has a titanium and ceramic non-stick surface that does not contain these elements. Therefore, you can rest assured that your food will be protected from harmful chemicals that can harm your health and the environment.
What I like the most is the cooking surface on this grill. They measure 18 x 13 inches. This is enough to cook meat for a company of 5-6 people. Like all previous grills, this model of Gotham steel smokeless grill offers you a temperature controller with 4 settings. The right temperature heats food evenly so it doesn't burn and stays tasty.
The non-flammable base of this grill keeps all heating elements far enough away from the countertop. So you don't risk damaging the surface, even if you cook at very high temperatures.
4# Gotham Steel Low Fat Electric Grill – Best Budget Pick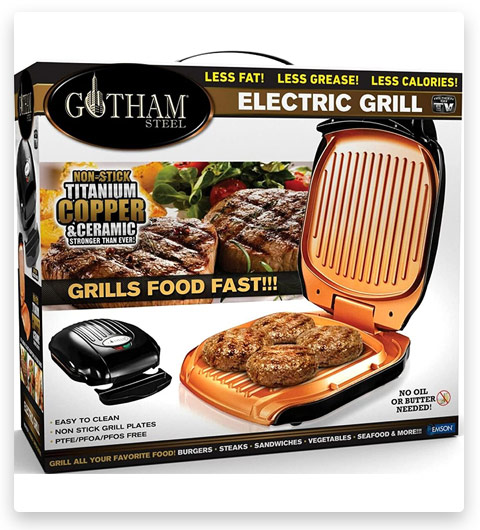 You can purchase this very cheap and compact Gotham steel smokeless grill to enjoy a delicious barbecue in the comfort of your home. Despite its size, it has a very good cooking surface.
The non-stick ceramic and titanium grill surface evenly distributes heat and paints food until golden brown. It also has a handy two-light indicator to show when your meal is ready.
The grill is equipped with a grease trap to prevent drips and grease from contaminating your worktop while cooking.
5# Gotham Steel Sandwich Maker And Electric Grill – Best Compact Pick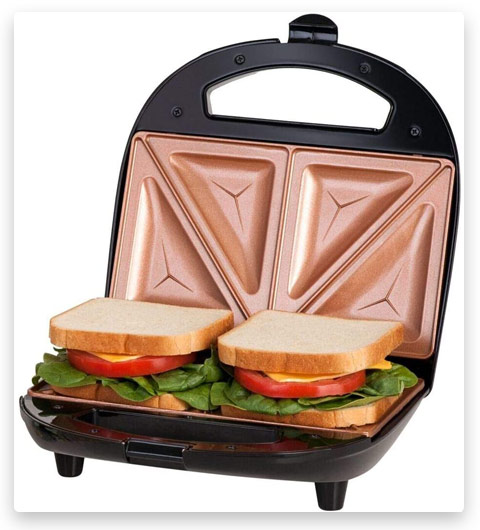 Last but not least, this is a grill and toaster maker in one device. It's compact and lightweight, so you can move it wherever you want. It has a non-stick coating that distributes heat evenly over the entire surface so that food is cooked completely and even the deepest areas do not remain soggy.
Also, there are special triangular sandwich molds that are very easy to clean. This grill also has a ready indicator that will notify you when your sandwiches or toast is ready.
Top 10 Pots and Grill Pan Reviews – Tools for Your Kitchen
Besides smokeless steel grills, Gotham also makes excellent high-quality cookware in which you can cook, stew, and steam a variety of dishes. So I decided to share with you 10 of the best casseroles and grill pans from Gotham.
6# Gotham Steel Pots And Pans Premium Ceramic Set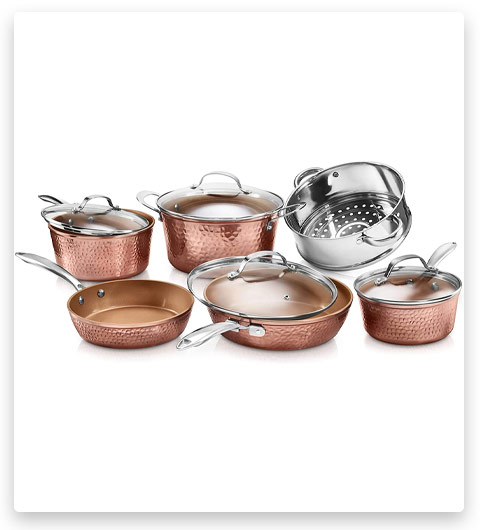 This 10-piece set of pots, pans, and steamer is the best choice for everyday use. Like any Gotham cookware, each unit in this set has a titanium and ceramic non-stick coating without harmful chemicals. Besides, there is no need to use sunflower oil or butter when cooking.
Another nice feature of this set is the ability to wash them in the dishwasher. The set is excellent against salt and detergents in tablets or capsules that you use when dishwashing.
I also liked the durable handles of the Gotham cookware, which do not heat up even when cooking at high temperatures. By the way, about high temperatures. The cookware is very resistant to them and withstands up to 500° F. The glass of the cookware lids is tempered and you can use and clean them just like the other items in the set.
7# Gotham Steel Cookware And Bakeware Set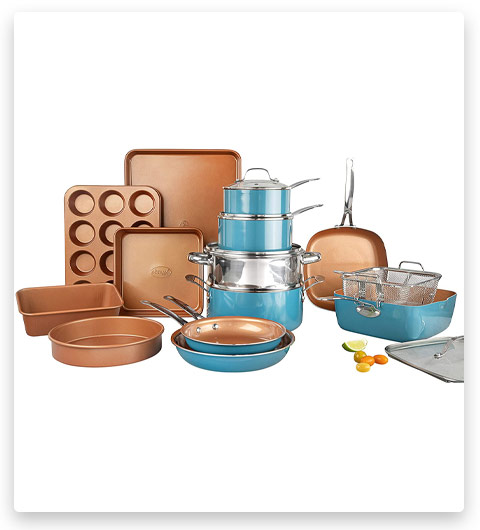 This is one of the most comprehensive sets that will allow you to cook and bake at the same time and will satisfy all your needs in the kitchen. Each item in the set is oven safe, so you can cook on the stove first and finish in the oven.
Gotham has processed the cookware in this set with a multi-award-winning Ti-Cerama coating that is highly durable and safe. The dishes here are not only extremely durable but also resistant to scratches and metal dishes. In addition, pots and pans are very lightweight.
8# Gotham Steel Bakeware Set
If you love baking, then this Gotham 5 Piece Set is perfect for you. You can easily prepare your favorite cookies or cakes without the fear that they will burn or stick. The trays, molds, and bowls are made of durable steel and are easy to clean. They are dishwasher-safe and can withstand temperatures up to 500 degrees Fahrenheit. The pans are shallow, making them ideal for cookies and other baked goods.
9# Gotham Steel 6 Quart XL Non-Stick Set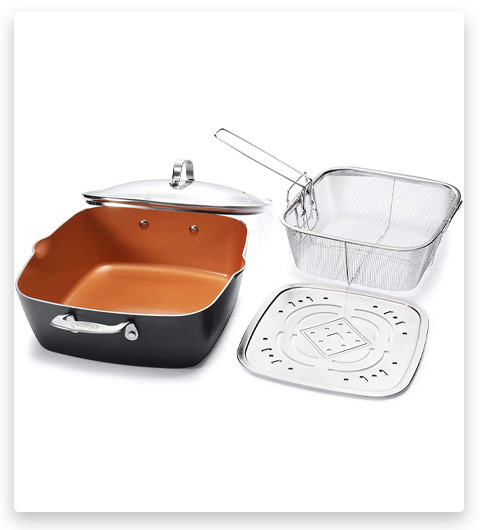 Frying pan and casserole approved by renowned chef Capon will find use in your kitchen. The dishes are made of high-quality aluminum with titanium inserts. This ensures the incredible durability and strength of the product. And the ceramic coating prevents your food from burning and sticking, making cleaning easier. By the way, the pans are dishwasher safe.
10# Gotham Steel Copper Crisper Tray Set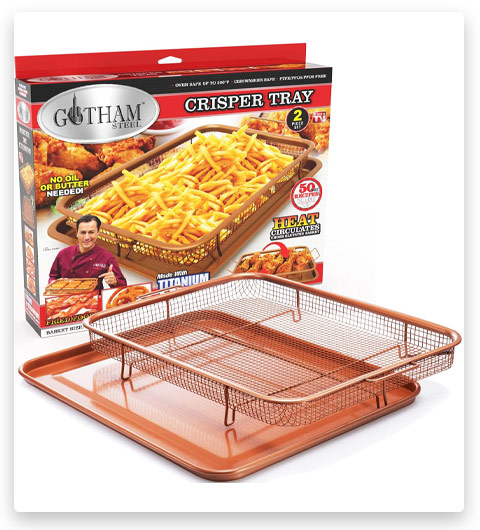 If you are a fan of crispy fries and nuggets, then this set will save you splash and clutter in the kitchen. It consists of a mesh and a tray covered with Gotham's unique non-stick coating. It's also a great place to cook bacon or thin meats with a crispy crust and minimal splashing. Vegetable lovers will love this set too, as you can grill asparagus, corn, and other vegetables.
11# Gotham Steel Stackmaster Mini Set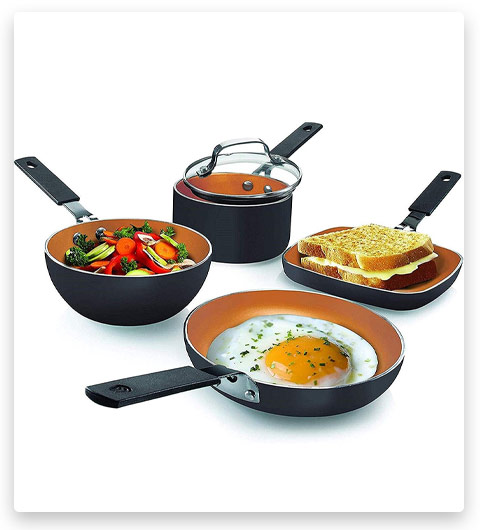 Two pots and two pans are the bare minima for quality food cooking. You can use all of these utensils in the oven and heat them to 500 degrees Fahrenheit and even wash them in the dishwasher.
This is the best kitchen essentials kit recommended even by Chef Daniel Green. You can easily cook fries and fried chicken in these pans and pans without clutter or sticking to the bottom. All items in this set have high-quality scratch-resistant titanium and ceramic coating.
12# Gotham Steel Grill Pan 10.5 Inches Non-Stick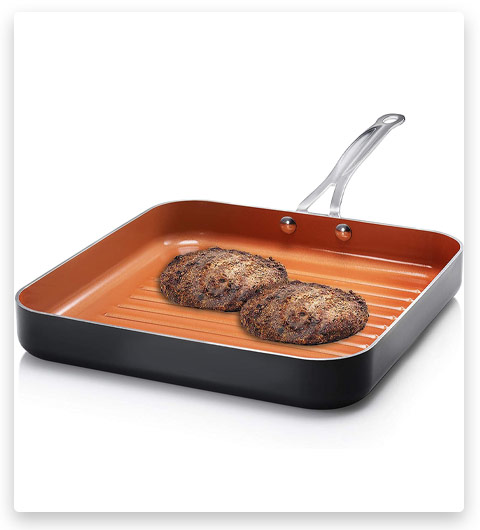 This pan very effectively reproduces the look of a real grill, offering you perfectly cooked fish, meat, and poultry without sticking or sticking. This frying pan has projections that allow fat and oil to drain into special channels along the edges of the pan. You don't have to worry about burnt and sticky food thanks to the non-stick ceramic and titanium Ti-Cerama coating.
The pan is quite large and can easily accommodate a large beefsteak or whole fish. The handle stays cool at all times so you can turn and stir food with confidence.
13# Gotham Steel 12 Inches Non-Stick Deep Fry Pan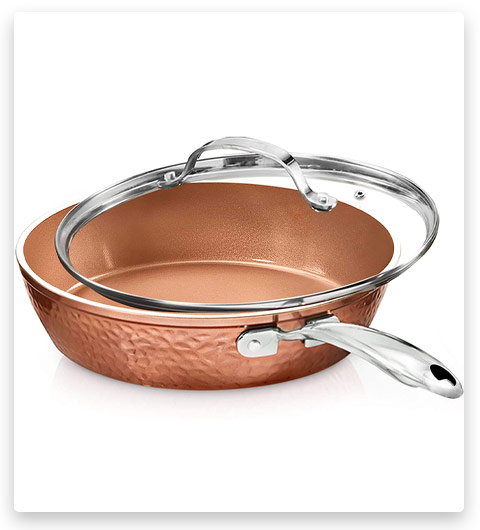 This 12" skillet with a lid will give your kitchen an aesthetic look and prevent your food from burning and sticking to the skillet thanks to the excellent non-stick Ti-Cerama coating.
The frying pan has a sturdy aluminum frame that not only extends the life of the cookware but also distributes heat evenly. Your food will not be soggy on the inside and burnt on the outside due to this.
The lightweight design doesn't strain your hands, and the scratch-resistant design keeps the pan intact. In addition, the frying pan does not require the extreme use of oil, making it a very economical and practical choice.
14# Gotham Steel Pro Non-Stick Titanium Crisper Tray Set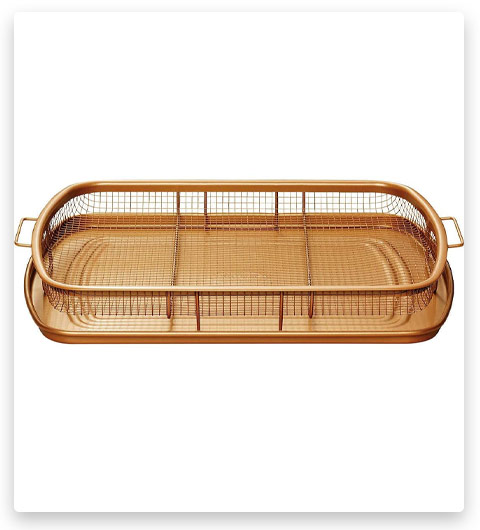 The unique feature of this set of trays is convenience and ease of use and cooking. You won't need to turn your fries or chicken legs because the air circulates the food. This gives you the perfect golden crunchy finish at the end. Since the baking trays do not require the addition of oil, you get healthier food without the oil taste.
15# Gotham Steel Double Grill & Griddle Pan Non-Stick Set
The main advantage of this pan is its double-sided design. On one side you get a grate and on the other, you get a frying pan. This way you have 2-in-1 cookware on which you can cook fish, steaks, chicken, vegetables, and seafood without the fear of food burning or sticking.
FAQ
In this section, I have collected the most frequently asked questions from you regarding Gotham smokeless grills.
Our Final Thoughts
Taking a look at my list, you must have realized that Gotham is one of the most trusted and best brands out there today. Grillers who live in small apartments or worry about their ventilation can find their salvation in these smokeless Gotham steel grills.
Whichever grill you choose from the list for yourself, it will definitely delight you with its quality and convenience. If you want to know which grill was the best for me, then this is the Gotham Steel Smokeless Grill Ultra Non-Stick. It is one of the best models for its temperature control, cooking surface area, and attractive price. Have a nice grilling!
Tags: #gotham grill review / #gotham smokeless grill / #gotham grill / #gotham smokeless grill review / #gotham steel smokeless grill review / #gotham steel double grill review / #gotham bar and grill review / #gotham steel smokeless electric grill / #gotham smokeless indoor grill