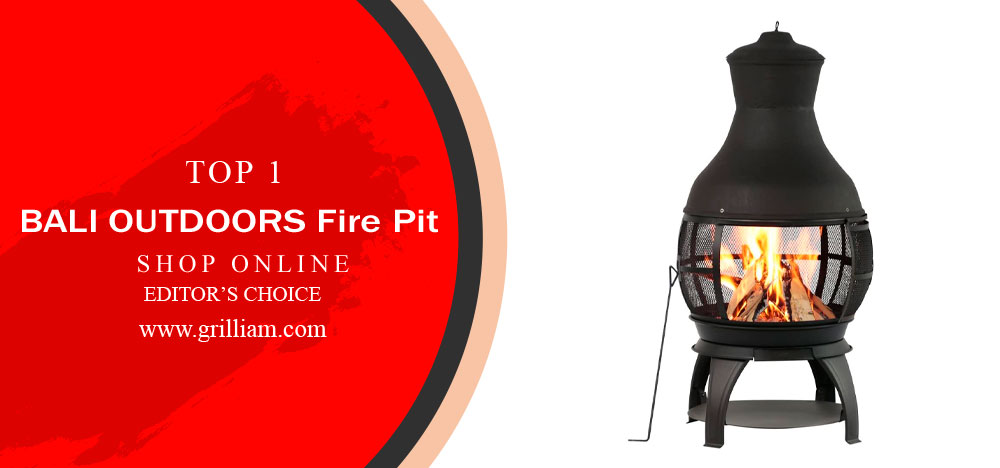 It will be fair if we say that Bali Outdoors Fire Pit Chimenea is one of the best fire pit options. This is an excellent round fire pit with gorgeous smoke exhaust and 360-degree access to the fire.
Our Selection Bali Outdoors Outdoor Chiminea Fire Pit
This pit is very practical and can rival many fire pits in terms of heat output. And although there are many much taller and more beautiful fire pits on the market, they cost much more than the Bali model. But the question is whether Bali Outdoor Fire Pit Chimenea is right for your patio. We have prepared a review for you in which we will answer this question and consider all the characteristics, design, and user reviews regarding this model. Let's start!
Short Summary
It is an amazingly durable and reliable fire pit with 360-degree heat distribution. The Bali Outdoors Fire Pit Chimenea is robust and versatile enough to spend long evenings in front of a backyard fire.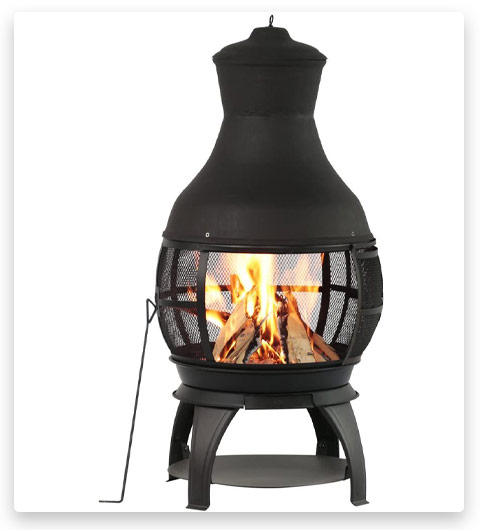 Overview
The Bali Outdoors Fire Pit Chimenea is made of a combination of steel and cast iron, so it is quite sturdy but heavy at 53 lbs. But thanks to the cast-iron legs, it will be firmly and securely fixed wherever you put it. This is not the case if you are looking for a portable and lightweight fire pit, but if you want a durable and beautiful pit, then this is the one for you. The excellent circular mesh means you can access the fire from any direction wherever you sit. If you are planning an atmospheric evening, this is a great fire pit to seat all your friends around. And the grate for logs with a convenient pullout door makes this fire pit even more convenient.
Design
The stated diameter of the fire pit is 22 inches. But this includes the outer mesh. In fact, about 20 inches will be available to you. However, this is enough to put a large amount of firewood here, which will burn for several hours. Besides, the pit is round, not square. Because of this, much fewer logs will fit in here than in square holes, so be prepared to chop up a couple. But on the other hand, the circular roof and rain lid are excellent at removing smoke from your guests and let you enjoy the warmth of the fire without any disturbance.
Bali has a pretty good idea of ​​the design in this fire pit. This model has four thick cast iron legs with a ring inside them. This creates a very stable base and reduces the likelihood of overturning the pit if you trip over it. The side walls are fully ventilated and covered with mesh. This provides plenty of air for the fire and allows you to look at the fire from any direction. The internal grate allows for very convenient placement of logs inside, and thanks to the sliding door, you will have a wide window to access them.
Assembly
The manufacturer's instructions say that the assembly takes only 20 minutes. But as we know, this is only an approximate time. It took us about 30-40 minutes to fully assemble the Bali Outdoors Fire Pit Chimenea. This is mostly because some bolts and nuts are in tight spots that are difficult to reach and even harder to see if you hit the hole and tightened correctly. But when we put it together, the fire pit looked very stable and reliable. This time is not much different from the one stated in the instructions, so we think it's pretty fast. Although some users say it took them 1-2 hours.
Main Features
The Bali Outdoors Fire Pit Chimenea is truly different from other pits. It is made of very durable material, has a very comfortable firewood net, and offers a very generous 20" diagonal to accommodate them. The fire pit is incredibly easy to clean and use. The only thing that we fiddled with for quite a long time was the assembly, which was written about above. Besides, the Bali fire pit is quite durable and does not require any special maintenance. You can use this in any weather and even rain and not get tons of smoke in your face as is the case with other pits.
On the ground, this pit is very stable and does not require any additional fasteners. But we highly recommend that you put it on a fire-resistant surface, otherwise it will simply be unsafe to use. By the way, the Bali Outdoors Fire Pit Chimenea does not come with a protective cover, which costs about $30. But it's worth it if you want your pit to survive the first few good burns and the steel is rust and water-resistant. But on the other hand, you do not need to worry about purchasing a spark arrester. Because Bali Outdoors Fire Pit Chimenea is well thought out and protects you from sparks, even if you are sitting very close to the fire.
Highlights
Not every fire pit can handle as much heat and light as the Bali Outdoors Fire Pit Chimenea. We have collected for you the best benefits of this fire pit:
Bali Outdoors Fire Pit Chimenea radiates heat in all directions thanks to its semi-open sides.
Thanks to the wide interior space, you can make a big fire at any time. There is enough room for a lot of logs and excellent airflow to ignite and keep the fire going.
The pit has a very strong and durable construction. You will be able to use it for several years in a row thanks to the steel and cast iron in the composition.
It's pretty easy to assemble. If you have experience in assembling fire pits, then you will assemble it in 20 minutes. We did it in 40 without much experience.
What Users Say About Bali Outdoors Fire Pit Chimenea
Bali Outdoors Fire Pit Chimenea has earned its well-deserved 4.6 out of 5 stars on Amazon. And it's pretty obvious why. Almost every user praises how durable this fire pit is and how easy it is to start a fire inside. But this is not a perfect unit and many users say that a fireproof surface is needed to put this fire on and feel safe.
Users praise its cast iron material and quick assembly (assuming you follow the instructions correctly). But still, the fire pit from Bali has some omissions. It provides excellent protection against water and rain thanks to the upper frame, but some of the water still remains in it due to the convex base. You can solve this problem by drilling a hole in it and using it as a drain. But some users are still critical of this aspect since fire pit body paint suffers because of this.
Anyway, this is one of the best hits from Bali. And the best part is heating and access to heat in all directions. It is very effective if you are setting up a fire for a large group of friends or family. While many models receive much higher ratings, they do not boast the same features as the Bali Outdoors Fire Pit Chimenea.
Why Should I Buy Bali Outdoors Fire Pit Chimnea?
It perfectly removes smoke and saves you from odors and teary eyes, perfectly protect you from sparks, even if you are sitting very close to the fire, Bali Outdoors Fire Pit Chimenea is a very strong and durable fire pit. It heats up very quickly over a large area. You can use it to make both small and large fires. And most importantly, it will provide you with warmth, wherever you are located.
All you need is just to find the right cover to protect the fire pit at first. Otherwise, Bali Outdoors Fire Pit Chimenea will provide you with everything you need. It is a very attractive fire pit with fast assembly, a sturdy body, and many useful features.
This is one of the best fire pits and you can save a lot of money if you choose this option. Thousands of users, including us, have already tried it and claim that this is one of the strongest and most durable pits that will serve you for several years.
How To Choose The Best Fire Pit?
The size. Fire pits come in completely different sizes and shapes. Sizes range from 15 to 42 inches in diameter. Of course, there are extra small or large grills, but this is rather an exception to the rule that we will not consider. And the larger the pit, the more people it can accommodate around it. With the largest fire pits, you can easily seat 10-12 people around the pit. The smallest ones will fit about 2-4 people. But small fire pits are much easier to store and care for. Here we can give you only one piece of advice: choose the size that suits your yard and the expected number of people that you are going to place near the pit. Also, don't forget about depth. Deeper pits always hold more logs, sparks fly out of them less often and do not throw out coals that prevent you from enjoying the fire.
Material. The most common fire pit material is steel. Some elements are made of other metals or even stainless steel to protect them from rust. But still, any fire pit must be covered, otherwise, it will rust very quickly. Also, many fire pits are often surrounded by some kind of frame made of other materials. For example, brick, concrete, or fiberglass. If you want your fire pit to stand in the yard for a long time, then make sure that it will withstand the weather well and that it is always covered when the pit is not in use. Alternatively, you can choose a lightweight and portable option that can be stored indoors.
Safety. We all know that a fire pit is not the safest thing, as it is flammable. Although propane pits are much safer than wood pits, as they do not produce ash, sparks, or coals, they still pose a fire hazard. So always check hoses, propane tanks, and connection lines to rule out gas leaks. Most wood pits have basic spark and charcoal protection such as screens, nets, or deep pools. The best thing you can do if you have a fire pit with logs is to place it away from any wood or flammable surfaces and structures. And of course, do not forget that the fire pit must stand on a fire-resistant surface (for example, concrete, brick, or stone). You can purchase pit placement fire mats separately. It is very convenient and cheap.
Additional functions. Thousands of fire pits are now available on the market and have many functions. For example, the ability to cook food, kitchen equipment, unique appearance, ports for charging devices, Bluetooth control, additional tables, etc. This can be very useful and convenient, but you shouldn't give it preference to the detriment of fire pit safety and especially your safety.
Final Thoughts
After testing this pit, we enjoyed the fire for several hours straight. And when it went out, we could easily put out the embers. It is a very convenient and easy to assemble pit for an attractive price. The Bali Outdoors Fire Pit Chimenea is very easy to clean. The remaining soot is very easily removed and the pit looks like new.
The Bali Outdoors Fire Pit Chimenea is one of those pits that will remain in excellent condition for many years. If you are looking for a fire pit in which you will not mind investing, this option will definitely suit you. Have a nice rest!
Tags: #bali outdoors fire pit / #bali outdoors / #outdoors bali / #bali outdoors patio heater / #bali outdoors milano fire bar table