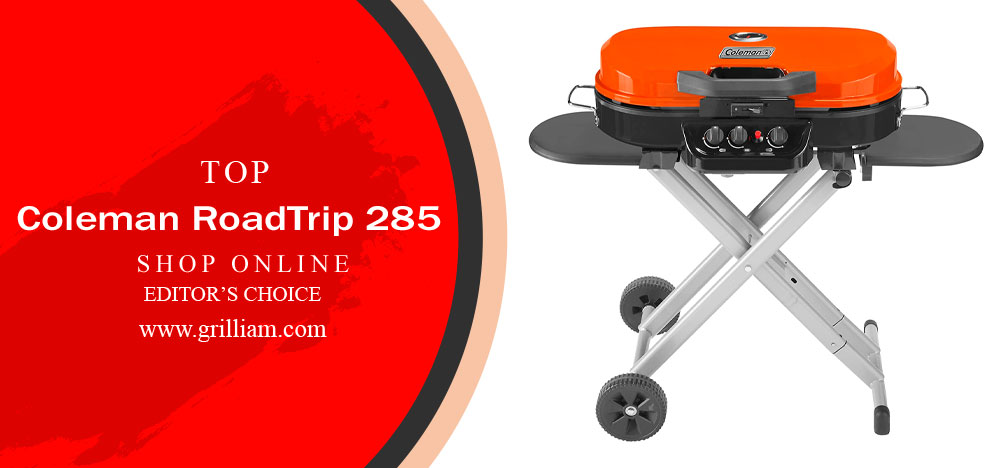 If you love outdoor road trip barbecues with great meats, then you should consider a portable grill at a great price and good quality. The main thing to consider when choosing such a device is portability and the quality of food cooking. There are hundreds of portable grill options on the market and the question arises – which grill is best for you?
Coleman Roadtrip 285 Portable Stand-Up Propane Grill
We have an answer to this question. We have prepared for you a full review of one of the best portable grills – Coleman Roadtrip 285. In this article, you will receive a complete description of all the characteristics of a grill, its best positive and negative features. Let's begin!
Quick Review – Why Should I Choose The Coleman Roadtrip 285?
We value your time, and if you don't want to read the entire review, then here are the highlights of this grill and the reasons why it is so good:
Coleman Roadtrip 285 is very lightweight, easy to assemble, and easy to carry.
Coleman is a time-tested and reliable manufacturer of outdoor products and has high ratings among buyers around the world.
The grill is very attractive in price and convenient when you are away from home or do not want to carry a large and bulky grill with you.
Coleman Roadtrip 285 has excellent characteristics: large cooking surface, accurate thermometer, fast ignition, and accurate thermometer.
Coleman Portable Stand-Up Propane Grill – Full Detailed Review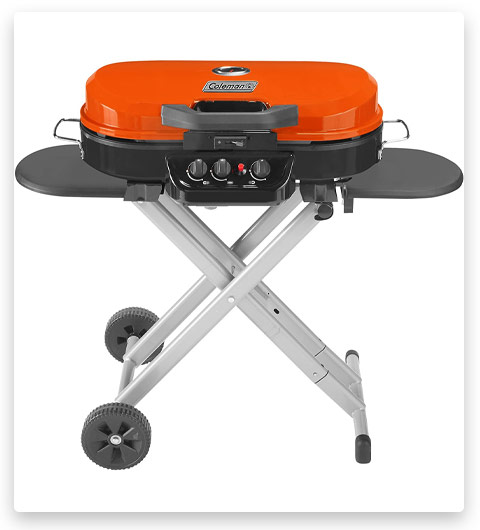 Size and weight are very important, especially when you are away from home or on a long trip, so the factor of weight and size matters a lot. And Coleman's company is very well aware of this. Coleman provides you with a very smart, high-quality, and versatile grill device. The grill folds and unfolds easily for easy outdoor transport. You can easily place it on the roof of a car or in the back of a pickup truck.
The Coleman Roadtrip 285 features quick-folding legs with 2 wheels for quick transport so you can easily take it wherever you go. Carrying this grill with you will never be a problem for you. Now let's take a closer look at the individual characteristics of the grill.
Fast And Easy Assembly
The Coleman Roadtrip 285 portable stand-up propane grill is very easy to assemble and this is one of its best features. It only takes a few minutes to assemble, so you can take it with you wherever you go. The grill lives up to its name and is easy to take with you on a trip with family or friends. If you think that portable grills are often not roomy due to their mobility, then this model will definitely convince you otherwise. It is a reliable and versatile model that will help you cook outside the home without too much trouble.
Portability
As we said, the first and most important advantage of this grill is quick assembly and ease of portability. It looks like a portable box or suitcase that folds and unfolds quickly. When folded, this grill rolls very easily thanks to its two large wheels and a built-in handle. Plus, you can easily store it even upright!
Temperature Control
Coleman Roadtrip 285 has excellent control over your food. The grill cooks it very evenly, without heating it too much or too weakly in some places. Also, it has a wide power range from 3,250 to 20,000 BTUs. For a portable grill, these are very high rates. You can adjust the power while cooking. There are three types of burners built inside. They are very convenient and allow you to control the temperature across the entire cooking surface and wherever you want it. This allows you to heat your food more precisely and thoroughly. But other than that, it allows you to very conveniently store your tools and food on the grill itself. Coleman is equipped with two pull-out side tables, with which it is even more convenient to cook and store dishes or sauces.
Materials
The material from which the grill is made is very important. Since this speaks about the durability and strength of the device you purchased. Coleman Roadtrip 285 is made of strong steel alloy, so it is a very strong and durable grill. It is a little wobbly at times when standing on uneven ground, but in all other aspects, its material is very good. Side tables and handles, which are made of plastic, may bother you. But if you handle this grill with care, it will serve you for years.
Performance
Now let's talk about the performance of the Roadtrip 285 and discuss its technical performance in detail. The grill is powered by propane and can hold a 1 lb. propane tank inside. You can adjust the burners to adjust the power and concentration of the fire. You can set the power from 3,250 to 20,000 BTUs as you wish. As we said, these are pretty good numbers for a portable propane grill.
Internal cooking grates are made of cast iron and covered with porcelain. Therefore, they perfectly retain and distribute heat. Besides, they are very easy to clean and will only take you a couple of minutes. The best part is that the Coleman Roadtrip 285 is portable and you can easily move it by the handle when folded or stored unfolded. The cooking area is 285 square inches. This is enough for a small family or gatherings of a small group of friends.
Temperature control is very convenient and effective here. You can lock the lid with food and easily monitor the temperature with an accurate built-in thermometer. So when you start using this grill regularly, you will immediately know what temperature is needed for a particular dish. You can easily control and maintain the desired temperature once you practice using this grill.
Another great feature of the 285 is the interchangeable cooking surfaces. The skillet adds a ton of possibilities to your kitchen and sets this grill apart from others. Besides, you can buy separately other components for the cooking surface at any time.
It is convenient to have two pull-out side tables for storing crockery, kitchen tools, or sauces. And Coleman Roadtrip 285 can give it to you. It has excellent side tables. They are made of plastic, so they are a little fragile. But if you handle this grill with care, they will serve you for years to come. So you get a great portable, stylish grill that is quite attractive for the price.
Cleaning
When you use your grill constantly, you have to keep it up and running regularly and clean up food and ash regularly. Coleman Roadtrip 285 is very easy to clean thanks to the removable drip tray. You can just take it out and wash it. Besides, the cast iron grates are covered with porcelain, so food leftovers will rarely stick or burn on them. You can clean the grates in a few minutes.
Why Is Coleman Roadtrip 285 The Best In Its Line?
In addition to the 285 models, Coleman supplies several other portable grills: the RoadTrip 225 Portable Stand-Up Grill and the RoadTrip 225 Portable Tabletop Propane Grill. But we think the 285 is the best model, and here are some reasons why:
Roadtrip 285 is the most powerful in the entire line. It can heat up to 20,000 BTU, which is a lot for a portable grill. With this power, you can cook any meat in a very short time.
Coleman Roadtrip 285 has three separate gas burners, which allows very precise and even adjustment of the heating of food on the grates.
The 285 model has a cooking surface area of 285 square inches. This will be enough to feed a small family or group of friends at one time.
Roadtrip 285 has a very accurate built-in thermometer that will help you keep track of the temperature of the food inside and serve a perfectly heated meal on the table.
Besides, the Coleman Roadtrip has very convenient removable grates, is easy to clean, and has a quick electronic start, like all the other grills in the line.
Manufacturer's Warranty
The manufacturer's warranty is very important. Since any electronic equipment tends to break down or have problems in operation. If you have a warranty card, the company will help you with repairs or replace a faulty grill free of charge, while the warranty period is valid. For Coleman Roadtrip 285, this period is 3 years.
Pros & Cons of Coleman Roadtrip 285
Let's take a closer look to summarize and paint all the pros and cons of our grill:
About Coleman Company
Coleman is a very reliable and trusted manufacturer of grills for your barbecue. The company began its history back in 1900 and produced portable gas lanterns. During the Second World War, the company was engaged in the supply of products to feed the soldiers. In the 1950s, they continued to revolutionize the production of kitchen devices and achieved significant success, improving production technologies and the devices themselves.
Now, 120 years later, Coleman equipment is used almost all over America. Tents, grills, chairs, and many other devices receive hundreds of positive reviews from users who have chosen Coleman products. So you can definitely trust these guys in the production of portable grills.
FAQ About Coleman Roadtrip 285
If you still have any questions about this grill, then in this section we have collected the most frequently asked questions and answered them.
Final Words About Coleman Roadtrip 285 Propane Grill
The Coleman Roadtrip 285 is the best grill available, with so many features for your BBQ trip. It is very lightweight and compact so you can easily carry it with you wherever you go. This makes it a great choice for outdoor gatherings. Roadtrip 285 has a huge cooking area for your friends and family, wherever you are.
This grill can satisfy the needs of almost any griller, even if it is small in size. The Coleman Roadtrip 285 Propane Grill is an excellent, if not the best choice for a portable barbecue.
Tags: #coleman roadtrip 285 / #coleman roadtrip 285 review / #coleman roadtrip 285 portable stand-up propane grill / #coleman portable stand-up propane grill / #coleman roadtrip grill / #coleman portable grill / #coleman grill