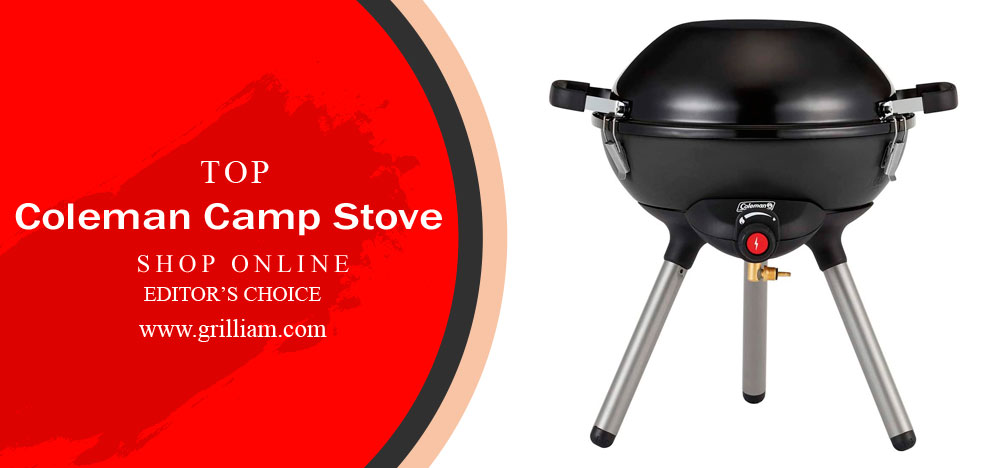 Whether it's camping or at a festival, camping and barbecues are simply inseparable. Even if many people prefer their charcoal grills, a gas grill is more practical, especially when camping. Because with a small camping gas grill, you save space and don't have to lug around the charcoal. In my article, I want to tell you about manufacturers like Coleman, and most importantly, tell you about the unique Coleman camping stove! Keep reading.
First of all, I want to introduce you to this brand that produces high-quality products. Coleman is an American outdoor and tourism brand. The company was founded over a century ago in 1901 in the small town of Wichita, Kansas, USA.
History of the Creation of Coleman Brand
Established W.C. Coleman, after whom the brand was named. Initially, the company made flashlights. However, after a while, Coleman invented a lamp that ran on liquid fuel. The product was patented, as a result of which the entrepreneur was able to receive additional profit from the use of his idea.
In 1905, the company supplied gas lamps for a sports match that took place at night. Thus, it was possible to provide full coverage of the field. The brand developed rapidly and after several decades, its products were known in almost all countries of the world. During the Second World War, the manufacturer's primus was actively used in Russia. In 1996, the brand acquired the French company Campingaz, which produced similar products.
In early 2005, Coleman was acquired by Newell Brands Corporation. Now the main offices of the brand are located in Wichita and Texas. The company employs more than 3,600 employees, most of whom are directly engaged in production. The bulk of the manufacturing facility is located in China. Today Coleman is one of the market leaders for such products. Its products are known all over the world and are very popular among tourists, travellers and summer residents. The company has several divisions, each of which has its own direction of work and specificity.
Coleman Products
The company offers a wide range of products. So, the brand catalogue contains:
Burners
Liquid fuel lamps
Portable refrigerators capable of keeping food fresh for 5 days
Sleeping bags
Tents
Air mattress
Boats
Tourist utensils
Special footwear and clothing, etc.
The products are designed to enhance the comfort of your outdoor activities. It is of high quality and functionality. The products are easy to use and reliable. The company gives a guarantee for all its products, which confirms their high quality and good performance. In modern lamp models, special white gas or propane is used, which allows you to achieve intense white light and increase illumination.
Coleman Propane Stove – Editor's Choice
1# Coleman Gas Camping Stove – Amazon's Choice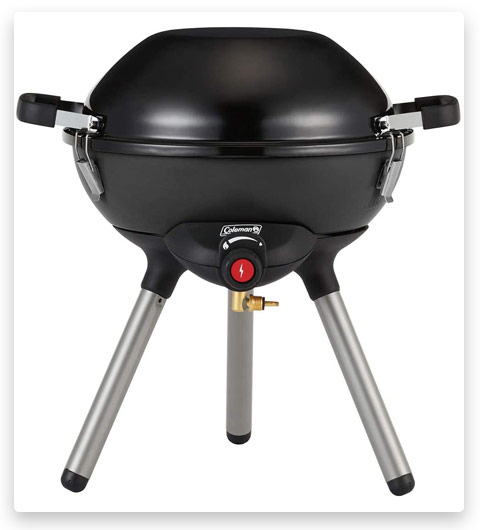 The portable Coleman propane stove is proof of Coleman's commitment to innovation and commitment to performance. The portable gas stove is specially designed for picnic enthusiasts and sets new high standards for portable grilling. Cook on the stove anytime, anywhere! The compact size of this model hides the wide possibilities of this device! 4 replaceable hobs allow you to prepare a variety of dishes.
This includes a griddle/grill, stove insert, and a wok. The grill handles have a locking device that keeps the lid closed during transport and storage. The legs fold and unfold with ease for easy storage and stability during use. At an affordable price, you can get the perfect camping stove, which is distinguished by a number of exceptional features: high functionality, incredible compactness, portability and excellent ergonomics. Ignition button for excellent lighting.
Camping Stove Review
Camping gas grills are easy to use. Everything should be compact and easily portable on the hike. Not only does a gas stove cooks as delicious as a charcoal grill, but it is also practical and convenient. Irritating smoke is also eliminated with a camping gas stove. The gas grill heats up quickly and cooks the meat especially evenly. Especially practical when camping: you don't need to carry coal with you.
How To Light A Gas Stove?
Make sure the gas hose is connected correctly. Then open the lid of the camping gas grill and temporarily turn off all control buttons. Open the valve on the gas bottle and set the regulator to "high". After about 2-3 seconds, enough gas has accumulated in the ignition chamber to enable the ignition button to be pressed.
Before and after each barbecue, you must remove any remaining fat and meat from the grill for hygiene reasons. To clean the gas grill, set the grill to the highest level and close the lid. When all residue is completely burnt, you can simply remove the soot with a wire brush and clean the grillage with dishwashing liquid.
How To Choose Gas Camping Stove?
If you are opting for a new portable camping stove, there are a few things you need to consider before you move on to the most powerful and lightest available. Coleman Gas Camping Stove is my top choice, however, you need to read the information below to make the right decision! Ask yourself the following questions about how, where, and what you like to grill:
Where are you going to use your grill the most?
Backyard?
Camping by car?
Picnics?
What food do you love to cook on your portable camping stove?
Simple burgers and sausages?
Or steaks, smoked chicken, stews, and more?
How many people are you going to cook for on your portable grill?
Just a couple of large groups?
Once you have a clear idea of ​​how you intend to use your portable grill, you can begin to narrow down the functions that are important to you.
Specifications Of The Best Portable Travel Camping Stove
The design, the number of burners and the design of the entire grill will also affect the overall efficiency to a certain extent. To keep things simple, if you want a super hot and powerful grill, consider the high-performance models.
Type of Fuel
Propane. Most camping grills use liquid propane cans. These cans are available in many locations and are easy to store and transport. If you want to connect a full-size propane tank to your portable grill, all you need is an adapter hose. Portable gas grills are by far the fastest and most convenient way to grill food. However, propane-fueled grills tend to be slightly heavier and less portable than other options.
Without propane. Propane camping grills are ideal if you want to avoid using gas for environmental reasons. Some people also prefer the taste of charcoal food to gas cooked food. Of course, even the best portable charcoal grill will take significantly longer to heat up than a gas grill. But they tend to be lighter and more portable, and are cheaper in most cases.
Temperature Control
Being able to control the temperature of your camping stove is a really important feature, especially if you're cooking for people who won't tolerate scorched food! The best portable gas stoves will have temperature control, and some of them also have built-in thermometers to keep track of what's going on inside without lifting it up!
Ignition
Most of the best portable gas stoves will have a built-in ignition. However, it is always a good idea to bring a backup lighter or matches anyway.
Portable Travel Camping Grills Buying Guide
While the performance of camping grills is very important, how they are designed is also a key thing to consider. The best portable grills should suit your cooking needs, ease of use, portability and versatility.
Consider the following:
The size and design of the grate
The size of the cooking area on your camping grill. There is no point in choosing a super small portable grill if you are hoping to feed your group of 10! Likewise, if you just want to use it to make a couple of burgers and some veggies, you don't want anything huge.
It's also worth looking at what the grille is made of. Does it have a non-stick coating? Does it have two sides that have different purposes: a frying pan on one side and a wire rack on the other, for example? Stainless steel grates are easy to clean and resistant to rust. Heavier, higher quality portable grills are equipped with porcelain enamelled and/or cast iron grates, which are very durable and have excellent heat retention.
Portability
If you're running out of space in your car or intending to use your stove for picnics, beach barbecues, or boat trips, then mobility is a major factor to consider. The best portable stoves will be packed in a suitcase-style safe container with good carry handles. Any legs or additional components must be contained inside the grill. This makes it easy to put things in the car and even easier to carry them over short distances.
With this in mind, the weight of portable camping stoves should also be considered. Low weight doesn't matter if you're looking for a tailgate grill or a backyard barbecue. Otherwise, the lighter the grill, the further you can carry it.
Simplicity of Design
The best portable stoves should take just a minute or two to assemble. This is especially important if you only want to use your grill during the evening before packing it up and moving on. However, if you are camping for a week, it doesn't matter that it takes you 10 minutes to put the ingredients of your stove together.
Drip tray
Portable gas stoves have a drip tray to catch the cooking oil. They are usually removable, making cleaning up after a meal much easier and faster. This, in turn, makes the grill more attractive in terms of portability.
Rack
Most portable camping stoves have very limited "extra" cooking space. No side tables or shelves for storing food or utensils.
Adjustable Feet
Some of the best camping stoves are those with adjustable height. Some options have fold-down legs that stabilize the grill and raise it off the ground or tabletop for easier access. And some outdoor grills have legs that extend to different heights.
Versatility of Use
The last thing to consider when choosing a camping stove is how versatile it is. Some gas grills are suitable for use with pots and pans, making them a great option for common outdoor cooking. If you like to experiment and use your stove as an oven, then there are certain models.
Conclusion
There is nothing better than grilling your favourite food. But what about when you are camping or on the road? Portable stoves give you the flavour you love with the convenience of a grill that you can take with you in your van, at your back door, or while car camping. The best camping stoves are truly portable. Look for something light enough to carry, unless you plan on using it exclusively on your tailgate. Coleman camp stove is the perfect option! This is the best option on the market in terms of performance and price.
Tags: #coleman camp stove / #coleman stove / #coleman propane stove / #coleman camping stove / #coleman butane stove