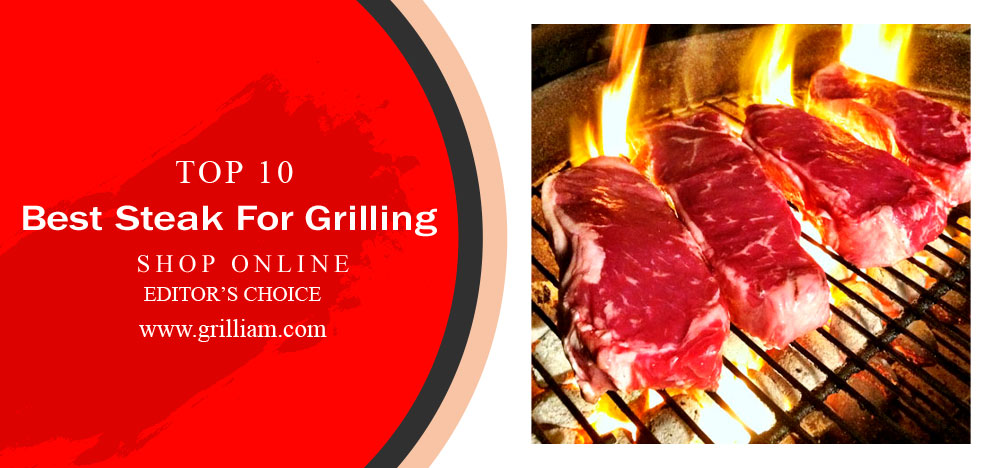 What could be better than a juicy tender steak straight from the grill? But aside from the quality of the meat, proper cooking is also critical for the perfect pleasure. As you know, the main purpose of the grill is to prepare delicious and juicy steaks. With my simple tips, you will become a grill master.
The 10 Best Types of Steak for Grilling – Editor's Choice
Meat from the supermarket is grilled, as many do. But what about a steak that will amaze you in taste and quality? I will introduce you to the 10 best steak seasonings for grilling that will amaze you with their taste. Of course, when grilling meat, the quality of the raw materials is the most important factor. Therefore, when buying, you should always pay attention to where the animal comes from, how it lived, and, above all, what it ate.
Fine cuts of meat are not at all like the so-called "steaks" in supermarkets or discounters. Besides the high quality of the meat, the right preparation also determines the taste. You don't have to use a high-tech grill to make the perfect steak. It depends on the temperature, including a good steak pan. You should be aware that the grill and pan should be very hot and do not turn the meat until it stops sticking to the wire rack or pan.
1# Snake River Farms AMERICAN WAGYU GOLD GRADE TOMAHAWK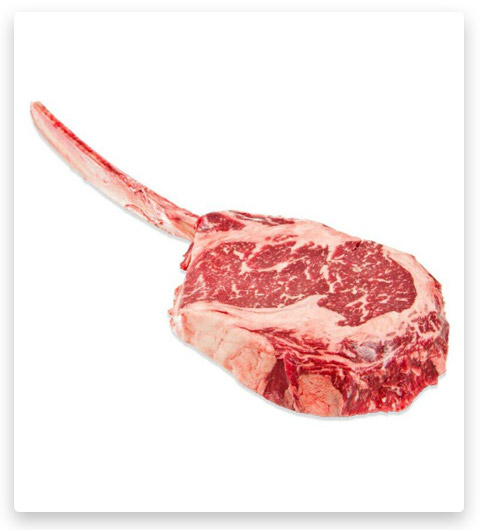 An excellent opportunity to diversify the usual menu is to buy a Tomahawk steak. This is a special classic of marbled beef bone steak, loved by sophisticated gourmets from all over the world. And the high quality of Snake River Farms meat will make the dish delicious thanks to the highest marbling category and special conditions for raising livestock. Tomahawk steak is a rib eye on the bone, in which the rib bone is almost completely preserved.
It has a rich beef flavor and excellent marble texture. It is considered to be one of the most tender and juicy steaks. A thin layer of the fat melts during heat treatment, filling the dish with juices and softening the fibre structure. This steak is impressive in size. The weight of one steak is 2.5 pounds. The steak has a moderate calorie content and a complete absence of carbohydrates. This is a delicious treat with no extra calories.
2# Snake River Farms AMERICAN WAGYU BLACK GRADE RIBEYE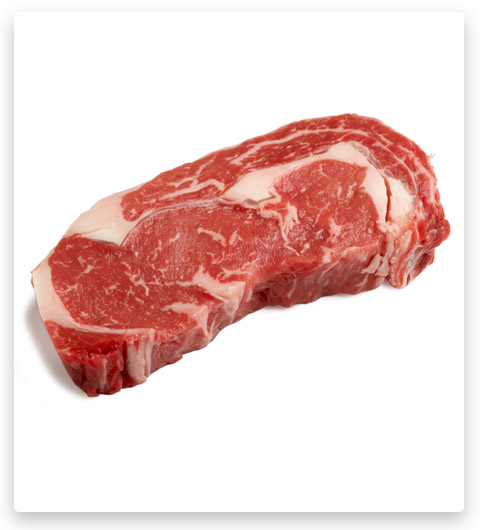 The most popular marbled beef steak is the ribeye one. This steak is cut from Black Grade American Wagyu beef. Such meat has thin fibres, so the finished steak turns out to be quite soft and juicy. On the ribeye, all the veins are very evenly distributed and most pronounced. The best way to cook such a steak is, of course, to grill it until golden brown. All the fat will melt when heated and fill the meat with a delicious, aromatic juice. Each piece of meat is sliced 1.5 inches thick and weighs 15 ounces.
3# Snake River Farms AMERICAN WAGYU GOLD GRADE RIBEYE FILET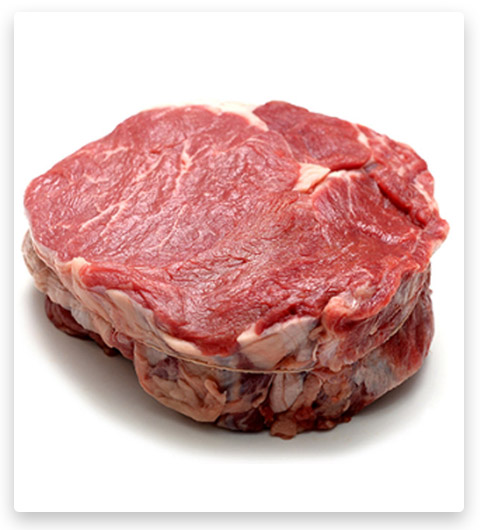 This is a steak from the center of the beef tenderloin, tender, and lean meat. It is famous for being the most tender part of the tenderloin. It has a high degree of marbling, and its advantages are in the most delicate creamy consistency. You can order the steak in three different sizes: 6, 8, and 10 ounces. Each piece is manually cut from fat and is the ideal size for grilling.
4# Snake River Farms AMERICAN WAGYU GOLD GRADE NEW YORK STRIP
New York steak is cut into the loin area of the lumbar carcass, starting at the 13th rib. Snake River Farms offers American Wagyu strip steak with a pliable texture. The New York steak has a fat strip just around the edge of the beef. A New York steak can be made even leaner by cutting off its inherent fat, but in this case, it will lose some of the juiciness and richness of the beef flavour. You can get rid of a strip of fat even after cooking, preserving the entire gamut of taste and proper juiciness, but at the same time reducing the calorie content of the dish. The steaks from Snake River Farms are hand-crafted and have an eye-catching appearance. This allows for easy grilling. Each piece is 12 ounces in size.
5# Snake River Farms AMERICAN WAGYU GOLD GRADE MANHATTAN NY FILET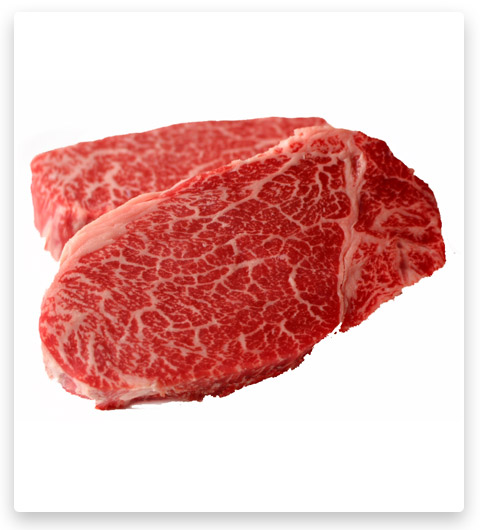 This is the incredible Gold Grade Manhattan produced at Snake River Farms. The beef has excellent marbling. These steaks are popular with gourmets from all over the world due to their juiciness and rich aroma. This steak is sliced into a thick layer and has the rich flavor typical of American Wagyu beef. The steak is available in 6 and 8-ounce sizes.
6# Snake River Farms AMERICAN WAGYU GOLD GRADE COWBOY STEAK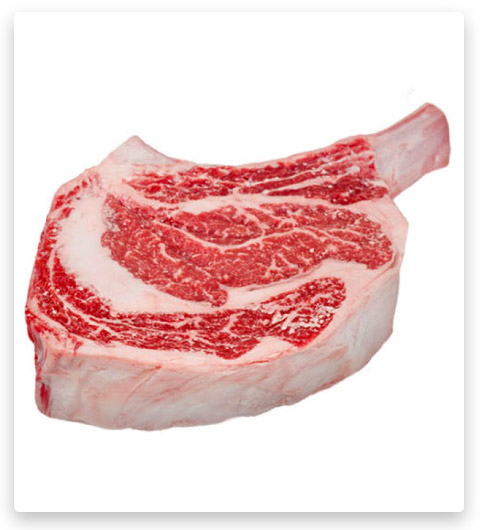 Cowboy Steak is a bone-in ribeye with a long rib bone. Has a rich beef flavor and excellent marble texture. It is considered to be one of the most tender and juicy steaks. This steak has a Marbling rating of 9+, according to the Japanese Beef Marbling Scale. When you order Snake River Farms products, you not only get premium beef, you get the best meat in the whole country. They are the leading provider of premium beef in the market and are preferred by the majority of consumers. The caring hands of farmers select the best beef for customers. Farm animals are raised without the use of hormones, antibiotics, and growth-promoting drugs.
7# Snake River Farms AMERICAN WAGYU GOLD GRADE FILET MIGNON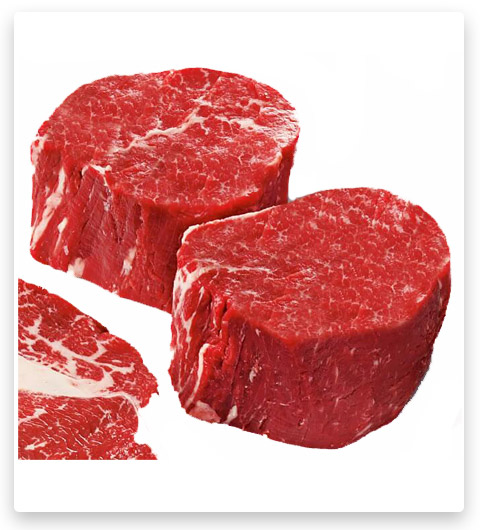 There are many pleasant moments in the life of a foodie. One of them is enjoying tender and juicy marbled beef. The most delicious will be, perhaps, the Mignon steak. But be that as it may, its taste can not be compared with anything. He's just gorgeous! There is nothing more perfect among all types of beef. Snake River Farms offers you a Gold Grade Minion Steak with the highest marbling level. It has an oily texture and just melts in your mouth.
8# Snake River Farms AMERICAN WAGYU BLACK GRADE RIBEYE FILET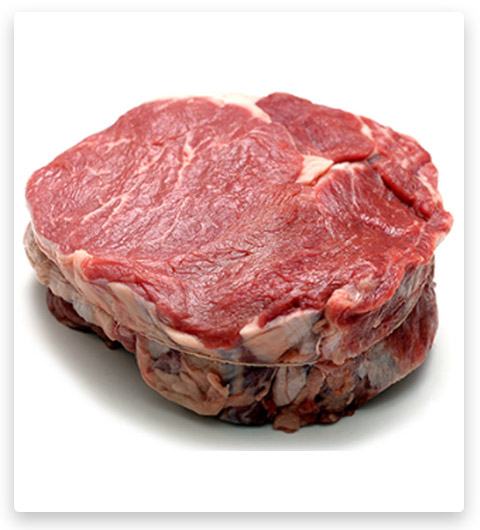 Snake River Farms American Wagyu Ribeye filets have small fibres and many layers of fat. Due to its high marbling, the steak is aromatic, juicy and delicate in taste. Each steak is hand-processed and the same size. This steak can be grilled or pan.
9# Snake River Farms AMERICAN WAGYU BLACK GRADE NEW YORK STRIP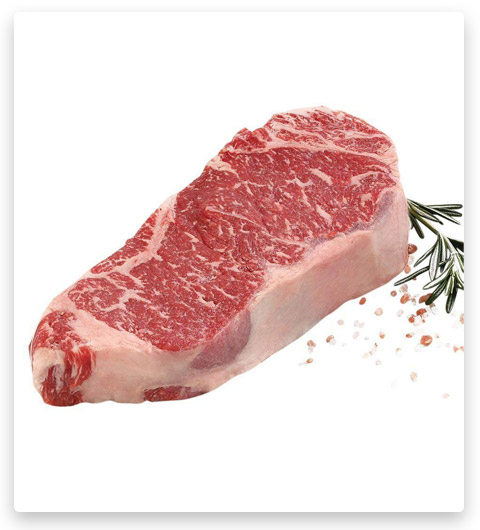 American Wagyu beef NY Strip steaks are made up of just one muscle and have a denser fibre structure than a ribeye. The fat strip only runs along the edge of the steak. This makes the dish quite juicy. This steak has a strong aroma and a moderate meaty flavor. In this steak, all the qualities important for a delicacy are balanced. Each piece of meat is hand-cut and weighs 12 ounces.
10# Snake River Farms AMERICAN WAGYU GOLD GRADE TOP SIRLOIN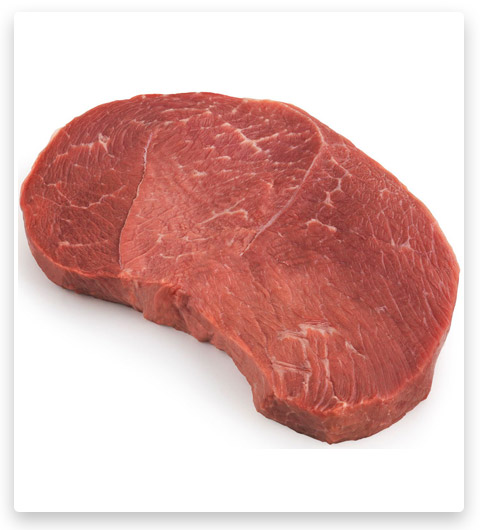 Top Sirloin Steak is a lean and moderately tender boneless cut. Snake River Farms Gold Grade Top Sirloins have a characteristic texture, pleasant firmness, and rich taste. This is ideal for savory tartare and steak with a rich meaty flavor. A firm texture is characteristic of this steak. You can order the steak in different sizes. They are available in 6.8 and 10-ounce sizes.
Best Steak Cuts for Grilling
Ribeye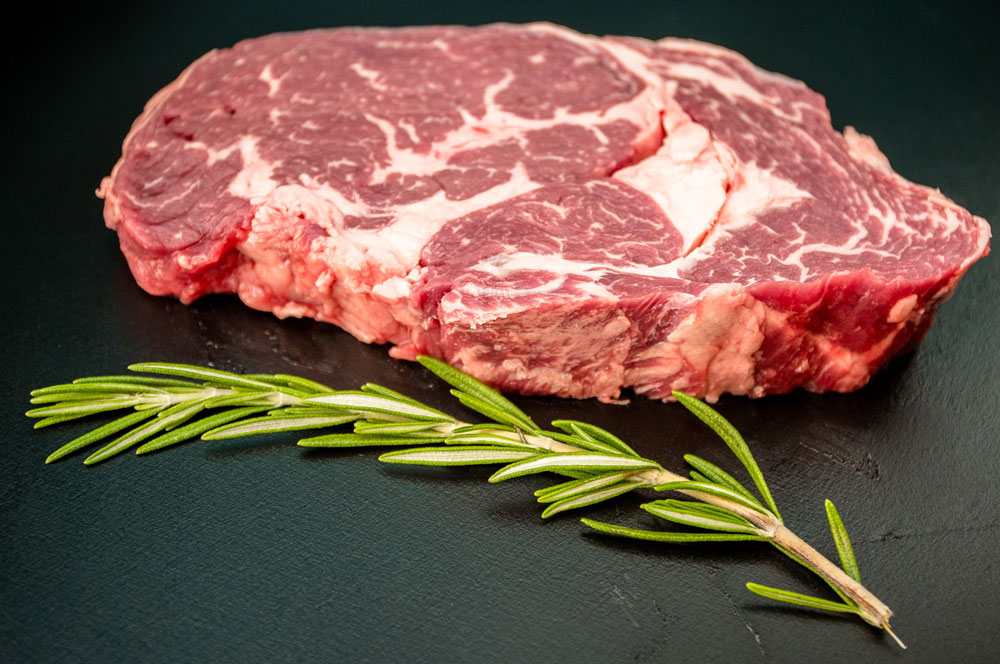 This cut is made from the Longissimus Dorsi muscle, which runs along the spine of the bull and does not do too much work. This is where Ribeye has a pleasant, delicate texture. The fibres of this cut are loose and thin. However, what really sets it apart is the wonderful marble streaks running through the meat (including the "eye" of fat in the middle, hence the name of the steak), which melts and dissolves into the meat when cooked. This provides an extra meaty flavor, a juicy, moist, and tender texture. Fat is important for taste. Ribeye steak is very juicy and lightly seasoned with greasy veins. The entire cut is conventionally divided into three parts, which have cooking characteristics: the center cut is the most common (and often what you will find when buying Ribeye steak). It can include ribs and is highly marbling. We also have two ends: Loin and C One of them has almost no fat and less marbling, which is more suitable for people who prefer dietary meals. The other contains more marble mesh. But all this meat is of a beautiful dark red color.
Striploin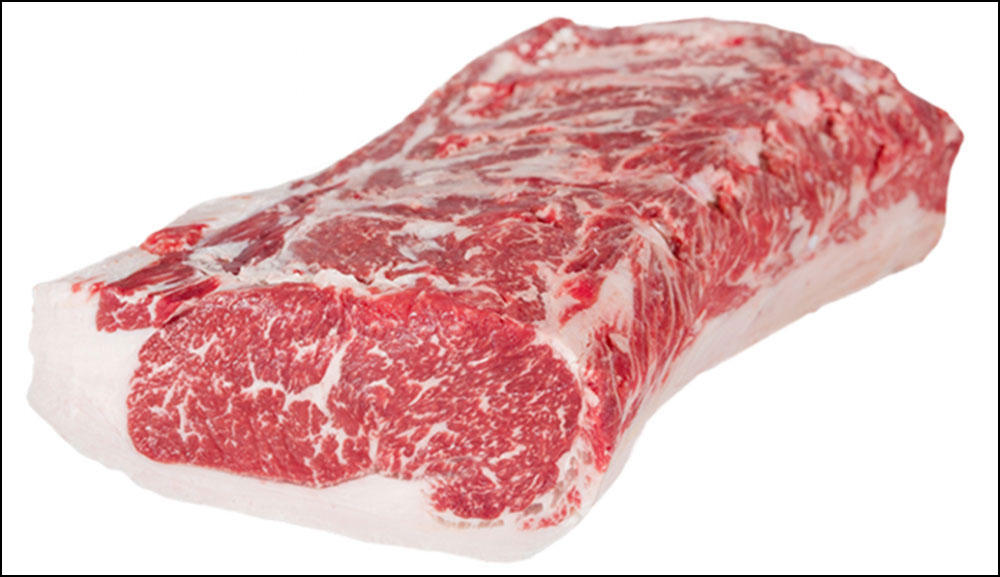 Striploin steak is also called the New York Strip. This is a premium "dry-ripened" steak made from marbled bovine meat of combined fattening. Striploin is cut from the lumbar cut of the same name. It consists of one muscle and has a thin layer of fat on one side. Due to its delicate and dense texture, as well as pronounced beef taste, Striploin is not inferior in popularity even to the legendary Ribeye. When cooked, the fatty inclusions contained in the steak saturate the meat with an appetizing aroma and help to reveal all the flavor notes. Striploin can be grilled, barbecued, or pan. Medium Rare and Medium doneness is best for this steak. Dry-ripened Striploin steak will surprise you with its rich and concentrated taste, as well as the bright beef aroma. This aging method provides meat with unsurpassed flavour and high quality.
Filet Mignon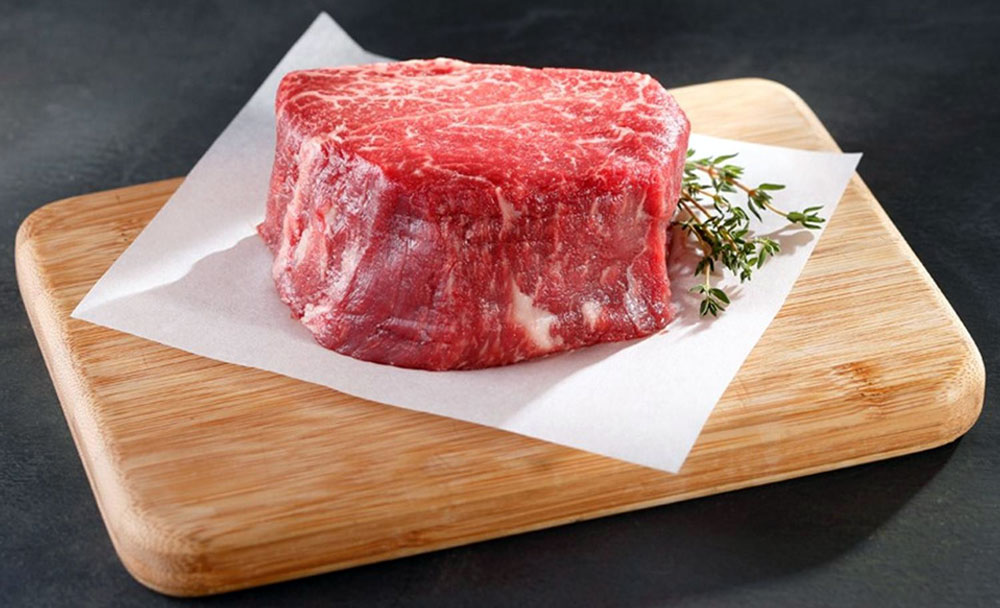 Filet mignon is traditionally considered a feminine steak. Firstly, it is the most tender and lean meat, and secondly, it never comes with blood. This steak does not have a specific meat taste, which differs, for example, a T-Bone steak, and there is no fat content. To prepare the filet mignon, a transverse thin section of the central part of the sirloin is taken. You cannot beat this meat, as well as fry over high heat. Otherwise, it will lose its juiciness and become dry and tasteless. Filet mignon is fried quickly – 2-3 minutes on each side: only until the whole piece is covered with an even brown crust. It is not necessary to pour fat on top. Then remove from heat, cover with a lid and let it brew for several minutes. Then sprinkle with coarse salt and ground black pepper. The meat should remain slightly pinkish on the inside, the recommended doneness for filet mignon is Rare or Medium Rare. Filet mignon is served in small pieces 6-8 centimeters thick.
T-Bone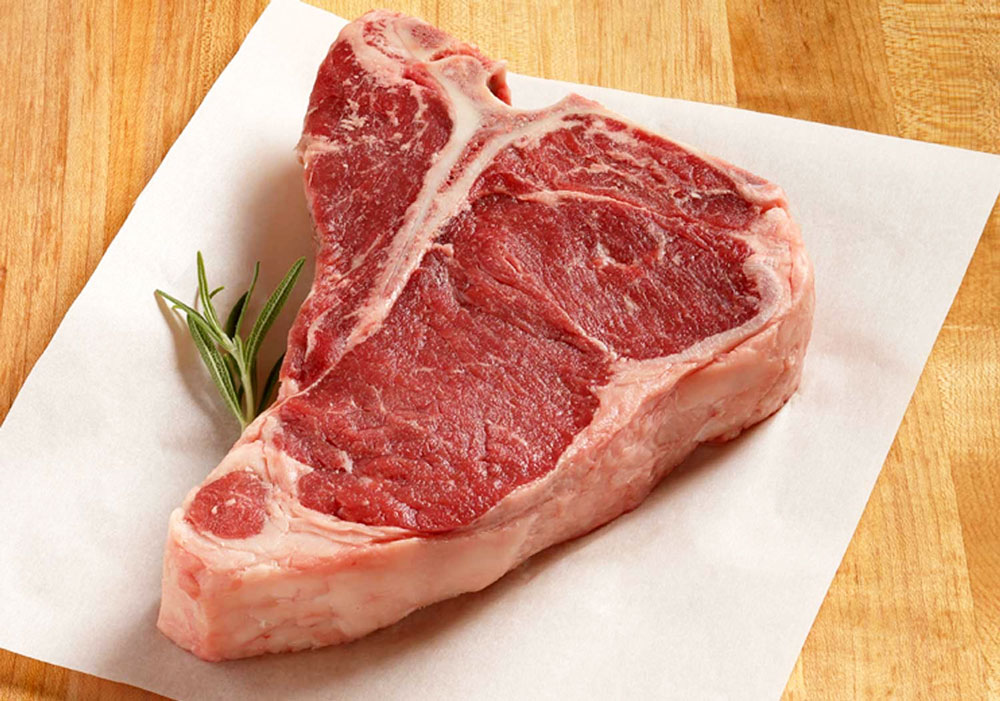 T-Bone steak combines two types of marbled beef at once: aromatic, rich Striploin, and tender tenderloin, which is separated by a thin T-shaped bone. It is she who gives the meat a delicate nutty flavor. This explains the love of gourmets for steaks on the bone. The T-Bone steak is the choice of selective gourmets who know the value of real marbled meat. It can be cooked both for one person and for two. Recommended doneness Medium or Medium rare. You can cook T-Bone steak on the electric grill, over an open fire, or in a regular frying pan. Experts recommend adding salt and herbs during cooking. These additives will make the meat taste brighter and more sophisticated.
Porterhouse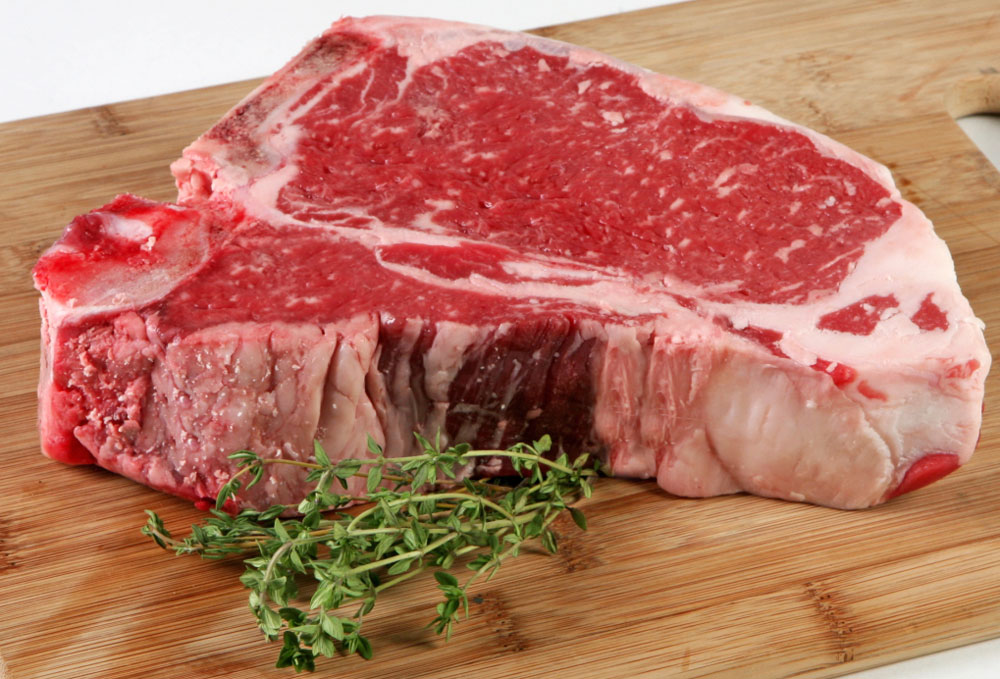 The Porterhouse Steak is a large cut from the loin and is closely related to the T-Bone steak. It also combines tenderloin and striploin (thin edge) meat. This is a very satisfying dish that one person cannot cope with. Porterhouse steak is recommended to be cooked in a traditional grill style. To prepare the Porterhouse steak, a T-bone cut from the lumbar part of the carcass is used. In the same part of the meat cut, another classic T-Bone steak is cut, whose structure is similar to that of the Porterhouse. Porterhouse differs from T-Bone in size and cut width.
Top Sirloin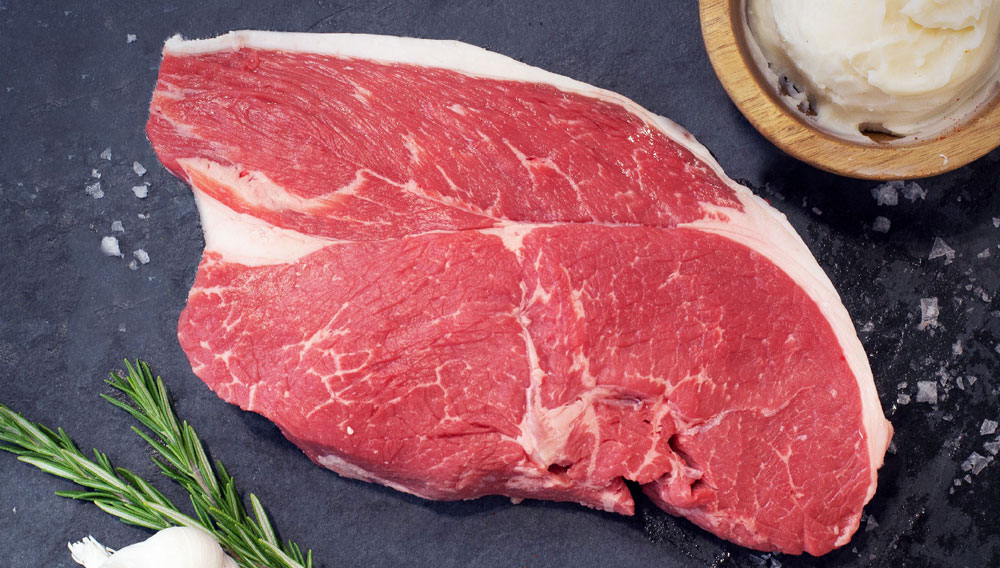 Top Sirloin is an alternative steak made from a lean, aromatic, and moderately tender Rump cut. The steak has large fibres, which gives extra juiciness when cooked. Also, Top Sirloin has a bright meat flavor and beef aroma. This is a very popular steak, it can be used both as a standalone dish and as an ingredient in many other, more complex dishes. It is great for roasting over an open fire or stovetop, or for roasting in the oven. Best of all, Top Sirloin steak is suitable for the Medium Rare degree of doneness, which will prevent the meat from overcooking and will not let it lose its juiciness. Top Sirloin steak will delight you with its rich taste and will be an excellent decoration for your table.
Flank Steak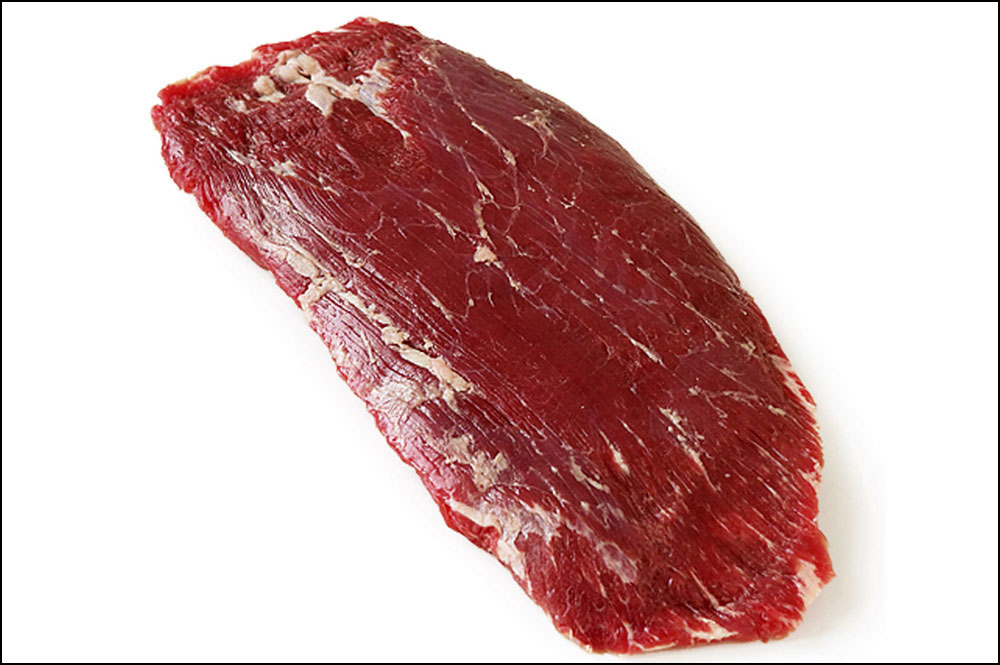 A flank steak is cut from the lower abdomen of a bull. The elongated and flat piece contains neither bones nor fat, so if the steak is cooked correctly, nothing will remain on the plate. Flank is great for dishes like London broil, or fajitas. Compared to many cuts, flank steak is inexpensive. A distinctive feature of the cut is its long fibres, as well as a rich meaty aroma. Due to it, Flank steak can compete with any of the premium cuts to taste, which cannot be said about its structure. The cut is quite tough and fibrous, so when preparing it, there are a few rules you should not neglect to make the flank steak almost as tender as the tenderloin.
Skirt Steak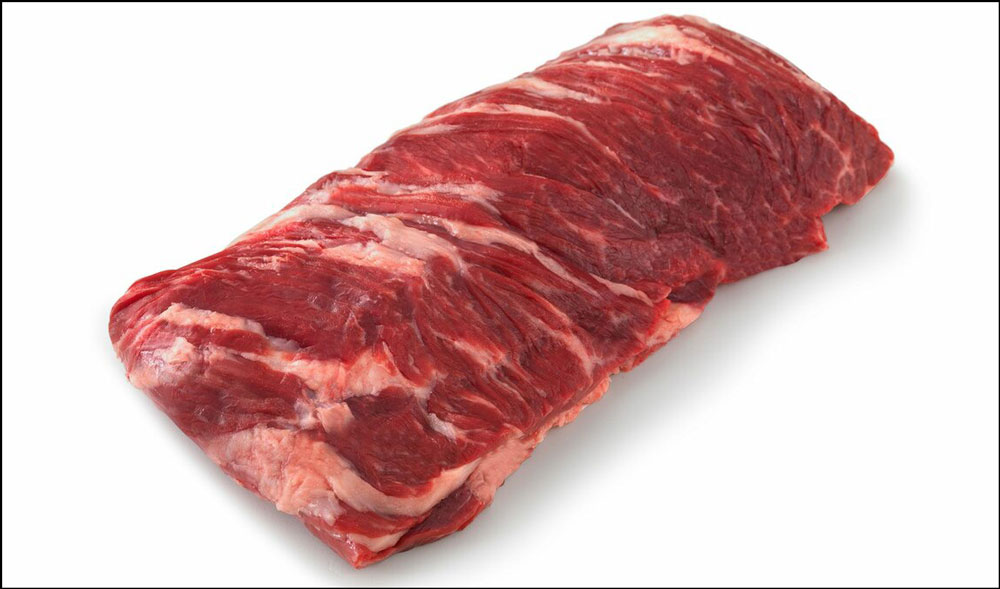 Steak made from the diaphragm, the unpaired girdle that separates the chest and abdomen. One of the so-called alternatives, that is, steaks from non-premium parts of the carcass. Skirt steak is usually called only that part of the softer (inside skirt), which refers to the edge, but sometimes – and the part cut from the flank (this steak is also called the outside skirt, but more often it is sold under the name of machete steak). This steak has large fibres with layers of fat, and when cooked correctly, it turns out to be very succulent, albeit harsher than premium cuts made from a thick or thin edge. To soften the meat, it is recommended to pre-strip it from numerous films and slightly pre-marinated (pickles made from onions or citrus fruits, as well as with the addition of soy or Worcestershire sauce and vinegar like balsamic). Another way to soften the skirt steak is to make small mesh cuts on both sides before marinating. The marinated steak is grilled quickly, 3 minutes on each side.
Tomahawk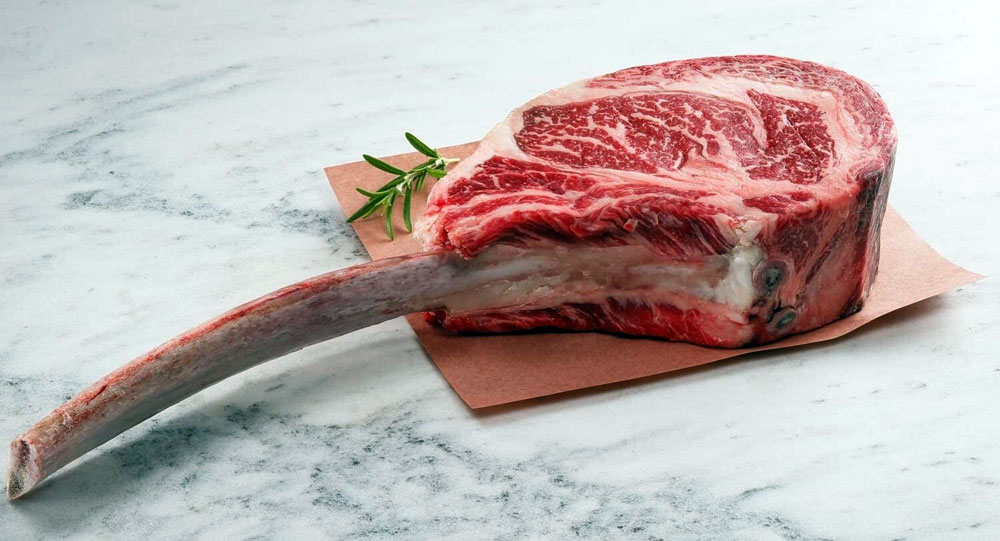 A Tomahawk steak is a Ribeye served on a long, trimmed rib. It got its poetic name due to the similarity with the harsh weapons of the American Indians. A steak consists of one large muscle, and several smaller ones. Looking at it, you will notice thin layers of fat that resemble a pattern on marble. Melted during frying, the fat will saturate the steak, making it especially juicy and tasty. It tastes perfect when cooked in a variety of ways: over an open fire, over an electric grill, or even in a regular heavy-bottomed skillet. An excellent choice both for those who have just started their acquaintance with steaks, and for hard-core meat-eaters who pay tribute to the laconic simplicity and rich taste of marbled beef.
Hanger Steak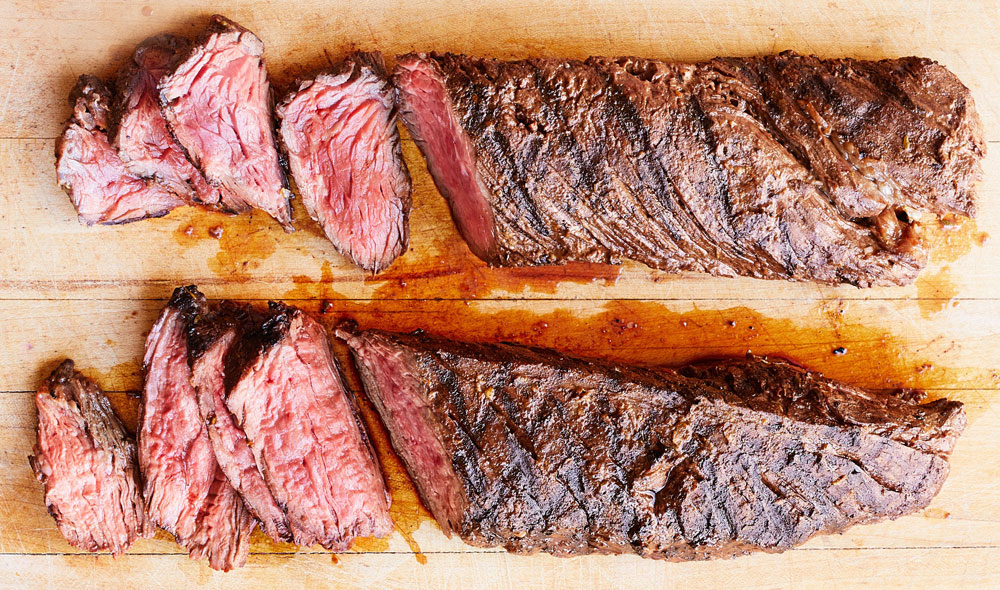 Hanger Steak is one of my top 3 favorite alternative steaks. This is the muscle that helps support the diaphragm and is so-called because it hangs independently between the rib and lower back. There is only one such muscle in an animal. Its weight is approximately one kilogram and consists of two parts, separated by a rigid vein. It is a supportive muscle, not an active muscle, so it is soft and tender, has a good reserve of juiciness, and an outstanding meaty aroma. Before serving, cut the steak across the grain into thin slices for a softer, more tender texture.
Where to Buy Steak Cuts for Grilling?
Best place to order steak online. I advise you to purchase quality steaks from these four manufacturers:
Omaha Steaks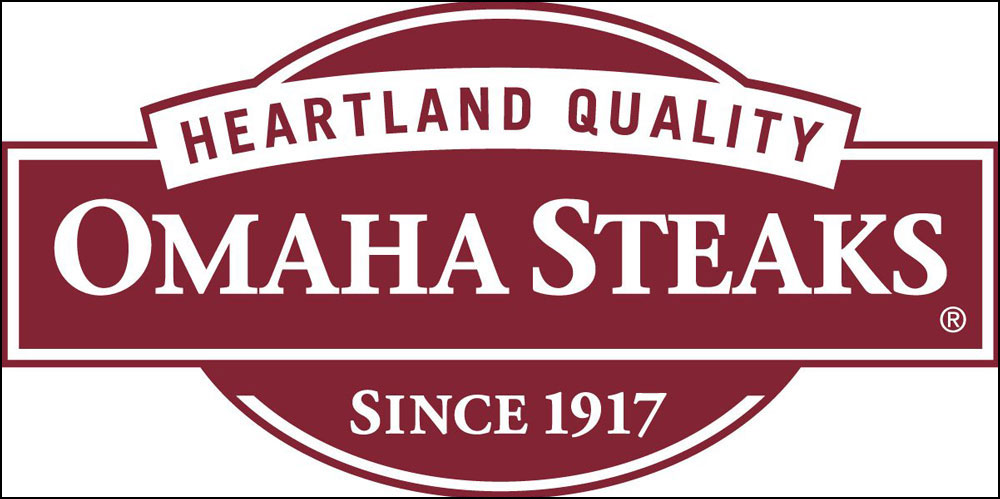 Omaha steaks will deliver fresh meat in no time. They offer you standard shipping, express shipping, rush shipping, Saturday rush shipping. More information about this brand can be read here – Omaha Steaks Reviews. Seller website: www.omahasteaks.com
Snake River Farms

Delivery Guarantee. Selling and shipping high-quality meat and our great service. Seller guarantee:
Weight: Our products are priced to meet minimum weight.
Condition: Your order will arrive in ideal condition, either frozen or partially frozen.
Accuracy: You will receive the product you order, and it will be the size indicated on our site or larger.
Timeliness: We work to deliver on the exact delivery date requested.
Cooler. To maintain the highest quality, products are individually sealed in air-tight packaging, perfectly aged, and flash frozen prior to shipment. All Dry-aged products are shipped fresh, having never been frozen. To help ensure your order arrives in excellent condition, each order is now shipped using a reusable, thermal bag in a recyclable shipper box lined with biodegradable insulated foam.
Shipping. Snake River Farms offers the following FedEx shipping options:
Standard Shipping (1 to 3 Day Ground)
Express Shipping (2-Day Air)
Overnight Shipping (1-Day Air)
General Shipping Info. Snake River Farms ships to all 50 states. Hawaii and Alaska require Express Shipping (2-Day Air). Ship Days – Ship Monday through Friday for Tuesday through Saturday delivery. Many of our larger cuts can take 3 to 4 days to completely thaw. Please plan accordingly and schedule shipments with enough time to safely thaw in the refrigerator.
Addresses. A street address is required. Snake River Farms is not responsible for incorrect or incomplete shipping addresses. Recommend sending your order to a residential address. Commercial addresses could have delays in delivery with no weekend deliveries.
They will deliver the freshest steaks to you in no time. The meat is delivered partially frozen or frozen. Your order will be delivered on the requested day or 1 day earlier or later due to transit delays. They are supplied in a sealed package. The company offers express shipping, standard shipping, overnight shipping, and expedited air shipping. More information about this brand can be read here – Snake River Farms Prime Beef & Filet Review. Seller website: www.snakeriverfarms.com
Chicago Steak Company
This company will deliver your steaks in perfect condition. They are vacuum packed and frozen in natural juice. This allows them to preserve their taste. The steaks are then wrapped in edible paper and packed in a box. And then it is placed in an isothermal refrigerator with enough dry ice. The company offers you standard delivery, express delivery, standard overnight delivery. Seller website: www.mychicagosteak.com
Donald Russell

Donald Russell brings you high-quality steaks and reliable service. Your order will be delivered via national couriers. All products are packaged frozen and placed in refrigerated boxes. Your order will be delivered at a convenient time for you from Tuesday to Saturday. Seller website: www.donaldrussell.com/steaks.html
Best Steak Seasoning Recipe for Grilling
Ribeye Steak With Aromatic Butter
Ingredients:
Ribeye steak 4 pieces
Butter 200 grams
Garlic 2 cloves
Shallots 1 teaspoon
Fresh parsley 1 teaspoon
Fresh sage 1 teaspoon
Fresh rosemary 1 teaspoon
1 tablespoon of sea salt
Freshly ground black pepper 1 teaspoon
Preparation:
Remove the butter from the refrigerator to melt and soften like thick sour cream.
Finely chop the parsley, rosemary, sage with a knife.
Peel and chop the shallots. With the flat side of the knife, crush a clove of garlic, peel it and chop it finely. For speed, use a fine grater, however, with this option, a lot of juice will be lost.
In a separate bowl, thoroughly mix the butter with herbs and spices. Don't forget to season with salt and pepper.
Put butter on plastic wrap and roll into a sausage. Place in the refrigerator for a couple of hours or in the freezer until it hardens.
Take the steaks out of the packaging, let them lie down for a while, and saturate with oxygen. Then wipe it with a paper towel and rub it with salt and ground pepper.
Preheat the grill and fry the steaks to the desired degree of doneness. This will take approximately 10 minutes (5 minutes on each side). Then we give the steaks rest, wrapped in foil.
Before serving, cut off a piece of fragrant butter and place it on top of the hot steak.
Grilled Premium Tomahawk Steak
Recipe Description:
Pre-grease the grill with oil.
We spread the steaks.
Fry on one side for 3 minutes, then turn over, for 3 minutes on the other side.
Then we transfer the steaks to the edge of the grill (where the surface is less hot) and bring them to readiness for another 9-10 minutes.
When the steak is ready, put it on a plate, sprinkle it with the necessary spices, and let it rest for 3-4 minutes.
Recommendation: steaks must be removed from the refrigerator 20-25 minutes before cooking (this is necessary so that the meat is at room temperature and is well fried.
Conclusion
Steaks are now made from pork, fish, and sometimes even vegetables. But a classic steak is a decent chunk of grilled beef. Until recently, they preferred to call only pieces from premium cuts, but now the so-called alternative steaks from cheaper parts of the carcass are gaining more and more popularity. In this article, I've talked about the different types of steaks and showed you several recipes for their preparation. My review presents the best grill steak makers. I have also brought you the top 10 products. If you don't know what to choose, start with 1# Snake River Farms AMERICAN WAGYU GOLD GRADE TOMAHAWK, 2# Snake River Farms AMERICAN WAGYU BLACK GRADE RIBEYE and 3# Snake River Farms AMERICAN WAGYU GOLD GRADE RIBEYE FILET.
Tags: #best steak for grilling / #best steak cuts for grilling / #best steak seasoning recipe for grilling / #types of steak