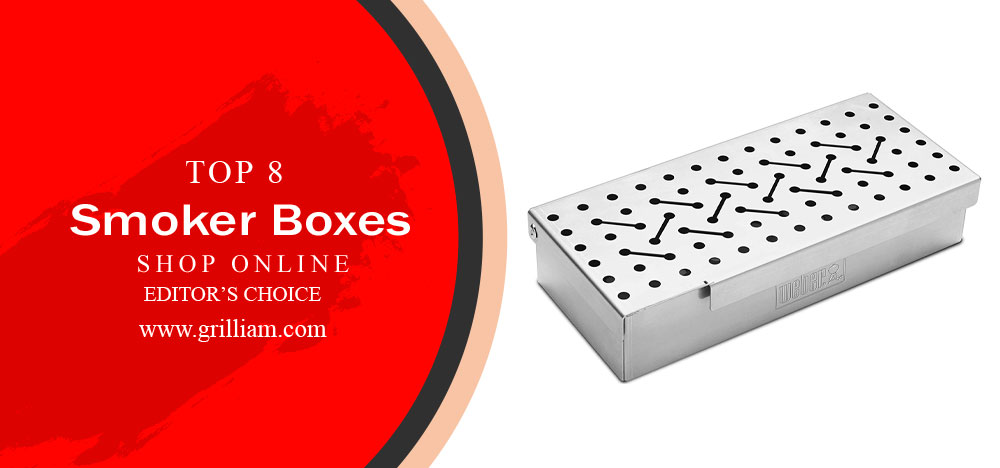 The 8 Best Smoker Boxes For Gas Grill For Effective Use
Buying Guide for Wood Chip Smoker Boxes
Every griller wants the meat not only to be tasty but also to smell delicious. But what if there is no smoker for this? In this case, the universal smoker box will help you. You just put it on your grill and it soaks your food with the wonderful smells of wood shavings.
In this article, we will tell you about the main features of the smoker box and some of the best propane grill boxes on the market so that you can choose the best one for you. Some people think that smoker boxes are just an accessory. But in fact, this is a very important part of the grill.

| Image | Product | Brand | Link |
| --- | --- | --- | --- |
| | Cave Tools Grill Smoker Box Starter Kit for Wood Chips, Stainless Steel Bucket Style with Hinged Lid, BBQ Grill and Smoker Accessories - Medium | Cave Tools | |
| | Charcoal Companion Stainless Steel V-Shape Smoker Box For Gas Grill Wood Chips (Long) - CC4066 | Charcoal Companion | |
| | GrillPro 00150 Cast Iron Smoker Box , Black , 5" L x 1.5" H x 8" W | GrillPro | |
| | Weber Universal Stainless Steel Smoker Box | Weber | |
| | Char-Broil Cast Iron Smoker Box | Char-Broil | |
| | Grillaholics Smoker Box, Top Meat Smokers Box in Barbecue Grilling Accessories, Add Smokey BBQ Flavor on Gas Grill or Charcoal Grills with This Stainless Steel Wood Chip Smoker Box | Grillaholics | |
| | Cave Tools Grill Smoker Box Starter Kit for Wood Chips, Stainless Steel Bucket Style with Hinged Lid, BBQ Grill and Smoker Accessories - Large | Cave Tools | |
| | Cuisinart CSB-156 Wood Chip Smoker Box | Cuisinart | |
| | A-MAZE-N AMNPS Maze Pellet Smoker, Hot or Cold Smoking, 5 x 8 Inch | A-MAZE-N | |
| | LIZZQ Premium Pellet Smoker Tube 12 inches - 5 Hours of Billowing Smoke - for Any Grill or Smoker, Hot or Cold Smoking - An Easy and Safe Way to Provide Smoking - Free eBook Grilling Ideas and Recipes | LIZZQ | |
Not everyone can afford a full smoker. And traditionally smoking food takes a lot of time. You can spend the whole day on this and not achieve a good result. Buying a smoker box is a more efficient and faster option. Placing a smoker box on the grill allows the meat to absorb odor in just 30-40 minutes, depending on temperature. Before the meat is fully cooked, throw it on the hot side and get a smell. This will give the meat the necessary flavor of smoke.
There are two types of people: people who like smoked meats, and people who don't know what they're missing. You do not have money to buy a full smoker? You don't want to stand for hours behind the grill and smoke food traditionally? We have a solution! You can make a meat-smoking machine out of your regular gas grill using a smoker box.
How to Smoke Meat?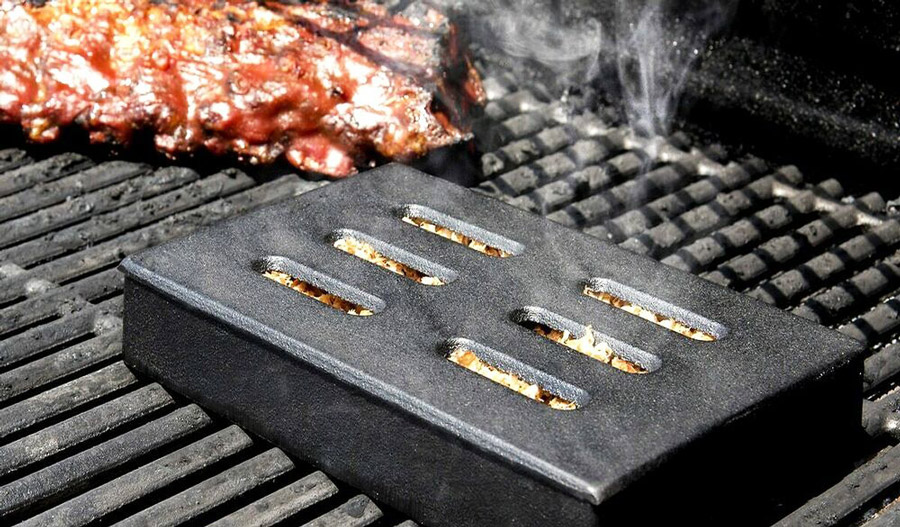 To get the perfect smoky taste in the meat you need to know the subtleties of the process of smoking. During the heating of wood chips (without burning them), the smoke passes through all the meat, soaking it with its flavor. Traditionally, smoking is a very slow process, and the lid almost does not lift, so as not to lose the aroma of smoke.
Many experts will tell you that you will never achieve the same smoke effect on a gas grill as in the traditional way, but there are some ways to get rid of the need to have a smoker for meat and a gas grill for hot dogs and barbecue. It is not necessary to spend a lot of money and buy a gas grill and a smoker separately. You can smoke cuts on the gas grill while receiving delicious smoked meat.
Buying a gas grill, you need to take into account all the features and approach the purchase very carefully. The smoker box is the same. A good box will be made of quality steel or cast iron. Poor-quality boxes are deformed or burned after a couple of uses, and if you are unlucky, even after a single-use.
How to Use a Smoker Box Work on a Gas Grill?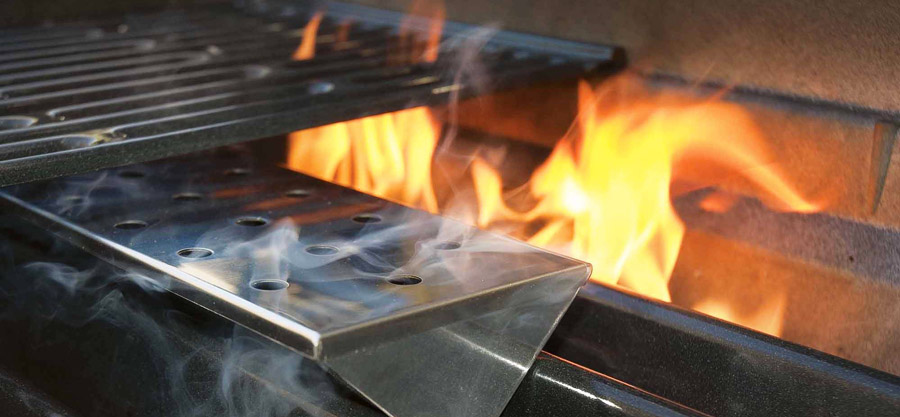 You will have enough time to learn even if you are new to smoking. Smoking meat on a gas grill should not cause difficulties. If you have a gas grill, a smoker box, chips, and meat, then that's good. Depending on the type of meat, there are many types of chips. Mesquite and chicory, for example, are best suited for the sternum. And softer flavors are suitable for delicate meat and fish.
It is important to heat the chips to a maximum temperature, but so that it does not catch fire. So you get the best kind of smoke. There is a fine line between very bitter for smoking and burning wood chips. By placing smoking boxes above the burners or under the grates, you can perfectly heat the wood chips to produce smoke that will give me great taste.
What Features Should a Smoker Box For a Gas Grill Have?

If you decide to purchase a box for a smoker for your gas grill, then make sure that it can withstand the amount of smoking that you need. The box must be strong and made of cast iron or steel.
Non-Stick Coating
Keep the smoker box as far from meat as possible. But if your grill can't allow this, and the box is right under the meat, then check that the box has a non-stick coating so that cleaning doesn't annoy you.
Smoker box
All boxes for the smoker are equipped with an opening for a smoke exit. Check that no pieces of ash come out of it and do not fall on your meat.
Lid
If you are going to smoke a brisket or other large types of meat, then make sure that the box has a removable cover so that the chips can be recharged. After a few hours of corruption, the wood chips will use up and need to be changed. It is better to remove the cover with forceps in order not to get burnt.
Recommended Smoker Boxes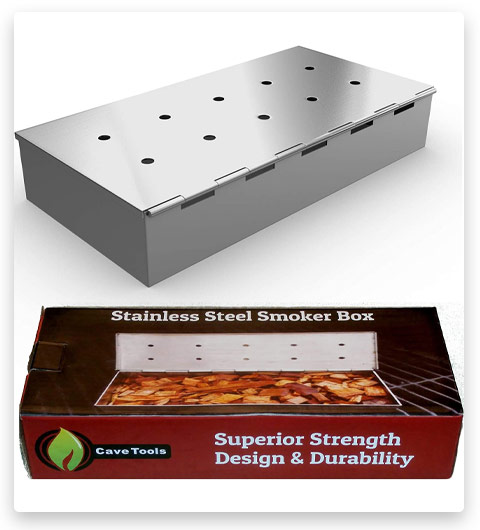 This product is designed so that you use the box for a long time without frequent chips. The design evenly distributes wood chips throughout the area and provides a large exit of smoke to the outside. Keep in mind that it has a large smoking area. So, its size may not be suitable for some grills. But if you have no problem with a small grill, then you can buy this box.
Many Cave Tools products come with many instructions, usage videos, tips, and other things that will help improve your smoker skills. And this box is no exception. Cave Tools makes one of the best smoker boxes on the market. They are large in size and roomy. This model has one of the largest smoke exits on the list.
The profile "Wide and Slim" allows to distribute of wood chips evenly and smoke them at the same time. It also holds more than 3 packs of chips. They declare that the chips don't need to be soaked because there are no holes in the lower part but because the chips are close to the fire, we recommend doing this.
This model has the same guarantee as all products from Cave Tools. The box comes with recipes and training videos that you'll need when working with the box. This is a great choice if you are looking for a large and roomy box of smokers.
Smoker box from Cave Tools is our best choice. It measures 9 by 3 inches and holds 2 cups of wood chips. It works great not only with coal but also with gas burners, so you can use it on almost any grill. Also, the manufacturer makes a variant in the form of the letter V, so that you can place the box between the grates.
Users say that on average it takes 10 minutes to heat the box and smoke chips. If it seems to you that there are not enough wood chips, during the process you can add more wood chips thanks to the hinged lid. It's also necessary if the chips accidentally burn out and turn into ashes.
Cave Tools claims that it's not necessary to soak the chips before use because there are no openings in the lower part of the box and they won't burn up. But anyway, it's better to hedge and soak the chips. Included with the box are 25 professional recipes and training videos that will help you get comfortable with using the box. With a manufacturer's warranty, this option becomes the best on the list.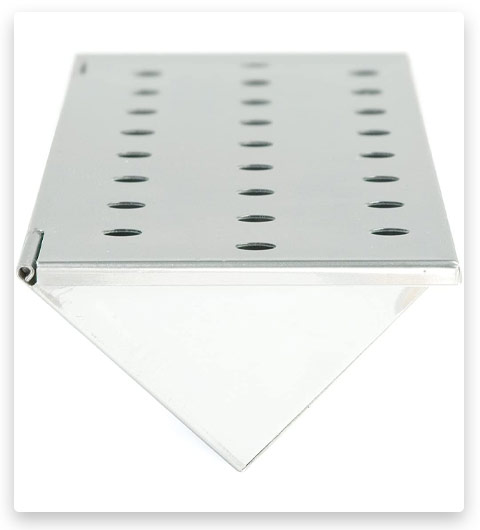 Thanks to the stainless steel construction, the box will last a long time and withstand even the most brutal culinary work. Despite the excellent build quality, the price isn't so big. The smoker box was originally created for gas grills. The shape in the form of the letter V is perfectly installed between the rods of the fire deflector. It measures 14 cm long and 4.5 cm wide, this is suitable for any grill and you even have room for meat.
You can always add wood chips if necessary using the hinged lid. Cleaning is also very simple – just shake out the ashes and wipe the box from the inside. The box is designed very carefully and allows you to evenly burn wood chips while leaving the ashes inside. It has many openings on the top, which gives more smoke throughput.
Besides, the ashes won't fall on food because it settles at the bottom of the box during cooking on the grill. The box is made of durable stainless steel and can withstand heavy work. The box is not as big as Cave Tools but its hinged lid allows you to add wood chips during use. After smoking, you can easily clean the box – just shake out the ashes and wipe the box inside.
The smoker box from Charcoal Companion will give you the refined aroma and taste of meat on a gas grill. The design of the box is made of stainless steel, so it will serve you for a long time and efficiently. But many users still noted that the box quickly rusts. So, protect it from water and rain. The box comes in two sizes: Short and Long. This smoker box's unique V-shape allows you to fit it in the tiniest of the spaces, making it convenient for a variety of smokers or grills. If you do not like long cleaning, then the Charcoal Companion makes it simple and convenient.
This is a simple, convenient smoker box with good performance. Here you're given the opportunity to choose the material: cast iron or stainless steel. At the top, 6 wide openings give a large exit of smoke but there's a significantly greater chance that ash or wood chips will get into food.
Some users complain that the top cover doesn't close tightly, but overall, people are satisfied with this purchase. But what about the performance of this box? The GrillPro offers you a metal or cast-iron version of the smoker box. Both materials are durable, and you can cook for a long time and without any problems with any of them.
The difference between the cast-iron and metal boxes is the holes. The cast iron version has longer and longer holes, and the stainless steel box has 8 small holes. So, the cast-iron box has better ventilation but is less resistant to corrosion. The GrillPro Smoker Boxes are very easy to clean. Just shake out the ashes and wipe the box inside.
This is one of the easiest smoker boxes on the market to use. It's great for beginners. At the top are 6 or 8 holes that allow smoke to spread during cooking. But it often happens when the ashes enter the food. This is a convenient and easy-to-use model that will last you many months. Always remember to clean the box and take good care of it to extend its life.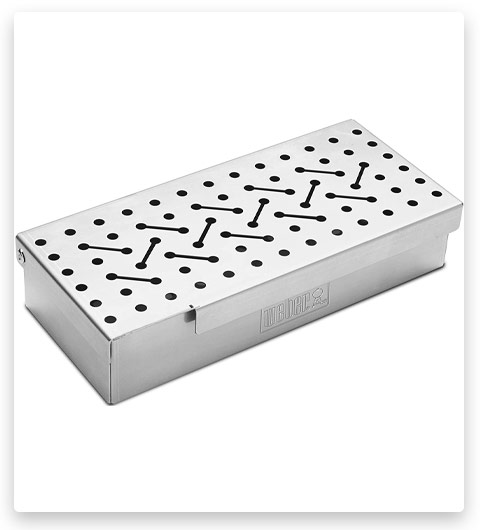 Weber 7576 is a universal stainless steel smoker box. All your smoking needs will be satisfied if you get this box. There are enough openings here to provide a large smoke throughput. However, ashes rarely get into food, even with so many holes. Stainless steel makes this model durable and you can use the box for many days without any problems. Cleaning the box is quite simple – just wipe the box after you've shaken the ash out of it.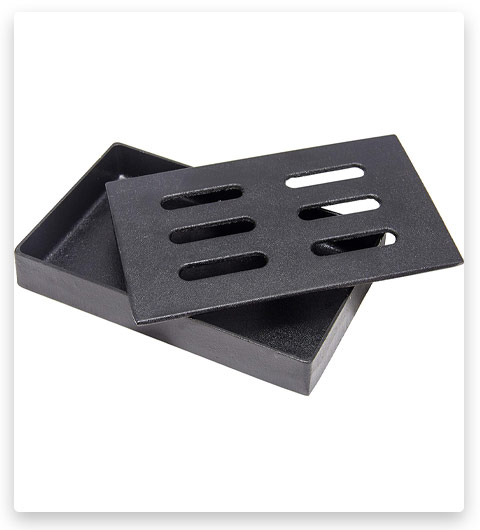 Char-Broil has a well-deserved name in the market of smoker boxes. In addition to the fact that the box is made of high-quality and durable material, it has a pretty good price. The model is made of heavy-duty cast iron with holes in the lower and upper parts. This is necessary to create uniform airflow and large smoke throughput.
The lid doesn't have special fasteners because it's too made of cast iron and the weight of the lid holds it in place. This smoker box can work with any grill at any temperature. It retains heat very well but it takes quite a lot of time for the box to heat up and start to smoke.
This can be a problem if you want to cook food quickly without using a lot of fuel. The smoker box will perfectly save your wood chips, regardless of whether it's saturated with liquid or not. The design of the box creates a uniform and dense smoke for your grill and prevents the burning of wood chips inside.
If you're looking for a strong and durable smoker box, then Char-Broil is perfect for you. With a cast-iron lid, you can forget about breakdowns and deformations. And the convenient location of the openings at the top and bottom creates an excellent smoke exit.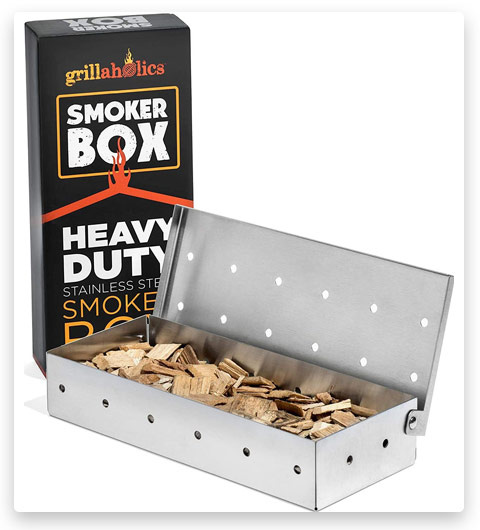 The Grillaholics brand is very serious about creating products for cooking outdoors. Their smoker's box has many holes for good ventilation. By allowing air to access the chips, the box creates constant heat and smoke inside. No matter what type of fragrance you choose, this product has great potential.
This is one of the cheapest smoker boxes on the market. But the manufacturer saved on the structural strength, so the box lid may be deformed. The chip box is medium in size and can accommodate a sufficient amount of wood chips. At the same time, the box will fit in almost any grill. For convenience, you have a lid with holes and hinges.
Thanks to the thin steel structure, the box creates a large amount of smoke but at the same time, the chips burn out much faster. Many users note that the box needs a lot of time to heat up, and at high temperatures, it often deforms.
Keep the box away from water and rain because it's not protected from corrosion. But all these disadvantages are compensated by the price of a smoker box, so if you don't want to spend a lot of money, then this is a good option.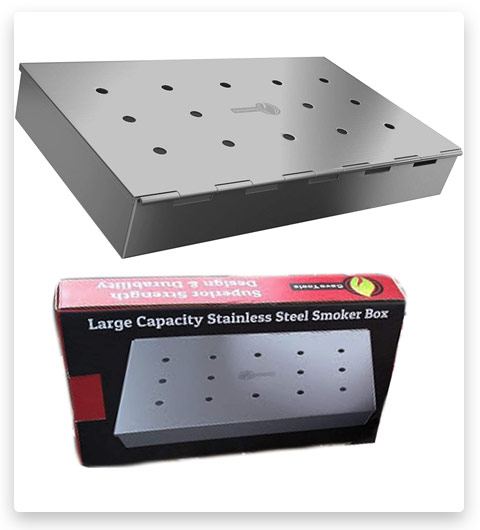 This is a great smoker box for your grill. This model isn't too expensive and not too cheap but it has a lifetime warranty that allows you to replace the box or return the money at any time. The construction of the box is made of durable stainless steel from several layers to prevent deformation at high temperatures.
Also, stainless steel is very easy to clean, you just need to shake out the ashes and wipe the box. The smoker box has a slotted lid with a latch and hinges. And there are no holes at the bottom to prevent wood chips from catching fire inside the box.
You can use any type of wood chips on any grill but it's recommended to use dry wood chips. Soaked chips will take much longer to heat up. The box is much larger than most smoker boxes. There are a lot of wood chips that can be in the box but they may not fit in some grills.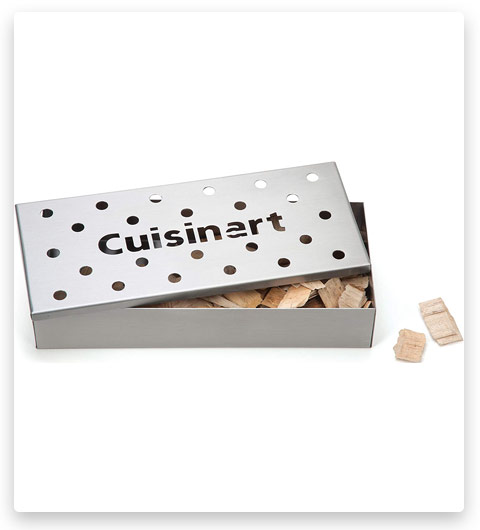 This is a very affordable model of a smoker box which may be the right one for you if you are not looking for anything too special. This smoker box is constructed of durable steel with a solid plate bottom and a slotted latching lid to allow smoke to pass through into the grill. The box is very compact and convenient – takes only 4 inches.
However, the number of wood chips that fit here will be much less. Since the box is cheap, ít'll have some problems. Materials are quite easily deformed under the influence of high temperature and over time the box may rust.
How to Choose The Best Smoker Box For a Gas Grill?
When choosing a smoker box, make sure that its design is very durable and made of high-quality metal. This will allow you to use it repeatedly under high temperatures without breakage and deformation. It is better to choose a box that will not rust, otherwise, under the influence of water, it will quickly become worthless. Remember that smaller boxes are always more practical and more convenient, so if you can, get one.
What are the advantages of having a smoke box?
Owning a smoker box is an advantage in itself. Besides, the box brings the aroma of smoke to the table.
It is not recommended to use wood chips in a propane grill, because this may lead to the breakage of the whole grill in the future.
In the propane grills you cannot use other heat sources, and in the smoker box can be.
The smoker box will contain the remnants of chipped chips and ash inside, so you do not have to clean the grill for long after cooking.
Details that you should pay attention to when buying a smoker box for a gas grill
Make sure the box is made of stainless and high-quality materials. This will ensure its durability.
Make sure the box can withstand high temperatures, otherwise after a couple of uses you will need a repair. It is better to take a box with a warranty from the store, or at least from the manufacturer.
The best use of the smoker box for gas grill
Almost all models offer to fill the box for the smoker with chips and close the lid. Place the box on/near the burners and turn on the grill. Propane burners will heat the grill and give off the smell of smoke in the food and the inner chamber.

Many argue that to properly smoke meat you need to use only a smoker or a machine for smoking products. This is an erroneous opinion because a smoker box can now achieve almost the same effect as a whole smoker. Also, you save money. The box will allow you to add the flavor of smoke to food, whenever you want, you can return to simple cooking without smoke at any time.
Can I use a smoker box on a charcoal grill?
Of course. The algorithm is similar here. Simply fill the box with wood chips and place them directly on the coal. If you use charcoal, then you may not even need a smoker box. You can just put wood chips on the coal. But you are free to choose the way that suits you.
Soaking chips before smoking
It all depends on your preferences. The meaning of soaking is that the chips linger longer and burn more slowly. It also emits more smoke and moisture in the grill. Yes, shavings can be used without soaking, but if you want to prolong its shelf life, immerse it an hour before use in water, alcohol, or other safe liquid.

Cast iron smoker box
No matter how simple it may sound, but this is a smoker box made of cast iron, yes. Many prefer it to boxes of other materials for several reasons. The main reason is that cast iron can withstand the highest temperatures and can be used in the hottest grills. The box is difficult to deform, and the metal itself evenly distributes heat around the box. But the cast-iron box is one of the heaviest and more expensive on the market. And since they retain heat very well, you will have to wait a long time before the box cools down, and you can remove it to clean the grill.
Is It Possible to Put Charcoal in a Gas Grill?
This can be done only if the grill indicates that you can do it. In addition, it is not recommended to use charcoal as a secondary source of heat in the gas grill. If you want to add flavor, then place the flavored chips in the smoker box to make the meat the same as when cooking on charcoal.
In conclusion, we will present to you the best in our opinion box of the smoker. We think this is Smoker Box for BBQ Grill Wood Chips. The box has a lifetime warranty, and its internal components greatly outperform the competition.
Double panels protect it from damage and deformations, the smoker box resists water and rust well. The ashes inside the box can be removed in one motion, and the whole box is easy to clean, it does not take much time. It can work on any type of grill and any type of wood. This box is versatile and adds an excellent flavor to your dishes. Cooking with it will bring one pleasure.
Video – How to Set up a Smoker Box on a Gas Grill