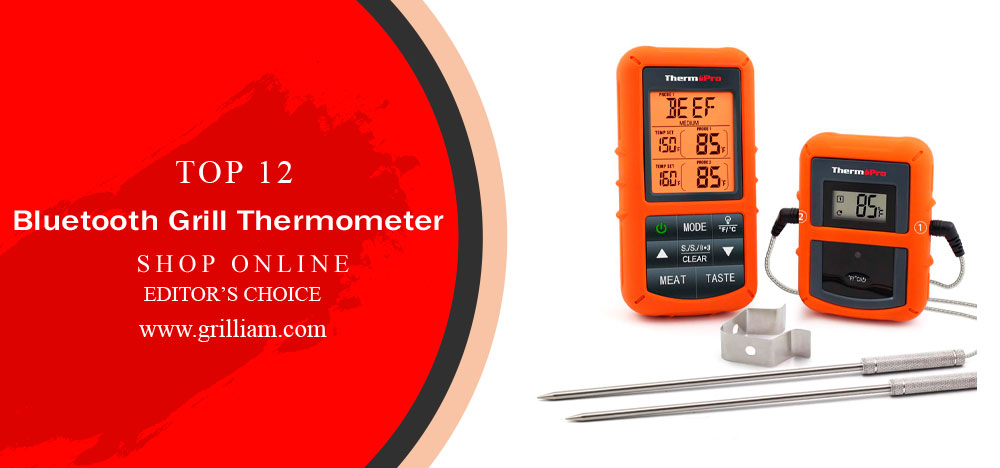 There is no dispute about the ideal grilled meat: some love a bloody steak, others prefer medium-roasted meat. It's all about the correct core temperature of the meat. Best Bluetooth Meat Thermometer will help you pinpoint it. More and more grill enthusiasts are buying this gadget to get accurate temperatures and grill meat like a pro.
From my guide, you will learn what to consider when buying the best Bluetooth meat thermometer. Perfect cooking level is the first requirement for delicious meat. High-quality thermometers are used in the kitchen, terrace, grill, and barbecue. In particular, practical features such as Bluetooth have a positive effect on the user's comfort.
The 12 Best Digital Grill Thermometer | Meat Thermometer – Editor's Choice
| Image | Product | Brand | Link |
| --- | --- | --- | --- |
| | Weber iGrill 3 Grill Thermometer | Weber | |
| | NutriChef Bluetooth Meat Thermometer for Grilling and Smoking - Wifi Grill Thermometer for Outside BBQ and Smoker Oven - 6 Temperature Probes and Smart APP and 400 Ft Range | NutriChef | |
| | Inkbird Bluetooth Grill BBQ Meat Thermometer with 4 Probes Digital Wireless Grill Thermometer, Timer, Alarm,150 ft Barbecue Cooking Kitchen Food Meat Thermometer for Smoker, Oven, Drum | Inkbird | |
| | ThermoPro TP-16 Large LCD Digital Cooking Food Meat Smoker Oven Kitchen BBQ Grill Thermometer Clock Timer with Stainless Steel Probe | ThermoPro | |
| | MEATER Plus | Smart Meat Thermometer with Bluetooth | 165ft Wireless Range | for The Oven, Grill, Kitchen, BBQ, Smoker, Rotisserie | MEATER | |
| | Weber iGrill Mini | Weber | |
| | ThermoPro TP20 Wireless Meat Thermometer with Dual Meat Probe, Digital Cooking Food Meat Thermometer Wireless for Smoker BBQ Grill Thermometer | ThermoPro | |
| | Govee Bluetooth Meat Thermometer, Wireless Meat Thermometer for Smoker Oven, Digital Grill Thermometer with 6 Probes, Timer Mode, Smart LCD Backlight BBQ Thermometer for Cooking Turkey Fish Beef | Govee | |
| | NutriChef Bluetooth Grill BBQ Meat Thermometer Digital Wireless Grill Thermometer, Timer, Alarm, 150 ft Barbecue Cooking Kitchen Food Meat Thermometer for Smoker, Oven | NutriChef | |
| | | | |
| | Bluetooth Meat Thermometer for Smoker Oven Grill, Smart Wireless Grill Thermometer for Grilling and Smoking, Remote Phone APP BBQ Thermometer with 6 Meat Probes AidMax WR01 | AidMax | |
| | ENZOO 500FT Wireless Meat Thermometer with 4 Probes for Grilling, Instant Read Food Thermometer, Digital Meat Thermometer, Cooking Thermometer for Smoker, BBQ Accessories, Carrying Case Included | ENZOO | |
I would like to make it easy for you to find the best digital grill thermometer and therefore I present you with 13 of the best models. I will consider what features manufacturers emphasize in their products, and their difference.
1# Weber iGrill 3 Grill Thermometer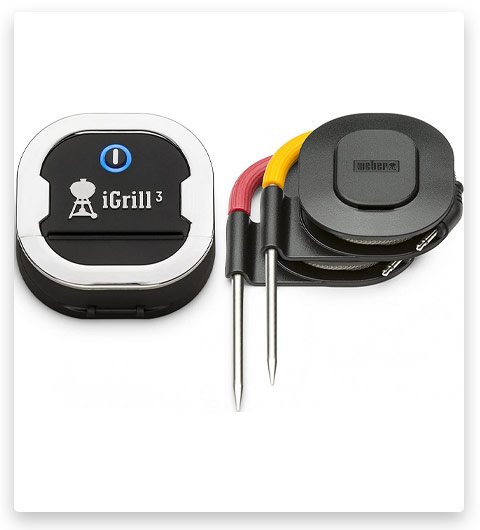 The iGrill 3 digital thermometers is specially designed for the Weber® Genesis® II and Weber® Genesis® II LX gas grills. It allows you to control the cooking temperature of four dishes at the same time. Using Bluetooth® technology, the thermometer transmits data about the current temperature to a mobile device (smartphone or tablet) in real-time. With the Weber iGrill mobile app, you can easily get your steaks, roast portions of beef, poultry, and other large meats to your desired degree. The free mobile app is available on the App Store and Google Play. The unit fits into a slot on the front of the Weber Genesis II and Weber Genesis II LX grills. You will receive an alert about the minimum and maximum set temperatures.
2# NutriChef Smart Bluetooth BBQ Grill Thermometer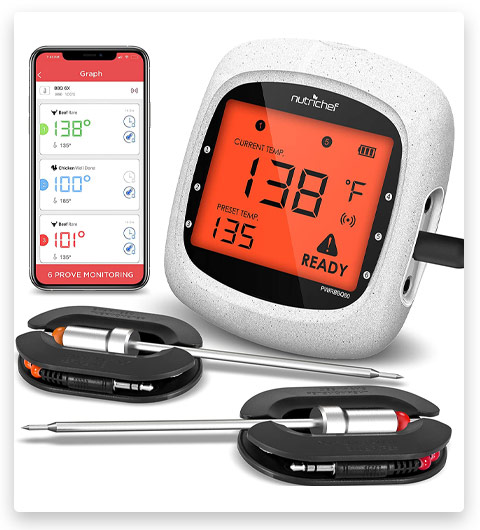 As you know, to get the perfect meat, it must be cooked at the right temperature. Without a high-quality grill thermometer, you will not be able to reach the desired temperature. But with the advent of new technologies, you don't need to control the temperature outside the grill. This model can keep you informed for a distance thanks to Bluetooth. The information will be sent to your smartphone in the 'EasyBBQ' mobile application. This digital grill thermometer is equipped with 2 sensors. You will be able to find out the temperature in Celsius or Fahrenheit. The Probe can handle temperatures up to 482 F while the stainless steel cable wire can handle up to 716 F.
3# Inkbird IBT-4XS Bluetooth Wireless Grill BBQ Thermometer – Amazon's Choice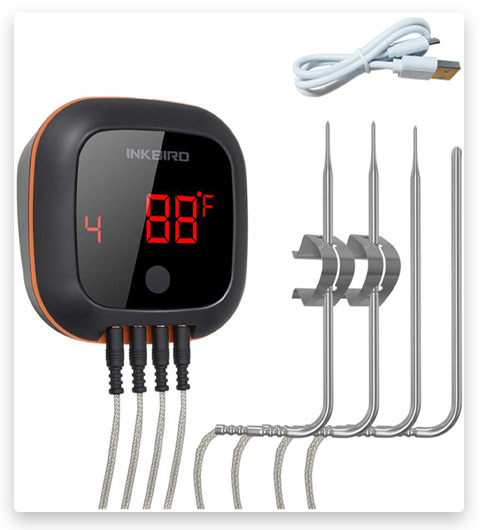 INKBIRD IBT-4XS is a digital Bluetooth thermometer with a timer and 1000mAh battery, a magnetic back surface and an LED flip screen. You can rotate by double-tapping the power key. It is equipped with 4 stainless steel probes to help you control the temperature of the meat and the temperature of the oven/smoker/grill at the same time. Presets are saved when power is turned off or communication is lost. This device has a built-in 1000mAh rechargeable lithium battery and comes with a 50cm USB charging cable. Fully charging capacity provides 60 hours of operation. The battery capacity can be monitored using a mobile app. You can measure the temperature of solid, liquid, and bulk products. Track the degree of doneness: Extra rare, Rare, Medium rare, Medium, Medium well, Well done.
4# ThermoPro LCD Digital Cooking Food Meat Grill Thermometer – Amazon's Choice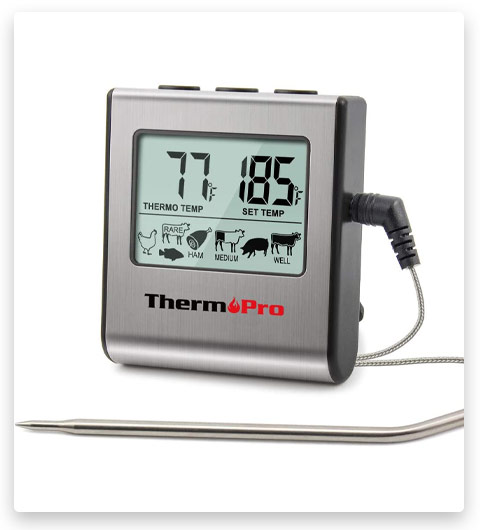 This model makes it possible to measure the internal temperature of meat accurately and quickly. Thanks to the meat needle probe, you can easily get to the inside of the meat you want. This electronic Bluetooth grill thermometer is equipped with an LCD display, making it easy to control the exact temperature. This cooking thermometer is equipped with a timer, which is also a great help when cooking meat. The device is equipped with USDA temperature settings for various cooking levels of meat (poultry, beef, veal, pork and fish). The range of measured temperatures is from 0 to 250 degrees Celsius.
5# MEATER Long Range Smart Wireless Meat Thermometer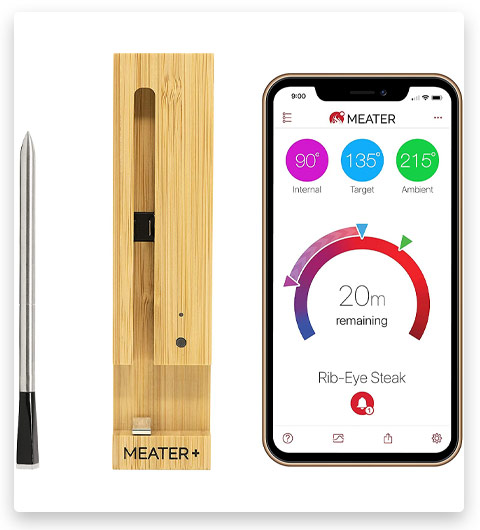 With the MEATER thermometer, anyone can achieve the desired roast of meat and prepare a delicious meal. It is a wireless device that has two sensors for monitoring the internal and ambient temperature, as well as a built-in Bluetooth and Wi-Fi module for connecting to a phone.
A special application installed on the gadget allows you to monitor the cooking process of meat in real-time and sends you a notification to your smartphone when the dish reaches the desired roast – Rare, Medium Rare, Welldone, etc. Using the thermometer is simple. Through the application, you are asked to select a recipe, type of meat – chicken, beef, pork, etc., and the degree of roast.
Then you should insert the thermometer into the meat and send it to fry or bake. The device is powered by a built-in battery. You grab it for 24 hours of continuous work. The meat thermometer is charged via the docking station from 1 AAA battery, which also serves as a storage space for the device.
6# Weber iGrill Mini – Amazon's Choice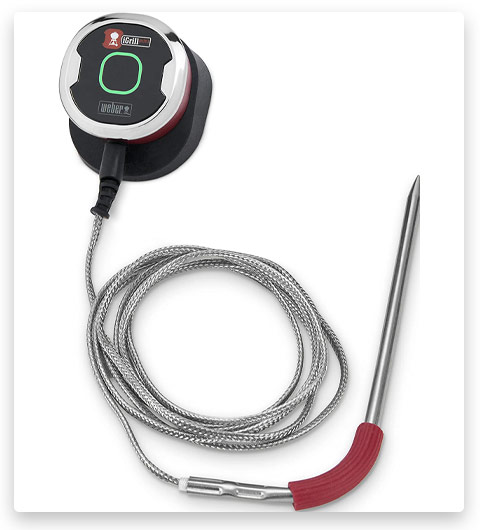 This Weber Bluetooth grill thermometer simply knows what is important for quality meat preparation. You simply attach the compact grill thermometer to the grill body, install the stylish and informative app on your smartphone and start cooking. The processing quality of the mini Bluetooth transmitter is top-notch, the cable length to the measurement sensors is longer than any other analogue product. This model offers a 150-hour battery life. The Grill Thermometer offers smart grilling at its best, there is nothing more to say about that!
7# ThermoPro TP20 Wireless Remote Digital Cooking Food Meat Thermometer – Amazon's Choice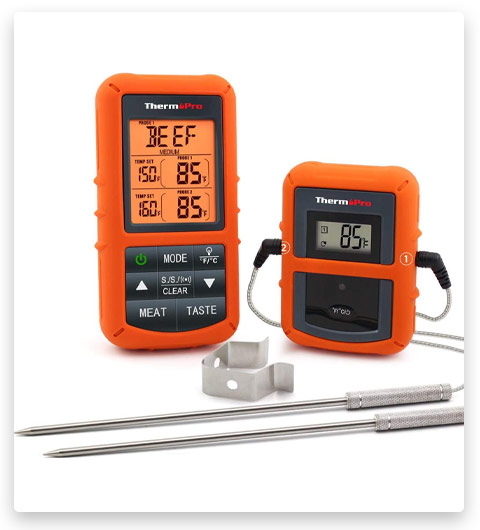 The working distance with the device is up to 100 m. The device consists of a signal receiver and a station to which two food-grade stainless steel probes are connected. The probes are immersed in the meat, and a person with a receiver can be, for example, in another room, at a distance of up to 100 m from the thermometer station. Thanks to the ThermoPro TP20 thermometer, there is no need to constantly be with the food being prepared, since you can know its temperature at any time, and therefore the degree of cooking. You can choose from 7 different foods: pork, beef, fish, poultry, chicken, lamb, veal. The measuring probes are replaceable, made of stainless food steel and reinforced wires.
8# Govee Bluetooth Meat Thermometer –  Amazon's Choice
Professional digital meat thermometer with wireless data transmission. It can be used in a mobile format right at the table, it will have all the information about the oven or grill. You can control the temperature anywhere in your home thanks to the 230ft Bluetooth range. The thermometer measures the temperature for 2 seconds.
9# NutriChef Bluetooth Meat Thermometer – Amazon's Choice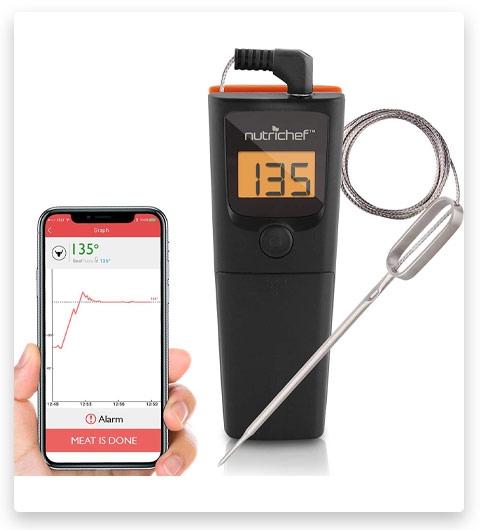 It is an easy-to-use thermometer that allows you to cook meat, bread, and other foods perfectly thanks to the right temperature. The temperature can be set between 32 and 572 ° F. The device has an easy-to-read LCD display. Monitor your temperature in real-time with the EasyBBQ App.
10# Oprol Bluetooth Meat Thermometer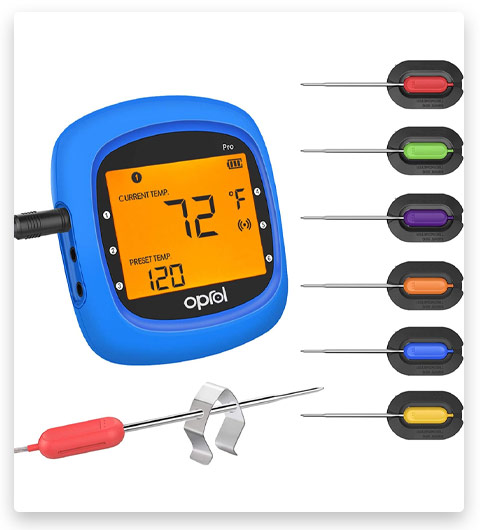 You no longer need to be around the grill all the time and monitor the right temperature! The smart meat thermometer for the grill will send a notification to your smartphone when the desired temperature is reached! You only need to download the free mobile application to your smartphone and you can receive notifications at a distance of 196 feet. With 6 temperature sensors, you can measure the temperature of 6 foods!
11# AidMax Wireless Grill Thermometer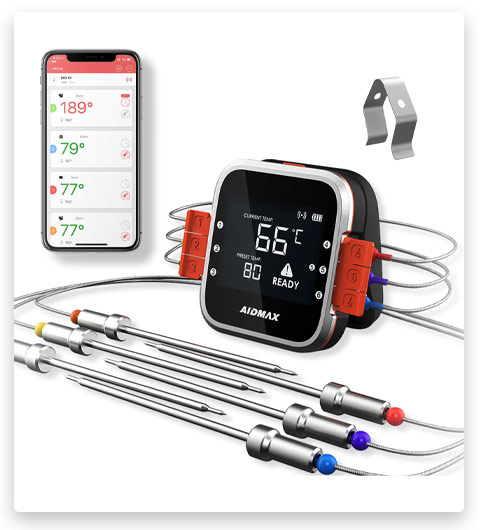 This device has 6 stainless steel probe monitors. You can be at a distance of 100 feet indoors and 170 feet outdoors. The device has a large backlit LCD display. This allows you to see the readings clearly even at night. You can put the thermometer in a magnet stand. It is very convenient and practical. This device does not require a complex configuration. You just need to download the mobile application and set the required temperature.
12# ENZOO Wireless Meat Thermometer for Grilling – Amazon's Choice
A meat thermometer will help you determine the temperature inside the food you are preparing. This product measures temperature in 2-3 seconds and has a temperature range from 32℉ -572℉. This best wireless thermometer shows data on your smartphone up to 500 feet. The model is equipped with a large backlit LCD display. This allows you to use your device even at night.
How Does a Wireless Thermometer Work?
The decisive advantage of the grill thermometer is the accurate temperature display, which cannot be assessed without assistance in the oven or on the grill. The focus is on the internal temperature of the food. Some of them differ significantly from each other. Internal temperature refers to the warmth inside. In other words, in the center of the meat. The thermometer shows how the food is cooked and whether the meat has already cooked.
How Does the Best Bluetooth Meat Thermometer Work?
The grill thermometer, controlled via Bluetooth, is used via an app on your smartphone. After installing the device on a mobile phone, the thermometer constantly shows the current temperature. Your Bluetooth grill thermometer can have the different grill and cooking programs that you can set before cooking. The disadvantage of this type of thermometer is the limited range of data transmission to your smartphone. If there is a certain number of meters between the grill and the smartphone, the connection is broken. Therefore, you need to place your smartphone next to the oven or grill so that you can see the cooking temperature.
Advantages:
Measured value readout virtually independent of location.
Pre-programmed levels and cooking programs.
Modern technologies.
Disadvantages:
Possible interruption of the Bluetooth connection.
The smartphone must be within reach of the grill.
Buying Tip Best Meat Thermometer for the Grill
Choosing a thermometer model is actually not that difficult. It is important to understand the most important purchase criteria. This is the only way to find a Bluetooth grill thermometer that you will be satisfied with for a long time.
Number of Sensors
Depending on the thermometer model, you will receive an individual number of sensors. Their number depends on your personal requirements. If you only need to measure the internal temperature, an analog model or a digital thermometer with a sensor is suitable for you. Stores have thermometers that also measure the internal temperature of the grill or oven. Some thermometers come with six or more sensors so you can monitor different foods at the same time.
Temperature Range
The temperature that the grill thermometer can display depends on the model. The required temperature range depends on what food you want to cook and under what conditions. There are grill thermometers that can measure freezing temperatures and thermometers that display temperatures up to 300 degrees Celsius.
Add-Ons and Features
Some grill thermometers are not only designed to quickly measure temperatures but also have other functions. There are thermometer models on the market, in which you can set the desired temperature and receive information about its achievement. So you don't have to look over and over again, but you can do other things. In some cases, meat thermometers can act as an egg timer. You set a timer and hear a beep when it has expired. Think about which features you need and which you can do without. The price usually rises as the number of features increases.
Conclusion
Now you know more about such a device as a Bluetooth meat thermometer. This is a must-have tool in the kitchen if you want to grill meat like in the best restaurants. Thanks to technology, this device gives you much more than a regular thermometer. I hope that you have already singled out for yourself a favorite among all the models. If you are still in doubt, I advise you to pay special attention to models such as 1# Weber iGrill 3 Grill Thermometer, 2# NutriChef Smart Bluetooth BBQ Grill Thermometer, and 4# ThermoPro LCD Digital Cooking Food Meat Grill Thermometer – Amazon's Choice.
Tags: #best bluetooth grill thermometer / #best digital grill thermometer / #best wireless thermometer / #best grill thermometer / #best meat thermometer for grill