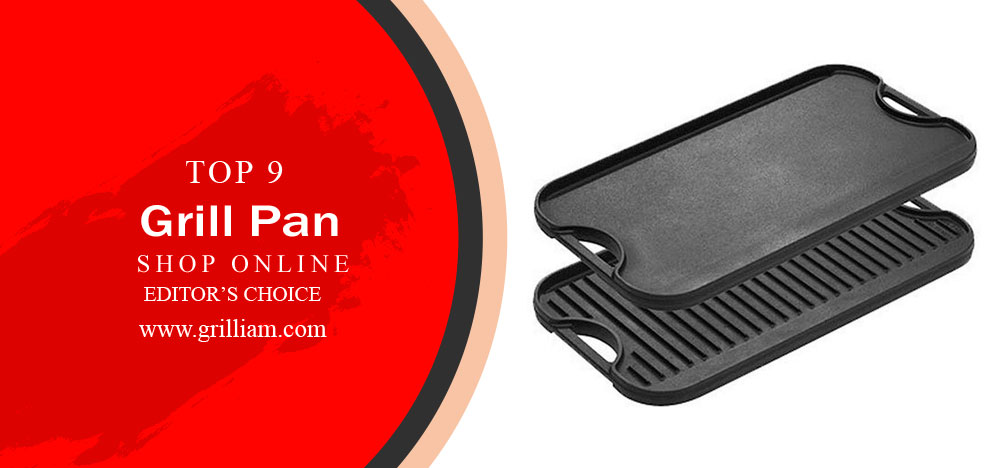 A grill pan is one of the accessories that shouldn't be missed in the kitchen kit, it is an alternative to barbecue grills, which can be used at home. A traditional grill pan is usually made of cast iron, which allows you to cook quickly and without the addition of fats, such as butter, oil.
Its usefulness has always been associated with the uniform and tasty cooking of meat, as well as other products, such as vegetables, which are perfectly cooked on the grill.
Our Top List 9 Picks Best Grill Pans – Editor's Choice
| Image | Product | Brand | Link |
| --- | --- | --- | --- |
| | Lodge L8SGP3 Cast Iron Square Grill Pan, Pre-Seasoned, 10.5-inch | Lodge | |
| | Cuisinart Cast Iron Grill Pan, 9.25", Black | Cuisinart | |
| | Moss & Stone Griddle Aluminum Nonstick Stove Top Square Grill Pan,Chef Quality Perfect for Meats Steak Fish And Vegetables,Dishwasher Safe,11 inch, Black (Comes With a Special Cloth And Gloves) | Moss & Stone | |
| | All-Clad E7954164 HA1 Hard Anodized Nonstick Grande Grill Cookware, 13 20-Inch, Black, 13" x 20" | All-Clad | |
| | Lodge LPGI3 Cast Iron Reversible Grill/Griddle, 20-inch x 10.44-inch, Black | Lodge | |
| | Cast Iron Grill Pan - Square 10.5"-Inch Pre-Seasoned Ribbed Skillet + Handle Cover + Pan Scraper - Grille, Firepit, Stovetop, Induction Safe - Indoor/Outdoor - Great for Grilling, Frying and Camping | cuisinel | |
| | Calphalon Contemporary Hard-Anodized Aluminum Nonstick Cookware, Square Grill Pan, 11-inch, Black | Calphalon | |
| | ESLITE LIFE 9.5 Inch Nonstick Grill Pan for Stove Tops Induction Compatible, PFOA & PTFEs Free | ESLITE LIFE | |
| | Calphalon Contemporary Hard-Anodized Aluminum Nonstick Cookware, Square Griddle Pan, 11-inch, Black | Calphalon | |
I will tell you about the 9 best grill pan that you can find on the market right now. You will find out not only their characteristics but also the pros and cons to make the right choice. Find the best grill pan with my help!
1# Lodge Pre-Seasoned Cast Iron Grill Pan With Assist Handle – #1 Best Seller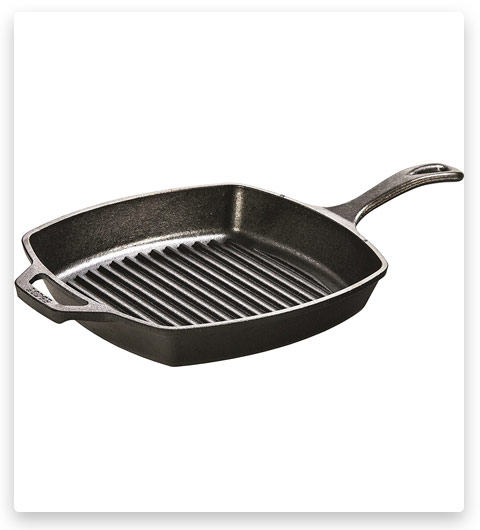 The grill pan is the right thing in your home if you want to enjoy delicious steak or juicy vegetables. If you are a barbecue lover, then this is a great solution for you on days when you do not have access to your grill. I did not just put this pan in first place in my review.
I consider it one of the best choices if you want to get high-quality and at the same time low-cost grill pan. First of all, I want to note that Lodge is a brand that you can trust if you choose a grill pan. It is famous for its durable products and accepted prices. This pan comes in a size of 10.5 inches and is made of cast iron.
This material makes the pan durable. Also, thanks to its material, the grill pan keeps warm and allows you to cook your meals at high temperatures. Thanks to its design, your meat or vegetables will have grill ridges. This is a safe pan for your health, as it doesn't have a synthetic coating, as well as any chemicals.
2# Cuisinart CIPS30-23 Cast Iron Grill Pan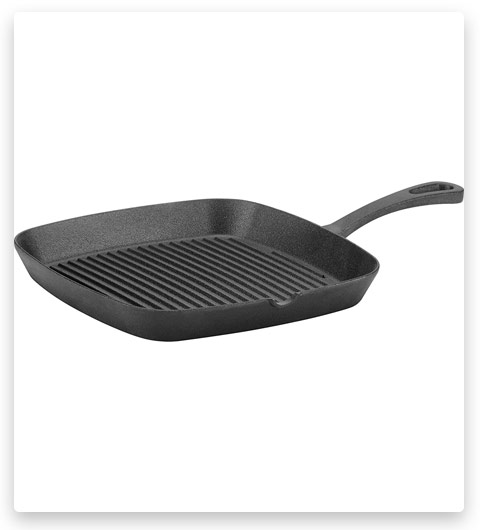 Cook meat, fish, or vegetables exactly the same as grilling. This pan was created in order to cook on it less high-calorie and with grill ridges. The grill pan is made of one of the most durable material: cast iron. You can be sure that you can cook at high temperatures. This cast iron grill gives you the opportunity to cook in any way.
You can grill, fry, stew, bake. The surface provides an easy release. The handle is made in such a way that you can safely and easily lift the pan. The pan has a square shape and thereby provides a sufficiently large surface for cooking. It has an excellent design and is available in three colors: red, blue, and black. Now you can use less oil in your dishes! Can be used in the dishwasher.
3# Moss & Stone Griddle Aluminum Nonstick Stove Top Square Grill Pan – Amazon's Choice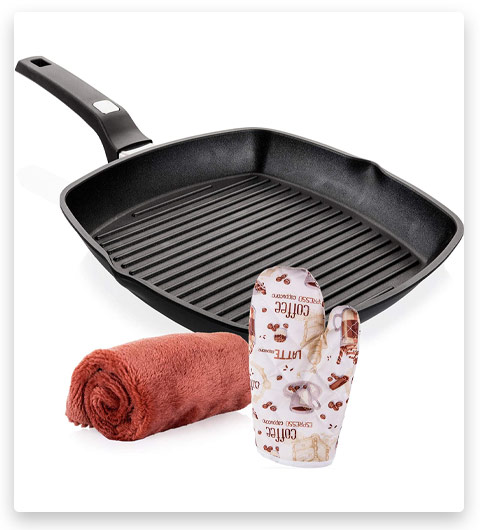 Cook your favorite burgers, steaks, fish, and grilled vegetables without leaving your home. Now the grill will be in your kitchen! This is an incredibly lightweight grill pan that doesn't require special skills to use. It has a non-stick coating, which has many advantages.
You may not use oil in cooking to make food healthier. It also allows you to quickly and easily clean the pan. This will also be done easily with the cleaning cloth that comes with the pan. Your dishes will be cooked as in the best restaurants due to the even distribution of heat.
4# All-Clad E7954164 HA1 Grill Cookware – Amazon's Choice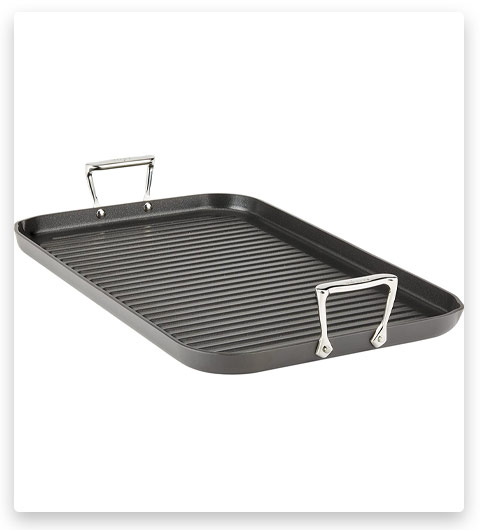 This pan has a rectangular shape that allows you to cook large quantities of food at the same time. It has two handles on both sides for easy grip. The surface has ridges that leave visible grill marks on your food. Your dishes turn out exactly like grilled. The pan has a size of 13 x 20 inches and is equipped with a non-stick coating.
You no longer need to use oil and food will not stick to the pan. It can be used both on gas and on an electric stove. Lightweight pan due to the aluminum it is made from. This material also quickly heats up and evenly distributes heat. The manufacturer does not use chemicals, and the pan does not contain PFOA. It can be used in the oven up to 500 degrees F. Quick cleaning, and can also be used in the dishwasher.
5# Lodge Pre-Seasoned Cast Iron Reversible Grill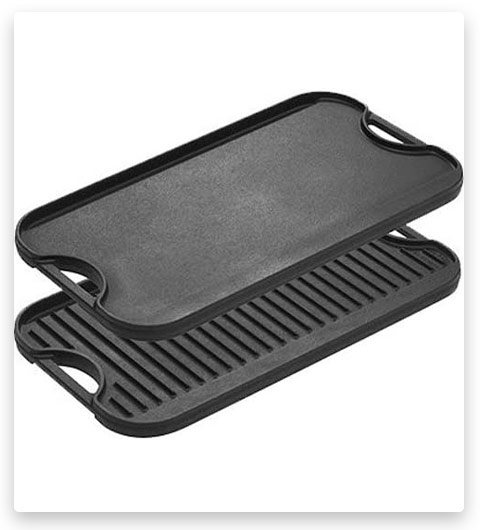 This grill pan is suitable for use on all hobs. It has a large rectangular surface measuring 20 x 10.5. It has a double-sided design for the variability of use.
On the one hand, you will find a smooth surface, and on the other, a surface with ridges for cooking on the grill. You will get a comfortable grip thanks to two handles. You can be sure of the safety of this pan. No chemicals were used in its manufacture. Cast iron provides strength and reliability.
6# Cuisinel Pre-Seasoned Cast Iron Skillet – Amazon's Choice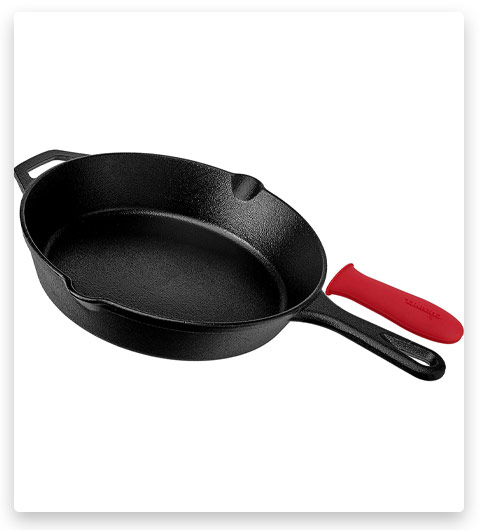 This is a 10-inch grill pan that is made of cast iron for cooking the best dishes. Food will not burn due to even heat distribution. This is suitable not only for grilling but also for frying, stewing, baking various dishes. Your hands will be safe during cooking thanks to the non-slip, heat-resistant, and comfortable grip.
7# Calphalon Contemporary Hard-Anodized Aluminum Nonstick Cookware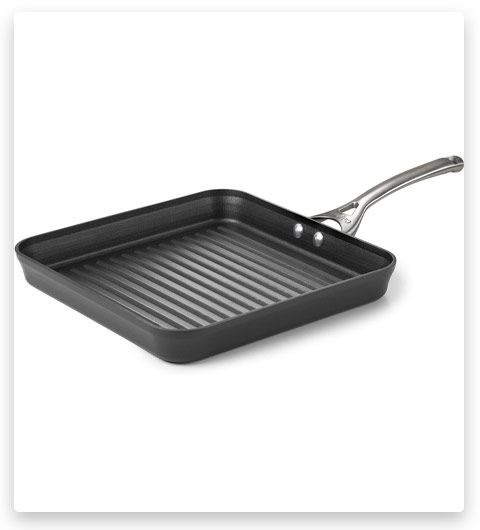 You can use this grill pan both on the stove and in the oven. The lid can also be used in the oven. I want to mark the handle in this pan. It is long and made of stainless steel. This material resists corrosion and is designed for cooling. Aluminum evenly distributes the temperature over the entire surface, and the non-stick coating allows you to cook less greasy food.
8# ESLITE LIFE Non-Stick Grill Pan Square Griddle Pan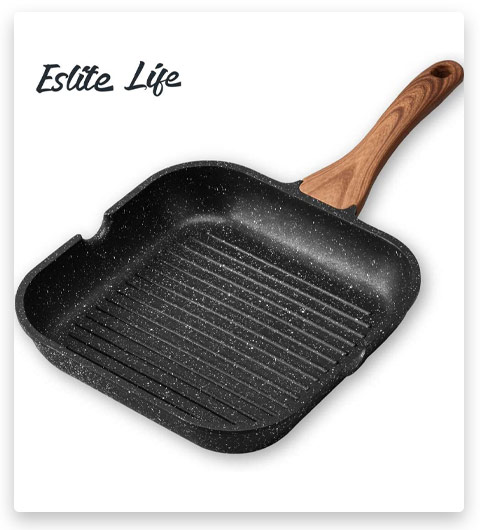 This pan is designed for every day, long-term use. Its difference from the rest is that it has a granite non-stick surface. It is a 100% safe and environmentally friendly product. The composition doesn't contain toxins and chemicals, as well as PFOA, LEAD, CADMIUM. You can cook in a pan up to 700° F.
Thanks to the surface, your food will slide in the pan and be easily released. Cast aluminum prevents the burning of food and can be used on any stove. The pan comes in a size of 24 inches, which allows you to cook large quantities of food.
9#

Calphalon Contemporary Cookware Square Grill Pan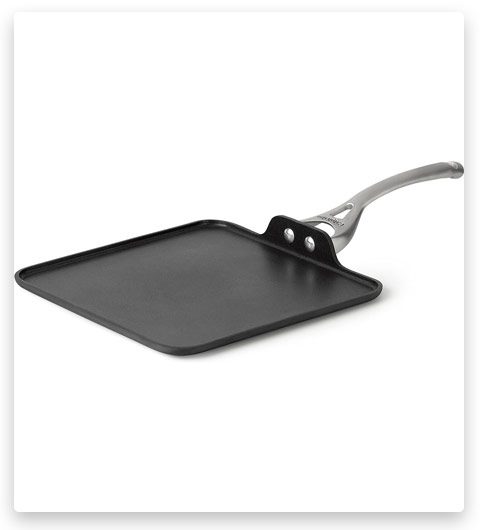 If you want to eat less fatty and more wholesome food, then you should take a look at this grill pan. Thanks to the non-stick coating, you cannot use oil, but your food will not stick to the surface. It also allows you to quickly clean the pan after cooking. This grill pan has 3 layers of the non-stick coating.
It is made for the durability of the accessory. The pan is made of aluminum, which provides uniform heating. Thanks to this, you will not burn food. The material of the pan allows you to wash it in the dishwasher. The handle is made of stainless steel to prevent rust. You can use the pan in the oven with a lid.
What Is Best Grill Pan?
This is a "special" pan, which must be present if you want to fry meat, and you are not lucky to have a good garden where you can organize a barbecue with friends. Its distinguishing feature is the ease of use on the stove at home. It is suitable for meat, as well as vegetables and side dishes.
The pan can be washed. In most cases, even in the dishwasher, which undoubtedly saves time for those who are always in a hurry! Basically rectangular or square, unlike a traditional pan, it has an ergonomic handle and often a lid, and provides a good dish that can be served.
How Does the Grill Pan Works?
The grill pan has ridges that perform two functions: the liquids from the food, as well as the oil or fat, fall into the spaces between the ridges, and the food that needs to be cooked is only in the ridges. In combination with a well-heated grill pan, it doesn't prevent the cooking of food in its own juice, but, on the contrary, it is properly fried. If the pan is hot enough, the oil burns and smoke forms, which creates a taste for the food.
Grill Materials
The best material for the grill is cast iron, which is stable, promotes an even distribution of heat over the entire surface, provides optimal cooking, especially for meat, and can be used on any hob.
You can also consider a material, such as stone, that retains heat for a very long time.
Non-stick aluminum grilles, especially with stone, are also very successful.
The big advantage of coated grilles is less weight compared to cast iron grill pan or stone and, therefore, better handling.
What Can I Cook With Grill Pan?
Products that can be cooked on the grill differ from each other and have a very delicate taste, depending on the time of cooking and adding fat or not.
A grill pan is also used for fish.
In the case of meat, it is always better to preheat the grill before use and add very few drops of oil.
Also suitable for (not frozen) hamburgers, Florentine steaks, etc.
It is also great for making toasted bread or for a bruschetta to which it gives a pleasant aroma. Suitable for various vegetables (zucchini, eggplant, peppers, artichokes, etc.).
Also in this case, for optimal cooking, it is good to warm the bottom, but without adding any type of fat. Vegetables, of course, need to be cut into slices.
Benefits of Using a Grill
Using the grill pan allows you to cook in a healthy way without the need to add fat.
Cooking any of the foods listed above is fast enough. In particular, meat, especially if it is not fat, can take several minutes. Vegetables take longer instead, but the taste is still very good.
It is easy to wash, you need to wait until it cools down, and the crusts come off almost by themselves, preferably immersed in water.
Conclusion
I was surprised at how delicious the meat and vegetables can be cooked on a grill pan. If you don't have the opportunity to use the grill in the fresh air right now, this is a very good alternative to get closer to the taste of the grill.