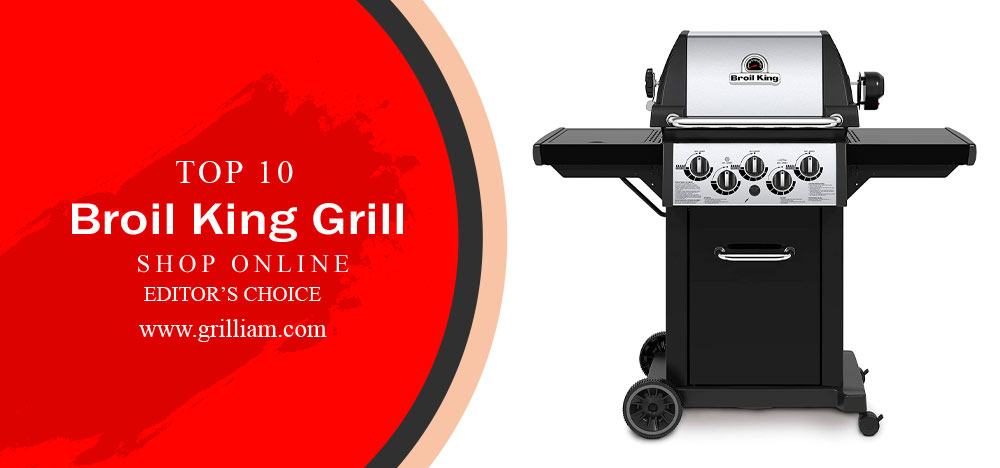 Broil King Grills – Top 10 Best Broil King Grills
Broil King needs no introduction. Almost every barbecue fan knows that these guys make very high quality and efficient grills, especially when it comes to gas grills. We decided to write this article because now broil king has a huge number of grill models in its line and choosing the best model is a rather long process.

Here Our Compilation of 10 Best Broil King Grills – Editor's Choice
| Image | Product | Brand | Link |
| --- | --- | --- | --- |
| | Broil King 911470 Keg 5000 Kamado Grill, 18.5-IN Diameter, Metallic Charcoal | Broil King | |
| | Broil King Signet 320 Cast-Aluminum 3 Burner Liquid Propane Gas Grill | Broil King | |
| | Broil King 922164 Baron 440 Liquid Propane Gas Grill | Broil King | |
| | Broil King 496051 Regal 500 Pellet Grill, Black | Broil King | |
| | Broil King 834284 Monarch™ 390 Liquid Propane Grill | Broil King | |
| | Broil King 494051 Crown Pellet 500 Pellet Grill, Black | Broil King | |
| | Broil King 923614 Vertical Propane Smoker | Broil King | |
| | Broil King 952654 Porta-Chef 320 Portable Gas Grill, 1-Burner, Stainless Steel & Black | Broil King | |
| | Broil King 957887 Imperial XLS Gas Grill, 6-Burner, Stainless Steel | Broil King | |
| | Broil King Keg Kamado Grilling Cabinet | Broil King | |
That's why we've reviewed the top 10 Broil King grills for you. We are sure you'll love what we have prepared for you!
1# Keg 5000 Kamado Grill 18.5-Inch – Best Charcoal Grill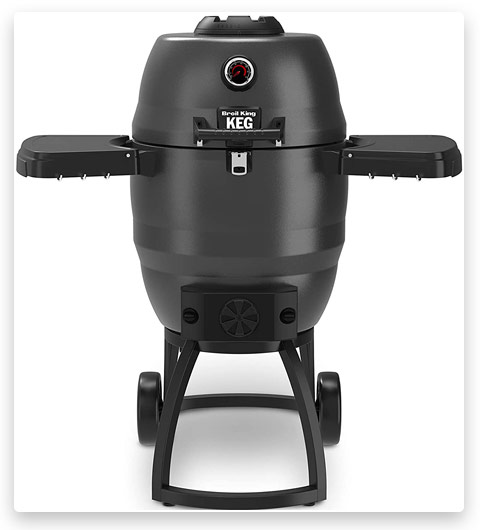 An important advantage of this grill is the reliable material from which it's made. For example, an insulated double-wall body is made of steel. This material best retains heat and moisture. Also, a steel body, unlike a ceramic one, won't crack and won't absorb unpleasant odors. That'll save your money on grill maintenance. Due to the insulated body, cast-iron upper, and aluminum lower flap, the barrel uses 2 times less lump or briquette coal.
The cooking area on the main cast-iron grates is 280 sq. inches. But this is not all. If necessary, you can use a warming rack of 200 square inches. In total, you can prepare enough food for 480 square inches. This won't be enough for a huge group of friends, but for a family of 4-5 people, it's just right.
You'll most likely be pleasantly surprised by the configuration of this product. It comes with foldable side tables. You can conveniently place various dishes on them. And if you need to move the grill, you can use the trolley, which is also included.
If you were able to impress your loved ones with a culinary masterpiece and want to repeat your success in the future, then you can find a very convenient function in this grill. Because it allows you to remember settings, due to metered labeling. This model is made in an elegant black style. It has a classic design. However, in our opinion, the side tables, despite their practicality, worsen the appearance of this grill.
2# Broil King Signet 320 Cast Aluminum 3 Burner Propane Grill – Best Gas Grill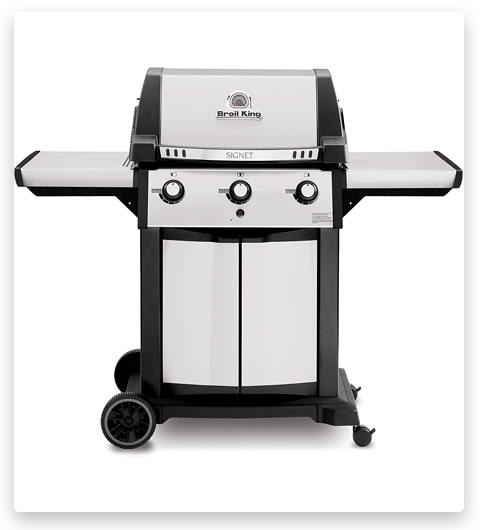 One of the most famous propane models is the Broil King Signet 320. Let's start with the fact that this grill has a fairly large cooking area – 635 sq. inches. At the same time, there are 2 zones for cooking your dishes – 400 sq. inches primary, 235 sq. inches secondary. This is convenient if you want to cook the main dish and side dish at the same time.
Cooking grates are made of cast iron. This material is very durable, so it can serve you for many years. The grates also provide sufficient roasting power for all your dishes. They retain heat well, due to which meat or vegetables don't lose their juices and get an extremely rich flavor. But they don't have porcelain or other coatings, which makes the grates quite difficult to wash.
The grill is equipped with the Flav-R-Wave cooking system, which is made of stainless steel. It evenly distributes heat over the entire surface, which allows you to cook the most tender Turkey or chicken. Unfortunately, the compartment, which is represented by the lower shelf, is poorly adapted for storing large items.
The Broil King has taken care of the convenience of using this grill. For example, side shelves made of stainless steel will help you organize additional space. You can put food or drinks on these shelves during cooking. You can also conveniently store spices and sauces in a closed cabinet.
3# Broil King Baron 440 Liquid Propane Gas Grill – Best Comfortable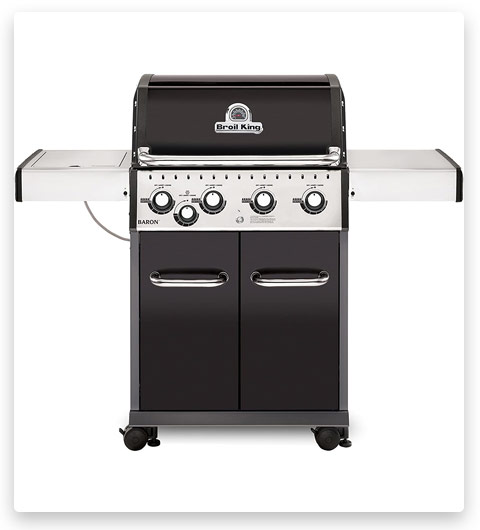 Broil King Baron 440 has 4 twin-tube burners. They're made of stainless steel and provide up to 40,000 BTU of power. The heat is distributed quickly and evenly. However, keep in mind that 40,000 is too much power for many dishes. That is, to fry, for example, hamburgers on a direct fire are quite difficult. But thanks to 5 burners, you can use a cooler area.
The total cooking area is 644 sq. inches. It's divided into main 444 sq. inches and secondary 200 sq. inches space. This'll allow you to cook several dishes at the same time. Cooking grates are made of cast iron, due to which they can retain heat for a long time and distribute it evenly over the entire cooking surface. One of the most important elements of this grill is the Flav-R-Wave cooking system. It's made of stainless steel, which helps to distribute heat very evenly.
The distinctive feature of this grill is a side burner with a capacity of 10,000 BTU. Side tables, although they make the overall appearance of the burner cheaper, are an extremely convenient tool for storing various kitchen items. And if you don't like their design, you can easily remove them and put them in a more convenient place.
4# Broil King 496051 Regal 500 Wood Pellet Grill – Best Pellet Grill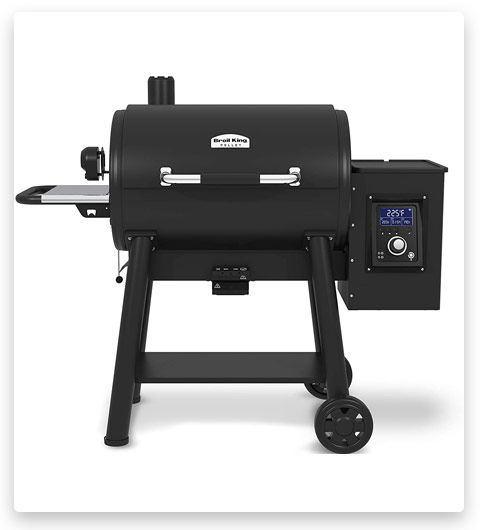 This grill runs on pellets, for which it has a roomy 22-pound hopper. The grill can be easily cleaned using the built-in chute. A heavy-duty screw with a solid core delivers pellets to the boiler consistently without failures or jamming. However, it's worth considering that the consumption of pellets is really large.
Broil King Regal Pellet 500 grill is designed for a large group of friends because the total cooking area is 865 sq. inches. Due to temperature control, you can cook absolutely any dish. Easy operation is the pride of the Broil King Regal Pellet 500 grill.
The digital display will set any temperature. There's also an additional Wi-Fi and Bluetooth function that allows you to control the grill directly from your smartphone. The controller is equipped with a timer and temperature sensors, which will help you not to be at the grill during the entire cooking process. Meat probes made of stainless steel also help to achieve excellent results.
5# Broil King Monarch 390 Liquid Propane Grill – Best Design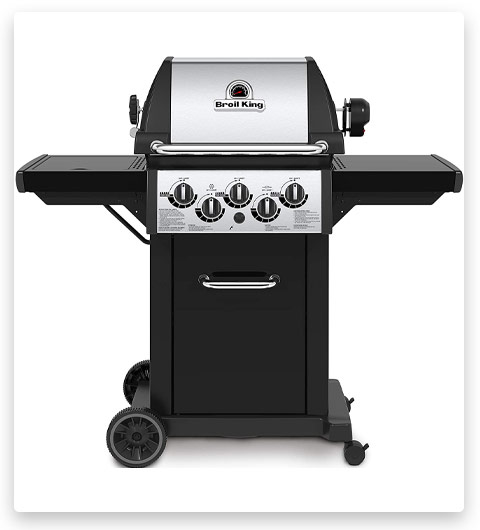 The Broil King Monarch 390 grill has several burners. The main burner is designed for 30,000 BTU, output for 12 000 BTU, and the side on 10 000 BTU. This'll allow you to cook several dishes at the same time.
The main cooking area is quite small – 350 sq. inches. You can start the grill using the electronic ignition system. And you need to control the temperature through linear valves, which are connected to the control knobs. We think that this isn't the most modern way to manage the grill.
It's worth to note the beautiful design. The grill is made in black with a gray control panel. Even the side steel shelves don't spoil the appearance. Besides, the grill has strong wheels, thanks to which it can be moved to any place in the yard. The grill also has a closed cabinet with a steel door, in which you can comfortably put different things.
6# Broil King Baron 500 Wood Pellet Grill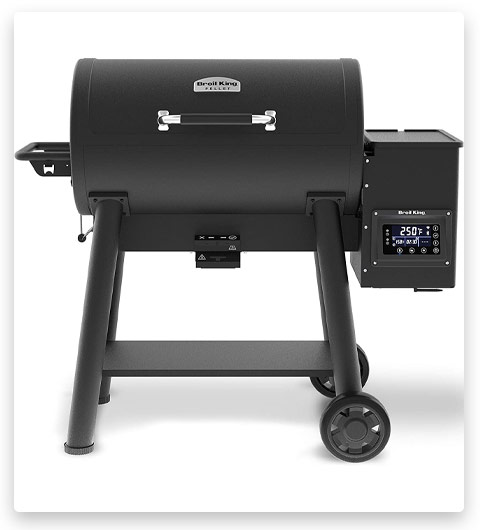 This grill perfectly regulates the temperature. It can change it in the range from 250 to 600 degrees. At the same time, you can easily control it using a convenient display or through the app on your smartphone with Wi-Fi and Bluetooth functions. The meat probe will help regulate the temperature, so you'll get an excellent result without much effort.
The grill runs on pellets that are loaded into an 18-pound hopper. It's easy to clean, and also give the dishes a wonderful woody flavor. But don't forget that the consumption of such pellets is high. Thanks to the ash collector, your grill will never be dirty, and the ash won't get on the dishes. We recommend this grill if you have a large enough budget. But believe us, it's worth the money.
7# Broil King Vertical Propane Smoker 923614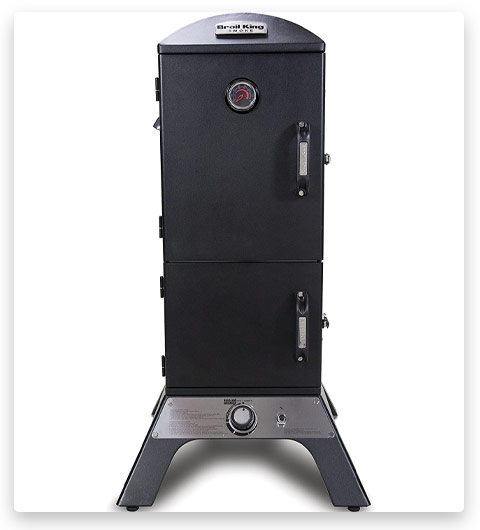 The vertical propane smoker has 770 sq. inches of total cooking area. On 4 adjustable stainless steel grates, you can place a variety of dishes, from corn to meat. An important advantage of this gas smoker over any other is the simple temperature control.
And even in cold weather, it keeps the heat inside well. An Ace-Temp thermometer will help you control the internal temperature. This grill has 2 doors, which is extremely efficient. You can add firewood or measure the water level without opening the main door. This design helps to keep the heat inside the cooking area.
8# Broil King Porta Chef 320 Portable Gas Grill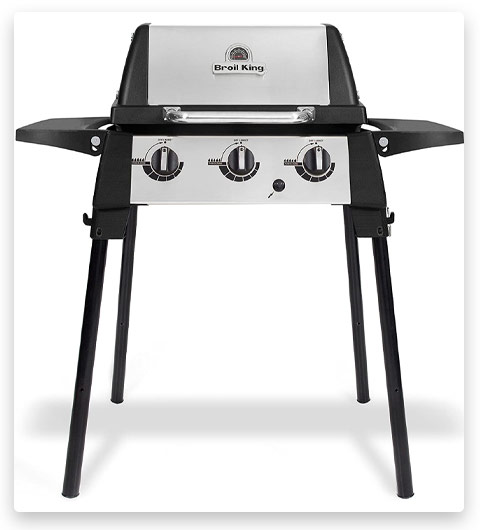 This is a compact grill that you can take with you on a picnic and cook right on the go. The space on which you can cook food is 295 sq. inches, and the warming rack is 135 sq. inches. The portable grill allows you to prepare full meals, despite its small size.
It has a Flav-R-Wave cooking system that includes 2 cast-iron grilles that promote even distribution of heat and steam. 3 stainless steel burners have a total power of 18,000 BTU. These are excellent marks for such a small grill. You can easily remove the drip tray for the grease to clean it. Also, it's made of durable metal and shouldn't require frequent replacement.
9# Broil King Imperial XLS Gas Grill Stainless Steel
The grill has a main burner capacity of 60,000 BTU and uses gas. Such a high power will allow you to reach the needed temperature even if you want to cook a dish in cold weather. There's also a small side burner with a capacity of 10,000 BTU. It's ideal for warming up sauces. And if you want to roast chicken, you can use the 15,000 BTU output burner.
The Flav-R-Wave cooking system will ensure an even distribution of heat so that the dish will become juicy. 6 grates made of stainless steel retain heat well. A certain highlight of the design, which can be used in practice, is the backlight. LED lights are integrated into the control knobs, and located on the kitchen box. Thanks to this, you can enjoy a late evening while cooking meat or vegetables on the grill.
10# Broil King Keg Kamado Grill Cabinet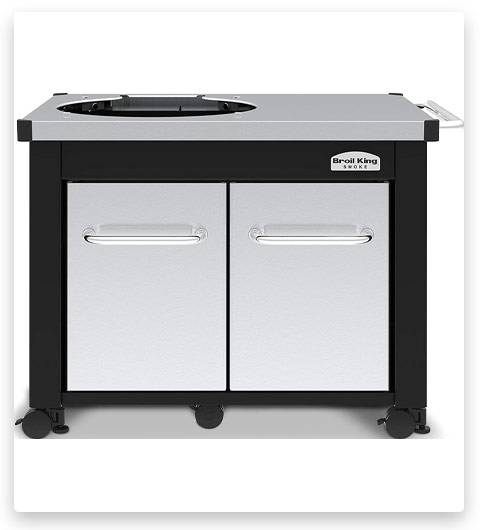 The table is made of stainless steel and is compatible with Primo Kamado, 19″ Safire, Kamado Joe Classic 18", and other kamado-style grills with an outer diameter of up to 22 inches. It allows you to create a convenient area for cooking your meals.
The grill is installed in a hole in the table. On the table itself, you can place grilling tools or cooking products. And the lower nightstand will be convenient for storing coal or gas. The table is equipped with wheels so that you can easily move it around your garden.
What Do You Need To Know About Broil King Grills?
Broil King stands out among many manufacturers. We have collected for you all the information about this brand and their products so that you do not have the thought that you are buying a pig in a poke.
Reputation
Broil King has been making their grills for over 30 years and during this entire period, they managed to study all the equipment manufacturing technologies and chose the best ones. The grills that you see today are the result of the work of thousands of people, which allows you to create a high-quality, durable, and productive product. Besides, during this time the company managed to gain a foothold in the market, open many branches, and become quite famous. Therefore, if something happens to your grill, then you can always contact the service center in your city.
Made in the USA
You can count on Broil King's quality because they are manufactured in factories in the USA and the workmanship is highly controlled. Grills are assembled at factories in Indiana, Dixon, Tennessee, and Huntington.
Material
The material for almost all grill components is purchased from American suppliers. For example, carts, cabinets, bodies, and shelves are made by excellent American specialists. The only exceptions are some components that are bought in other parts of the world. But this is done only for quality reasons. For example, Swedish sensors are much more accurate than American ones, so they are bought there.
User opinion
When we surveyed user opinions on Amazon, most grills were rated 4 and 5 stars. All 3-star claims were mainly about delivery and not about the quality of the grills themselves. So if you don't trust our review enough, you can trust the opinion of independent buyers.
Wide guarantee
Broil King gives a very long and wide warranty on its products. If you keep your receipts and paperwork with your purchase, you get a 2-year warranty on accessories and paint, a 10-year warranty on grates and burners, and a lifetime warranty on your cooking box. As soon as something breaks with you, then if it's covered by the warranty, Broil King will immediately send you new parts.
Frequently Asked Questions About Broil King Grills – FAQ
In this section, we've collected all your questions about Broil King grills and the company itself. If you have any questions, then most likely you can find it here. But if not – don't hesitate to ask them in the comments!

Summing Up
Broil King makes a lot of good grills, but choosing the best one can be long and tedious. Therefore, you can always refer to our list and find something for yourself. Traditionally, we have chosen the best model – this is Broil King Keg 5000 Kamado Grill. It has great features including great design, comfortable side tables, even heat and moisture distribution, and a long warranty. This grill will be a great addition to your yard and will delight you and your guests with new dishes every day. If this grill seems too uncomfortable for you, then any other model from our list will also be a great solution. We hope our guide helped you make the right decision. Have a nice grilling!