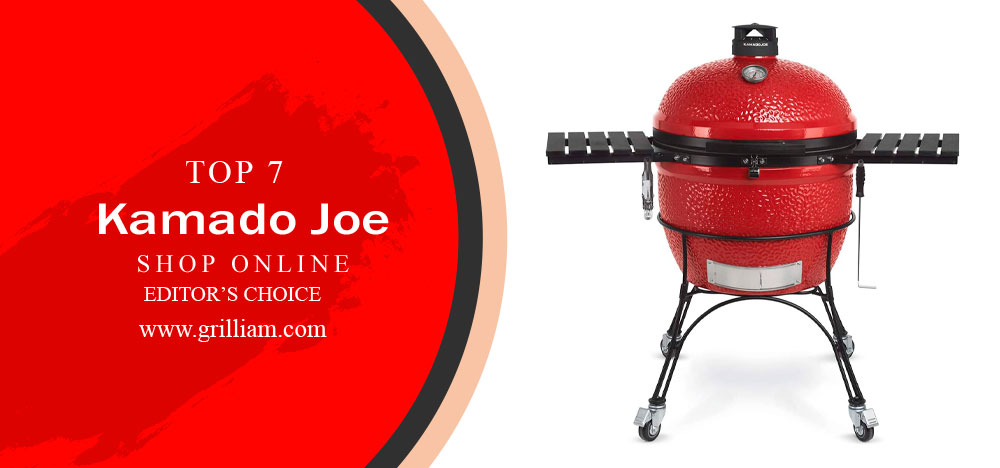 If they ask me what I love the most, then in 99% of cases I will answer that juicy steak which is grilled on Kamado Joe. The manufacturer of modern ceramic grills is the American company Kamado Joe, and its products belong to the premium class.
Kamado Joe – Ceramic Grills | Ceramic Smoker| Kamado Style Grills
Kamado Joe products occupy a special place in the variety of modern grills. The name of this brand is from the USA. Ancient Asian cooking traditions are here combined with modern developments and a non-trivial approach to the comfort of everyone who opted for these grills.
Our Selection 7 Best Kamado Joe Grills – Editor's Choice
| Image | Product | Brand | Link |
| --- | --- | --- | --- |
| | Kamado Joe KJ23RHC Classic Joe II 18-inch Charcoal Grill with Cart and Side Shelves, Blaze Red | Kamado Joe | |
| | Kamado Joe BJ24RHCI-A Big Joe III Charcoal Grill | Kamado Joe | |
| | Kamado Joe BJ24RHC Big Joe II 24-inch Charcoal Grill with Cart and Side Shelves, Blaze Red | Kamado Joe | |
| | Kamado Joe KJ-TISSERIENA JoeTisserie Rotisserie Grill Accessory for Classic Joe Grills | Kamado Joe | |
| | | | |
| | Kamado Joe BJ-PS24 Big Joe Pizza Stone, White | Kamado Joe | |
| | Kamado Joe BJ-IKAMANDNA iKamand Smart Temperature Control and Monitoring Device for Big Joe Grills, Black | Kamado Joe | |
These products are thick-walled ceramics made using special clay mined in China. The centuries-old technology of cooking on charcoal used in such a grill allows giving meat, vegetables, or fish an unusual, rich smoked flavor, which differs from the taste of food cooked in any other grill. The device heats up very quickly and requires only natural charcoal from solid hardwoods. The use of such charcoal makes it possible to reach a temperature of more than 400 degrees in the grill to obtain perfect roasted steaks. The grills are low-maintenance, self-cleaning, easy to install, and of unrivaled quality. The manufacturer provides a lifetime warranty for the ceramic components of its grills.
Kamado Joe Philosophy
High quality, constant striving for improvement, and true love for what they do are what keep Kamado Joe on top of success. The company was founded by two friends from the USA. Big barbecue lovers, they dreamed of coming up with and bringing to life something new that would help make the process of cooking a real holiday. Ideas gleaned from the wise Japanese and worked out in accordance with modern requirements were to the taste of many. Today it is a serious corporation that sells thousands of grills a year all over the world.
1# Kamado Joe Classic II Charcoal Grill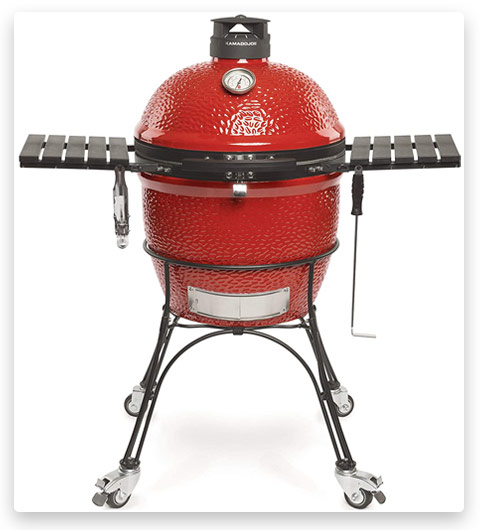 Kamado Joe Classic II is a ceramic grill. It offers an amazing variety of features. You can bring the temperature to 400 ° C and cook steaks. Or you can set the grill to a comfortable 170 ° C for juicy turkey, or smoke delicious food at 115 ° C. The grill has got "tasty" improvements and received a revolutionary canopy lifting mechanism with a pneumatic loop, which reduces the weight of the canopy by 90%. Now even a child can open the lid of even the largest grill. Thanks to the new counterbalance mechanism, you don't have to worry that you can drop the lid. Now the revolutionary mechanism will simply lock it in the position in which you left it.
Now you can only open the grill lid halfway and release it, and it will stay in place and will not slam shut. No other grill can do this! Also among the new additions is an improved 5-blade firebox that increases durability without sacrificing performance. It's no secret that with active use, internal ceramic elements can crack. Another innovation is the updated duct cover. The new cap is made of cast aluminum, which means it is not at all afraid of corrosion. Now, after many years of use, your grill will look as attractive as it did on the first day of purchase. And most importantly, the updated air duct is sheltered from external influences and will allow you to cook even in the heaviest rain.
2# Kamado Joe A Big Joe III Charcoal Grill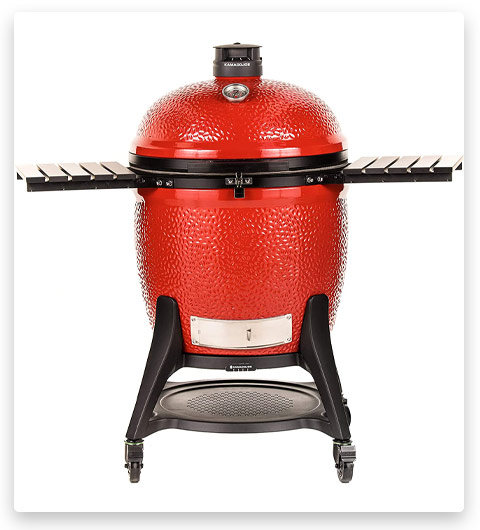 Big Joe III is a versatile kamado grill perfect for large families or preparing meals at parties with a large number of people. This is the third generation of Kamado Joe ceramic grills. The grill has changed in appearance. It has a deeper cauldron, mounted on a stylish and sturdy new trolley, with an additional shelf for accessories at the bottom. The main addition inside is the innovative SLōROLLER swirl insert. It is great for smoking and baking. This insert replaces the traditional ceramic heat deflectors. The SLōROLLER swirls upward currents of air like a cyclone so that the aromatic smoke flows around the product many times, guaranteeing a more even temperature distribution. The three-level rack placement system allows you to cook dishes of any size. The unique system allows you to cook at the same time at different temperatures, install a cauldron, divide the grill into different cooking zones and even turn it into a grill into a smokehouse! The updated system allows you to use 3 levels.
3# Kamado Joe Big Joe II Charcoal Grill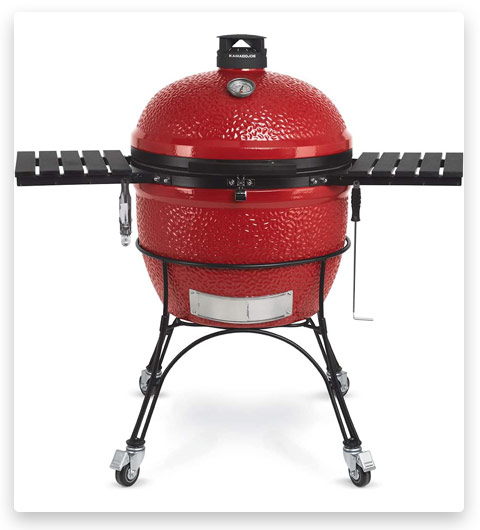 The walls of the ceramic grill Kamado Joe Big Joe II, whose thickness reaches 5 cm, accumulate heat in such an amount that it becomes possible to cook steaks of any thickness. Plus you will have endless smoking and baking possibilities with this accessory. The diameter of the working grate is 61 cm and that's a lot! The grille is made of stainless steel and consists of two separate sections, which can be installed in any order on a multi-level frame. The large size of the grill allowed the engineers to realize the possibility of splitting the firebox into two parts, which, if necessary, allows using only half of the grill or using various indirect cooking methods. The ceramic boiler and lid are connected by a spring mechanism with full discharge, that is, the lid is locked in any position. For a tighter fit of the lid to the boiler, a lock is provided in the design. The control tower is a traditional die-cast aluminum hood that covers the top vent. The ash pan is designed as a large tray that can be removed and poured out, which greatly simplifies grilling.
4# Kamado Joe KJ-TISSERIENA JoeTisserie Classic – Amazon's Choice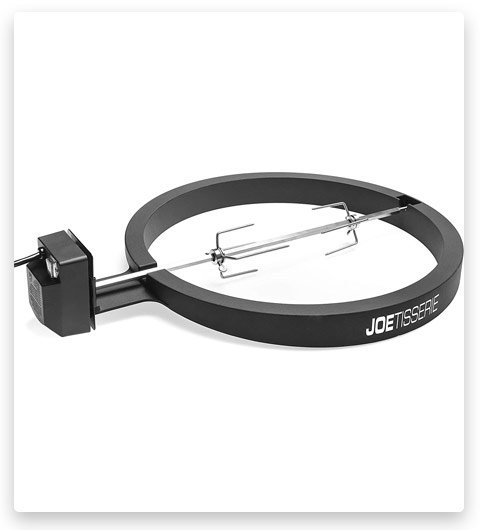 The JoeTisserie adds new features to your Kamado Joe! With a quiet yet powerful motor, the innovative JoeTisserie can turn a piece of meat weighing up to 20 kg or several chickens. The sturdy skewer is made of aluminum and is easy to install, has adjustable forks for perfect balance, and constant stable rotation will preserve the natural juices of the meat, ensuring it cooks evenly. The wedge shape allows you to completely close the grill lid to keep the heat in. This spit is designed to be easily sealed on the grill without any modification.
5# Kamado Joe Classic Grill Expander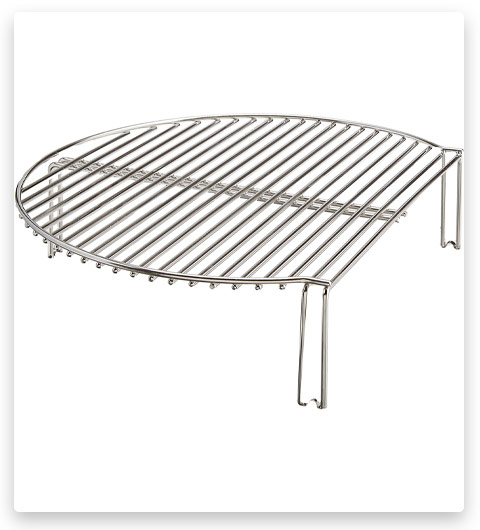 The Classic Joe grill expander is placed on the main grate, creating a gap of up to 10 cm. Increases the working surface of the grate by 60% on which you can smoke, cook, and bake. This allows you to cook for a large number of people at the same time. This is a high-quality product made of 304 stainless steel. This material ensures the durability and reliability of use.
6# Kamado Joe Big Joe Pizza Stone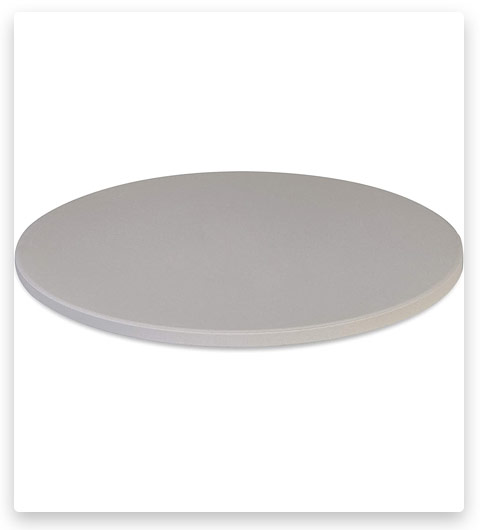 Ceramic stone is perfect for baking and frying pizza and other dough products (bruschetta, flat cakes). The ceramic base will cook the dough evenly and provide a crispy crust. This accessory ensures even heat distribution and absorption of excess moisture. Your pizza will always have the perfect crisp.
7# Kamado Joe iKamand Smart Temperature Control and Monitoring Device for Big Joe Grill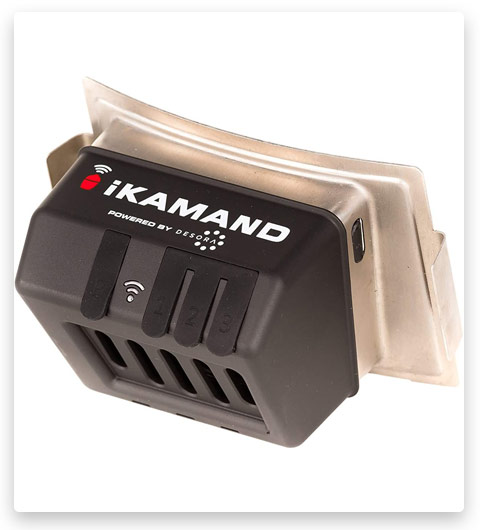 Fire up your grill and iKamand will bring it to your desired temperature in just a few minutes. Control and adjust the cooking temperature using the iKamand mobile app from anywhere in the world. Just download the app to your smartphone and do a quick setup! This device has automatic airflow control to maintain the required temperature, as well as a reliable fan with high performance. The casing is made of heat-resistant ULTEM plastic. Stainless steel metal components. You can connect up to 4 temperature probes (1 for grilling temperature control and 3 for food). The accessory has a function of warning about insufficient heat from coal, as well as about an open lid.
Kamado Joe Benefits
The patented Divide & Conquer system allows you to cook several meals at the same time. The name of the system very accurately conveys the essence of the idea of ​​Kamado Joe. You can use two working levels of the grate at the same time. This will cook twice as much food in the same amount of time. The special heat deflector allows for the indirect cooking method, keeping food away from direct flames. You will be able to easily prepare different dishes at several temperature conditions. It's convenient for a large company, ideal for those who prefer different cuisines.
The shape of the egg is made to ensure an even temperature distribution inside the bowl. Your food will cook faster, will not overcook, will remain very juicy and perfectly saturated with the aroma of fire.
Refractory ceramics are the ideal material to withstand extreme temperature changes. Kamado Joe ceramic grills can be used for a long time and often. In addition, thick ceramic walls are able to maintain the temperature inside the boiler for several hours (up to a day!) thanks to the sealed cover.
Easy maintenance. Thanks to the advanced self-cleaning system and the special ash drawer, you will have a minimum of problems and maximum cleanliness. To clean the grill of excess burning and ash, it is enough to heat it closed at a temperature of about 300 ° C for half an hour. A convenient ash pan at the bottom of the structure will allow you to collect and shake out the ash without getting dirty and without having to manually clean the grill.
Fast assembly. The model arrives practically assembled. To start cooking, all you have to do is insert the internal parts, attach the top vent, and place the grill on the trolley. Assembling grills do not require special skills or knowledge and take no more than 15 minutes.
Recognizable design. The robust ceramic case, crafted in the shape of an egg and painted in an elegant red color, is Kamado Joe's signature look. This grill will be a bright touch on holiday with friends or an everyday family dinner.
Where Did Kamado Style Grills Come From?
Some believe that the Japanese kamado oven was the prototype for ceramic grills. But it is not. The real Japanese kamado, known since ancient times, was a kind of familiar braziers made of improvised stones at the picnic site. Low, squat, equipped with small fireboxes. It had nothing to do with the future concept of modern grills.
But the idea for the first Kamado-style grill was born out of familiarity with Japanese household traditions. The form and essence of the work are borrowed from the hibachi. A Japanese stove pot was filled with sand and a fire was made right inside to cook food. Today, ceramic grills Kamado Joe are the most innovative multifunctional grills, for the creation of which not only the rich experience of Asian peoples was used, but also the most modern developments of the company's designers and designers.
Grill Grates
Unique grates from Kamado Joe® are a whole range of special accessories for your ceramic grill. Each surface is only suitable for certain products. This is the philosophy of the company. The line of worksurfaces includes several useful items at once.
Classic Stainless Steel Grill. It comes with every grill from the company, as it is suitable for most dishes. The grate is easy to clean, very durable heats up quickly, and distributes heat evenly.
Laser-Cut Stainless Steel Grate. You can use it to prepare delicate dishes such as fish or vegetables.
Cast Iron Grate and Baking Sheet. These are ideal for deep-fire roasting as cast iron has excellent thermal conductivity. On cast iron surfaces, you can achieve almost perfect caramelization, color, and texture of the finished food.
Talc Stone. The surface of this material allows you to cook meat and fish in its juice since it perfectly retains moisture. The talc stone surface is thick enough and evenly distributes heat, excluding the occurrence of fire flashes
Ceramic Stone. It retains heat well and wicks out moisture. It is mainly used for making pizza and bread as it gives the perfect crispness. It is difficult to disagree with the fact that the ceramic grill can actually replace a lot of kitchen appliances. Oven, a frying pan is becoming almost unnecessary.
Conclusion
Kamado Joe manufactures high-quality ceramic grills that have gained widespread popularity with many American families. You can become one of the lucky owners of such a product today! I have told you about the best models from this brand and the additional accessories you might need. If you still can't make up your mind, I advise you to purchase Kamado Joe Classic II Charcoal Grill!