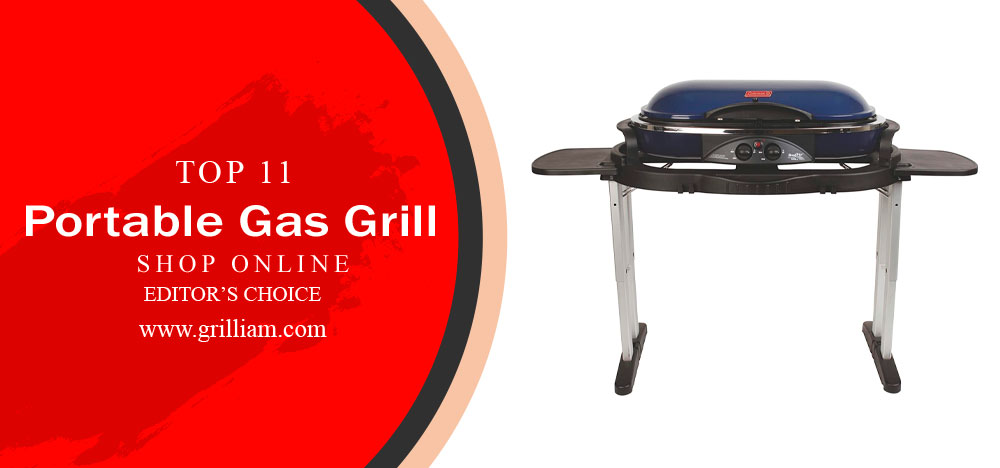 The 11 Rated Portable Gas BBQ Grills
| Image | Product | Brand | Link |
| --- | --- | --- | --- |
| | | | |
| | Weber Q2200 Liquid Propane Grill , Gray | Weber | |
| | Cuisinart CGG-180T Portable, 17.6 x 18.6 x 11.8-Inch, Petit Gourmet Tabletop Gas Grill, Red | Cuisinart | |
| | Weber Q1200 Liquid Propane Grill, Titanium | Weber | |
| | Char-Broil Grill2Go X200 Portable TRU-Infrared Liquid Propane Gas Grill | Char-Broil | |
| | Coleman RoadTrip LX Propane Grill | Coleman | |
| | Weber Go-Anywhere Gas Grill, One Size, Black | Weber | |
| | | | |
| | Masterbuilt SH19030819 Propane Tabletop Grill, 1 Burner, Stainless Steel | Masterbuilt | |
| | Coleman Fold N Go + Propane Grill,Red | Coleman | |
| | Coleman Roadtrip X-Cursion Propane Grill | Coleman | |
Have you long dreamed of being able to cook fresh flavored meat or vegetables on the grill in the yard of your home? Or maybe you want to go on a picnic with your family and enjoy a delicious dinner there as well? But you don't have a portable gas grill to do this. Now you have decided to buy it, but don't know which one to choose. After all, there are so many models on the market! I understand and want to help with the choice. In my article, you will find a description of 11 gas grills, which in my opinion are worthy of your attention. This review should help you make the right choice and answer all your questions!
1# Cuisinart CGG-059 Grillster 8,000 BTU Portable Gas Grill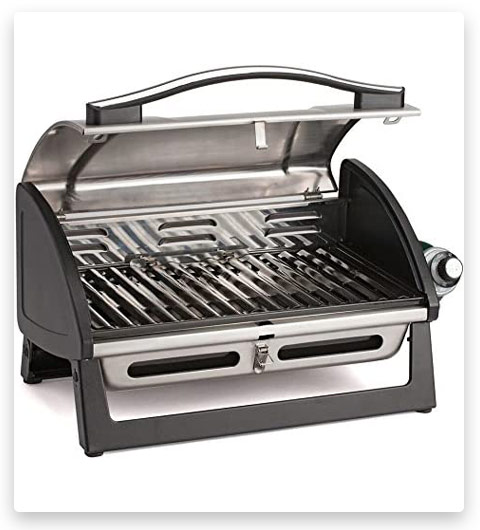 A portable gas grill from Cuisinart will appeal even to those who know a lot about good grills. And if you have never used a grill, then this will be your good start. I can immediately say that it is well made. You will have no problems getting access to the grate due to the fact that the hood is raised. It will take you no more than 10 minutes to install the grill. And you won't need tools. The grill heats up quickly and cools down quickly. After 20 minutes, the grill will be cold. I made sure that the thermometer shows the exact values. As for cleaning the grill, this is easy to do since the entire work surface is made of stainless steel. As you already understood, this gas grill is portable. Its legs are folded, the lid snaps on the side. This allows it to be carried and stored in different positions. You can take it with you to a picnic, party or anywhere. The grill weighs 10 pounds. It comes with a drip tray for fat drops. I would recommend this grill!
2# Weber 54060001 Q2200 Liquid Propane Grill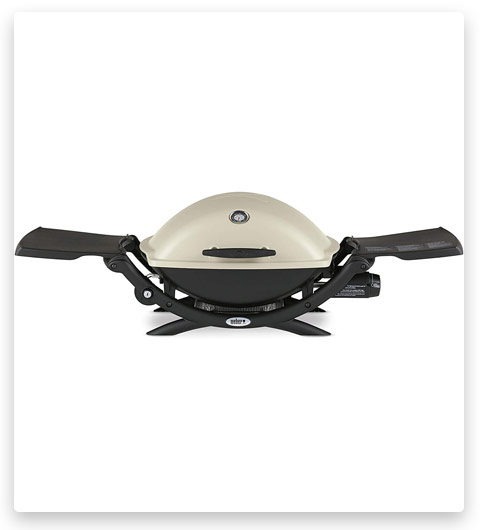 Is Weber really the best grill? Yes, this is true. Customers love this brand's grills for their quality and reliability. The grill will serve you for many years and you will be glad that you chose Weber. Someone says that it is difficult to assembly and someone says the opposite. So who should I trust? I can say that the assembly is absolutely nothing complicated if you know how to use a Phillips screwdriver. You will read the instruction and immediately understand how to assemble the grill. I even spent more time opening the box than assembling the device itself. It is well built and easy to carry as it is light. Heats up evenly and quickly. It will take about 6 minutes for this to happen. You can cover it with a lid. If you open the lid to turn the food over, then the grill returns to its original temperature in less than a minute. It works perfectly on the gas that is used. This grill is what you need to cook delicious meat, vegetables, and more!
3# Cuisinart CGG-180T Petit Gourmet Portable Tabletop Gas Grill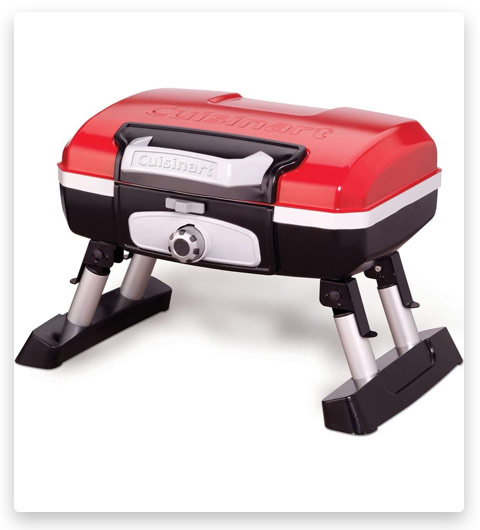 Want to be sure of the quality of the gas grill? Then choose Cuisinart. Why do people choose Cuisinart? This is the manufacturer that produces really high-quality products for the kitchen. And grills are one of their best products. The first thing you will notice when buying this grill is its ease of use. First, the grill runs on propane fuel. And in order for the grill to start cooking your food, you just need to light it with a rotary start. After cooking you can easily remove the grates. They can be washed in the dishwasher. The grates retain heat well due to their material. They are enameled with porcelain. I noticed that the food is prepared fairly quickly and evenly.
There was no such thing as half a piece of meat fried well and the other isn't. The grill can be taken wherever you need it. For example, a picnic. The legs are folded and there is a handle for ease of carrying. Weighs 13.5 pounds. I wouldn't say that this grill has a large cooking surface, but this is enough in principle for such a grill. Well, another drawback is the presence of only one burner. If you need to cook dishes at different temperatures at the same time, you can't do it with this grill. Consider this fact. And as for the price, this is an affordable price. It justifies its value.
4# Weber 51060001 Q1200 Liquid Propane Grill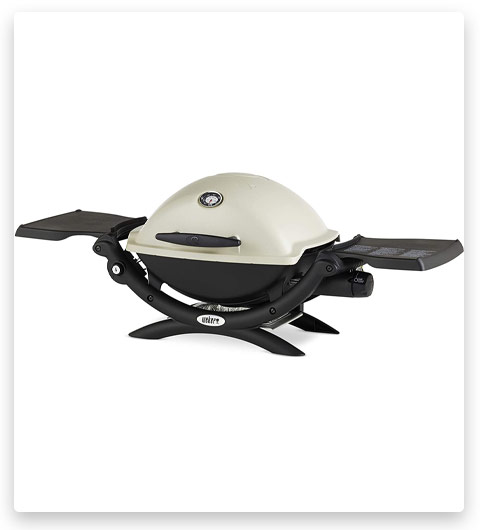 Take a closer look at this grill if you are looking for a compact and good option. It is convenient to use it in the yard, on the balcony, or take it with you on a trip. The grill heats up well. On a hot day, it takes no more than 8 minutes. But you should understand that the colder it is outside, the slower it will heat up. I like the grates. Food is heated evenly and they are easy to clean. They are cast iron with a porcelain coating. They can be washed in the dishwasher. Many portable grills have the disadvantage that they are unstable and can easily turn over. But this isn't about this grill. It's strong enough to stand in one place. Fat drops don't drip on the gas burner due to the design. The grill justifies its price and I especially recommend it to those who need a compact variant!
5# Char-Broil Grill2Go X200 Portable TRU-Infrared Liquid Propane Gas Grill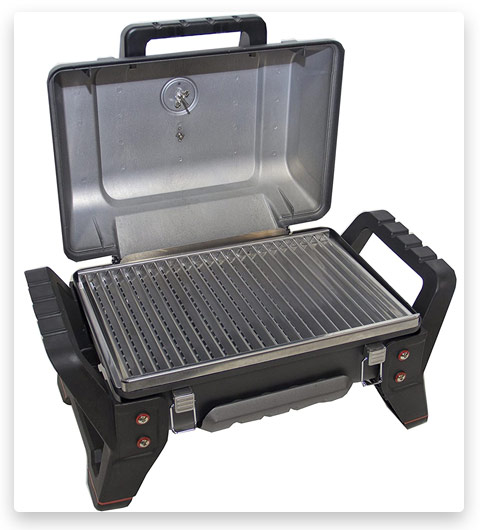 When you look at this grill, it most likely reminds you of a toolbox. Yes, this grill has an unusual design. Although the weight of the grill is slightly more than the previous models, it is also portable. This grill weighs 20 pounds. There are strong handles with which you can carry the grill. The grill is designed for roasting on coals. Its main difference from many other grills is the TRU heating system. I like it very much. Let me explain why. Heating occurs from infrared sources and heat occurs on the entire surface of the food. People who travel frequently appreciate this feature for its ease of use. You don't need batteries to make it work because the button ignition is built in. It is convenient to wash the grates as they are made of stainless steel. Personally, I had enough 200 square inches of the surface for cooking. I'll say that's enough. Interesting durable design won't leave you indifferent!
6# Coleman Roadtrip LX Propane Grill
Cook your favorite burgers, steaks, wings, vegetables, and other products on the Coleman grill. You can do this in the yard of your house or take the grill with you on a picnic. It is portable and light enough. The grill can be used separately from the stand. This is very convenient. Also, the stand folds up and this allows it to be conveniently stored. It's easy to clean the pan of fat. It can be cleaned with water and dishwashers. As for me, this is a great grill that I can recommend to you.
7# Weber 1141001 Go-Anywhere Gas Grill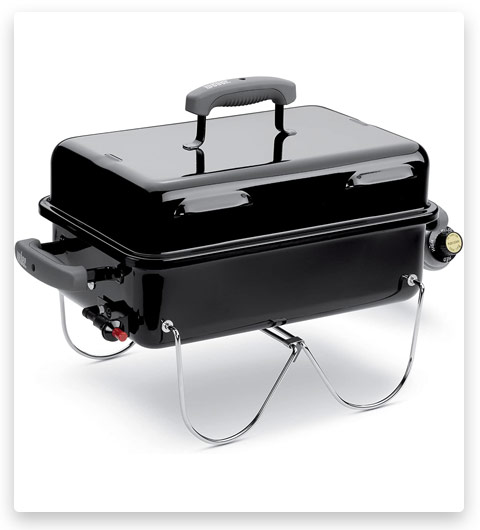 A stylish grill that is perfect for taking it with you to camping, picnics, the beach, and other places. It's light, weighing only 15.3 pounds. Thanks to the convenient and durable handle, the carrying process won't cause discomfort. The grill heats up quickly in 6-8 minutes. The grates are easy to clean in the dishwasher. They eliminate flare-ups. I won't say that the cooking surface is large, but it is not small. It is 160 square inches.
8# Coleman Party Propane Grill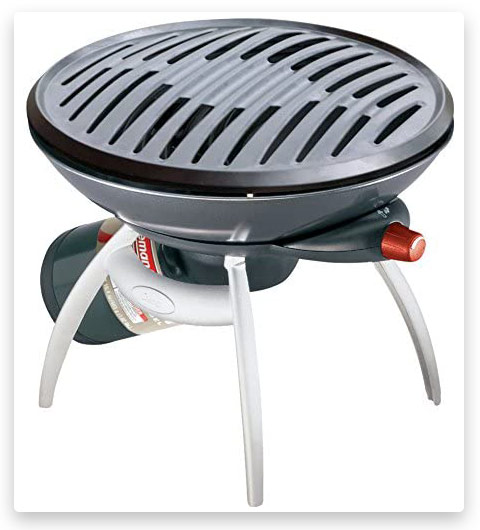 The barbecue grill is perfect for picnics, parties, hikes, and so on. It has an "Instastart" ignition that allows you to turn on the burner with a single tap. The burner provides 8000 BT of heat. But even if you are in a cold environment, it will still heat up well thanks to PerfectFlow. It provides thermal power. Spacious cooking area. It is for 122 sq. in. cooking space. It is convenient to move and store. His legs are folded. And after cooking fragrant meat or vegetables, it will be easy to wash. This can be done even in the dishwasher!
9# Masterbuilt SH19030819 Smoke Hollow PT300B Propane Grill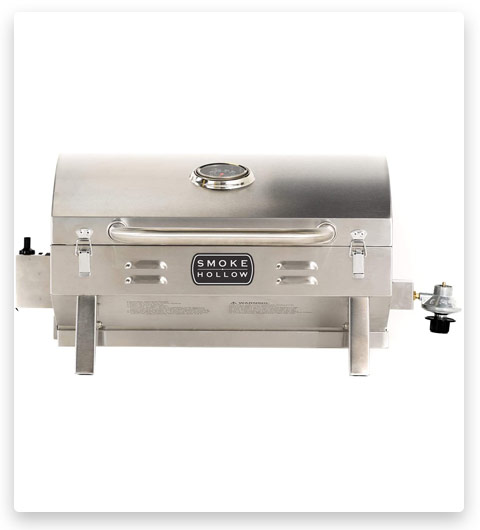 I like this option because it is portable, but it also has a great space for cooking. The grill has one burner that produces 10,000 BTU of heat. At high temperatures, you can also cook well. The advantage of this grill is that it works with disposable one-pound tanks. You can find them in any store. The cooking space is 305 square inches. There is one counter that heats up and there is another that will also allow you to expand the cooking area. You can also leave warm food there to keep it warm. If you need to take the grill with you, then there is no problem. Its legs are folded and you can close the lid. And there is also a sturdy handle.
10# Coleman Fold N Go Propane Grill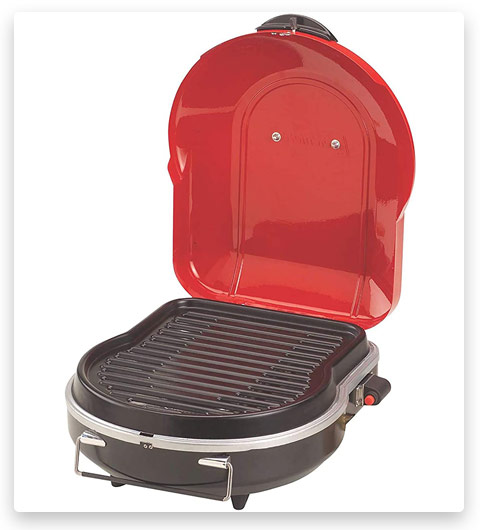 This grill is what you need for quick cooking for your family. After cooking it is easy to wash. Leave it for a while to cool down. Then you can remove the remaining fat with a paper towel and wash it underwater. The grill is made so that fat or other drops don't fall on the burner. You will have no difficulty in figuring out how to configure tithe grill is foldable and easily portable. The handle is designed for easy storage and carrying. The surface isn't too large, but it is enough to feed a couple of people with dinner. It is 105 square inches. The burner temperature is regulated by uniform heating. You don't need matches to light the grill. To do this, there is an insta-start button.
11# Coleman Roadtrip X-Cursion Propane Grill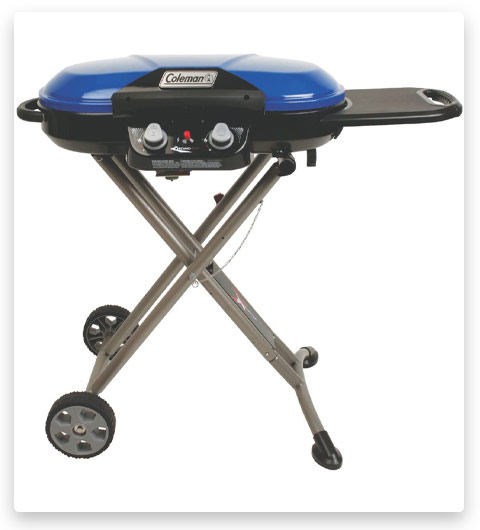 The Coleman grill will serve you for years to come. You will have to tinker with the assembly of this grill, but the instruction is all well written, so you must cope with this task. You can cook burgers in just 6 minutes on the right side of the grill, then put them on the left side to keep them warm. And at this time, you can continue to cook on the right. Or use two sides at the same time. So you will prepare everything very quickly. Cast iron is an excellent material for cooking. Under the surface of the grill, there is a place where the fat drips. This works great. It is easy to carry. It's like carrying a big suitcase!
FQA About Best Portable Gas Grill
Conclusion
If you like to cook in the yard of your house or often go on a picnic, a hike, then the grill is an indispensable thing in your home! In my article, I have told you about the 11 best grills that do a great job. Next, I will answer frequently asked questions. I hope this review will help you make the right choice! Happy shopping!
Tags: #portable gas bbq grills / #best portable gas grill for tailgating / #best portable gas grill / #best portable gas grill / #consumer reports best portable gas grill