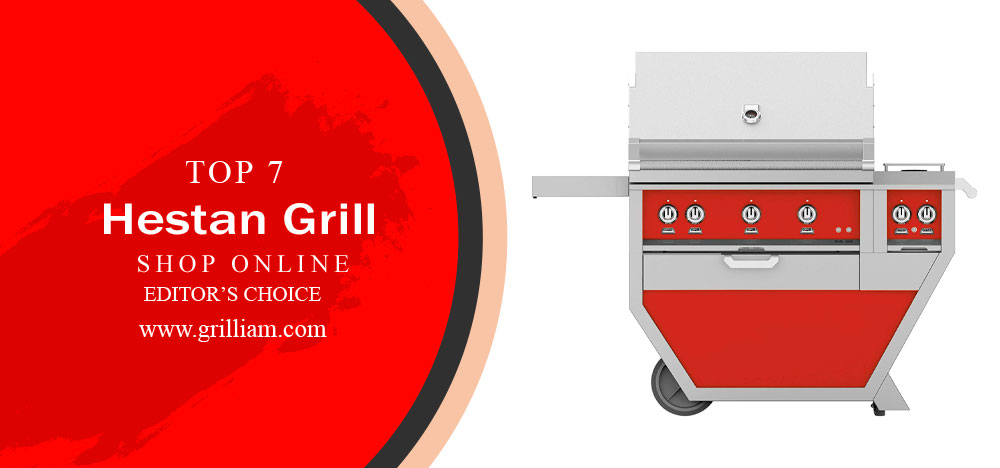 There are many reasons why the Hestan brand is associated with quality classic grills. The brand has been on the market for a long time. And since its beginning, the company has maintained its unrivaled quality and iconic design.
Hestan grills are distinguished by their robust construction, stylish and practical design, and long warranty from the manufacturer.
Unlike most grill companies, Hestan uses the best materials and manufacturing methods for its grills. Each model is tested for strength, power, and durability before entering the store. When making grills, the brand takes advice from the best grillers and chefs in the USA, which is why their products are so good.
Whether you are looking for a large stationary grill for your backyard or you need a small and compact grill in your kitchen, Hestan will always find something to offer you.
Hestan Grills – Our Top List 7 Best Hestan Grills – Editor's Choice
| Image | Product | Brand | Link |
| --- | --- | --- | --- |
| | Hestan 119000 BTU 36 Inch Wide Natural Gas Free Standing Grill. 36", Prince | Hestan | |
| | Hestan 118000 BTU 42 Inch Wide Natural Gas Built-in Grill Infrared Variable Sear Burners and Rotisserie Outdoor Series.42", Stainless Steel | Hestan | |
| | Hestan 89000 BTU 36 Inch Wide Liquid Propane Built-in Grill Trellis System Infrared Sear Burners and Rotisserie Outdoor Series, 36", Stainless Steel | Hestan | |
| | Hestan 119000 BTU 36 Inch Wide Natural Gas Free Standing Grill. 36", Matador | Hestan | |
| | Hestan 83000 BTU 36 Inch Wide Natural Gas Built-In Grill, 36", Matador | Hestan | |
| | Hestan 30 Inch Wide Double Door Grill Cart, 30", Matador | Hestan | |
| | Hestan 20000 BTU 12 Inch Wide Natural Gas Built-In Side Burner, 12", Stainless Steel | Hestan | |
| | Hestan 83000 BTU 36 Inch Wide Natural Gas Built-in Grill, 36", Stainless Steel | Hestan | |
Therefore, in this article, we have collected the 7 best Hestan grills. Each one has its own unique characteristics, so you have plenty to choose from. Let's begin!
1# Hestan GMBR36CX2 Wide 36-Inch Gas Outdoor Grill – Best Hestan Gas Grill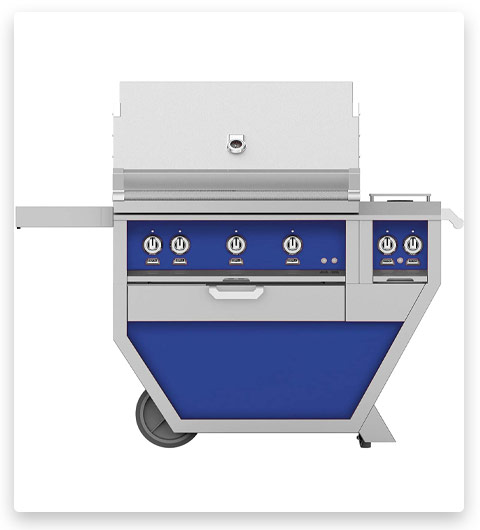 At first glance, this grill seems pretty simple, but what makes it so special? Firstly, it is as much as 647 sq. inches of cooking surface for such a small grill! Also, this unit is equipped with a 236 square inches warming rack. Even at the biggest parties, you can cook meals for all guests at once. Along with such a large grill surface, various tool hooks, paddles, and other accessories are provided. You don't even need to buy anything extra for successful grilling.
The entire grill system is made of high quality. It starts with double-sided main burners up to 18,000 BTU and side burners up to 25,000 BTU. The ignition system allows you to cook in 1 click. On the front side, there is a very convenient control panel with LED light, which will allow you to cook even late in the evening or at night.
The internal design of the grill allows you to store inside not only a tank of natural gas or propane, but also to store all your kitchen tools with which you cook.
The grill has a side table on the left and an accurate built-in thermometer that allows you to keep an eye on the temperature inside. This grill offers exceptional value for very little money.
2# Hestan 42-Inch Built-In Gas Outdoor Grill – Best Hestan Outdoor Grill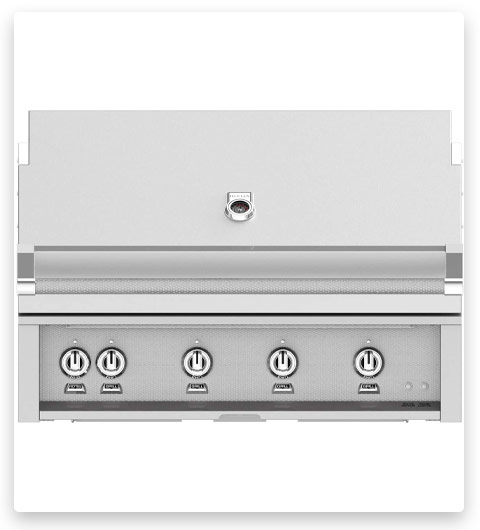 If you are looking for a gas grill that works great wherever there is a gas cylinder and is inexpensive, then this model is your choice. This compact but powerful gas grill gives your food great taste and uses very little propane or natural gas.
To grill, you just need to adjust the temperature and heat up this grill well. When you do this, you can cook meats and vegetables for the whole family at once. The cooking surface of 774 sq. inches and warming rack of 282 sq. in. let you do it. This grill is very large, but due to its size, it has low heat recovery.
The exclusive DiamondCut grates provide excellent heat retention and easy cleaning. But again, they are too big to fit in the dishwasher. Besides, the grill comes with a built-in thermometer, side tables, and accessories for even greater ease of use.
3# Hestan 36-Inch Built-in Propane Gas Grill – GMBR36-LP-SS – Best Budget Grill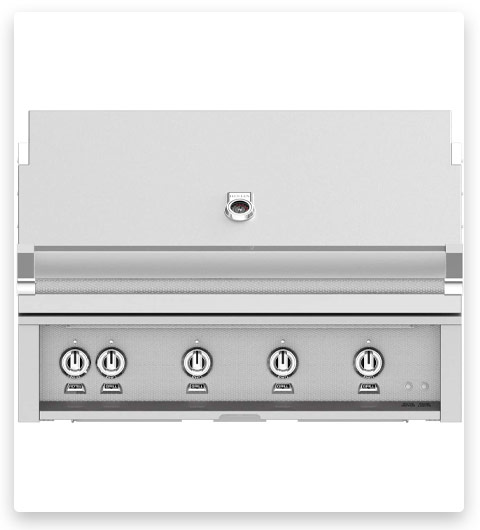 This grill is a striking example of reliability and modern design. Its main feature is the Trellis burner made of stainless steel of unrivaled quality that makes the grill more powerful and spreads the heat well. Other advantages of the grill include a robust design, special caps, burner indicators, and front panels.
The grill is equipped with a professional cooking surface for perfect grilling under a ceramic infrared burner with a capacity of 12,000 BTU. There are several reasons why your outdoor barbecue will turn into an unforgettable joyful experience. This model of the grill has the DiamondCut warming rack and one-touch ignition system.
4# Hestan 36-Inch Wide Natural Gas Standing Grill –  Best Grill Design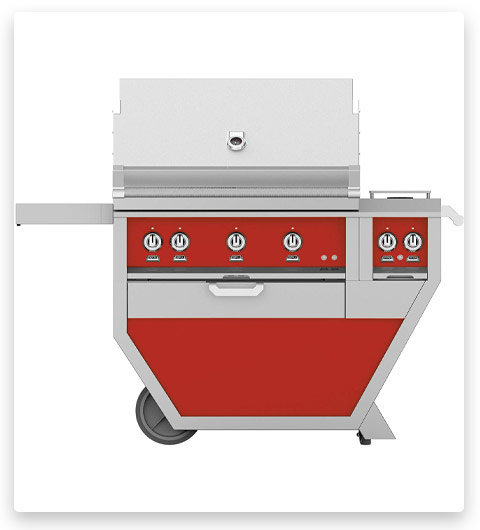 With a grill area of 653 sq. inch, you will have a place to cook a wide variety of dishes for the whole family. After your food is grilled, the warming rack is the perfect place to store it until it's ready to serve. Built-in silent rotisserie adds even more culinary variety.
This model from Hestan has 2 main burners and 1 trellis burner, that's why the grilling power is 119,000 BTU. With the skewer and grill forks included, you can cook foods perfectly.
You can choose the height of the spring-loaded grill cover that suits you. LED lighting makes cooking very convenient in the evening. This is a high quality and super reliable model from Hestan, with the ability to prepare a variety of food options in large quantities, it is an excellent choice.
5# Hestan Aspire 36-Inch Built-In Gas Grill – Best Hestan Compact Grill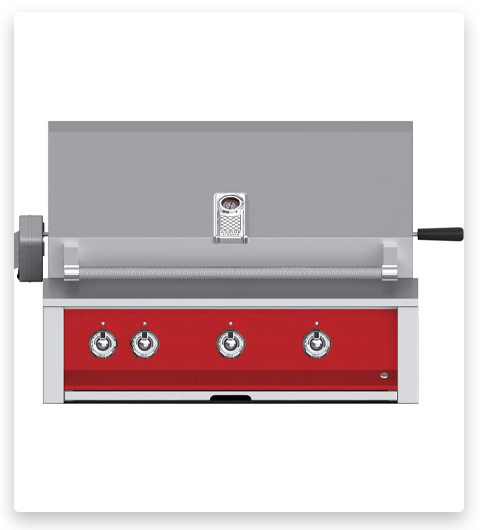 The Aspire combines reliability, unique performance, and outstanding quality to make cooking easy and enjoyable.
This grill differs from other similar models in features that make cooking easier and safe for the whole family. For example, it's convenient to open a spring-loaded grill lid, a touch-sensitive LED control panel, an internal halogen grill lighting, and a removable drip tray made of durable material.
It is also important that the grill has a radiant ceramic disc system of trays, which is why the surface temperature of the grill is equally distributed over the stainless steel grates and creates flavor-filled smoke. This grill is very easy in use and it is effortless to clean up because of smart design. With Aspire by Hestan, your summer outdoor kitchen will look very aesthetically.
6# Hestan Aspire Double-Door Cart For Grill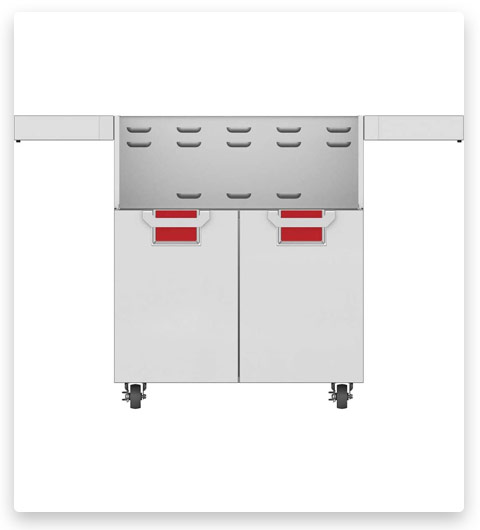 This trolley for a grill has double doors, and there are foldable side tables, which makes it possible to store everything you need for the cooking process inside. This cart is designed for you to cook and enjoy the process. This model combines the highest lightness and modern design.
Aspire Trolley by Hestan is a heavy gauge welded construction with panels. The handles are industrial grade, beautiful and durable, made with high-quality workmanship. You will also have the opportunity to choose one of the 5 Hestan signature colors so that your grill fits perfectly into your outdoor kitchen design. You can move the grill effortlessly as it is equipped with commercial-grade wheels that can rotate on 360 degrees.
7# Hestan Built-In Natural Gas Side Burner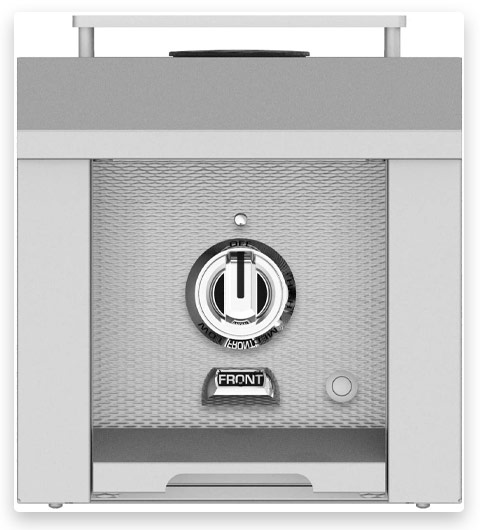 This grill will pleasantly surprise you with the highest precision of heating with thoughtful design to the smallest detail and will satisfy all your needs. It features a 20,000 BTU burner, a sealed burner bowl, and a drain tube for easy cleaning.
You can be sure assured that there are no gaps in the grill body for grease and moisture to penetrate thanks to the welded body construction. This ensures a long service life.
Heat is excellently distributed with a 5/16 " stainless steel DiamondCut grate. Another feature of the grill is the electronic spark ignition, which ignites quickly and reliably. You can cook at night because the LED backlight allows you to see the control panel even in the dark. A stainless steel cover protects the grill surface from the outside effects.
What To Look For In A Hestan Grill
Before buying a Hestan grill, you need to think about the parameters that it will have. We have listed the most important ones.
Size. The first thing you need to think about is how much space you have for a grill and how great your culinary needs are. Are you going to cook for yourself, for your family, or do you want to feed a whole group of your friends? Do you want to use a small grill that is easy to move or do you need a large stationary grill? The size of your future grill depends on these parameters. And the more it meets your needs, the better.
Fuel. Charcoal, gas, or electricity? Each type of fuel has its own pros and cons. Charcoal is very available, you can buy it in almost any store, it is not very dangerous to use. But it stains the grill heavily, is difficult to clean, and if it gets wet in the rain, you can say goodbye to your grilled dinner.
Gas also has its advantages: you don't need to light it up, you just turn the knob and the fire appears. But it costs more and needs care, this type of fuel is explosive.
Electricity is the most readily available type of fuel in every home. But electric grills are quite expensive, plus you won't have the smoky smell on meat that you get on gas and charcoal grills.
Grill Material. The grill material directly depends on how long it will serve you. It will be constantly affected by rain, snow, wind, and hail. Therefore, it is important to choose a very durable material that can withstand more than one bad weather. The best materials are stainless and enameled steel. Stainless steel resists corrosion, which can be caused by rain and snow, but at high temperatures, it can fade. Enameled steel is durable, but fragile and can crack if dropped or handled roughly.
Summing Up
Choosing a good grill is a difficult and time-consuming process. Hestan is a company that occupies a leading position in the grill market. She has so many grills in her range, but we have selected for you 7 of the best models with which your barbecue will be perfect.
Each grill has its own unique characteristics. We deliberately tried to include models from different price categories in this list so that every grilling lover could find his Hestan grill. We hope our article was helpful to you. Share our material with your friends.
Have a nice grilling!