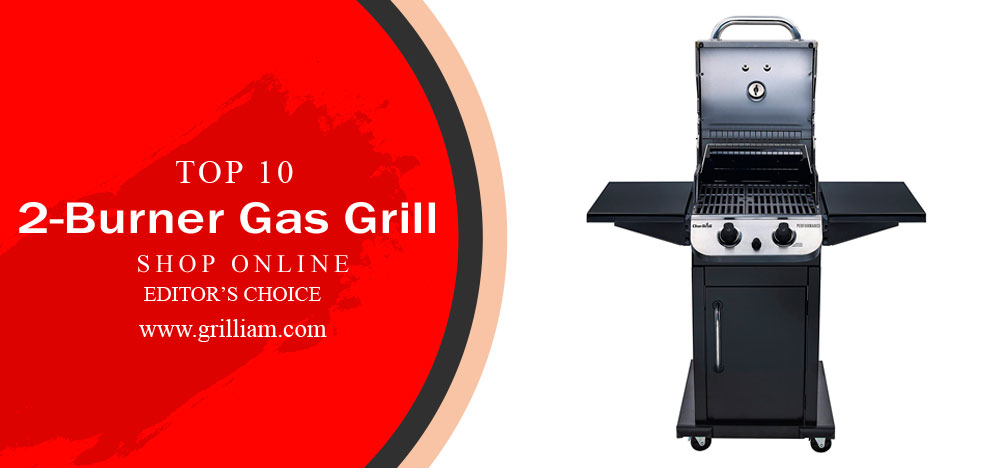 Best 2 Burner Gas Grill Under $300 For Home And Road Trips
Imagine someone's green colorful backyard that stands near a big house. There are many guests by the pool while chatting, drinking cocktails, and beer. Kids run in circles, while the man of the house stands near the grill, roasting beef for burgers to share with the guests. It sounds like a picture from a movie, doesn't it? In this article, I'm going to do my best to guide you to the best 2 burner grills that you can use both in-home and on road trips.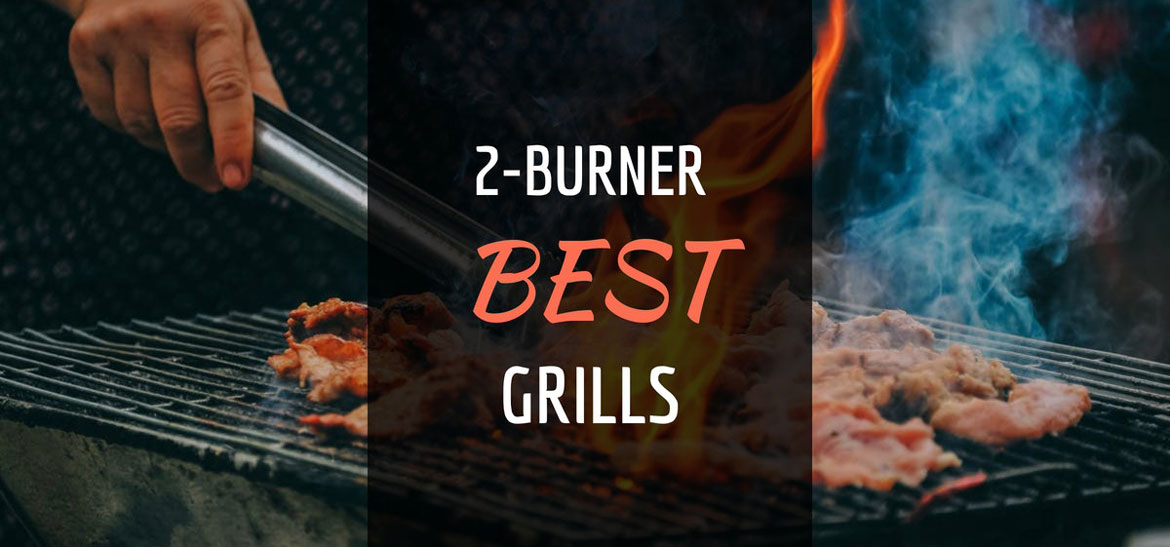 Yes, you hear that right. Many of us don't share the luxury of having a large house with a big backyard to invite friends over. But what if I'll tell you that you can easily have barbecue parties everywhere you want, even by the road or inside your house? Maybe you can buy a grill, but you are afraid of having propane equipment at your home. Perhaps you just don't know how to operate it. My advice is this: don't be afraid of trying new things! Especially when they are so easy to use.
With some practice and maybe even some fried pieces of beef on the way, you'll master grilling with 2-burner gas grills in just a week or two! And, yes, there's some compact, small-sized, and easy-to-move equipment that you can use even on road trips. Without further ado, let me give you a buyer's guide to some of the best grills on the market!
Top 8 Picks & Ultimate Buying Guide To Best 2 Burner Gas Grill

| Image | Product | Brand | Link |
| --- | --- | --- | --- |
| | Weber Spirit II E-210 2-Burner Liquid Propane Grill, Black | Weber | |
| | Char-Broil 463673519 Performance Series 2-Burner Cabinet Liquid Propane Gas Grill, Stainless Steel | Char-Broil | |
| | Char-Broil Signature TRU-Infrared 325 2-Burner Cabinet Liquid Propane Gas Grill | Char-Broil | |
| | Royal Gourmet GG2102 2-Burner Cabinet Liquid Propane Gas Grill, BBQ Outdoor Cooking, Red | Royal Gourmet | |
| | MASTER COOK Professional 2-Burner Liquid Propane Gas Grill | MASTER COOK | |
| | Giantex Portable Gas Grill with 2 Burner, Max. 20,000 BTU total, Folding Legs, Built-in Thermometer, Travel Locks, Stainless Steel Tabletop Propane Gas Grill for Camping Picnic Cookout RV BBQ | Giantex | |
| | VIVOHOME Tabletop Stainless Steel 2-burner Gas Grill Portable 20000 BTU BBQ Grid with Foldable Legs for Outdoor Camping Picnic | VIVOHOME | |
1# Weber 44010001 Spirit 2 Burner Propane E-210 Grill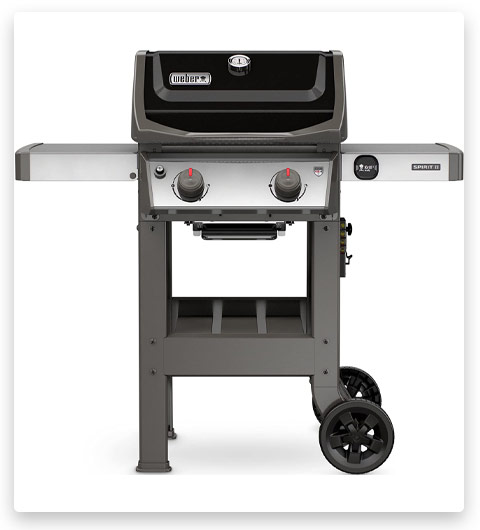 Weber's Spirit II E-210 is a great example of terrific engineering. I like almost everything about this grill, form its design to functionality. The price tag is actually very pleasing if you consider the value you are getting with this thing.
It is easy to use, incredibly compact, and durable. Even if you are a novice, you'll master grilling in mere days with this thing! It's also user-friendly after you get through the assembly process. For some reason, my package didn't include the manual. I had to use the Internet to put it all together. However, the vendor can assemble a grill for you. It's also absolutely free! However, you'll have to move it back to your house on your own.
Gs4 grilling system with enhanced ignition, burners, and grease management system
Made from cast iron. Porcelain-enameled cooking grates
6 tool hooks and 2 large wheels
Built-in thermometer
10-year guarantee
Open cart design
It comes in a variety of colors: Black, Ivory, Mocha, Red, and Sapphire
Weighs 103 pounds
Dimensions: 48 x 26 x 57 inches
2# Char-Broil "Performance 300" – 2 Burner Cabinet Stainless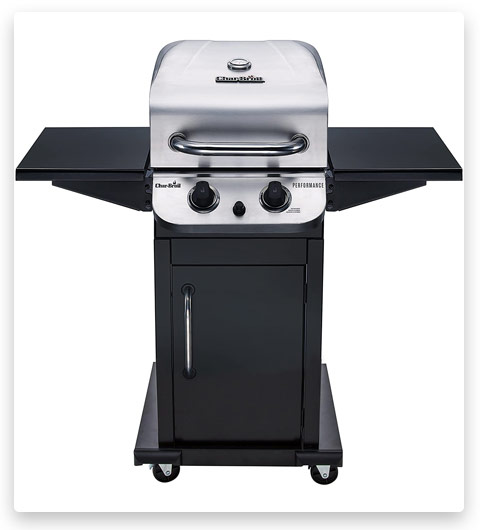 A product for people who value a user-friendly experience, and reasonable price. Char-Broil's grill is little and compact. You can easily move it once you're done figuring out how it's supposed to assemble, which can be troublesome without instructions. Also, many customers report that their products came damaged during shipping. It's sturdy, reliable, and easy to turn on and off due to electronic ignition. Aside from minor inconveniences with the shipping, this grill is a great treat for beginners and professional cooks.
Made from stainless steel
24,000-BTU cabinet
More than 300 square inches of primary cooking space
Electronic ignition
Convenient access to the storage cabinet
Available with and without cover
Weights about 83 pounds
Dimensions: 24.5 x 42.9 x 44 inches
3# Cuisinart CGG-306 Professional Two Burner Stainless Tabletop Grill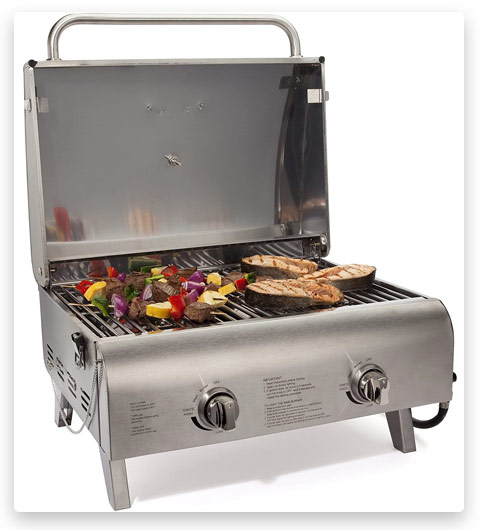 Cuisinart's portable tabletop grill is a fantastic option for people who just want to cook for themselves and their family or do it on trips. It's a very compact, easy to move, and cute looking piece of equipment. It comes to you ready to go without any additional setup – just place it in your kitchen and plug it in. CGG-306 can be used outdoor as well if you buy a propane tank separately.
The simplicity makes this product very valuable to the usual grill lovers. What's more important – the price probably won't bite you at all! I have to address that some parts of this tool, like burner knobs or handles, can wear down in some time. Still, I think it's a nice little tool for quick barbecuing that you can take with you on picnics.
Made from stainless steel.
More than 10,000 BTUs for each burner.
Electronic ignition.
It can be safely used indoors with proper ventilation.
Weighs about 22 pounds.
Dimensions: 21.5 x 19 x 15 inches.
4# Char-Broil Signature TRU-Infrared 2 Burner Cabinet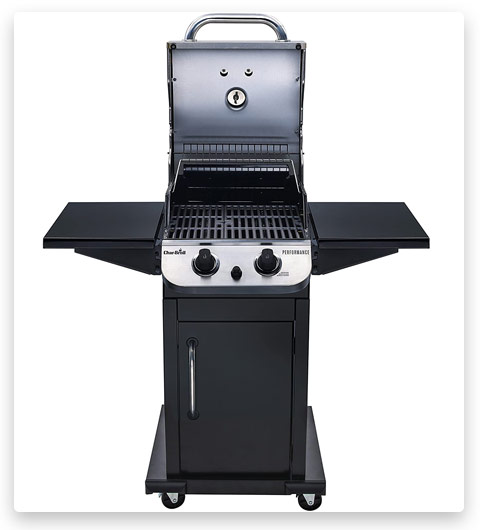 An improvement over Char-Broil's "Char-Broil Performance 300" with some refreshing updates. The first obvious is the primary cooking zone, which was increased from 300 to 325 square inches. The second one is the price tag, which has also gone up. Still, I like this infrared grill and the fact that it can get up to insane temperatures very quickly. The built-in cabinets are also lovely and allow for easy access to necessary items. I find the cleaning process to be a bit of a pain, though. It's a tiresome process, and you will have to perform it after every grilling. Also, this grill works on infrared technology, which allows for much faster and efficient temperature regulation and cooking. If you are a barbecue enthusiast, this may be the selling point for you!
Works on Propane Gas
Infrared (radiant cooking) technology
Over 120 square inches rack for warming
325 square inches for primary cooking
Porcelain-coated rack and iron grates
18000 main burner BTU
Electronic ignition system
Weights around 96 pounds
Dimensions: 23 x 46.8 x 47.2 inches
5# Royal Gourmet GG2102 2-Burner Cabinet Liquid Propane Gas Grill
With more than 405 square inches of cooking space, more than 300 of which is reserved for the grilling itself, this equipment is suited for picnics and barbeques with friends. You can serve many people a big amount of delicious food in a quick fashion. It is simple to use with a user-friendly interface. The grill is also long-lasting if you are careful with it. It's too broad and massive, though, so be careful not to damage it when moving.
Made from stainless steel.
More than 24,000 BTU output in total.
405 square inches of cooking surface (105 square of warming rack).
Liquid propane fuel type.
Electronic ignition system.
Weights over 71 pounds.
Dimensions: 43.3 x 22.4 x 44.5 inches.
6# MASTER COOK Professional 2-Burner Liquid Propane Gas Grill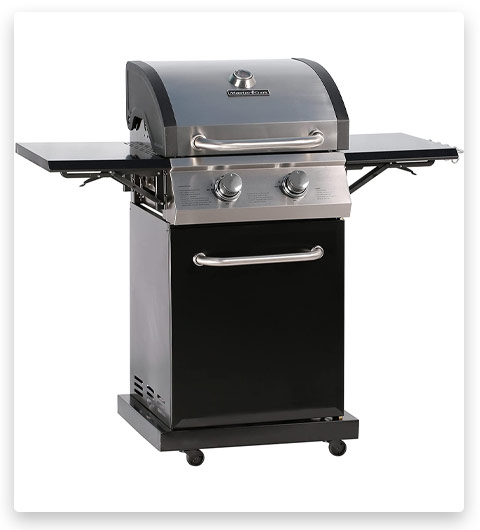 Master Cook's 2-burner grill provides everything a barbecue enthusiast would want for a reasonable price. It's high-quality equipment for a mid-budget range that you'll absolutely love to cook with. It is not easy to set up for a novice, and I really hate that some manufacturers charge too much just for the assembly. Especially so if they don't bother to include instructions on how to build it in the box. It's like they want to make you overpay… However, after you set everything up, you'll master it in no time. It has a convenient cabinet under the tray, a user-friendly interface, and other pros that'll make your cooking easy and quick!
Made from porcelain-coated iron.
Over 32,000 BTU output.
312 square inches of primary cooking space.
Electric ignition by an integrated push & turn mechanism.
Weights over 72 pounds.
Dimensions: 49.2 x 22.2 x 44.2 inches.
7# Giantex Propane Tabletop Gas Grill Stainless Steel Two-Burner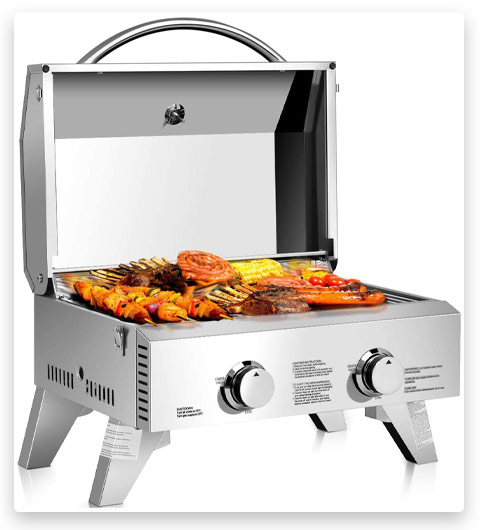 This is one miniature beast of a grill that I absolutely love. It's Gas type two-burner that has incredible value. For a very reasonable price, you get a long-lasting, cool-looking tool that works great both indoors and outdoors. It's very compact and has foldable parts so you can move it easily. You'll also love how easy it is to cook with it!
There is not much to assemble here, and it's incredibly easy with instructions that go along with the grill. However, it heats very fast. You will have to practice with the temperature if you don't want your steaks to get burned. Other than that, I absolutely recommend this grill for barbecue enthusiasts everywhere!
Constructed with stainless steel.
Over 20,000 total BTU.
Suited for outdoor and indoor cocking.
The cooking area is 20.5 x 13 (267) inches.
Weighs 26.5 pounds.
Dimensions: 22 x 18 x 15 inches.
8# VIVOHOME Tabletop Stainless Steel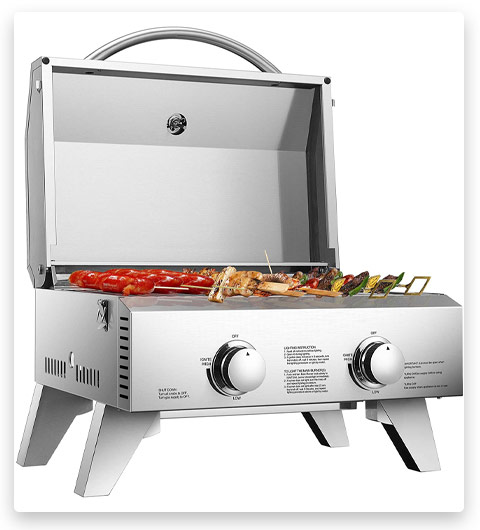 Vivohome's tabletop equipment is a perfect option if you are looking for a compact and easily transportable grill to carry with you on family picnics. It combines a good price, a slick look, and a sturdy design. The legs of this grill fold and the hood can latch shut if you want to carry it in your car. It works great everywhere, and you'll experience no limits on its functionality outdoors. As I'm writing this article, I can think of only one downside. You'll need to master the temperature control because this grill gets the job done so well that you can fry your food if not careful. So, don't rush, be patient, and practice baking and roasting with this thing before you bring it with you on the road.
Made from 430 stainless and heat-resistant steel.
It provides more than 10,000 BTU output.
Over 277 square inches of cooking area.
Suitable for cooking large quantities of meat indoors and outdoors.
Good for baking, lid baking, and roasting.
Folding legs and comfortable handles.
Weights about 25 pounds when assembled.
Dimensions: 26.7 x 20.7 x 15.3 inches.
Frequently Asked Questions

Conclusion
What can I say about the grills described above? It's very hard for me to pick winners. Every grill featured in this list is a beast in its own way. Some of them are cheaper than the others, some are more can be assembled more quickly, but the competition is fierce. The best I can do here is to pick up my personal favorites. For the best 2-burner grill with a built-in cabinet to use in your backyard, I pick 2# Performance 300 by Char-Broil. An amazing mid-budget tool with plenty of cooking space to throw a barbecue party. My only advice is to buy it directly from the store because the way it's being shipped can be risky. No one wants their perfectly fine new grill to come damaged.
The coolest portable grill that you can grab for a picnic on the town's outskirts or in the wild is going to be the 7# Propane Tabletop Gas Grill by Giantex. A perfect option for people who want to eat the rustiest and tastiest cuisine while on the road. The grills we talked about can make it easy to have a high-quality roastery basically anywhere you go. I hope this article has made you interested in trying out new ways of cooking! And I also wish you good luck with roasting!
Tags: #best 2-burner gas grill / #best 2 burner gas grill / #best 2 burner gas grill under $300 / #weber spirit e 210 2 burner gas grill best price / #best 2 burner infrared gas grill