If you are a fan of grilled food, then you probably already have a good grill. To improve the cooking process, you will need grill accessories. The right accessories are part of the right grill. On this page, I present the best Weber grill accessories you can use.
Our Top List 16 Picks Best Weber Grill Accessories – Editor's Choice
The accessories I have shown here are original Weber grill accessories. To improve the quality of cooking, you must have tools designed to simplify the work and make this activity more professional. So, if you are looking for the best BBQ facilities, below you will find offers to find the ones suitable for you. As a rule, these are inexpensive things, so they are available for all budgets.
| Image | Product | Brand | Link |
| --- | --- | --- | --- |
| | Weber Aluminum Drip Pans, 5 x 1.4 x 7.5 Inches, Set of 10 | Weber | |
| | Weber Rapidfire Chimney Starter, Standard, Silver | Weber | |
| | Weber Hinged Cooking Grate for 22" Charcoal Grill | Weber | |
| | Weber 3-Sided Grill Brush, 12 Inch, Black | Weber | |
| | Weber 22 Inch Charcoal Kettle Grill Cover | Weber | |
| | Weber Q Portable Cart, 28.2" x 21" x 25", Black | Weber | |
| | Weber Handle Grill 'N Go Light, One Size, Grey | Weber | |
| | Weber Original Portable 2-Piece Stainless Steel Tool Set | Weber | |
| | Weber Style Professional Grade Grill Pan | Weber | |
| | Weber Deluxe Grilling Basket | Weber | |
| | Weber iGrill 3 Grill Thermometer | Weber | |
| | Weber Replacement Flavorizer Bars, 15.3", for Spirit 200 series (front-mounted control panel) | Weber | |
| | Weber 22-1/2-Inch One-Touch Cleaning System Kit for Grills, Silver | Weber | |
| | Weber Grill Cleaning Kit - Grill Spray Cleaner, Stainless Steel Polish, Grill Scraper, Stain Remover, and 10 Grill Scrubber Pads | Weber | |
| | Weber Connect Smart Grilling Hub, Black | Weber | |
| | Weber Tool Set Stainless Steel | Weber | |
1# Weber 6415 Small, Silver – Amazon's Choice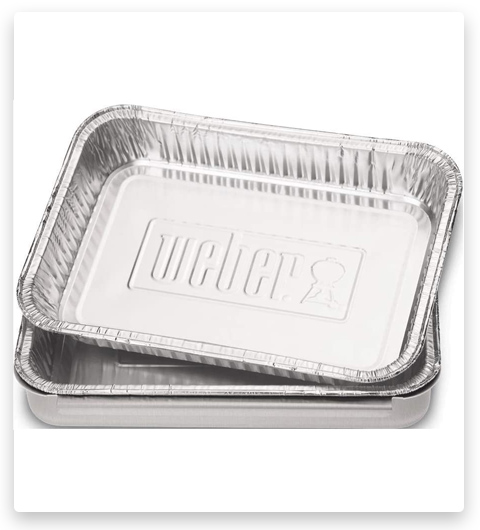 Keep order and cleanliness in your grill. These trays are designed to collect all the juices and fat that drips during cooking. They collect everything to the drop. This is a necessary thing in order not to pollute and extend the life of your grill. Pallets are made of aluminum and come in quantities of 10 pieces.
2# Weber 7429 Rapidfire Chimney Starter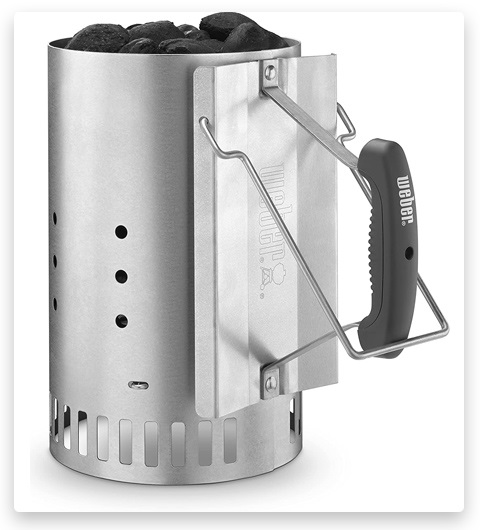 A chimney with ignition is a prerequisite for any self-respecting grill owner. Obviously for those who use coal as fuel. With this accessory, we can provide perfect ignition in a short time (about 20/25 minutes) without the need for various accelerators, but only with the use of lighters that can be placed under the pipe itself.
3# Weber Hinged Cooking Grate – Amazon's Choice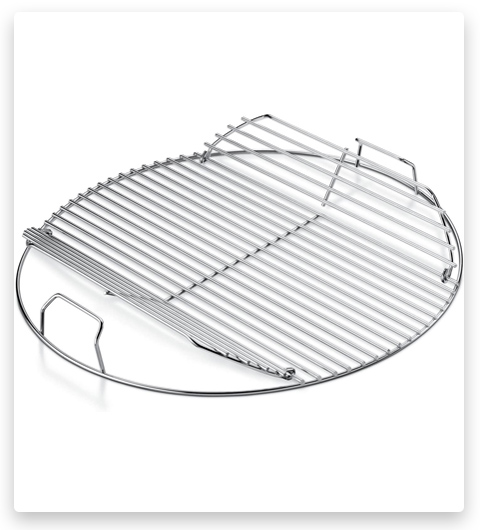 If you want to give your steaks something special, you need to purchase this grate. This gives the meat an excellent grill mark. Just put the meat in a hot whisper for 90 seconds and you will get a wonderful grill mark on your meat. Put the meat in an indirect zone to finish grilling. All in all, it's one of my favorite Weber accessories which I highly recommend!
4# Weber 6494 12-Inch 3-Sided Grill Brush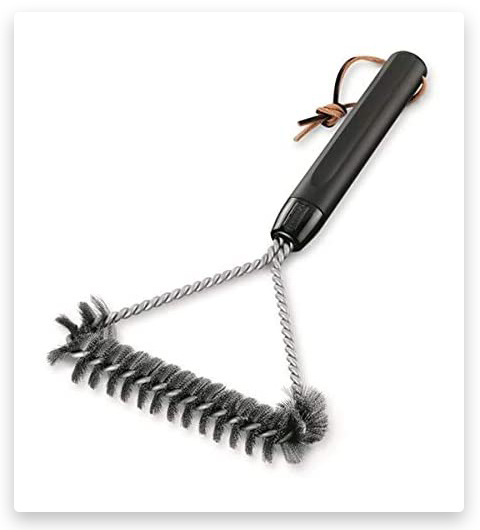 You have no choice, sooner or later you will have to clean the grill. The brush allows you to perform this operation very easily and without risk of scratching it; it is important to clean it when it is still hot. The brush adapts to the surface of your grill and perfectly cleans any area of contamination. The brush is equipped with a convenient handle for your comfort during cleaning.
5# Weber 7176 22 Inch Charcoal Kettle Grill Cover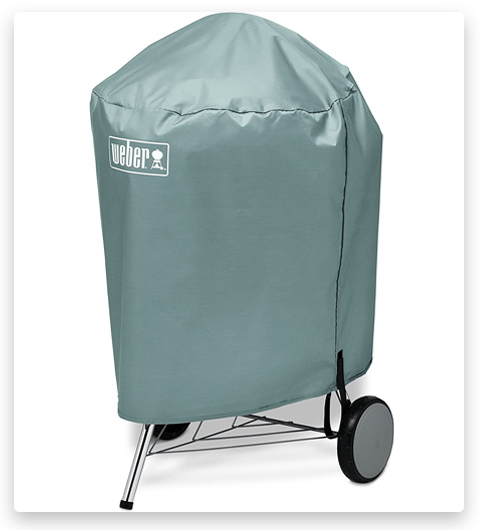 If you don't understand what this accessory is for, then after reading you will want to purchase it. This cover is designed to extend the life of your grill. The material from which this cover is made is extremely weather-resistant. This will allow you to protect your grill and keep it always effective. This cover isn't afraid of the wind. Secure the cover with special straps so that the cover isn't blown away by the wind.
6# Weber 6557 Q Portable Cart – Amazon's Choice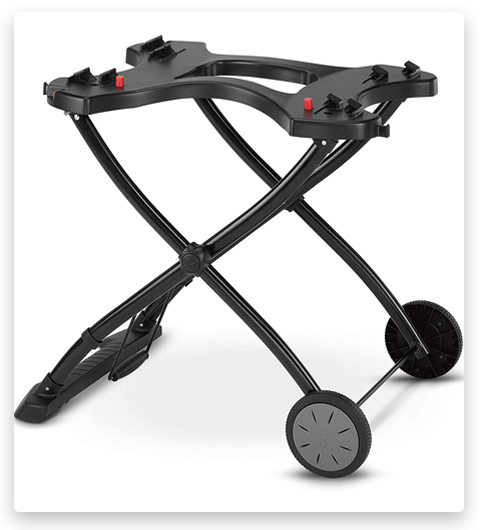 If you are the owner of a small grill without legs, then you should buy a cart. So you can cook your food most comfortably and can do it anywhere thanks to the portability of the design. Your grill will stably stay on the cart with a hook and loop strap.
7# Weber 7661 Handle Grill 'N Go Light – Amazon's Choice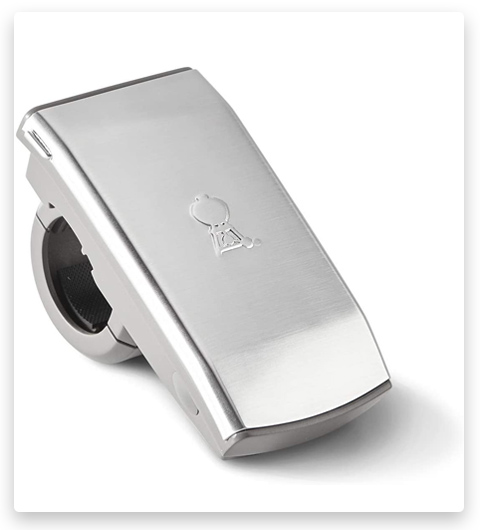 It is so wonderful to gather in the evening with family and friends in the courtyard of the house and eat delicious grilled vegetables and meat. But what about cooking at such a late time of the day? This has always been a problem for me. I needed to shine a flashlight on my phone to see the meat cooking stage. But when I found out about this accessory all my problems were gone. This device can illuminate the entire surface of the grill and doesn't require difficulties in installing on the grill. It is equipped with a motion sensor to save battery power.
8# Weber 6645 Original Portable 2-Piece Stainless Steel Tool Set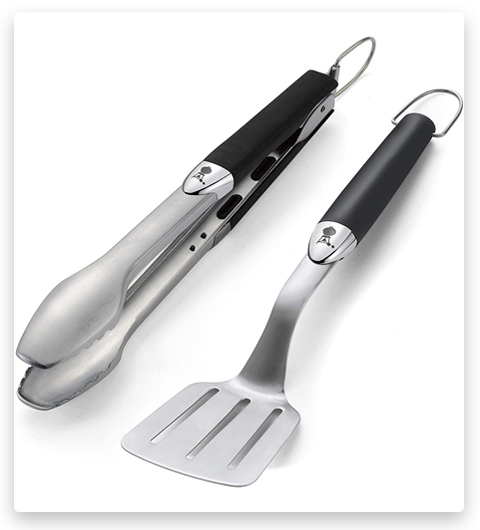 Perfect cooking isn't possible without the right kitchen appliances. I advise you to pay attention to this set, which consists of two objects: a spatula and tongs. They will allow you to flip food without any problems, transfer to a plate, and not drop food. Also, you don't adore your fingers and keep a beautiful view of your dish. They are made of stainless steel for long use.
9# Weber Style 6435 Professional-Grade Grill Pan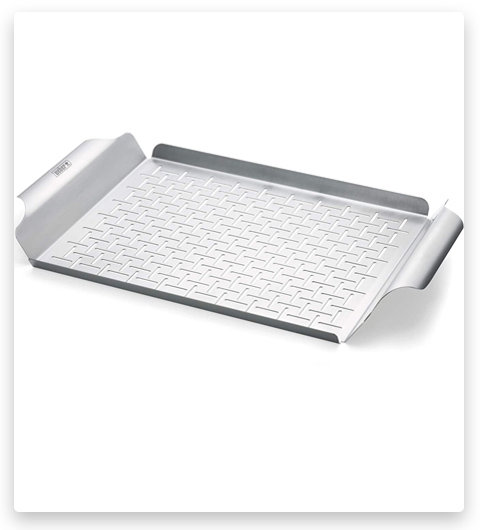 This pan allows you to prepare a delicious breakfast or dinner on a comfortable surface. Stainless steel can retain heat and is a durable material. This pan has small cuts that allow all juices to drain. You can easily take and bring this pan to any place thanks to convenient and large handles.
10# Weber 6434 Deluxe Ss Vegetable Basket
This basket is available for all Weber grills due to its versatility. The special slicing texture allows you to cook vegetables evenly and without burns, which are protected by too much direct heat. It can be used for any other food that requires caution in managing direct cooking.
11# Weber 7204 iGrill 3 Grill Thermometer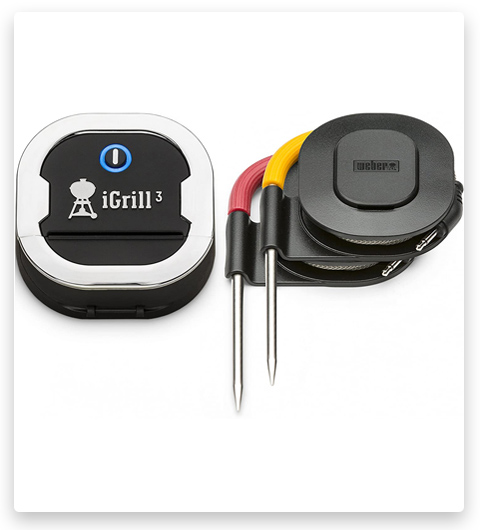 Forget the cooking time and go to the cooking temperature. Only in this way will you be sure that you have prepared food to your liking. A thermometer will let you know the temperature in the center of the food in real-time. This thermometer has a distinctive battery that can work for about 250 hours. You can connect the thermometer to your phone and use it through a special application.
12# Weber 7635 Porcelain-Enameled Flavorizer Bars for Spirit 200 Series Gas Grills – Amazon's Choice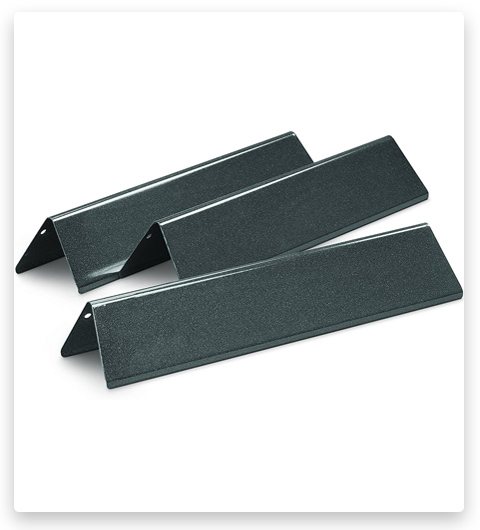 This accessory was created so that the taste of your food isn't spoiled by anything. These bars catch drops of fat so that they don't hiss and don't give a smoky taste to your steaks. It is suitable for gas grills. However, you should make sure that they fit your grill model. This can be done by checking the number of your grill.
13# Weber 7444 22-1/2-Inch One-Touch Cleaning System Kit for Grills – Amazon's Choice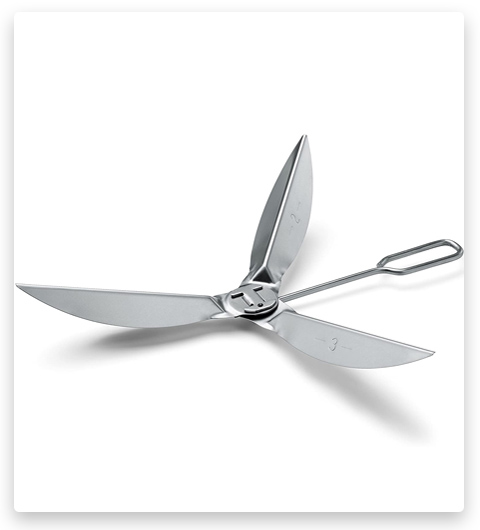 This is a special set that is designed to clean your grill. You never will clean it yourself as this thing will do for you. It is quick and easy to install. Your installation will take no more than a minute.
14# Weber Grill Cleaning Kit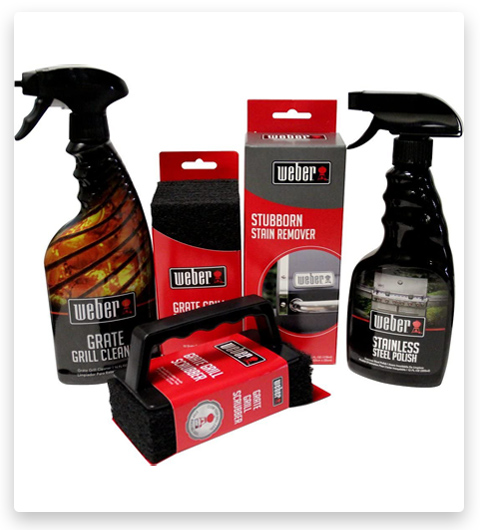 As much as we would not like to avoid this, we will have to clean the grill from pollution. If you don't, the device will not last you long and will spoil the taste of your food. For proper cleaning, I recommend using special Weber cleaning products. In the set, you will get grill spray cleaner, stainless steel polish, grill scraper, stain remover, and 10 grill scrubber pads.
15# Weber 3201 Connect Smart Grilling Hub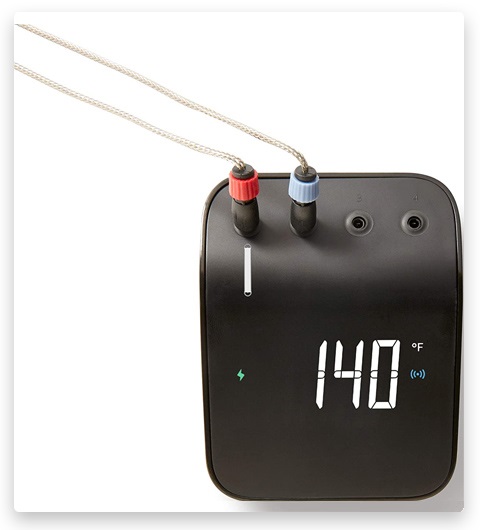 We don't always have time for long cooking. Now you don't need to stand every second at the grill and monitor how your food is cooked. You can go about your business when your steak is cooked. With this device, you will immediately know when your meat is ready. This device will help you calculate the cooking time and will notify you of the cooking status using the mobile application.
16# Weber 6630 3Pc Ss Tool Set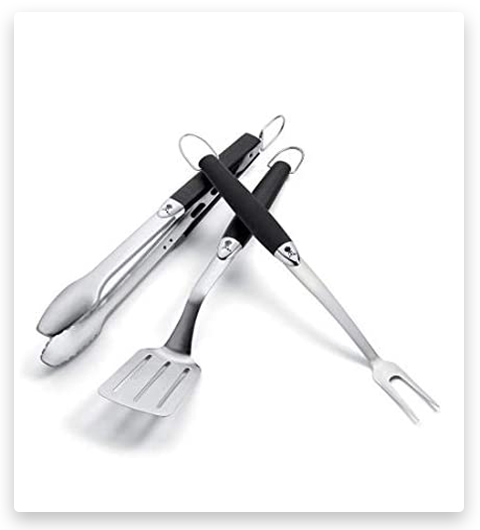 Those who cook on the grill for a long time without hesitation buy themselves such a set. For your meat, vegetables, or other food to be tasty and aromatic, you need special tools for this. To save your budget, it is better to purchase three necessary tools at once. You will get a spatula, fork, and tongs. This will help you not to burn meat, turn it over without problems. The tools can be washed in the dishwasher.
Why Should You Trust Weber?
This is one of the most popular and best American companies that produce coal, gas and electric grills, as well as barbecue facilities. This company now sells its products worldwide. Mostly in Australia, Germany, Denmark, Austria, Belgium, Canada, Croatia, Cyprus, Czech Republic, Slovenia, South Africa, Spain, Sweden, Switzerland, Turkey, Great Britain, and, of course, in the USA. Weber's grill revolutionized grilling. The closed grill system allows you to grill everything from a traditional grilled steak to a roast or a whole chicken. You can even bake bread and pizza on these grills. Weber grills are still only made in the USA and therefore are not cheap products made in the Far East. All innovations on the grill market are largely shaped by Weber. No other grill brand has been on the market longer than Weber, so Weber can use the longest experience in creating and developing grills. A wide range of barbecue accessories is available for every Weber grill: from the chimney to grill tongs. A wide range of grill books written specifically for Weber complements the range.
Weber Grill Accessories
Weber presents various accessories for your grill. Previously, you have already seen what they are and what they are for.
Here I would like to dwell on some of them so that you can find out more about them:
Food Thermometer. You should know that cooking time isn't a reliable parameter to take into account, the values ​​can be different. Therefore, it is better to know the internal temperature of the food in order to always have an excellent result. Therefore, having a thermometer is very important!
Thermometers equipped with a sensor that fits in food and give an accurate internal temperature are very cheap and easy to find. It is recommended to insert this into the thicker part of your food, being careful not to touch the bones, which can distort the measurement. Using this simple tool, you will not cook too much or too little. Now your steaks will not be dry.
Chimney. Especially on rainy or windy days, using coal can be a difficult task. Also, it can take a lot of time, and when you are hungry, waiting is not a pleasant thing for you and any guests. With this tool (only useful if you have a charcoal grill) cooking will be easier than ever. To achieve an optimal result, opt for a model that has a heat-resistant handle and a support handle. If you don't know how it works, follow the instruction and you will immediately receive ready-to-use coals!
Cleaning Brush. A clean grill is not only more beautiful but also better. Inlays created by food debris must be carefully removed if you want to avoid unpleasant odors and taste changes during subsequent use. All you need is a stainless steel or brass bristle brush that can be used before and after each use. To facilitate the separation of the inlaid material, you can also use hot water and soap or special sprays for use on the grill.
Weber cover. It is one of the most important Weber grill kettle accessories. This allows you to fully cover the Weber grill. Thus, you can easily leave your grill outdoors in the wind and avoid premature wear due to weather conditions.
When it's wet and cold outside, you shouldn't have a Weber grill outside. Otherwise, it may rust and deteriorate quickly. As you may have already learned, Weber grills are generally very rust-proof. However, if you leave your grill outside, you should always use protection. This way you can cover the Weber grill kettle and leave it on the terrace.
Tongs. Are you still looking for the right grill tongs? I tested a lot of grill tongs from different manufacturers, but in the end, I got to Weber. Weber grill tongs are made of stainless steel and look very stylish. They lie well in the hand, and meat and other dishes prepared on the grill can be easily taken. You should not be afraid that the meat will fall, because the ribbing on the grill keeps the meat well. When cooking a barbecue, this is one of my favorite accessories.
Everyone probably knows this. You don't have the tongs on hand to properly pack the meat, turn it over, or put it in another place. Often the meat "slips" out of the grill tongs, and in the worst case, it even gets into hot coal. But this shouldn't be! With good grill tongs, the meat is much easier to hold and it doesn't fall.
Spatula. It's made of stainless steel and ideal for cooking meat and other dishes on the grill. A spatula also helps to loosen the meat, which sticks to the grill. Weber tongs for grilling and spatula are a good duet and it is best to buy them together as a set, as it also saves some money. A set costs are just a little more than separate grill tongs. With the Weber spatula, you can turn the meat over quickly and easily.
Conclusion
Now you have no more excuses and you can start using the grill. Your grill is ready to give maximum thanks to these basic accessories, which will make everything easier and more practical. You just need to purchase Weber grill accessories and show all your creativity and passion for a barbecue!