Komodo Kamado Charcoal Grills – Buyer's Guide and Reviews 2019
Komodo Kamado is one of the largest and most expensive Kamado manufacturers on the market. He is on the same shelf with giants such as the Big Green Egg and Kamado Joe.
The company has a huge fan base and produces some of the best Kamados in the world. It's quite different from other grills and many users like it.
A Komodo Kamado is not a ceramic pot, it is made of refractory cement which is what industry uses for high-temperature containment in everything from blast furnaces and nuclear facilities.
The multilayer structure is insulated with vermiculite and air gel. Outside, grills are covered with beautiful ceramic tiles attached to acrylic insulation.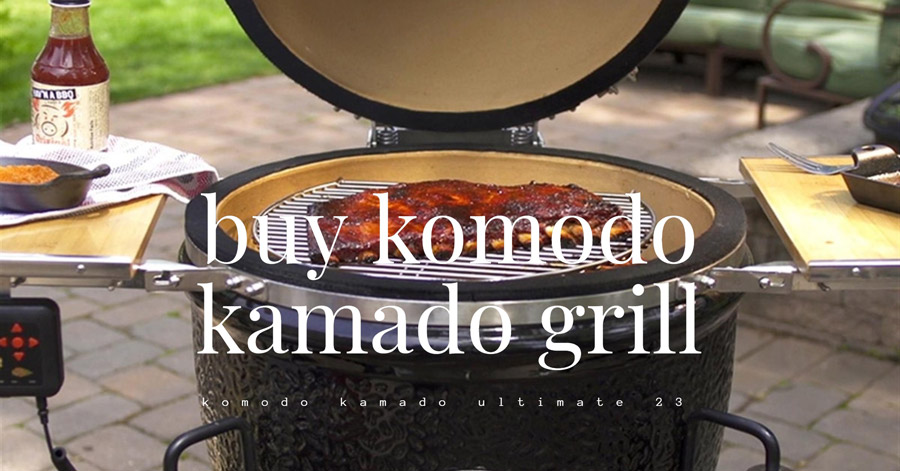 This insulation is UV-resistant and can expand / contract when the grill is heated. 16 pounds of coal will burn in such Kamados for 85 hours at a temperature of 235 ° F.
Komodo Kamado provides a wide range of sizes – from 21 to 42 inches, so everyone will find something for themselves.
In this article, we selected some of the best Komodo Kamado grills for you, reviewed their features, compared the characteristics and customer reviews. If you still don't know what kind of Komodo Kamado grill you need, then our guide will help you.
The Best Kamado Grills of 2019 – Eggs Grills Analogues of Komodo Kamado
| Image | Product | Brand | Link |
| --- | --- | --- | --- |
| | Char-Griller E06614 AKORN Jr, Red Charcoal kamado Grill | Char-Griller | |
| | Kamado Joe KJ23RHC Ceramic, Classic II Charcoal Grill | Kamado Joe | |
| | Weber 15502001 Performer Deluxe Charcoal Grill, 22-Inch, Copper | Weber | |
| | Char-Griller E16620 Akorn Kamado Kooker Charcoal Barbecue Grill and Smoker, Black | Char-Griller | |
| | Kamado Joe BJ24RHC, Big Joe II Charcoal Grill | Kamado Joe | |
| | Pit Boss 71220 Kamado BBQ Ceramic Grill Cooker, 22" | Pit Boss Grills | |
| | Char-Griller 96619 Akorn Kamado Kooker Combo with Grill Cover with Cooking Stone, Graphite | Char-Griller | |
| | Char-Broil Kamander Charcoal Grill | Char-Broil | |
Price and Features of Komodo Kamado Grill
Since the grills are set very high quality and durable materials, they are among the most expensive. Prices start at $ 3,500 and go up to $ 9,200. Different sellers have different prices, we took the price on Amazon.com.
The price is calculated based on functions and design but given the amount you spend, you have the opportunity to make an individual order. So you get the specifications, features, and color that you need.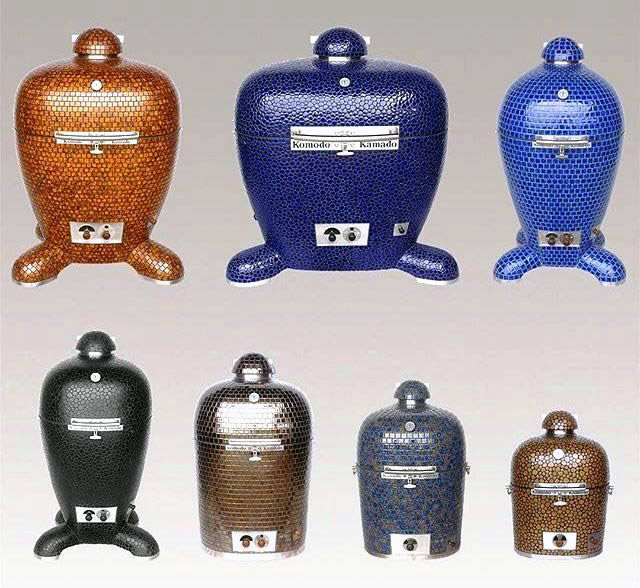 You will immediately notice the high quality of the grill design. From the hinge in the lid and stainless steel parts to the bright ceramic tiles on the outside. The casters are large enough for you to roll this monster along a bumpy or rough road.
The cooking grates, as well as the charcoal basket, are made of stainless steel. The top grill is hinged, so you don't have to remove food to add charcoal.
The lower damper extends easily. You can easily take out the entire structure to maximize the airflow. The upper damper has the shape of a helmet. By turning it, you increase the space through which hot air and smoke can escape.

Even if you forget how many spins you've made, a digital temperature sensor (e.g. BBQ Guru) will always help you control the temperature.
In Komodo Kamado there is a special socket for such a sensor and side holes for the cables of the digital probe.
A dual Tel-Tru thermometer is supplied with the grill, which is accurate at low temperatures. But when it comes to high temperatures, it can give inaccurate numbers.
But many users like the built-in thermometer and they don't change it. If you need the most accurate values and you don't trust the built-in thermometers, you can purchase another.
The ability that users value most in Komodo Kamado is the ability to create two cooking zones. This technology allows you to cook on direct and indirect heating.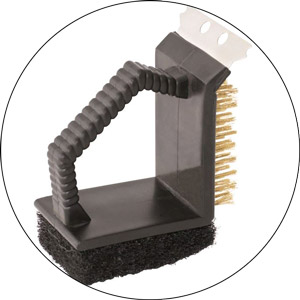 By Merca709 / October 27, 2019
Top 10 Best Grill Cleaners in No matter if your grilling season is in full swing or it is over,...
Read More
This allows you to move food from one area to another to make steaks juicy, skin crisp, etc. Komodo Kamado will provide you with a large number of different deflectors and cooking grates for this.
Komodo Kamado Grills have mounts for rotisseries, can be fitted with side tables, and there is a pizza stone available, too. Models have several racks, the bottom can be equipped with a gas igniter.
You may worry that tiles outside the grill need extra care. But don't rush to conclusions. They are held by an elastomer.

This is a material that expands and contracts to depend on temperature, and is also resistant to ultraviolet. Even if you break the tiles, the manufacturer will provide you with a repair kit.
Coals start simply if you put them in a basket and start using a paraffin starter or something else. Many use crumpled pieces of newspaper or small torches for this. With a chimney, you can easily measure the amount of coal.
The manufacturer recommends always filling the coal basket, even if you are cooking at low temperatures. And then you can control it with the help of ventilation holes.
You'll need a little practice to master this method but you will quickly learn – this is not such a difficult process as you think. Moreover, the first hour is spent on heating the walls of the grill, so you'll have time to practice.
As soon as you achieve the needed temperature, this whole structure will retain heat and slowly radiate it back.

Komodo Kamados is very sensitive to the slightest increase in oxygen supply but don't react so much to a decrease in supply.
Our review is mainly for standard square tile models. The manufacturer gives a lifetime warranty on all of his products. The Komodo Kamado website has a lively message board with tips on technique.
Komodo Kamado 23-inch
The 23-inch Kamado is the classic representative of the Komodo Kamado series. Over the past 15 years, the grill has undergone a lot of changes and has been improved and changed many times.
It will be a pleasure to work with this grill.
Kamado performs any function from grilling and smoking to baking pizza. It doesn't matter if you are just starting your culinary journey or already an experienced user, this Kamado will definitely surprise you.
Everyone who has heard of Komodo Kamado knows of their remarkable ability to heat at incredible temperatures and smoke at a low and even pace.
Kamado Characteristics:
375 sq. inch grilling space
Total cooking area 978 sq. inches
The fireproof shell of two layers: outer layer with insulation, inner layer with high temperature
3/8-inch stainless steel grilles
4-wheel trolley construction
All metal parts are made of stainless steel
Total weight – 588 pounds
Upper and lower air vents and rotor wheel
Lid with hinge for easy lifting and latch
Since the 1970s, the Big Green Egg has been a reference in the design of Kamado grills. Many companies have tried to copy the design and function of the Big Green Egg grills. But Komodo Kamado is not one of them.
Between them, there is very little similar, except that both of them are Kamado grills.
The material that holds the tiles on the grill is similar in composition to the gel that NASA uses to store heat tiles on space shuttles.
All metal parts in grills are made of stainless steel 304. Cooking grates are made of 3/8 "welding rod of the same steel.
The lid weighs quite a lot but it's very easy to open and close. The secret is in the spring mechanism, which reduces the weight of the lid. And it closes with a simple latch.

The top flap is a kind of lid that rotates. It's made of the same materials as the grill itself and covered with the same plates. Don't worry that the cap will fall after installation.
It will only stagger slightly to allow the expansion of the bolt that holds it in place.
Komodo Kamado has a grill system that allows you to always close the lid. Even during use. You can even install the BBQ Guru airflow control system, which will easily allow you to control the temperature in Kamado with great accuracy.
Complete with this grill comes three cooking grates, with which you'll have almost 1000 square inches for cooking.
The main cooking grate has a hinged front door. The upper grate is installed in the top part of the grill. Thus, they will almost not interfere with your barbecue and will be used for smoking.
How is Komodo Kamado different from similar grills?
There are many manufacturers on the market who make similar grills. But this company is famous for the build quality of its Kamados, the number of features, and design. You can afford to buy a grill in almost any color and several patterns.
This grill comes in a big box and it's very heavy. Therefore, if you are going to put it on a tree, it is better to put something under it so that Kamado doesn't press so hard on the tree.
Otherwise, there is a risk of cracking the wooden surface or getting a crack.
Buying Komodo Kamado 32-inch Big Bad Smoker and Grill
This grill is 42 inches wide and 22 inches tall. Included are 3 3/8 "grills from stainless steel 304. But you can use them for cooking at 4 levels.
In addition to the grills, the package includes a splitter reducer for charcoal with which you can cook on a small amount of coal.

As in the previous one, in this grill, you can create two zones for cooking – direct and indirect. This Kamado weighs 1,688 pounds but rolls easily thanks to a 6-wheel trolley.
4 wheels are on the legs and 2 under the body to evenly distribute the weight. 238 of the total weight is 304 stainless steel.
We've already listed above why Kamado 32 Big Bad Smoker is trustworthy. We are sure that this grill, like any of the Komodo Kamado line, will delight you with excellent quality and excellent taste of food.
But even if this is not enough for you, then on the Internet you can find a large number of reviews from trusted customers who are ready to share their positive impressions of these products. Try it yourself and you'll realize how wonderful it is.
Komodo Kamado 32-inch Big Bad Smoker – Users Opinion
«The Komodo Kamado 32-inch is most liked by people who are looking for the best Kamados for a reasonable price. Great purchase, nothing more to add. I highly recommend having one of these»
«Here you don't even need to look for fuel or coal. Internet searches have been doing this for a long time. I officially declare that Komodo Kamado 32" Big Bad Smoker is one of the most effective grills at the moment. Regardless of whether you are a beginner or a professional, in any case, you can figure it out online»
Features of The Komodo Kamado Big Bad 32
We can tell you with 100% accuracy that Komodo Kamado Big Bad 32" is made by some of the brightest and most beautiful cookers on the market. But these grills aren't limited to just a beautiful design. The manufacturer pays attention to every detail and makes it durable and high-quality – from stainless steel 304 gratings to ceramic tiles on the surface.
Therefore, the wheels must be strong to hold and roll such a monster. It's fully assembled and weighs almost 500 kg. This is one of the largest Kamados on the market and it's 32 inches wide
Plenty of options are available, including teakwood carts and gas ignition.
Kamado Characteristics:
The cooking area for the grill is 796 square inches, and the total cooking surface is more than 2000 square inches (!). About 28 burgers will fit on such a surface.
304 stainless steel metal parts
Ceramic shell with a choice of color and pattern
Separating firebox in dual airflow control system
Can withstand up to 1000 ° F
The spring in the lid lightens its weight
Total Weight is ± 1,500 lbs.
Ability to select a large number of additional functions
It's not just a simple grill
In fact, you get not just a barbecue grill, but full support from the company and the owner.
If you compare this grill with most Kamados, then almost none of them will be able to cook all year round as Komodo Kamado does. Moreover, Komodo Kamado's insulation limits airflow and traps moisture inside.
Some other ceramic Kamados also have this ability, but they don't have the thermal mass of Komodo Kamado. It regulates heat much better and as soon as the grill is heated, the temperature becomes stable and doesn't change.
Komodo Kamado is an architectural and artistic masterpiece and it doesn't matter which tile style or pattern you choose. From polished bronze to black tiles, this is an individual style for every Komodo Kamado.
What Accessories Will You Definitely Need?
To make your grill easier, you'll definitely need some accessories. Here is a list of those that we consider the best:
It will be much simpler to cook ribs with the help of a rib rack. Such a rack holds up to 6 pieces on the middle grill.
Many users also use a deflector plate. The deflector is located on the lower grate and evenly removes heat on the sides of the grill.
Not the most necessary but a convenient accessory is a drip pan. It simplifies the cooking process.
If you like a fish grilling
Then order a large baking stone. It's perfectly placed both on the stands of the middle grill and the upper grill. You can use both. This stone is often used for pizza but for fish, it's no less good.
Don't Want To Use Charcoal?
Buy a gas burner. You can choose on propane and natural gas. Nobody forbids the use of both burners, they work wonderfully together. Gas heats the grill much faster but if you use it with coal, it will ignite it from the bottom and use more coal than when igniting from the top.

Screw Top & The Offset Chimney
The chimney is not placed in the center of the grill and offsets slightly backward. This is necessary to stably keep heat and heat the furnace faster. A chimney is installed by screwing to a fitting with long channels. The top still spins easily because the grill heats up and cools down. You'll notice how this works well if you used another ceramic barbecue.
Special Acrylic Tile Grout
Constant heating and cooling the grill is a challenge for any tile. If it was a simple grout, then for a long time it wouldn't stand. But Komodo Kamado uses a grout that can cope with the expansion and contraction without any problems. This is not a typical grout that cheap Kamados use. It's used by NASA in the construction of spacecraft to withstand extreme temperatures.
The Draft Drawer
For those who don't change traditions and are used to using a draft drawer to control airflow, Komodo Kamado found a solution. In these models, there is such a drawer but it's slightly modified. This is a handle attached to the vent in the form of a dial, which makes airflow control even simpler and faster. You can open and close the drawer but you don't need it. It's much easier to adjust the dial and incredibly precisely control the temperature and airflow.

Latch On The Lid
For the first time you may not notice this, but when you close Komodo Kamado, the latch fits easily and a small amount of smoke breaks out of the seal. You need to put a little pressure on the lid, then the latch will flip over the cam and the lid will close hermetically. Another nice feature is that the lower part has a gasket, and the upper part is easily fixed at an angle of 45°
In Conclusion
For some, the price can be a pretty important aspect when choosing a Kamado. But in these grills, it's quite justified. Heavy-duty 304 stainless steel and superior fire-resistant materials make Komodo Kamados one of the best on the market. And one of the most expensive.
In general, a grill costs about $ 4,200, if you take into account the configuration: a table, cabinets, and accessories, then another $ 2,000 will come out.
Of course, you can buy a grill that will suit your needs and for much less money. But as they say, this is the same as comparing the Bugatti with Mazda.

You can smoke six racks of ribs with sauce, bacon, and bourbon for 3 hours at a temperature of 225 degrees. As soon as you adjust the airflow, it'll stay perfectly stable.
In addition to ordinary meat, on Komodo Kamado you can bake pizza, fry, smoke, and steam salmon and any other fish. This is the case when it's not the grill functionality that limits you, but only your imagination.