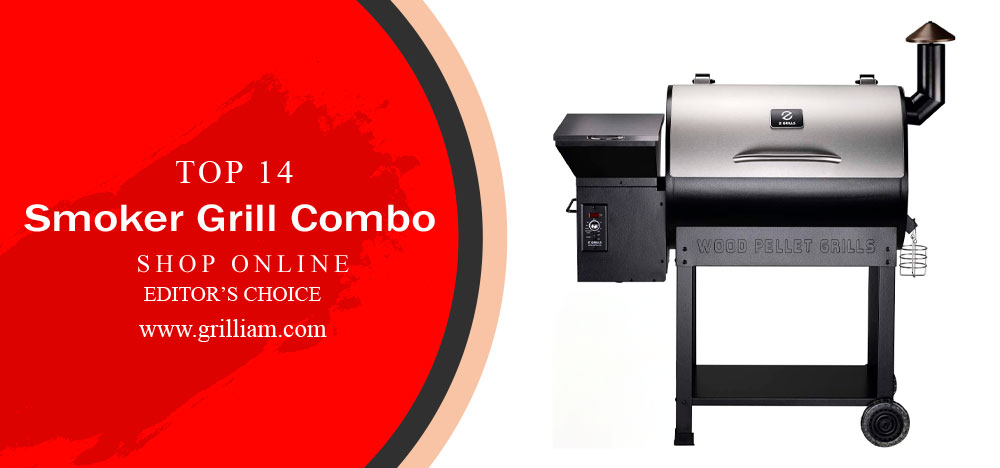 How to Get the Best Smoker Grill Combo – Buyer's Guide
If you are looking for a smoker who performs the function of a combo grill, then you can assume that you've already found this. In this article, we'll look at the types of combo grills and the 14 best representatives of this class. Combo grills are a type of grill that can grill and smoke meat at the same time. Buying a combo grill will be more convenient because buying a smoker and grill separately is more expensive, and you'll need much more time to learn how to work with them.
Such a combo is perfect for those people who can't decide – which type of grill they need. Also, many people love both grilled and smoked meat, so the purchase of a combo grill seems appropriate. Now there are many grills with a smoker on the market. But how to choose a good one among so many grills?
Well, we've chosen 5 types of smoker grill combos for you. So knowing what type of grill you need, you can easily choose the right one for you.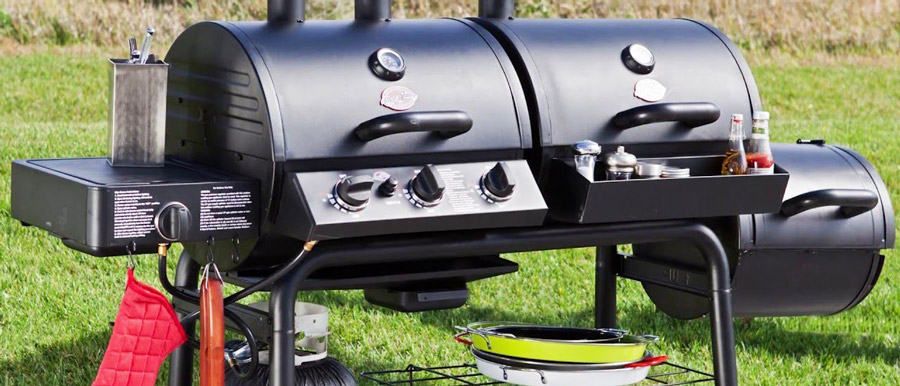 | Image | Product | Brand | Link |
| --- | --- | --- | --- |
| | Traeger Grills Pro Series 34 Electric Wood Pellet Grill and Smoker, Bronze | Traeger | |
| | Pit Barrel Cooker Classic Package - 18.5 Inch Drum Smoker | Porcelain Coated Steel BBQ Grill | Includes 8 Hooks, 2 Hanging Rods, Grill Grate and More | Pit Barrel Cooker Co. | |
| | Camp Chef PG24MZG SmokePro Slide Smoker with Fold Down Front Shelf Wood Pellet Grill, Pack of 1, Black | Camp Chef | |
| | PIT BOSS 71220 Kamado BBQ Ceramic Grill Cooker, 22 inch | PIT BOSS | |
| | PK Grills PK360 Outdoor Charcoal Grill and Smoker Combination, Graphite | PK Grills | |
| | Z Grills Wood Pellet Grill & Smoker, 8 in 1 BBQ Grill for Outdoor Cooking, Auto Temperature Control, 697 sq in Cooking Area, 7002E | Z GRILLS | |
| | Char-Broil Oklahoma Joe's Charcoal/LP Gas/Smoker Combo | Char-Broil | |
| | Char-Griller E1224 Smokin Pro 830 Square Inch Charcoal Grill with Side Fire Box, 50 Inch, Black | Char-Griller | |
| | Smoke Hollow 3500 4-in-1 Combination 3-Burner Gas Grill with Side Burner, Charcoal Grill and Smoker/Firebox,Black | Smoke Hollow | |
What Is The Best Smoker Grill Combo?

If you ask most BBQ buffs, they will tell you smoking and grilling are the most enjoyable outdoor experiences. Unreasonable to buy a separate smoker and grill, better look for a unit that provides the best of both worlds. You too can save money if you buy the best smoker grill combo. Then you can smoke and grill any food you want and some models even perform more than these 2 basic functions. If you think a Char-Broil model is your ideal choice, don't forget to read Oklahoma Joe Longhorn's charcoal gas smoker and grill reviews to get a better idea of what to expect. Besides the high-quality models, we have hand-picked for you based on our experience, we also have useful information regarding the best features to look out for. Our list of the best qualities will save you time shopping.
Different 5 Types of the Smoker Grill Combo

Learn the 5 main grill smokers in the current market to make a wise investment. Besides an array of different sizes and shapes you can choose from, there are four different types of smoker grill combo units depending on their power source:
#1 Charcoal Smoker Grill Combo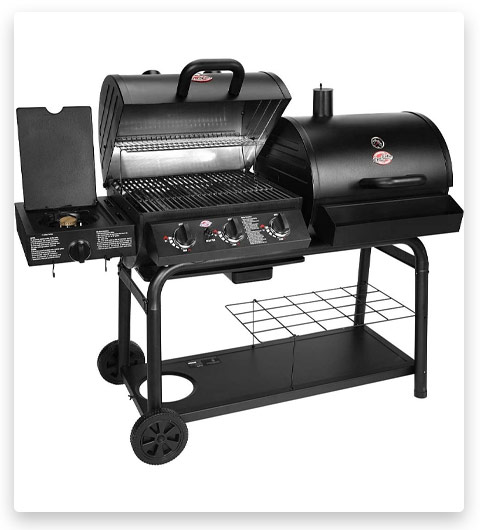 The most popular type is a gas charcoal smoker combo grill. It features a portable design, suitable for a small family, but it'll be difficult to feed a large group of people with this grill. The disadvantages are the difficulty of cleaning and temperature control (if there is no built-in thermometer). But why do people still consider this type of grill one of the best?
Because in terms of price and quality it is the best choice. Besides, we are all already accustomed to using charcoal and flavored wood chips, so the setup is quick and easy as well. There are more expensive units with limited automation or fully automated rigs too. Such units have an electronic control panel for adjusting dampers and vents. Besides costing more, they are harder to clean as well.
#2 Propane Smoker Grill Combo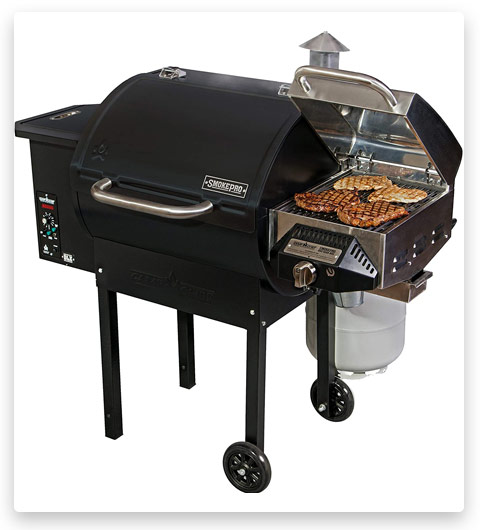 A propane charcoal smoker grill combo differs from other types in that it gives greater smoking ability and heating due to higher temperatures. They are very easy to clean and use because ash does not form. However, using natural gas, you will not get such a rich food taste.
You can enhance the taste using a combination of a smoker made of wood and a propane grill. If you do not want to dirty your hands and grill with coal, then choose a propane smoker. But remember that such devices are better grill than smoke due to the high heating ability of the smoker. In such grills, very convenient temperature control. You just need to turn the handle to adjust it. The smoker box is usually attached to the side. Therefore, this type of grill is very easy to operate.
#3 Pellet Smoker Grill Combo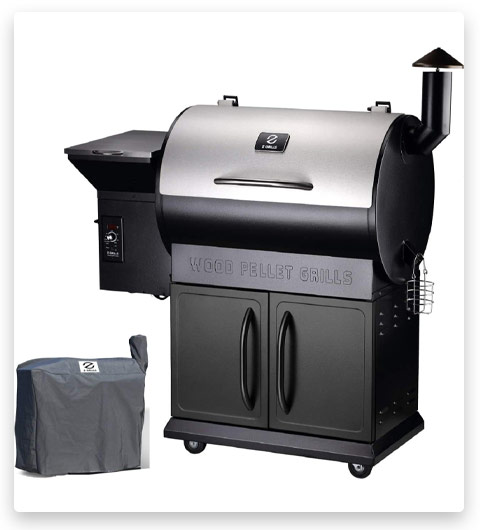 Prepare a wallet if you intend to purchase this type of grill. These devices are equipped with a fan that helps to stabilize the temperature and auger. Some models come with propane boxes that add the taste and smell of wood to your food. If you're ready to invest big money in such a purchase, then you can buy a device with control without the help of your hands. In this grill, the powered auger and the fan control the temperature.
There is no need for coal or propane because the heating element is electric. Also, you can add flavored balls to get a specific taste and aroma of meat. But there are still disadvantages. The main one is the lack of strong heating options. The maximum temperature such grills can reach is 500 degrees.
#4 Hybrid Smoker Grill Combo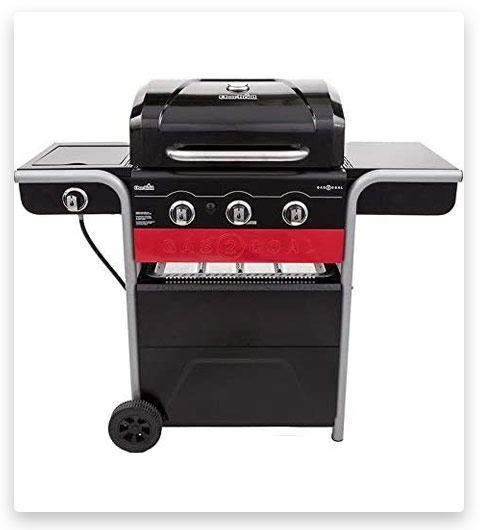 Hybrid grills simply combine several types of combination grills. For example, you can use the low temperature of coal and the smoky aroma of propane to enhance the taste.
#5 Electric smoker grill combo
An electric grill combo is completely different from all other types of smokers. It's much more convenient but doesn't give such a smoky aroma. The electric model turns on at the touch of a button. On the electric grill, you can cook any meat from bacon to fish.
Best Rated Grill Smoker Combo To Buy

The combo grill is a very efficient and multifunctional machine. They are suitable for both frying and baking. But they cost much less than if you bought each grill separately. Now we look at various brands of grill smoker combo manufacturers.
Here we have compiled the best models for durability, build quality, price, temperature control, and other factors. After reading this article, you better get comfortable in the world of combo grills and can choose the smoker that you need. However, the question is, what is the best grill smoker combo for you that is long-lasting, efficient, and will save you a lot of money and stress. See this guide that teaches how to make the best of your grill smoker combo.
So to aid you to make the best choice, here we have a list of the best combination grill smokers:
Most Recommended Smoker Grill Combo Units: Detailed Reviews
Traeger Pellet Grills BBQ Texas Elite 34 Grill & Smoker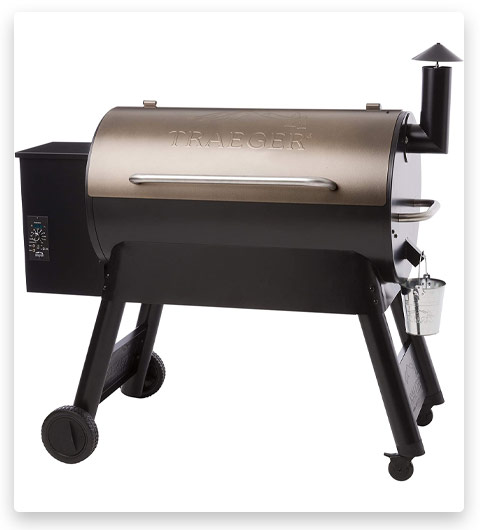 This is one of the most rated grills according to users. The machine has both a luxurious design and excellent functionality. Traeger has the largest cooking area on this list. It's great for large parties with lots of people. It was specially designed so that even a beginner can understand the work of the grill. The grill is powered by electricity and is supported by wood pellets. He reaches a maximum temperature of 450°F. So, someone who doesn't know how dangerous the temperature won't harm himself.
With this grill, you'll be provided with durability and long work. The design of the smoker is made of porcelain and cold-rolled steel. The manufacturer offers you a warranty of up to 3 years. This is a great combination of a smoker grill combo due to its wide cooking surface, powered by electricity for safety, a durable high-quality body material, and a long-term guarantee.
Pit Barrel Classic Cooker – Top Rated Grill/Smoker Combo

This grill runs on charcoal, so get ready to get your hands dirty, as cleaning isn't easy. You can only simplify it by covering the bottom of the case with foil. The grill is surprisingly easy to use. This is one of those models that work on the principle of "Set and Forget."
Just season the meat, suspend it, and leave it under a closed lid until cooked. The grill is roomy enough so that you can feed a fairly large group of people. It has a cooking surface of 346 sq. inches. You can cook up to 8 ribs or 4 chickens at a time. Despite the variety of functions and quality, this grill has a not so high price and does not hit the wallet very much. On the other hand, you can only adjust the temperature by adjusting the lower ventilation hole.
This can be a problem for those who want to have constant control over the temperature inside the device. The set includes eight hanging hooks and two heavy-duty rods for hanging meat. But there is also a standard grate with a chrome finish and a basket for charcoal. With this smoker, cooking meat will be a complete pleasure for you. Grilling will only bring you good results. And when you finish cooking, you can simply put all the ingredients in a barrel and store them there until next time. Moreover, the barrel weighs only 57 pounds. A full review and reviews of this grill can be read in this article – Pit Barrel Cooker Reviews.
Woodwind Camp Chef Smoker Grill with Sear Box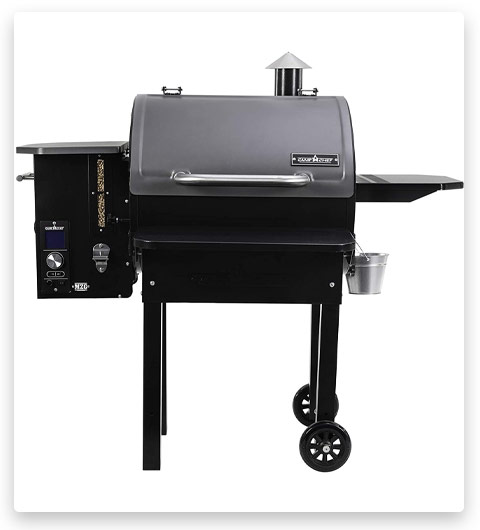 But there is an option for those who are ready to invest more in a good grill for a large number of people. This option is worth the money you invest in it. It comes with a sear box and a large temperature range from 160 ° F to 500 ° F. Most wood pellet grills are believed to have poor grilling results but this model is an exception.
Thanks to a well-thought-out design, you will not have problems with cleaning, and the grilles are durable and will work for a long time. Also, they leave excellent tracers on food while cooking. You do not need to constantly stand at the grill to control the fire. The grill is equipped with automatic temperature control, so you can do something else during cooking. The manufacturer took into account all the shortcomings of the previous versions and created a new original grill that meets all the modern needs of the griller.
Pit Boss 71220 Kamado BBQ Ceramic Grill Cooker (Half the price of a Green Egg)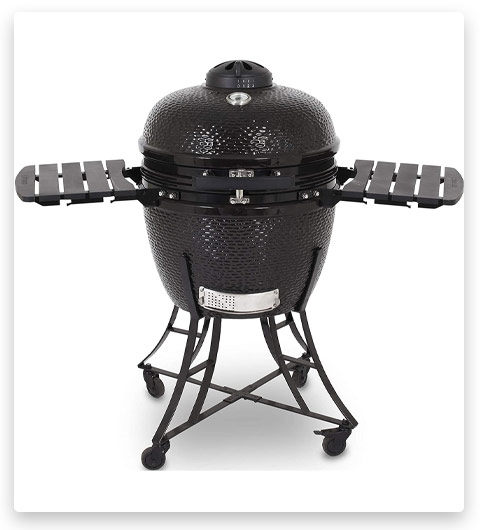 Now, look at the kamado-style grill. In general, it's no different from the rest and it's also possible to smoke or heat on it. You can even use this to bake pizza or bread, there are tons of cooking options. The grill runs on charcoal for long-lasting heat.
Big Green Egg is a very well-known and high-quality brand but when you buy it, you overpay for the "name". Pit Boss is no different from it but is much cheaper. The Pit Boss comes in two sizes – 22 or 24 inches. It has a built-in thermometer and two bamboo side tables. The grill weighs quite a lot, so collecting it alone will be problematic.
It controls the heating with very great accuracy, this is one of the reasons to choose this grill. You can cook on it hundreds of different dishes – from fried ribs to pizza, along the way doing other things. The Pit Boss appeared on the market quite recently, has many positive reviews but not much information.
Among grills, kamados have one of the best insulation abilities due to their ceramic construction. This ceramic grill smoker is one of the best smokers for its money. The ceramic assembly maintains a stable temperature when smoked or heated. You can be sure that the design of the grill will retain heat and cook food as you need.
The grill is equipped with a stainless steel grate, a built-in thermometer, and a cast-iron damper. Furthermore, the grill has a cooking surface of 304 sq. inches. There is also an ashtray and a tool for cleaning it. We love this grill which is of good pricing, easily available and has over 10-years warranty to it.
Char-Broil The Big Easy TRU-Infrared Smoker, Roaster & Grill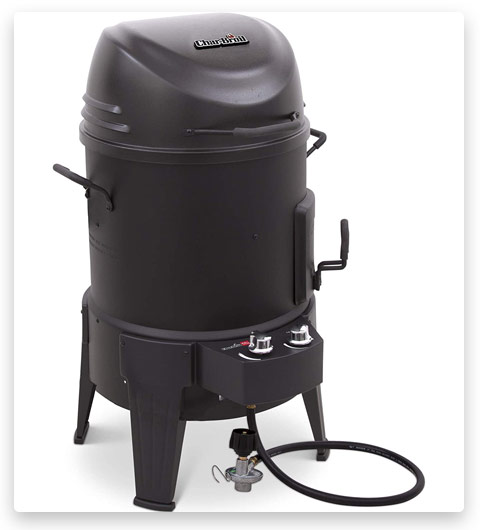 The Big Easy works on propane but you can pay extra and buy an electric version if you don't like propane smokers. Although, you don't risk getting a flash even with the propane version because it uses an infrared process where there's no direct heating.
This is a universal appliance that can independently cook any food. For example, it'll cook a 20-pound turkey ± in 3 hours. Users love this grill for its Set and Forget feature and versatility. The only drawback is the small cooking surface. But if you don't serve large groups of people and aren't a smoker of the old school, then such a surface is enough for you. This combo is a 3-tier functional device: smoking, grilling, and roasting. It seems fancy at first glance but is a superpower cooker for evenly cooked meals without charcoal or oil.
This smoker has three layers of a wire rack that can cook up to 25 pounds of food by infrared. This method keeps food juicy on the outside and fried on the inside. Also, it has a box for pellets and chips to give the flavor of smoke to food. The most striking quality of this smoker is a heavy-duty and safe design that avoids burns and malfunctions in cooking. And also, it's very easy to assemble. This is a very affordable smoker for a small family in the middle-price segment.
PK Grills PK360-BTTX-D Teak Shelf Edition Smoker Grill Combo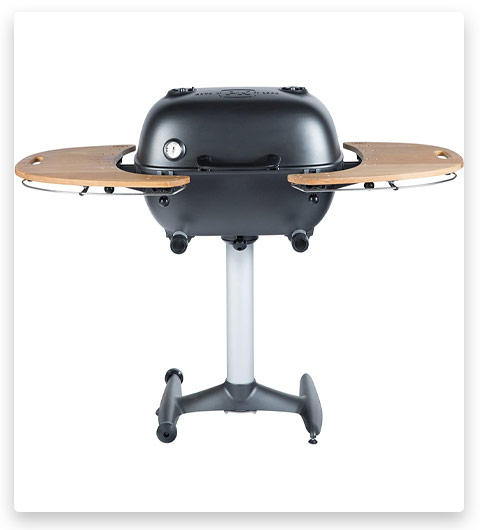 Just released this year is this high-end medium size model from PK. It's getting some great reviews online and though it is out of the budget of most casual outdoor cooking enthusiasts if you are in the market for a high-quality grill it's worth looking at. PK points out that this model offers a bigger grilling service and a cheaper price than Big Green Egg. It's much more durable than the porcelain that is used for the majority of kamados.
The PK 360 is made from top-quality aluminum and comes with a 10-year guarantee so if you are invested in your outdoor cooking, while the initial cost might be large, its longevity should pay dividends. We introduce you to a 3 in 1 BBQ grill smoker from a prestigious brand – PK Grills. Smoking and grilling with this charcoal grill smoker combo are perfect.
If you want to barbecue, нщгэдд be able to cook with low heat and don't forget you are not limited to charcoal and briquettes. The 4 vent point system allows the optimal flavoring of your meat. Depending on your recipe, you may use direct or indirect heat. Your ideal temperatures will be reached without the hassle or annoying flare-ups.
The rust-resistant cast aluminum is as durable as a stainless steel grill and smoker and better than porcelain-coated models. PK 360 is not only the most attractive device. It is designed for great functionality and long work. The high-quality cast aluminum grill copes with rust and is easy to transport. Moreover, you can separate the grill from the cabinet and move it even easier.
The working surface is only 352 square inches. This is enough to calmly cook burgers for your family. But if you want to feed a large group of people, then such a space is not enough. The device operates on charcoal. It's well-sealed and equipped with double ventilation holes. Using them, you can adjust the temperature from 180 to 700+ degrees.
The grill has a built-in thermometer showing the temperature, wooden tables, which you can remove if necessary. Also, there is a stainless steel rod for hanging dishes. The design of the capsule calls for the creation of two heating zones. To completely extinguish the grill, you just need to block the ventilation chambers, the airflow will stop. It's not only convenient but also safe. When you are finished cooking, just take out a charcoal basket that will catch all the ashes.
Z Grills ZPG-7002 Wood Pellet Grill & Smoker Combo – One of the best barbecue grills on the wood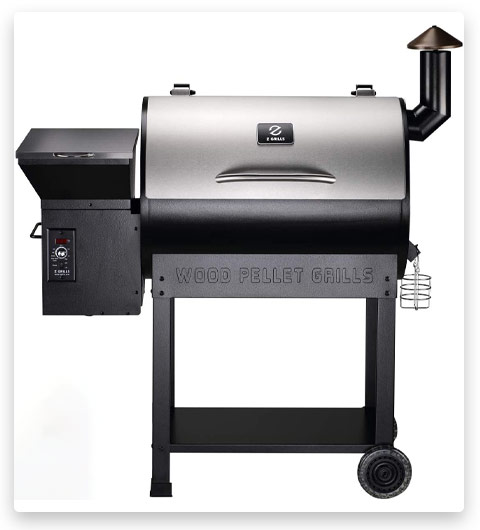 There is nothing better when you go about your business while the grill is cooking your food from the outside. This is exactly what the automatic temperature control system in the grill ZPG-7002 does. You simply set the needed temperature between 180 and 475 degrees, load the coals, and enjoy the process. Machine 8 in 1 with a cooking surface of 700 sq. inches will allow you to feed all your friends at once.
Setup is simple and the stainless steel coating doesn't require much maintenance. Also, you won't have problems with transportation because the wheels are mounted on the grill. The developer put security in the first place in this device. Autoignition and shutdown mode prove it. Digital control is the best aspect of the grill. And the only drawback is the lack of a solution for collecting ash. If you need a good automatic grill with good features, then Z Grills ZPG-7002 is your choice.
Char-Broil Oklahoma Joe's Gas Smoker Combo – Best Gas Charcoal Smoker Combo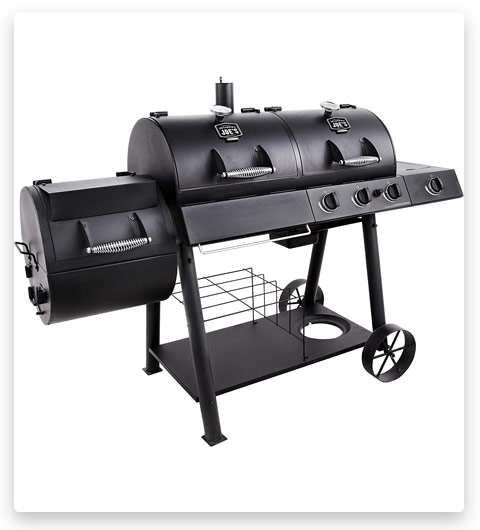 Durability is the best quality of this grill. The manufacturer claims that it's designed for a whole life. To do this, there is a construction of greater thickness and cast-iron grates with a porcelain coating.
There are two areas for fuel – one for propane and one for charcoal. Also, there is a smoker box for greater convenience. But assembling the device takes a lot of time, so it's best to ask someone to help you with the setup. Each burner gives power up to 12,000 BTU, there are three such burners in the unit. They very quickly heat the grill for food. Don't worry about rust, the body of the gas smoker is quite thick.
If you don't mind spending a little more money than on a budget smoker, then this model is perfect for you. You may not only for the ability to use both gas and charcoal but also for a huge cooking surface of 1060 sq. inches. Besides, built-in thermometers and dampers allow you to control the temperature and airflow. You won't get burnt because the device is equipped with heat-resistant handles.
A metal storage shelf allows you to keep the needed tools at hand. The disadvantage is the wheels, which, due to their improper assembly, make it difficult to move the device, although it weighs only 205 pounds. Also, the cover isn't completely sealed, you can fix it with some kind of sealant.
Char-Griller E1224 Smoking Pro 830 Charcoal Grill With Side Fire Box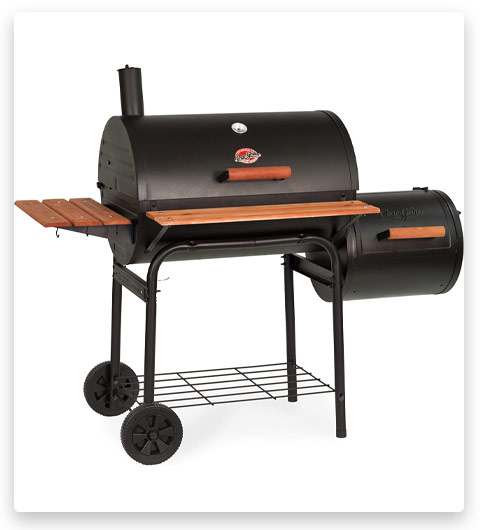 Char-Griller E1224 is a grill, no different from traditional ones, has a side firebox with an area of 250 sq. inches. If you prefer more grilling than smoking, then this unit is perfect for you. This grill has an extended service life because it's made of heavy-duty steel and has cast-iron grates. The bottom consists of two layers and prevents the appearance of rust and corrosion.
The design is very well executed here. You have an underbody rack and two outer shelves for accessories and tools. The grill not only has a cooking surface of 580 sq. inches but also tall enough, so you don't have to strain your back and hunched over the grill.
The charcoal boxes are removable, so you can add coal or shake out the ash at any time. The temperature during cooking is always stable, but the temperature sensor sometimes gives inaccurate values. The device is equipped with wheels for faster and more convenient movement.
Smoke Hollow 3500 Gas Grill Smoker Combo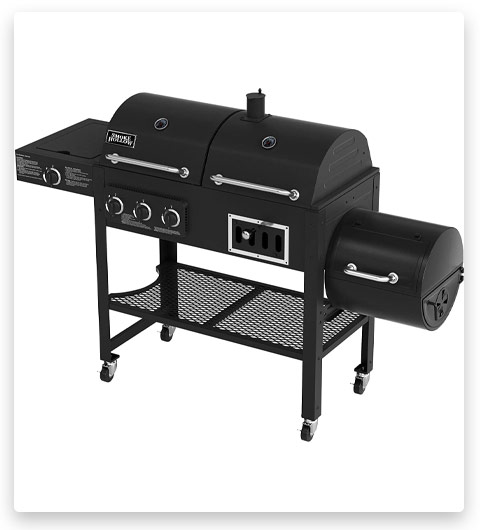 With a Smoke Hollow 3500, you can choose between propane and charcoal. And so between cooking meat on the side plate or smoker. On both sides of the smoker are cast-iron grates with a coating of porcelain. The side burner can generate power up to 9300 BTU.
The other three stainless steel burners reach 10,000 BTU. And the total cooking area is as much as 860 square inches. To control the temperature, the manufacturer created a unique Deluxe sliding air damper and an integrated temperature sensor. Despite its large size and huge cooking area, the grill weighs just 158 pounds. We recommend Smoke Hollow 3500 as the best grill and smoker combo if you really love grilled food and still want to try smoked meats once in a while.
Char-Broil American Gourmet Offset Smoker -Lowest Price
Char-Broil American Gourmet Offset Smoker. This is an entry-level charcoal smoker that doubles up as a grill, it is the cheapest option that we are reviewing here. It won't give out all the indicators of an expensive grill, but he does his job perfectly. This is perfect to feed not only a small family of 4 people but even to cook food for a larger group of people. The cooking space here is 800 square inches!
The grill has a built-in thermometer and wheels for more convenient transportation. But there are only 2 wheels, not 4 as in most grills, so you still have to raise some part of the grill before transporting it. But since this is a low-budget level, this model has a couple of minutes. Despite the fact that the construction is easy to assemble and disassemble, the grill materials are unstable to corrosion and quite fragile and brittle. If you don't take into account the quality of the materials, then this is a good enough smoker grill combo to start or if you have a limited budget.
Smoke-Hollow TC3718SB Gas Charcoal Smoker Combination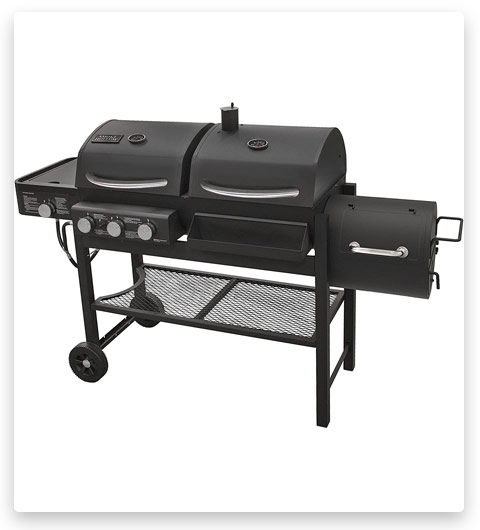 You can fill this grill with propane or charcoal depending on your preference. If you want "Set and Forget", then use propane. If you need a woody taste on meat and you like to stand by the grill, then choose charcoal. The product needs assembly but you won't have difficulties with this thanks to the instructions in the kit. It's light enough for transportation not only in the backyard but also to take it with you on hikes and on picnics.
In addition to smoking and grilling, it can fry, steam, or boil food. So you can try a whole world of different recipes. For example, cook crabs, smoke turkey, stew pork, and much more. Often in low-budget smokers, the built-in thermometer does not give the correct readings. Masterbuilt M7P has the same problem. Therefore, we recommend buying a digital thermometer for more accurate temperature readings.
When using a propane burner, even with a weak wind, the flame comes out very sharply and in a large stream. Many users have solved this by creating a kind of windshield. Many users note that this is a very durable grill. Even after failure, many don't buy a new grill but replace a broken one. The grill lasted 10 years for one user, and 14 for the other. If you change the thermometer, the lid and install the propane windshield, this grill will be one of the best in the low-budget segment.
Camp Chef PG24 Pellet Grill & Smoker BBQ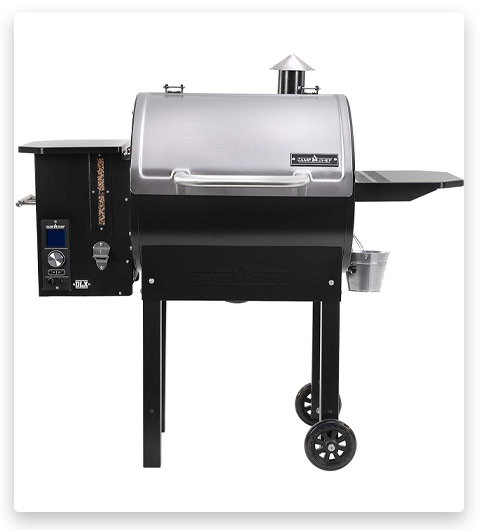 The Camp Chef PG24 has a host of innovative features, including accurate dual temperature sensors and digital smoker controls. Although this is intended for beginners and most of the processes are automated, it's best to familiarize yourself with the instructions for use. Maintaining a constant temperature is one of the most important factors of this grill and this model achieves that. If you are in the market for a pellet grill and smoker the Camp Chef PG24 is well designed and more competitively priced than many others we looked at.
The device has very large power and burners can develop up to 25,000 BTU. But the cooking surface is not so big but enough to feed the average group of people – 570 square inches. Also, the machine has the function of automatic ignition and shutdown. You don't have to bother with burning coal for several minutes. The disadvantages of this smoker are only two wheels, which means that transportation isn't so convenient and there's no temperature sensor. Otherwise, this grill is very good to pay attention to it.
REC TEC Wood Pellet Grill – Top Quality Grill Smoker But at a Price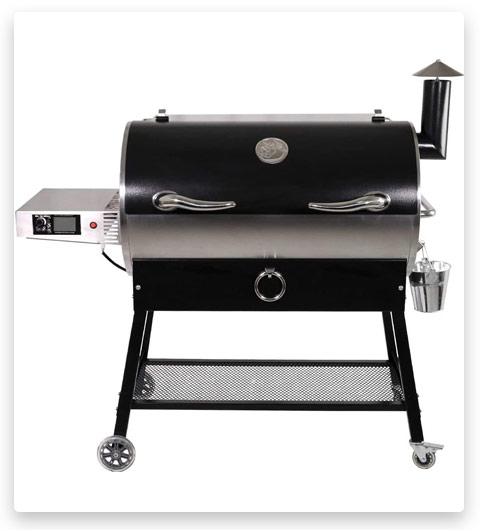 Last but not least a good grill. This model can hold a 40-pound bag of wood pellets. And despite such a huge capacity, the grill has an excellent design and weighs just 200 pounds. The total cooking area is simply huge – more than 1000 square inches. Here you can cook up to four 12-inch turkeys. So forget that you can't feed a large group of people with this grill. REC-TEC is capable of automatically maintaining a constant temperature from 180 ° F to 500 ° F for several hours, you can even cook pizza or bake bread. The manufacturer gives you a six-year warranty and yet no user has complained about poor customer service. If you're ready to spend enough money, then this smoker will justify all your expectations.
Features To Consider And Benefits Of Smoker Grill Combo
We've selected for you some of the main advantages of combo grills. They'll help you to better understand their features.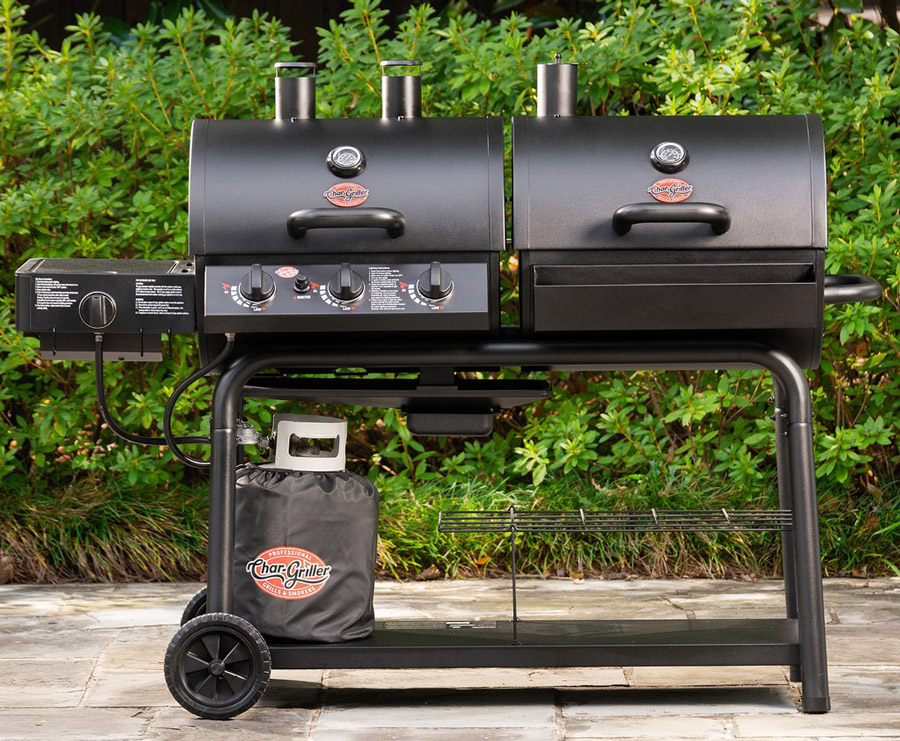 Budget. Combo grills are well-designed and there are plenty of options available now. It'll be much more profitable to buy a combo smoker than to take each device separately. If you have the opportunity to purchase a combo grill instead of separate two or three devices, then use it.
Space Saving. Instead of occupying your yard with several units, you can simply take one in which there will be all necessary functions. For this reason, you'll no longer have problems with where to look for a place for the next grill.
Adaptability For Beginners. If you are new to smoking or grilling, then such devices, first of all, will help you save money and will give you a try both smoking and grilling, and secondly, they are almost completely safe to use.
Material Type. The type of material and the thickness of the smoker are important. Many grills and smokers are made of steel, which over time begins to rust and corrode. If you live in a humid place, either hide smokers from exposure to moisture and rain or buy stainless steel combos.
Control & Temperature Range. Make sure that you understand what temperature regime you are buying a grill for. High-temperature options are great for cooking many types of meat, and a combination of hot and cold smokers gives you more flexibility.
Cooking Surface. Decide for whom you will cook on this grill. For a small family or for large parties with a lot of people? The more people you are going to feed, the more meat or other foods you'll need to cook at the same time. For large parties, choose large grills and smokers – from 500 square inches. But if you cook only for your family, then there's no need for large machines and you can take a grill with a small cooking zone.
Cleaning. The grill needs constant cleaning after use, otherwise the next time the meat will be with ash and bitterness. Also, leftover food attracts germs, insects, and rodents. If you need a smoker that's easy to clean, then choose stainless steel grates. Grates should be cleaned only by hand, and not in the dishwasher. If the grate is coated with enamel or porcelain, don't use harsh detergents to prevent damage to the coating.
Warranty. It's better to pay a couple of hundred dollars for a guarantee than pay for a grill repair later. The warranty reflects the quality of the product and should cover the repair and replacement costs for at least 5 years after purchase. Even better if you can take a model with a lifetime warranty.
How To Choose The Best Smoker Grill Combo?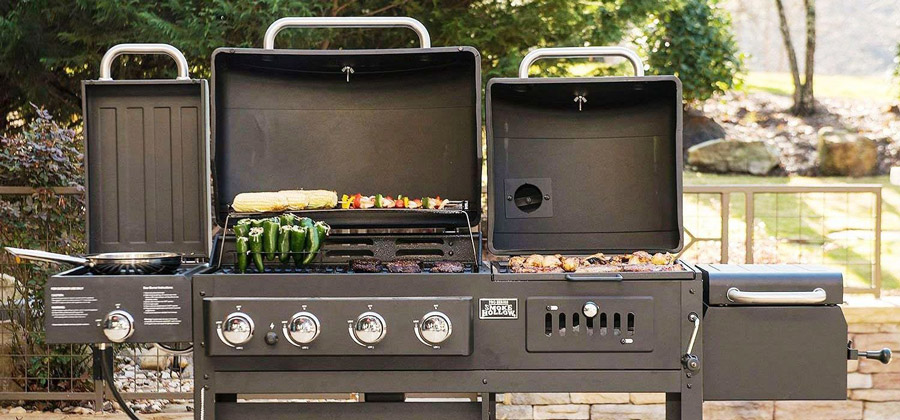 The best smoker grill combo should be able to grill and smoke whatever you want. But often, they do one thing better. As a rule, more expensive devices do a good job of smoking and grilling. Therefore, it's better to spend a little more money than to fight poor roasting or poor meat smoking. In addition to price and performance, the materials from which the grill is made play a large role. Carbon steel works well but tends to rust over time. Therefore, modern units are made of stainless steel but are usually more expensive.
Also, pay attention to the lid. After all, it not only creates an airtight space inside the grill during cooking but also protects the internal components from the effects of rain and snow. Another feature to consider is the thickness of the material. The thicker the material the grill is made of, the longer it'll serve you. Therefore, choose the thickest body you can choose. Rust doesn't affect thick structures as much as thin-layer materials. Our list contains the best smoker grill combos according to these parameters. But this doesn't mean that you can't study other combo grills and look for one that suits you.
In Conclusion
The choice of grill depends not only on the above features but also on your budget. Our list contains both low-cost models and more expensive ones. Your abilities and passion for grilling also determine what you choose. Any smoker grill combo will be a great addition to your backyard kitchen. We can't choose the best grill from the presented ones because everyone has different needs and everyone needs different grill parameters.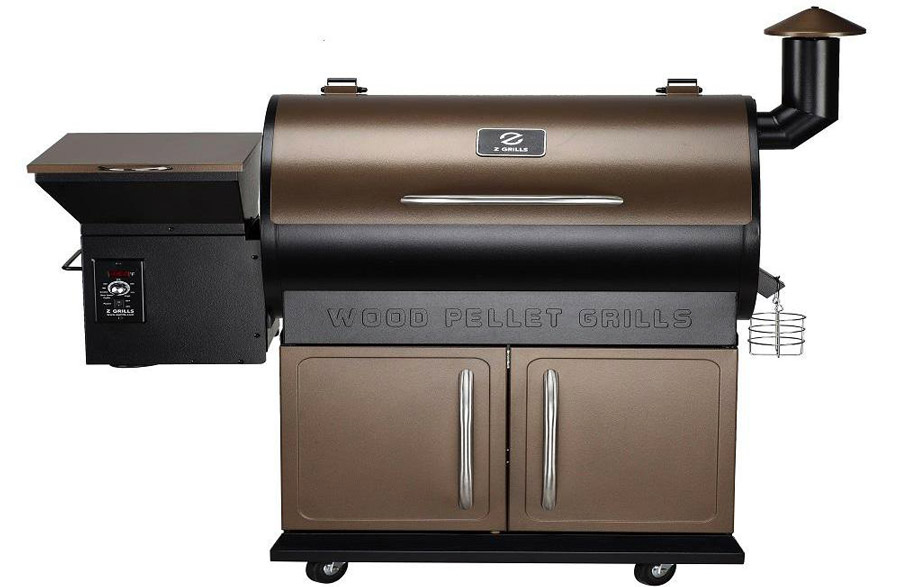 But we recommend you Z Grills Wood Pellet Grill, which is distinguished by the excellent ability to grill and smoke. Also, it has as many as 4 cooking functions. It's quite versatile and doesn't cause difficulties in use. With it, you can get various flavors and tastes of meat. Also, this grill is equipped with the latest innovative features such as "Set and Forget". Even if you don't choose the right grill for you, you'll at least know more about the world of grilling and smoking. We hope this article helped you with your choice. Have a good grilling!
Tags: #best smoker grill combo / #best grill smoker combo / #best gas grill smoker combo / #best grill and smoker combo / #best gas charcoal smoker grill combo