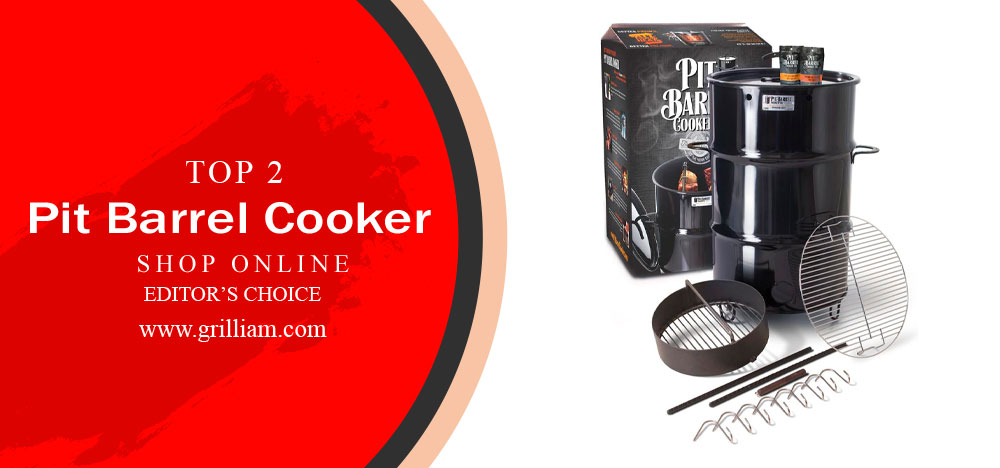 Pit Barrel Cooker – The Original Vertical Smoker Barrel Cooker
If you a great fan of BBQ parties and picnics and especially best-cooked meat and burgers outdoors you must have heard about Pit Barrel Cooker. Sure you heard. But let's talk about it more deeply and find out why it's considered the best grill and smoking system ever.
What is the Pit Barrel Cooker?

Pit Barrel Cooker is an original vertical smoker barrel cooker with a unique system of vertical meat hanging methods. Actually, it's a cross between a barbecue and a smoker. And it definitely uses the best features of each of them. Actually using the Pit Barrel Smoker is a great way to get tender and juicy smoking meat without spending out a fortune. And with the least effort, that's important!
The idea seems to be as simple as it gets. A metal drum with a charcoal basket and stand, and some strategically placed air ventilation holes — that's it! The best feature of this cooking unit, besides the attractive price, is the perfect airflow that literally wraps your meat in smoke. The heat is locked inside a barrel and keeps a smooth temperature and ideal terms for cooking meat.
We'd say, it all begins with using convection cooking, and then turning into effective engineering that seems to defy basic science. And last but not least — it's also extremely simple to work with. Just load it right, and it will make its own magic until your meat is perfectly done, without any mess and fussing.
Why Original Pit Barrel Cooker
Pit Barrel Cooker Co. products definitely are the top choice for buying a ready-to-use drum smoker. The company was established in 2010 and is a family-run out of Louisville, KY. The company owner and his family worked enthusiastically on the barrel cooker design to turn their hobby project into a consistent, repeatable product that anybody could easily use for a delicious meal. Now the guys are real experts in smoking and grilling meat.
Is the Pit Barrel Cooker a Smoker?
Actually, the Pit Barrel Cooker is a versatile cross of charcoal smoker and grill. Its design allows you to easily cook any meat or fish, cheese, vegetables, and fruits. The assortment of products is limited only by your culinary fantasy limits.

How Pit Barrel Cooker Works
You won't believe it, but it's as simple as it gets.
You just follow a few plain steps:
Prepare the meat
Season or marinate the meat
Add some water to prevent fat from burning
Arrange layers of charcoal
Dribble some lighter fluid n the top layer
Add additional 2-3 layers of charcoal
Drop a match on and fire up the Pit Barrel Cooker
Put some wood chunks for additional flavor
Allow your Pit Barrel Cooker to come up to the right temperature
Hang your meat and close the lid
Now go watching a movie or fishing, or whatever for the recommended cook time
Pull your meat out and enjoy it!
Pit Barrel Cooker really is super simple. Even a beginner cool can easily manage it.
Major Pit Barrel Cook features and advantages:
Cooking in literally 20 minutes
Minor assemble required
Unique vertical meat hanging method
Convection cooking
A versatile combination of grill and smoker
Easy to use
Meat not sitting on the hot grill with an inconsistent hot surface
Heat goes up and gives amazing tenderness and juiciness
Grill grate makes it very simple to grill everything you can't truly hang
The most versatile cooker on the market
You can take it with you anywhere
You don't need to plug it in
Absolutely durable, there's nothing that can be broken
What's the Difference between 18.5″ Classic Pit Barrel Cooker and 14″ Pit Barrel Cooker Junior?
The first and obvious difference is capacity. The Classic Pit Barrel can hold two whole pork butts or two large turkeys while the Pit Barrel Cooker Junior can only hold one. The second sneaky difference is the distance between the hanging rods. The Classic Pit Barrel measures 7" center-to-center, while the Pit Barrel Cooker Junior is just 5.25". So, you just pick up the right one for you according to your family's appetites and requirements.
1# 18.5″ Classic Pit Barrel Cooker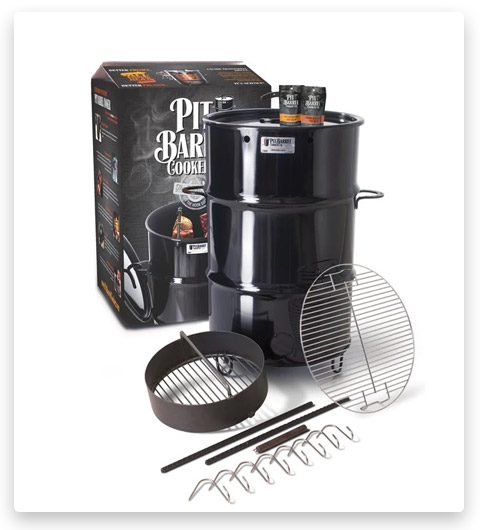 The Classic Pit Barrel Cooker is an excellent, most affordable smoker & grill with consistent, repeatable results even for a beginner. It combines the best qualities of smokers, grills, and slow cookers to create its unique vertical cooking experience. Fantastic, easy to use and everything you make is better than on any other smoker. It just produces perfectly cooked meat every time.
Many like it for hanging meats. For grilling, like steaks, you can use the regular grill. The minimum temp is higher than many recipes call for. For the beginner or someone who doesn't want to spend a lot of time checking and adjusting temps, the Pit Barrel Cooker is great.
The set contains many cool new accessories that make cooking meat, fish, vegetables, brats, cheese, steaks, fruit, etc. even easier. You can set it and forget it but if you want to tinker with wood chips or mess around with reverse searing, different temps or smoke amounts, and so on, it's pretty easy to do. The recipes like the lamb leg and tomahawk steak are always impressive to guests. Of course, it's better to use a thermometer but it's pretty predictable without one.
The Classic Pit Barrel Cooker is designed to ensure shorter cooking times without any need to regulate temperature or smoke. It is simple to use, portable and built to last long. It's worth noting that the PBC has received rave reviews from some of the biggest names in BBQ.
Pit Barrel Cooker super simple. Just fill the basket with coals, place it in Pit Barrel Cooker, add some lighter fluid on the top layer, drop a match in, and wait fifteen minutes. Then hang your meat and close the lid. Now you can go watching a movie or making cocktails, or whatever for the recommended cook time. Pull your meat out and enjoy it.
You can throw it in the trunk of your truck and easily take it camping. The cooking process is not affected by outside temps or wind. Super simple and much easier to cook on than your kitchen stove. Best money you'll ever spend.
We believe that every person enjoying cooking outdoors will appreciate a Pit Barrel Cooker. Just because everybody who tries one is simply amazed by the flavor it produces and ease of use.
2#14″ Pit Barrel Cooker Junior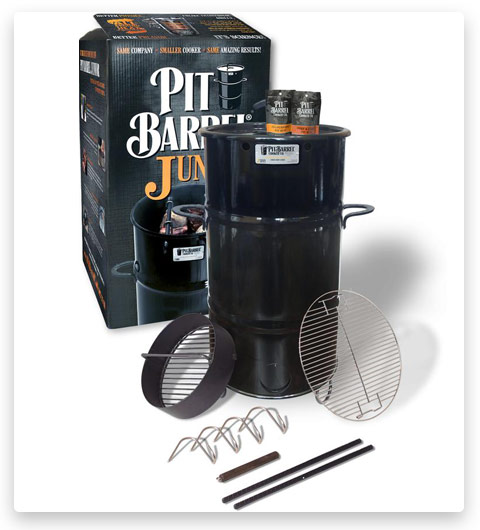 The Pit Barrel Cooker Junior is the smaller model of Pit Barrel Cooker Classic. As you can expect from the name, it's pretty much the same as the Classic version, but smaller, more compact and portable. The body height is about the same, but the diameter is 14". The weight is about 20 pounds less. And importantly the price is cut down too.
Pit Barrel Junior BBQ drum smoker is ideal for smaller, everyday cooks. But it elevates the portability of the 18.5″ Classic Pit Barrel Cooker to the next level, fitting in any car, making it perfect for camping and fishing, backdoor cooking, or wherever you may desire to cook your favorite meals. No wonder that this set-it-and-forget-it classic model is the best-selling drum cooker on the market.
Pit Barrel Junior has a smaller capacity, but it still has the vertical hanging of the traditional Pit Barrel. It still has enough space for 6 of racks of ribs, a good pork butt or shoulder, half dozen chicken halves, or a large turkey. Quite enough to feed a whole big company of friends or family.
Besides a 16-gallon steel drum with a lid and stand, the set includes a coal basket, two hanging rods, stainless steel meat hooks, grill grate, and hook remover tool.
Pit Barrel Junior demonstrates fast cooking time and high capacity, easy temperature control, and low fuel consumption, low price, and extreme versatility. Really worth every cent.
Pit Barrel Cooker Recipes

#1 Easy Made Smoked Pork Ribs

Cooking time: 2.5 – 4 hrs
Ingredients:
1-8 whole slabs pork ribs
Your favorite barbecue sauce, to taste
How to cook:
Rinse racks of ribs and pat dry
Place ribs backside up on a cutting board. Trim the skirt and remove the membrane.
Rub BBQ sauce liberally on both sides of all ribs
Hang the ribs on the rods in your Pit Barrel Cooker, leaving space between each rack, and then place the lid on the barrel
Cook the ribs for approximately 3-4 hours and baby back ribs for 2-3 hours
Remove ribs and make sure they are done. This means the meat will begin to easily pull away from the bone
Slice racks into separate ribs and serves them hot
Enjoy!
Cooking tips:
Use two thermometers (one for the ribs and one for the inside of the Pit Barrel) until you are familiar with the PBC
Check the ribs every hour until you have mastered using your Pit Barrel Cooker
#2 Smoked Brisket with Burnt Ends

Ingredients:
11 lbs. whole brisket
2 limes juice
Original seasoning, to taste
Mesquite seasoning mix, to taste
Your favorite BBQ or salsa
¼ cup Worcestershire sauce
Honey — 2 tbs.
Light brown sugar — 2 tbs.
Garlic powder — 1 tbs.
How to cook:
Rub lime juice on both sides of the meat
Sprinkle the mesquite seasoning on the fatty side and the original seasoning on the opposite side of the brisket
Cover and put to the refrigerator for at least 6 hrs
Take the brisket from the fridge for about 30 minutes before cooking
Heat the Pit Barrel Cooker to 200-240 degrees using hardwood or hardwood lump charcoal
Remove the brisket and generously rub with your favorite salsa, BBQ sauce, or spray with a fruit juice
Wrap the brisket with tinfoil. Put it back on the smoker for 3 hours
Mix together the Worcestershire sauce, honey, brown sugar, and garlic powder
Remove the tinfoil. Cut the brisket into bite-sized pieces and toss into the Worcestershire sauce
Place the pieces on the hot smoker and cook for about 10-15 minutes until the sauce caramelizes. For a smokier flavor, close the lid while cooking
Enjoy!
Cooking tip:
Cut the brisket against the grain for tenderness
To get more information on how to cook on the Pit Barrel Cooker, you can look at the official channel of the manufacturer – youtube.com/user/pitbarrelcooker
Q's & A's about Pit Barrel Cooker
Conclusion
Pit Barrel Cooker is a fantastic assistant to those who love cooking outdoors! It's light and compact. You can pick it up and take it with you anywhere. You can even take it camping or fishing. Pit Barrel Cooker holds heat dramatically good. Its unique design creates a circular smoke for all-over flavor. It's important to note that PBC takes very few a lot of wood or charcoal to cook. You will love it. All you need is just to choose between Classic Pit Barrel Cooker and its Junior brother. You decide. Enjoy your BBQ and outdoor cooking all over the year!
Tags: #pit barrel cooker reviews / #pit barrel cooker recipes / #pit barrel cooker negative reviews / #the pit barrel cooker reviews / #reviews of pit barrel cooker