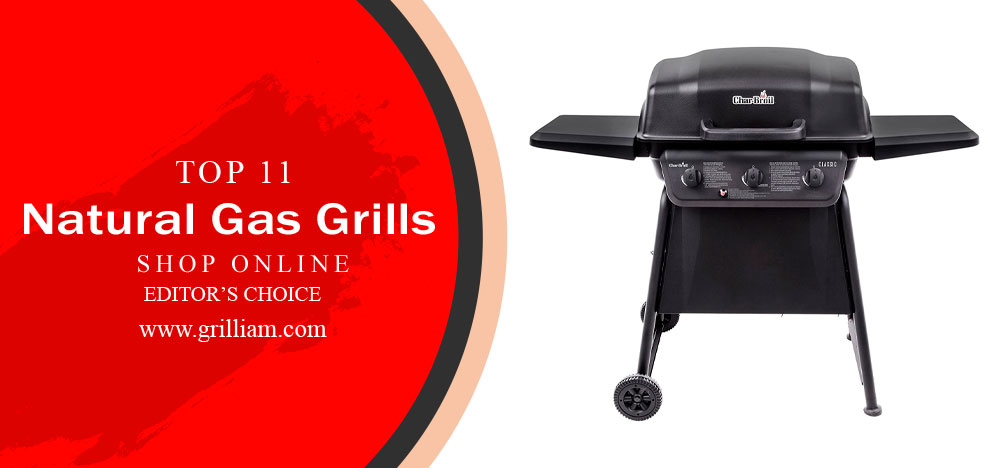 Summer or winter doesn't matter. Barbecue season is always in America. What a shame if you don't have good natural gas outdoor grills on your terrace or garden. Outdoor natural gas grills are a practical, simple and quick alternative to traditional charcoal or wood grills. They require much less preparation, and the results in terms of taste and quality of preparation are almost identical, which is why in recent years they have replaced classic grills on the market.
With a good gas grill, food can be cooked in less than 20 minutes. This is the main difference from coal-fired grills. Cleaning is also much easier as they leave no ash, traces of wood, or charcoal. Natural gas grills are suitable for you if your home is connected to a natural gas line. This fuel will never run out during cooking and is also cheaper than liquid propane.
Our Selection 11 Best Natural Gas Grills Under 500 – Editor's Choice
| Image | Product | Brand | Link |
| --- | --- | --- | --- |
| | Weber Spirit II E-310 3-Burner Natural Gas Grill, Black | Weber | |
| | Weber Genesis II S-335 3-Burner Natural Gas Grill, Stainless Steel | Weber | |
| | Weber Summit S-460 Built-In Natural Gas in Stainless Steel Grill | Weber | |
| | Napoleon P500RSIBNSS-3 Prestige 500 RSIB Natural Gas Grill, sq. in + Infrared Side and Rear Burner, Stainless Steel | Napoleon | |
| | Napoleon PRO285N-BK Portable Natural Gas Grill, Black | Napoleon | |
| | American Gourmet 463773717 Char-Broil Classic 360 3-Burner Liquid Propane Gas Grill, Black | American Gourmet | |
| | Fuego F24C Professional Propane Gas Grill | Fuego | |
| | Dyna-Glo DGP397SNN-D Premier 3 Burner Natural Gas Grill, Stainless | Dyna-Glo | |
| | Lion Premium Grills L75623 32" Natural Gas Grill | Lion Premium Grills | |
| | Kenmore PG-4030400LD-PE-AM 3 Burner Outdoor Patio Gas BBQ Propane Grill, Pearl | Kenmore | |
| | Bonfire 34-inch 4-Burner Natural Gas Grill with Cabinet Cart, Black 304 Stainless Steel, CBF4DD-B-NG | Bonfire | |
Are you interested in buying a natural gas grill? Of course, the question remains what kind of gas outdoor grill it should be and what functions make sense or meet your requirements. Let's take a look at the top 11 models on the market.
1# Weber Spirit II E-310 3-Burner Natural Gas Grill – Amazon's Choice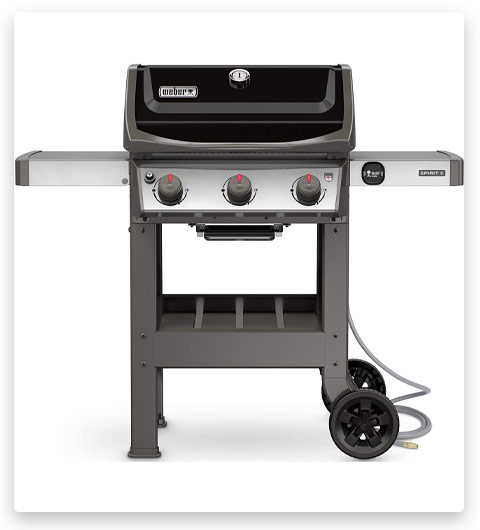 The Weber Spirit II E-310 gas grill is designed for those who love to cook in comfort. Three burners and a large grate give room for culinary creativity, side tables are convenient for serving. You can cook in direct and indirect heat, or use the two methods at the same time for different dishes. Equipped with the latest GS4 grill system and compatible with iGrill 3 thermometers, this gas grill is a real gem for outdoor barbecue enthusiasts. Three separate gas burners made of stainless steel with step-less heat control are an excellent solution for cooking several dishes at the same time.
Compatible with the innovative iGrill 3 digital thermometers designed to work with smartphones and grills from the Spirit II and Genesis II series. Install the free app and link it to your smart-phone to observe all temperature changes on the display. The porcelain-enameled GBS (Gourmet BBQ System) cast iron grate will last a long time and, thanks to the removable center module, will allow you to use the pizza stone, chicken roaster, steak grate, cast iron wok, Dutch oven, and cast iron pan. The device has an advanced cleaning system. Excess juices and grease, not evaporated by the Flavorizer plates, drain freely into a disposable tray located in the center of the grill for easy disposal.
2# Weber Genesis II S-335 3-Burner Natural Gas Grill – Amazon's Choice
The Genesis II SP 335 grill has the widest functionality for unlimited barbecue possibilities! The reliability of the grill is backed by a 10-year warranty on all elements. Prepare a variety of dishes and enjoy great taste and aroma! The patented GS4 Grill System will revolutionize the grill market. Powerful stainless steel burners of a special rectangular shape ensure an even gas flow from the front to the back and improve heat distribution on the newly designed grill. For the same purposes, the cast-iron grate has narrower posts. High + Sear Station system for complete control over cooking temperature and the ability to customize maximum burner position. Reliable electronic ignition system.
3# Weber Summit S-460 Built-In Natural Gas in Stainless Steel Grill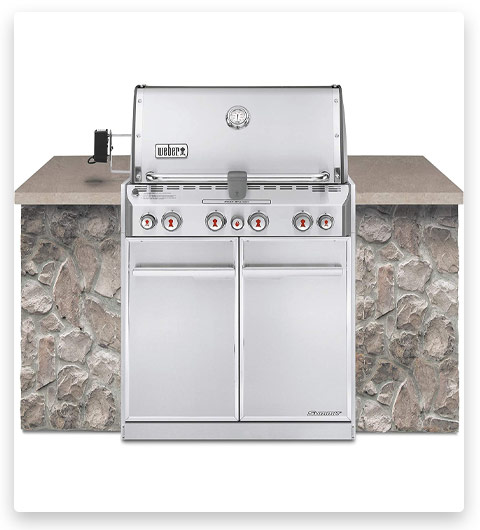 A professional outdoor natural gas grill from Weber allows you to realize any grilling project, any of your culinary desires. Its huge cooking surface is served by four main burners over 17 kW. The grill is equipped with a Gourmet BBQ System grate, making it compatible with one set of accessories. The grille has a detachable round center section, which can be replaced by a whole range of GBS accessories. The all-stainless steel gas grill features a motorized spit, Snap-Jet automatic ignition system, a powerful side table burner, a smoking module with a separate burner, and many other features that will surprise the buyer of this super grill.
4# Napoleon Prestige 500 RSIB Natural Gas Grill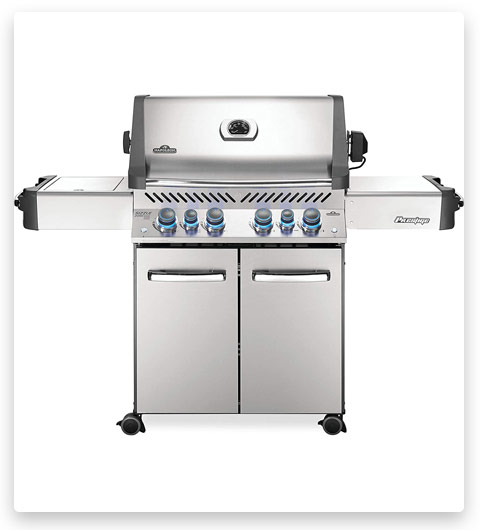 The Napoleon Prestige PRO Series grills are a combination of impeccable quality, functionality, and look. The design of the grill is improved, it has doors equipped with auto-closers, internal lighting of the working surface, illumination of control knobs for more comfortable control in the dark, and all-weather wheels with reliable stoppers. Spacious side tables are convenient for preparing meals and placing kitchen utensils. One allows the use of a built-in ice and beverage container, while the other houses a Sizzle zone infrared burner. You will always have on hand the necessary sauces and seasonings to cook quickly and professionally! This model has a stainless steel spit back burner, 4 heavy wall cross-fired stainless steel tubular burners and an independent JETFIRE flash ignition system.
5# Napoleon Portable Natural Gas Grill
With its compact size and convenient side handles, you can easily take the TravelQ PRO-285 with you and cook like a pro wherever you go. This portable grill is seriously armed! Two independent burners provide a power of 4.1 kW, and on the working surface of this grill you can cook up to 18 burgers at the same time, feeding the whole company. The oversized die-cast aluminum lid of this grill takes portable grilling to a professional level. This model features an ACCU-PROBE temperature sensor, patented WAVE porcelain-coated cast iron grills, and 2 independent cross ignition stainless steel burners for direct and indirect grilling.
6# Char-Broil Classic Liquid Propane Gas Grill – Amazon's Choice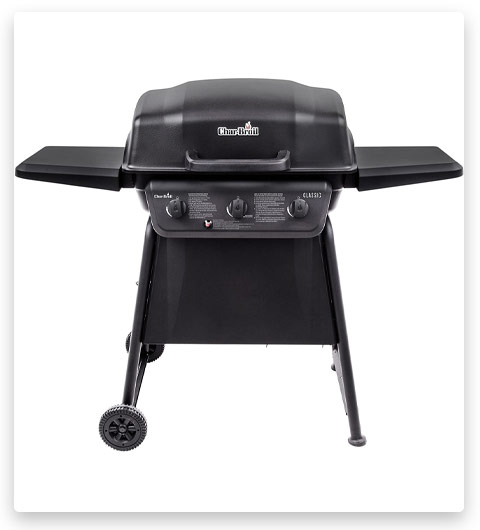 This balanced, medium-sized model with three main burners is perfect for any company. The grill starts at the push of a button thanks to the Piezo ignition system and is ready for use in a few minutes. An additional grill for heating food is covered with heat-resistant porcelain enamel. Wide side benches provide ample space for comfortable work.
7# Fuego F24C Professional Propane Gas Grill – Amazon's Choice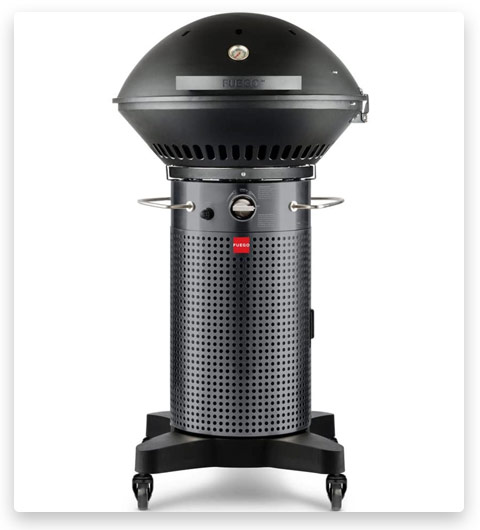 This is a classic natural gas grill and the best choice available today. This model has 525 sq. inches of the grill surface. It will suit a small patio as the grill has a compact design and dimensions of 24″x24″. It does not require a lengthy and complex assembly. You only need to spend 20 minutes and the grill will be ready to use. This is the perfect grill for grilling steaks. The device heats up to 500 degrees Fahrenheit in just 5 minutes.
8# Dyna-Glo DGP397SNN-D Premier 3 Burner Natural Gas Grill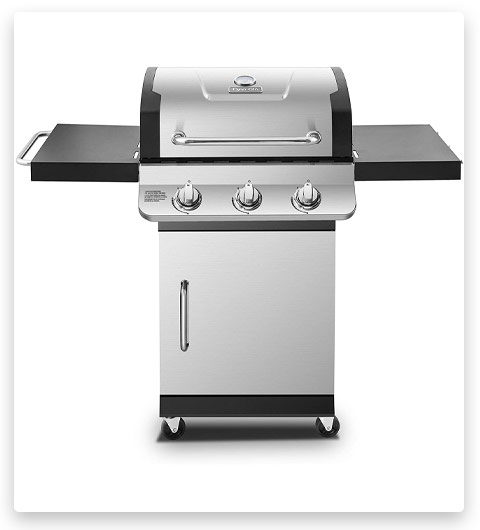 The Dyna-Glo gas grill is a complete outdoor kitchen with not only a side burner and a spit, but also many drawers for all the tools and accessories you need to grill. It can be used to cook steaks or fish for a romantic dinner, bake pizza, grill chicken on a spit, smoke ribs, and grill vegetables. The device has three stainless steel tube burners, cast iron grates that keep heat.
9# Lion Premium Grills Natural Gas Grill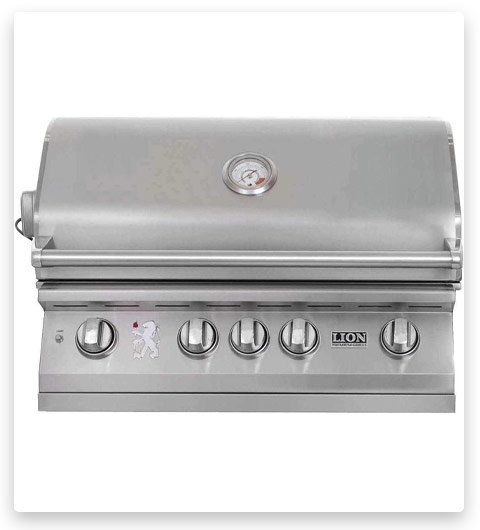 This grill is made of polished 18-8 stainless steel with maximum corrosion protection. It's equipped with infrared technology for intensive heat distribution, a balanced lid with a lock, an airtight thermometer on the lid. With its design, performance, and safety, this grill will certainly surpass all expectations of the most demanding grill-cooking enthusiasts, helping the hostess to feed any number of guests.
10# Kenmore Outdoor Patio Gas BBQ Propane Grill
Gas grill Kenmore conquers with its ease of use, ergonomic design, and unique technologies. The device has a total cooking area of ​​512 Square inches. Powder-coated steel side shelves fold down quickly and easily for compact storage of your grill. Signature 3 burners allow you to cook even more dishes. Create mouth-watering burgers and steaks with a high-quality grill!
11# Bonfire Natural Gas Grill with Cabinet Cart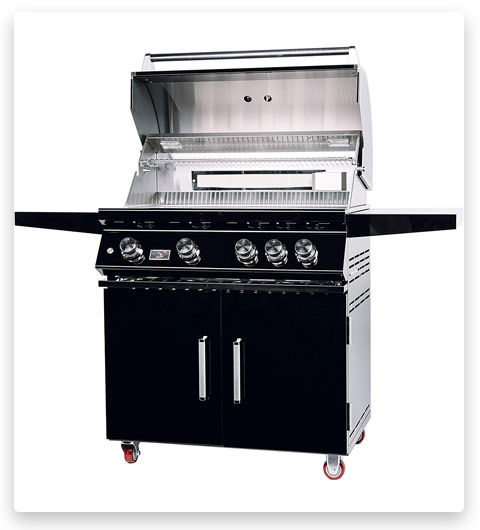 The compact stationary grill is equipped with all the functions of large models and a work surface sufficient for a family or small company. Moreover, it takes up much less space. Foldable side shelves cut the storage space in half! The grill is equipped with 4 burners and has a reliable cast iron grate. Concealed lockable wheels allow fast movement.
Natural Gas Grill Benefits
The convenience of the natural gas grill has made them the first choice for those who want to grill quickly and easily without giving up the traditional barbecue flavor. This last point has improved significantly in recent years and the charcoal flavor has already been reproduced very reliably. To make it even better, some grills include aroma bars that give food a unique smoky flavour. Gas barbecues, although generally more expensive, have a number of advantages over traditional charcoal or wood-fired barbecues:
Fast cooking
Easier to clean
Easy to use
Temperature control
The heat is also distributed evenly throughout the grill, which ensures that food is cooked more regularly without leaving areas more cooked than others, and you do not need to constantly monitor food in case it burns anywhere. It also avoids the time trial effect of traditional grills. The problem with these grills is that after the charcoal or wood is lit, you must use them to cook all your meals. If towards the end of the barbecue you realize that you need to cook more food, it is probably too late.
Natural Gas Grills Buying Guide
Here you will find an explanation of the most important characteristics to consider when choosing a natural gas grill wisely.
Size. To choose which grill size is ideal for you, you must first think about how often you are going to cook and for how many people. If you use it to cook large quantities of hot dogs and burgers for large groups of people, you will probably need a larger grill. It is also helpful if the grill has a warming tray on the sides or top to keep food warm. If you are looking for a grill for regular use by a family of 4, two burners and a cooking area of ​​about 1800 cm2 are sufficient.
Material. The material from which the grill is made is also important because it not only determines the durability but also affects the distribution of heat and therefore the quality of the food. Stainless steel grills are considered ideal because they distribute heat better and prevent mold. Those made of ironwork well and retain heat better, but over time they can grow mold or corrode and are less durable. The vast majority of grills have an enamel or porcelain finish to improve heat retention and facilitate cleaning. In this case, you have to be careful because they are also more fragile. First of all, be careful when cleaning them if they are hot, as this can damage the material.
Cooking Power. Heating power is often measured in British thermal units (BTU), but this measurement is not really related to cooking speed or quality. BTU does not indicate the amount of usable heat a grill can generate, but rather the amount of fuel it consumes. For this reason, it is much more useful to calculate heat flux, which is BTU divided by cooking area (although manufacturers usually do not report this data). To give you an idea, the most common heat flux for a gas grill is usually 35 BTUs per cm2. But due to the many variables that affect it, it is not very important to look at this characteristic.
Heat Dissipation System. It is more important to pay attention to what kind of protection and heat dissipation system places the grill above the burners. Usually, these are metal plates, which may or may not have perforations, which protect the burners from dripping and help to better distribute the heat flow.
Conclusion
Outdoor natural gas grills are becoming more popular than coal or wood-based grills due to their ease of use and speed of launch. While they are not ideal for slow cooking certain types of meats, today they are capable of producing a taste very similar to that of charcoal. For high-temperature foods such as steaks, hamburgers, ribs, fish, or vegetables, it will be nearly impossible to distinguish the taste of a gas grill from a charcoal one. It is true that they tend to be more expensive, but it is also true that good quality best outdoor natural gas grills will last you for many years. For all of these reasons, I recommend that you stick to the savings and get a reliable and durable gas grill. I have told you about the best products on the market however if you cannot make a final decision take another look at these models 1# Weber Spirit II E-310 3-Burner Natural Gas Grill – Amazon's Choice, 2# Weber Genesis II S-335 3-Burner Natural Gas Grill – Amazon's Choice and 4# Napoleon Prestige 500 RSIB Natural Gas Grill.
Tags: #best natural gas grills / #best outdoor natural gas grills / #best natural gas grills under 500 / #natural gas outdoor grills / #outdoor natural gas grills