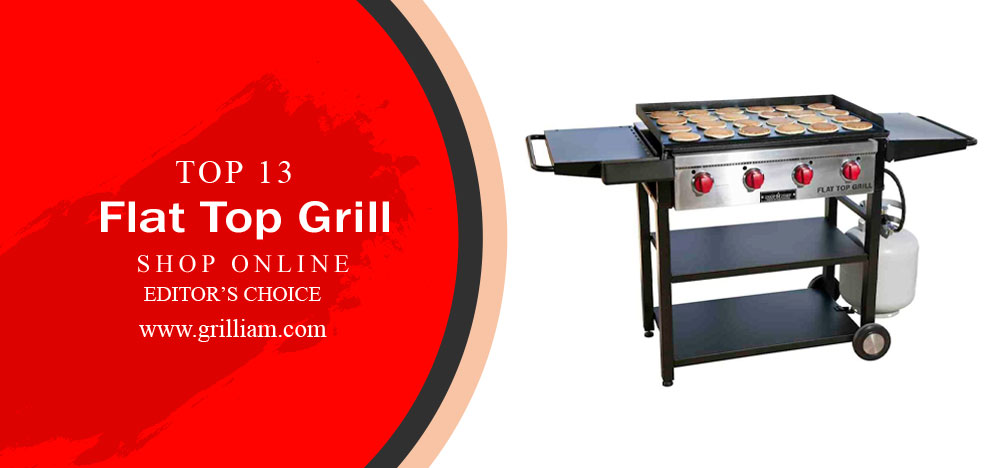 The 13 Flat Top Grills: A Guide for Getting the Best Grill
Nothing starts your day better than a fresh portion of freshly cooked grilled food. Imagine waking up early in the morning and going to the kitchen to pour some milk into a bowl of cereal. Doesn't sound like the tastiest breakfast? Now envision that your milk has turned bad. No cereal for you now.
You may have some pre-cooked food waiting for you to get microwaved. In the worst-case scenario, you'll have to skip breakfast. Now, what if you could instead head straight to your backyard and grill some food very fast? Imagine the smell, the aroma, and the taste of grilled meat and eggs. Now that's the way to start your morning! With Flat Top Grills, these visions can become a reality.
What if you don't have a backyard? I have a surprise for you! Unlike regular griddles, Flat Top Grills are much more accessible and can be used to cook even indoors. Some of them, at least. They are versatile, allow for full temperature control, and they also heat quickly so you wouldn't have to wait for eternity until your food is done.
Flat Top Grills is an amazing party magnet. They have large surfaces that allow cooking large quantities of food all in one go. The temperature is distributed evenly through the whole surface. You can be sure that every guest receives an equally juicy and tasty piece!
So, want to boost your nutrition now? What grill should you choose then? That's a tough question because the market is oversaturated with them. But don't get your hopes down because I've got you covered with this list of hand-picked griddles and barbecue machines!
If you want to find out about the benefits and peculiarities of grilling? Then keep on reading. In this article, I'm going to tell you about the benefits of barbecuing and give you my personal Top 13 of the best flat-top grills on the market.
1# Blackstone Outdoor Grill Griddle Station Flat Top Gas Grill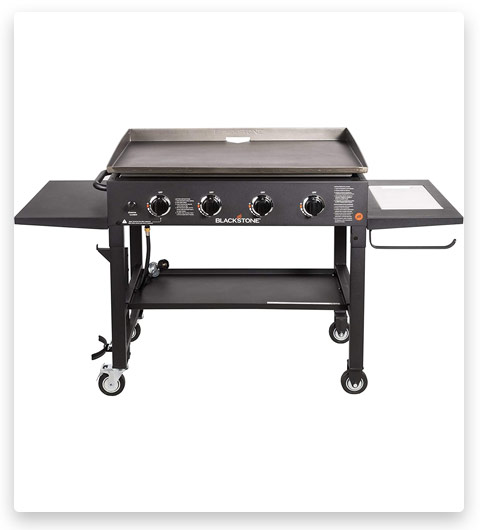 A good way to start this list is with this great grill for backyard enthusiasts. It's a truly massive piece of technology. Don't worry that it comes unassembled, though. The package comes with instructions that will make setting it up much easier. Once you compile the grill, you're basically ready to go. It's equipped with an electric push-button for faster ignition. With over 720 square inches of cooking space, you'll be able to cook vast amounts of food for a huge party without a problem. The grill has a side shelf that provides all sorts of comfortable sections like the cutting board, towel holder, and trash bag hooks. Be sure to maintain this thing properly and clean it regularly if you don't want to be covered in mold. Other than that, this flat-top grill can change the way you approach cooking forever!
Highlighted features:
4-burner grill.
Propane fueled.
Includes removable cutting board, towel holder, and trash bag hooks.
720 square inches of cooking space.
Battery-powered ignition.
Suitable for outdoor cooking.
Total of 60,000 BTU output (4 controlled 15,000 BTU burners).
Weights over 134 pounds.
Dimensions: 40 x 25 x 14.5 inches.
2# Presto 07061 22-inch Electric Griddle with Removable Handles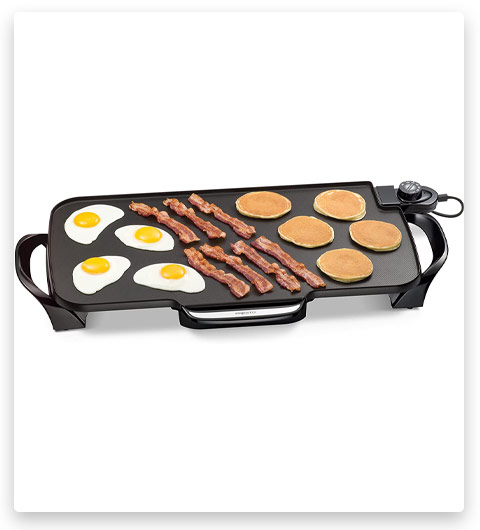 An almost perfect solution for people who want to grill quickly in the confines of their kitchen. Presto's electric grill is terrific in its simplicity. It has no learning curve, and absolutely anyone can cook even without experience. Prestos griddle has enough cooking area to grill cuisine for an entire family. I would've called this product perfect if not for one major downside. The heat isn't distributed evenly across the whole cooking area. It's not a big of a deal for most food, like bacon, steaks, eggs, or bread. However, some products, like pancakes, won't be perfect due to this limitation. But the price is fantastic! If you're looking for a cheap flat top grill that you can easily cook breakfast on, this product will do you wonders!
Highlighted features:
Made from metal and plastic.
231 square inches of the cooking area.
Non-stick surface.
Perfectly suited for indoor cooking.
Electric ignition.
Master control for temperature adjustment.
No need for assembly.
Weighs slightly over 5.65 pounds.
Dimensions: 11.5 x 26.2 x 2.5 inches.
3# Blackstone Table Top Grill – 17 Inch Portable Gas Griddle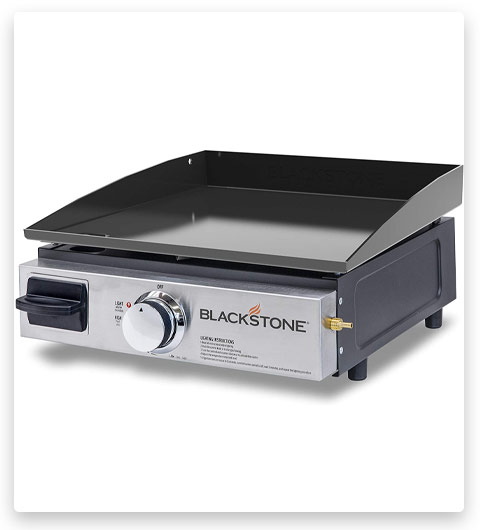 Blackstone tabletop griddle is a great choice if you're looking for a versatile product. You can use it both inside your house or take it with you on road trips, picnics, or camping trips. With over 260 square inches of space for food, you can feed a couple of families in one go. Aside from the customer service, which, reportedly, leaves a lot to be desired, I can't find any drawback to this grill. If you love to cook fast and on the go, Blackstone's griddle is one of the best flat top gas grills you can get in 2021.
Highlighted features:
Propane filled.
Electric igniter.
Over 260 square inches of space for cooking.
About 12,000 BTU output.
Suited for both indoor and outdoor use while camping, tailgating or picnicking.
Weights about 21 pounds.
Dimensions: 17.5 x 18 x 8.5 inches.
4# Cuisinart CGG-888 Grill Stainless Steel Lid 22-Inch Round Outdoor Flat Top Gas Grill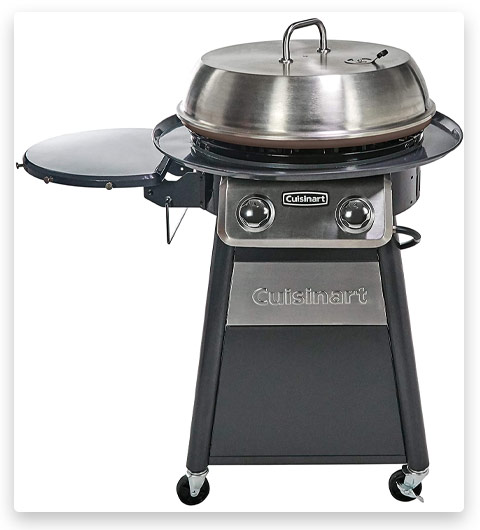 Cuisinart grill is an excellent grill suited for grilling outside your house. You can also use it indoors, but only if you have proper, preferably mechanically induced ventilation. It comes unassembled, but you'll figure out how to put it up fairly quickly. This flat-top grill is ok for barbeque enthusiasts, but it's definitely not perfect. It has one major downside, which is its durability. Some parts of it, like the handles, the latch, and even igniter, can wear off in a few years. If it were priced a little lower or had good customer support, I could've recommended it. As of now, it's a nice grill that comes with a considerable risk of falling apart after excessive use.
Highlighted features:
Suited better for indoor and outdoor use.
Over 30,000 of total BTU output.
Two independent temperature-controlled burners.
Comes unassembled.
Removable 360-degree grease pan for easier cleanup.
Over 276 square inches of cooking space.
Includes additional accessories and a paper towel holder for your convenience.
Weights over 60 pounds.
Dimensions: 31.8 x 40.1 x 43.6 inches.
5# Evo Professional Series Gas Grill on Cart 10-0002-LP Seasoned Steel Cooktop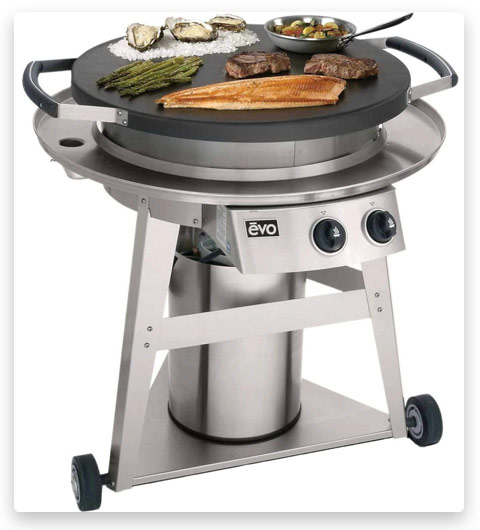 This beast can get incredibly hot very fast. With a large grilling space of over 650 square inches, you can feed a whole neighborhood! Cook steaks, burgers, hotdogs, or anything else your heart desires. Although, under no circumstances, don't dare to use it at home! It's only for outside use, preferably for your backyard. This is definitely not something a barbeque newcomer should target. I recommend this machine for seasoned professionals or businesses.
Highlighted features:
Suited only for outside cooking.
Over 48,000 BTU output.
Over 650 square inches of space dedicated to grilling.
Made from heavy-duty stainless steel.
Propane grill.
Electric ignition.
Circular burners with temperature control knobs.
Weights over 250 pounds.
Dimensions: 40 x 40 x 37 inches.
6# Camp Chef Flat Top Grill FTG600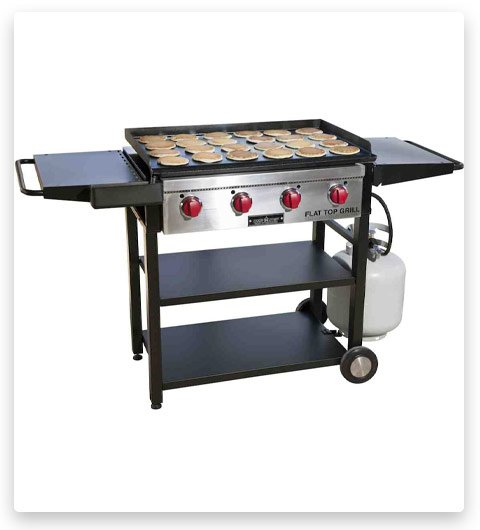 An all-around great flat top griddle suited barbeque parties or producing high quantities of freshly grilled food. It's very professionally built and can last you for decades if you are careful with it. The toughest part is to set it up using the instructions. However, once you do, you'll master cooking on this thing in no time. This flat-top grill can take tons of food at once. The heat is distributed equally and consistently over the cooking area. With Camp Chef's FTG600, you can cook for tens of families per hour. I highly recommend it for restaurants, cafes, or chefs who like to throw huge parties.
Highlighted features:
Four steel burners.
Suited for outside cooking.
48,000 of total BTU output.
The griddle cooking surface is 501 square inches, while the grilling area is over 600 square inches.
Electronic ignition system.
Comes unassembled.
Interchangeable flat top griddle.
Weights over 142 pounds.
Dimensions: 62.5 x 37 x 22 inches.
7# M.D.S. Cuisine Cookwares Comal Concave Stainless Steel 22-inch Set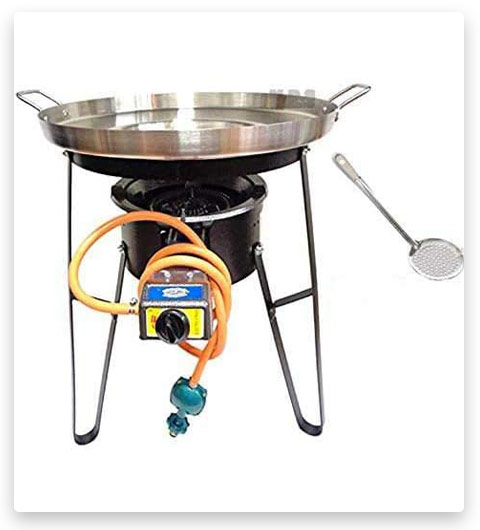 The Comal Concave's flat top grill is decent enough equipment that gets the job done. It's well-built, yet it features bizarre design choices. For example, it has screws on high-pressure sealed clamps which can be outright dangerous. Still, it has its perks. This grill is very easy to use, easily movable. The Comal disc pan is terrific for cooking large quantities of food. Overall, it's a good deal considering the low price.
Highlighted features:
Made from stainless steel for higher durability.
Propane gas burner.
Over 30,000 BTUs at maximum settings.
Electric igniter.
Comes unassembled.
Weighs over 37 pounds.
Dimensions: 30 x 25 x 27 inches.
8# Backyard Hibachi Flattop Propane Gas Grill – Torched Cypress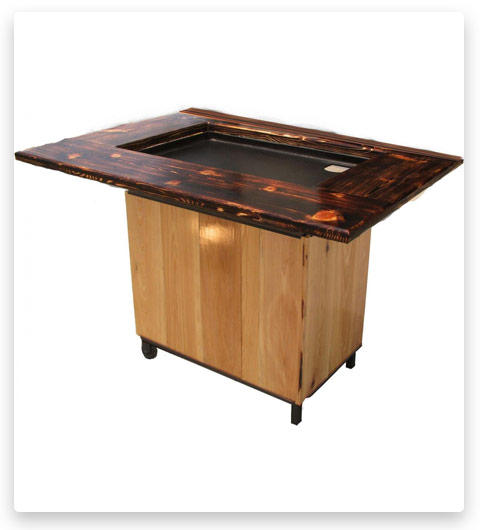 This product is for those barbeque enthusiasts who value luxury. It's an expensive, very stylish, and durable flat-top grill. This beast can make up to 30 steaks or burgers at once with its 693 square inch area. It is extremely easy to use, and it has additional functions apart from being a great griddle. For example, why not use it as an outdoor banquet table for all the delicacies you made? Even in relatively cold weather, it can warm your legs when you sit at it. This grill is going absolutely great at attracting guests to your household!
Highlighted features:
Laminated wood top and high-quality stainless-steel base.
Liquid propane gas grill.
Electric ignition.
Over 60,000 BTU output.
Over 693 square inches of cooking space.
Removable dishwasher and drip tray.
Weights over 200 pounds when assembled.
Dimensions: 58 x 36 x 41 inches.
9# Blackstone Outdoor Flat Top Gas Grill Griddle Station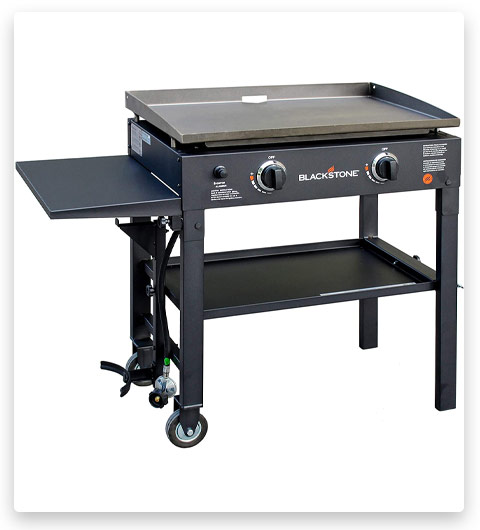 Blackstone's griddle is an amazing tech from almost every point of view. With this flat top grill, you can expand your diet with freshly grilled delicacies made in your backyard. It's very easy to use. It also has amazing value and great design. You'll likely find a better flat top gas grill for this price. And, believe me, with some proper maintenance and regular cleaning, this thing will last you for a very long time.
Highlighted features:
Propane fueled.
Suite for outdoor use.
2-burner grill with 15,000 BTU output each.
Electric ignition.
Over 470 square inches of cooking area.
The grill is available only in an unassembled state.
Weights over 75 pounds.
Dimensions: 44.5 x 19.5 x 33.5 inches.
10# Royal Gourmet PD1300 Portable 3-Burner Propane Gas Grill Griddle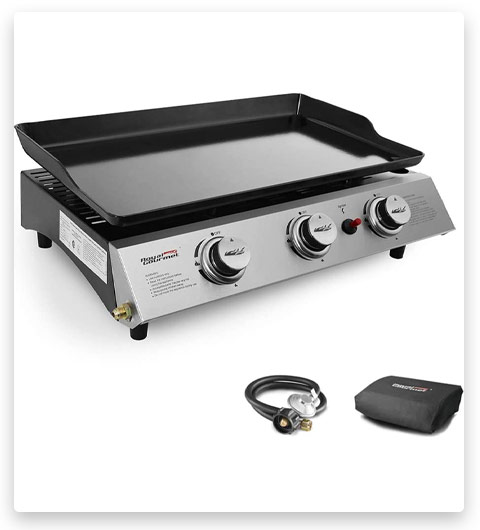 This griddle is for those who are looking for a perfect balance between good cost and effectiveness. Don't judge it by its size. Royal Gourmet's PD1300 is a surprisingly powerful flat top grill despite being compact and light. If you're after an efficient yet straightforward gas grill that can make over a dozen meals at the same time, this product will definitely make you happy!
Highlighted features:
Three burners with 9,000 BTU output each (27,000 BTU total).
326 square inches of cooking area.
Suited for your kitchen.
Made from porcelain-coated stainless steel.
Electric ignition.
Also available in a 2-burner version with 232 square inches cooking surface.
Weighs 30 pounds.
Dimensions: 24.1 x 13.5 x 9.5 inches.
11# Blackstone 1554 Station 4-burner Propane Fueled Professional Flat Top Gas Grill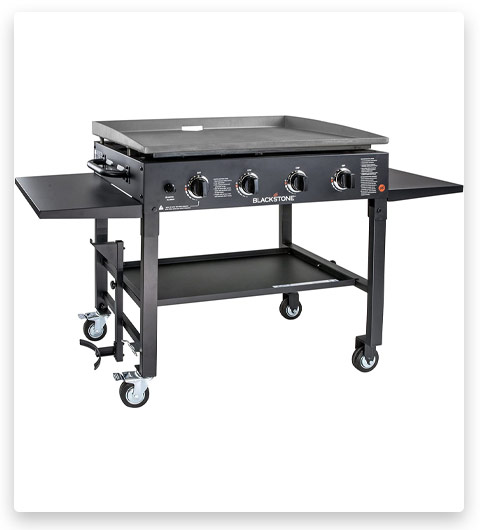 Blackstone's 4-burner flat top grillage is an outstanding piece of technology. You'll likely find anything that can cook up to 40 burgers at once so fast while costing under 300 dollars. There are some minor inconveniences I found. However, it's a sturdy, reliable, and powerful machine that can transform you into a grill king in a few weeks of practice.
Highlighted features:
4 independently controlled burners.
36-inch cooking surface (over 720 square inches).
The total output is a staggering 60,000 BTU.
Electric ignition with a push-button.
Secure and sturdy wheels.
Propane fueled.
Comes unassembled.
Removable griddle top.
Available with a stainless steel top for an extra price.
Weights over 120 pounds.
Dimensions: 62.5 x 22 x 36 inches.
12# Royal Gourmet Portable Propane Gas Grill and Griddle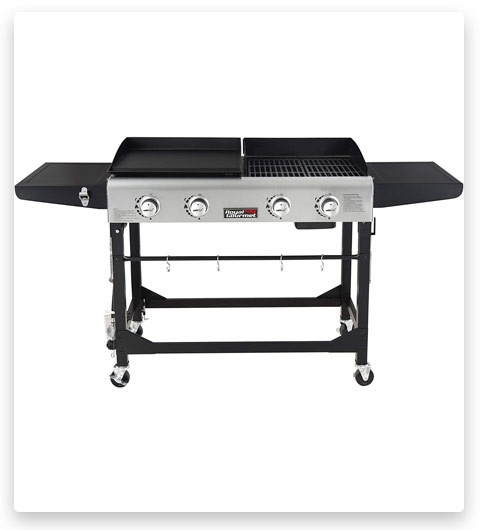 Now, I'm a little on the fence with this grill. It's very well built. Definitely professional-grade equipment. It has a big surface for grilling. I'm a bit old-fashioned, and I like to measure the grill's capability in the number of burgers it can cook at the same time. This griddle can make up to 12 burgers simultaneously. It's easy to use and master. But boy, oh boy, it is not easy to compile. The shipment is particularly awful. Many customers report that they received insufficient parts, and many details were damaged. Therefore, I can recommend this grill, but be very careful to double-check the package before accepting it. Other than that, it's a very well-made product with a reasonable price tag.
Highlighted features:
4-burner flat top grill.
Comes unassembled.
Over 584 square inches of total cooking space.
4 different cooking zones with a 48000 BTU output.
Includes additional features like extra working space, a cart with hooks for tools, and a bottle opener (for beer cans, obviously).
Electronic push-button for ignition.
Removable drip pans for easier cleanup.
Weights over 103 pounds.
Dimensions: 66.1 x 21.8 x 43.7 inches.
13# VIVOHOME Tabletop 2-Burner Gas Grill Portable BBQ Grid
Another versatile addition to a list of barbeque machines. Vivohome's flat top 2-burner grill is easy to use, sturdy, and relatively compact product for a reasonable price. Just don't get to frustrated with the cleaning, since it has to be maintained regularly. Overall, it's a nice all-around grill that you can take on the road, and be confident it'll work just great.
Highlighted features:
Made from durable and heat-resistance stainless steel.
Suited for indoor and outdoor barbecuing.
Over 20,000 BTU output.
277 square inches of the barbecue area.
Electric ignition.
Weighs about 25 pounds.
Dimensions: 26.7 x 20.7 x 15.3 inches.
Frequently Asked Questions & Answers About These Product – Flat Top Grill
Conclusion
Each flat top griddle we covered in this article has its own specificities and price range. You need to understand what exactly you want from your barbecue machine. For those who love to cook in the confines of their kitchen, I recommend 2# Presto's 07061 22-inch Electric Griddle with Removable Handles. Grill masters who want to grab a grill for a picnic or camping would absolutely love 3# Blackstone's Table Top Grill. Whatever you look for in a grill, this list got you covered. Just don't get nervous about buying a new product or stepping into the barbecuing territory. Feel free to try something new, and don't postpone it. Maybe you are just a step away from spicing up your diet with amazing, freshly grilled delicacies!
Tags: #best flat top grill / #best oil for flat top grill / #best outdoor flat top grill / #best way to clean a flat top grill / #what is the best flat top grill