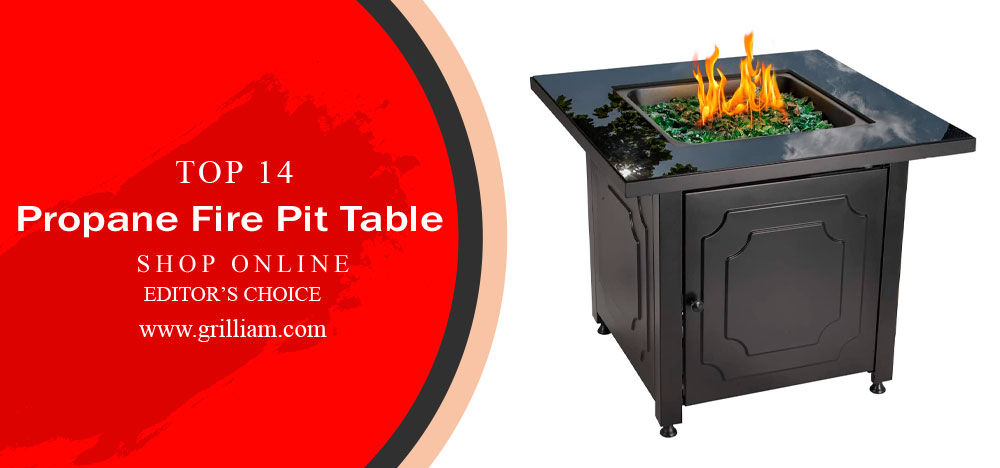 Propane Fire Pit Table – 14 Best Propane Fire Pits Reviews
A fire pit will perfectly help to decorate your yard and warm you in the cold winter. Especially if you live in a rather cold region. Even if not, it's always nice to get together with family or friends in the late evening and sit by the fire. Finding the right model can be time-consuming. Therefore, in this article, we reviewed the 14 best propane fire pits that are available on the market today. If you're looking for a beautiful, ergonomic, and warm propane fire pit, get down below!
What Is A Propane Fire Pit Table?
The fire pit table is a decorative element designed to keep your yard warm and light. Most often it looks like a table with a fire in the center, but sometimes the design can be different and be in the form of a bowl or something else. These pits are called propane because there's a propane tank inside them that supports the fire. Although there are pits powered by other sources, propane is the most convenient. Because it's long-term and cheap. Usually, a fire pit is surrounded by a small area, behind which you can eat, have a glass of wine, and just have a good time. The fire pit material is mainly steel and stone. Steel is much more durable, but the stone is more pleasing aesthetically and tactilely. Therefore, here you choose the material that you like.
Our Selection of the 14 Best Propane Fire Pits
| Image | Product | Brand | Link |
| --- | --- | --- | --- |
| | | | |
| | BALI OUTDOORS Gas FirePit Table, 28 inch 50,000 BTU Square Outdoor Propane Fire Pit Table with Lid and Blue Fire Glass | BALI OUTDOORS | |
| | BALI OUTDOORS Chimenea Outdoor Fireplace Wooden Fire Pit, Brown-Black | BALI OUTDOORS | |
| | BALI OUTDOORS Propane Gas Fire Pit Table 32 inch 50,000 BTU Square Gas Firepits for Outside, Brown | BALI OUTDOORS | |
| | Outland Living Series 403-Espresso Brown Fire Table, Espresso Brown/50,000 BTU | Outland Living | |
| | Best Choice Products 48x27-inch 50,000 BTU Outdoor Patio Rustic Farmhouse Wood Finish Propane Fire Pit Table and Gas Tank Storage Side Table w/ Weather-Resistant Pit Cover, Glass Rocks - Brown | Best Choice Products | |
| | Bond Manufacturing 68487A lari Outdoor Gas Fire Table, Antique Black | Bond Manufacturing | |
| | Endless Summer 30" Outdoor Propane Gas Black Glass Top Fire Pit (Green Fire Glass) | Endless Summer | |
| | U-MAX 44in Outdoor Propane Gas Fire Pit Table, 50,000 BTU Auto-Ignition Gas Firepit with Glass Wind Guard, Black Tempered Glass Tabletop & Blue Glass Rock, Black PE Rattan, CSA Certification | Unknown | |
| | | | |
| | MinLiving Patio Outdoor Propane Fire Pit Table, 60,000 BTU 42'' Rectangle Propane Gas Fire pits for Garden Backyard Decking Patio, with Free Lava Rocks and Electronic Ignition | MinLiving | |
| | | | |
| | 65" Rectangular Concrete Gas Fire Pit Table with Glass Guard and Fire Glass in Brown (65" Rectangular Brown, Clear Crystals) | AKOYA Outdoor Essentials | |
| | | | |
| | Terra Flame Tabletop Fire Bowls Basin – Graphite Table Top Fire Bowl for Indoor and Outdoor, Portable Fireplace and Table Top Fire Pit for Patio, Basin Design Centrepiece | Terra Flame | |
| | Manhattan Fire Pit - Propane | Elementi | |
Fire pits are a very beautiful and useful element, which is very atmospheric to spend time with, especially with family or friends. Let's take a look at the models we've prepared for you.
1# Tacklife Propane Fire Pit Table 28 Inch With Cover – Best Fire Pit Overall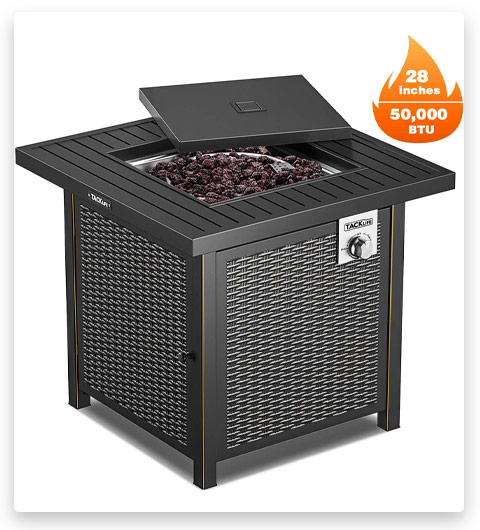 We liked this fire pit because it has a very attractive price and excellent performance. Therefore, we chose it as the best. The pit has a good 28″ table area. While most of this is taken up by the fire, the pit comes with a lid that you can use to cover the burner until you burn. Thanks to this, you can use the fire pit as a coffee table or dining table. Propane cylinders are very easy to change thanks to the lower door. It opens very easily and looks graceful and elegant.
Braided substitutes and black paint are used on the sides. This model may not look as aesthetically pleasing as the other pits on the list, but the body of the pit is corrosion-resistant. Therefore, you can don't worry that the structure will be covered with rust after the first rain. Moreover, when the characteristics of the burner are at the highest level. The propane fire pit has a capacity of 50,000 BTU to keep you and your friends warm even in the coldest weather. Overall, this is a great model, especially if this is your first time buying a fire pit. It's cheap, reliable, and durable.
2# Bali Outdoors 28 Inch Square Table Propane Fire Pit Table – Best Portative Pick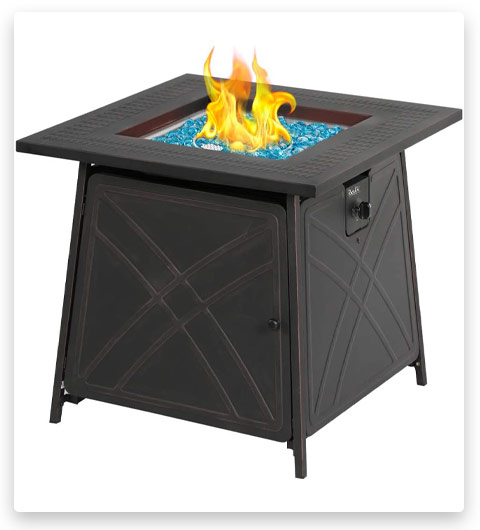 We like how the design is thought out here. This is a square brazier with a small protrusion, which allows it to be used as a table and save as much space as possible. Unlike most fire pits, this one doesn't need to be installed in a permanent place. It's quite sturdy, so you can carry it anywhere in your yard without effort. In terms of aesthetics, this pit works well with just about any background other than colorful and vibrant decorations.
A simple black design will complement any ambiance. As with the previous model, this one has a remarkable performance. You get 50,000 BTUs. This will be enough to cope even in the most severe frost. Fiery glass is also used here for decoration, although there were lava rocks in the old models. Propane cylinders are very easy to use and change. The pit is quite economical and uses one cylinder for a long time. This is a great low-cost fire pit made from lightweight yet durable material with powerful performance. For more information on grills brand BALI OUTDOOR you can read it here: BALI OUTDOORS Fire Pit Review.
3# Outland Living Series 403 Espresso Brown Propane Fire Pit Table – Best Design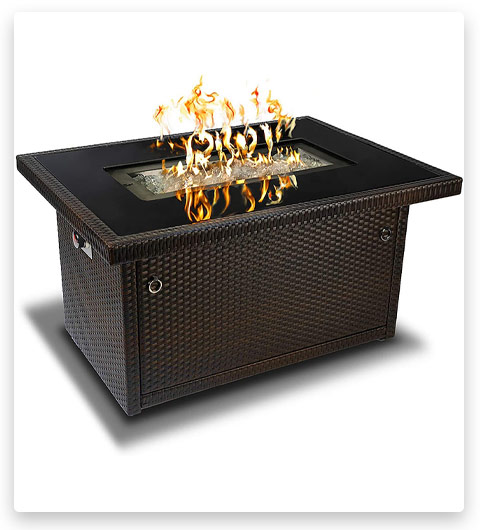 When you look at several hundred fire pits, almost all the models start to look alike and it's difficult to notice any sophistication in the design. But this model seemed to us to stand out. This is one of our favorites in terms of design. It has excellent wicker side walls made of quality material, a pleasant coffee color. This model is versatile and fits into any interior. But, unfortunately, it loses in terms of heating characteristics. The pit has a capacity of only 35,000 BTU. This is enough to keep warm in the wind in the middle or even late autumn. But when it gets really cold, it loses out to more powerful models.
The pit is very easy to use and doesn't cause any inconvenience, except for the propane change process. The tank is quite difficult to insert due to the pit construction, so we constantly had to fiddle with inserting the propane tank. In combination with the price, this model is high quality, and if the burner were at least 5,000 – 10,000 more powerful, we would choose it the best on the list.
4# Best Choice Products Fire Pit With Side Table – Best Fire Pit T Kit
If you need a multifunctional fire pit that perfectly complements a romantic evening with a partner or gives a cozy atmosphere during gatherings with friends, then you should take a closer look at this option. In addition to the fire pit itself, the kit includes a table that can also serve as storage for various small items and propane. The table can also be used as a decorative element by simply placing beautiful drinks or a vase of flowers on it.
Let's move on to the construction. On the one hand, it looks a bit cheap. But on the other hand, minimalism gives it versatility, so it'll look good in any yard design. If you don't like lava stones that blend in color with the fire pit, you can replace them with a brighter colored glass. This fire pit is quite powerful – 50,000 BTUh. The heat from it will be enough even for a cold climate. But it's heavy to carry because of its impressive size: 48 inches long, 27.25 inches wide. In general, this is an excellent model that can be adjusted to any interior. If you don't want to take risks with the design and power, then you can take a look at this option.
5# Bond Manufacturing 51228 Stone Fire Pit – Best Budget Pick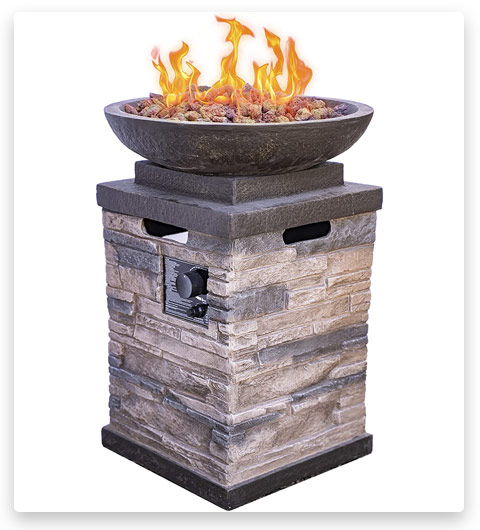 The design of such a fire pit looks quite unusual. The control panel, which is attached to a very prominent place, slightly worsens the overall appearance of the fire pit. Unfortunately, you can't put a lot of drinks on this fire pit table, as the table area is narrow. In terms of power, it's also very high-quality. 40,000 BTU is enough for cold weather. The fire pit itself is made of ecological stone, which is resistant to ultraviolet radiation. This fire pit table has a remarkable flame. It can range from soft and soothing to truly mesmerizing and roaring. We advise you to take 2 or 4 of these fire pits so that they look harmonious with each other.
6# Endless Summer 30 Inch Propane Black Fire Pit Table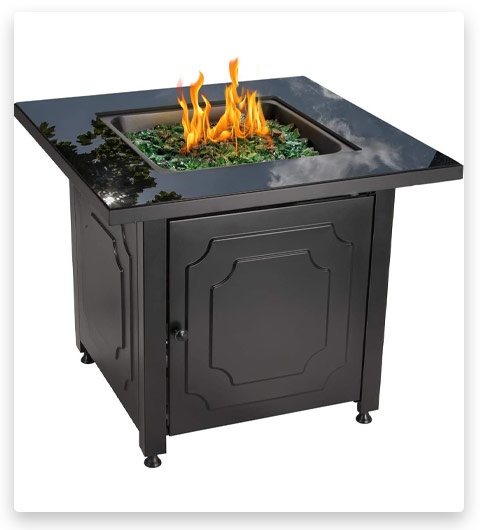 The color scheme of this fire pit is good enough. Green glasses look impressive, especially in contrast with the red-orange flame. Thanks to this design, it'll perfectly fit into the area next to the pool or with a green lawn. The tabletop is of high quality and has a stone pattern. But the fire pit is made so that the flame is too movable. Therefore, there's a risk of getting burned when you put or take an object from the tabletop. The propane tank is convenient to store in the side panels, which elegantly hide it. The fire pit is large: 30 inches long, 30 inches wide, 25 inches high. The manufacturer took care of the ignition safety. So, it has a safety valve and piezo ignition, which makes it easier to start. This pit fire is quite powerful: 50,000 BTU. However, it should be borne in mind that the glass is poorly heated and almost does not hold heat. Compared to volcanic rocks, glass freezes instantly.
7# U-Max 44 Inch Outdoor Propane Fire Pit Table Auto-Ignition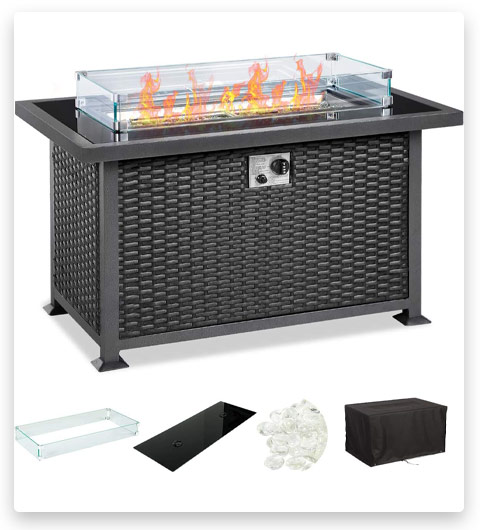 If you need a large but easy-to-use fire pit, then take a look at this option. It's a very cheap but quite durable model that'll serve you for many years. This fire pit is made of stainless steel in elegant black color. The sides are lined with durable braided material. So the aesthetics are well done here. The power of the fire pit also has several good qualities. Firstly, the side panel will easily fit a propane tank. Secondly, a small table is quite practical. You can put many drinks or dishes on it. They will not burn, as the fire does not swing much even in the wind. Third, the high heat output of 50,000 BTU will ensure a comfortable temperature even in very cold weather. A push-button spark ignition system will appeal to you with its convenient operation. Also included is a glass windshield that reduces the risk of a fire going out during bad weather.
8# OT Qomotop 28 Inch Outdoor Propane Fire Pit Table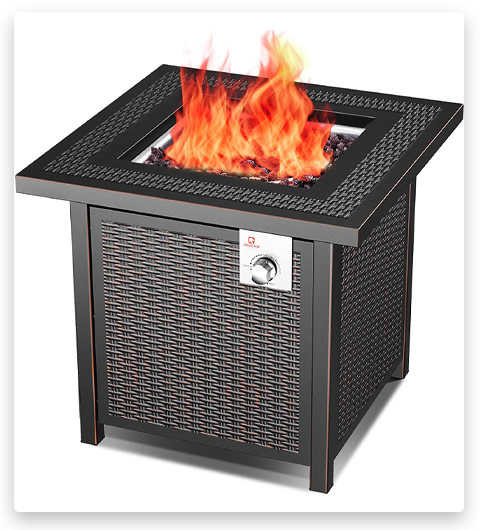 If you want to buy a fire pit that can be used as a coffee or dining table in everyday life, then consider this option. In the kit, you'll get a lid that'll help you use the fire pit, even when you don't ignite it. The side panels are made of fairly strong woven mesh. We recommend placing such a fire pit next to wicker wooden chairs, to give an atmosphere of comfort. The fire pit capacity of 50,000 BTU is enough to keep your friends or family warm on winter evenings. On the side of the table, you'll find a handle that helps regulate the flame. The fire pit won't take up too much space, as it's 28 inches long and wide. But the height of the table may please you-25 inches. This is quite a comfortable height, to put small dishes and drinks, without leaning over the fire. Building a fire pit can be quite difficult and take about an hour. However, in the process of using it's extremely convenient and practical. Therefore, we recommend that you take a closer look at this option.
9# Minliving Patio Outdoor Propane Fire Pit Table 42 Inch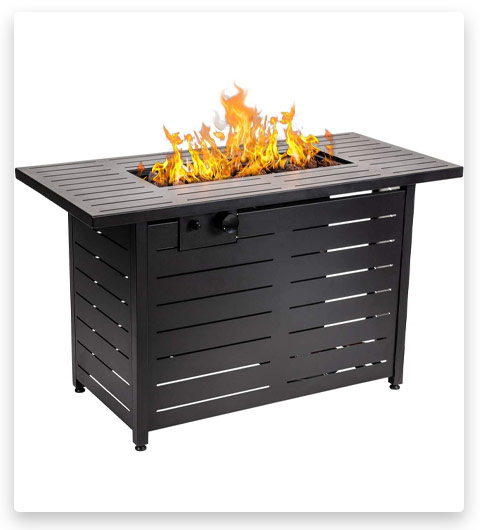 If you need a small, but brutally powerful fire pit, then look at this model. Let's start with the design. This fire pit looks beautiful but the side panels don't completely cover the propane tank. This design will go well with the stone and wood structures. The fire pit is ideal for areas with a very cold climate. Its capacity is 60,000 BTU. The table is quite wide. Also, this model is very easy to use. You don't need to spend a lot of time on ignition because it provides a comfortable electronic ignition setting. We strongly advise you to consider this option, as, for this price, its power is impressive.
10# Femor 30 Inch Auto Ignition Propane Fire Pit Table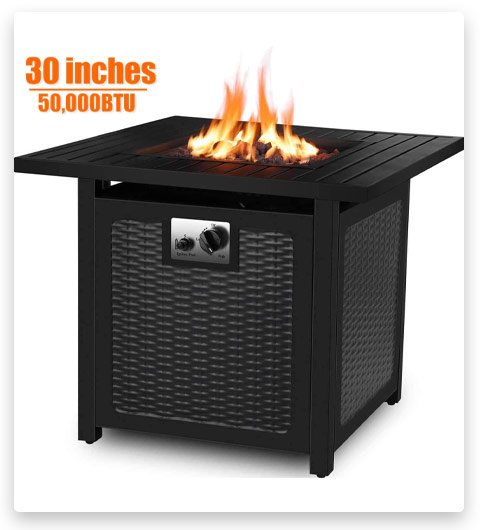 This fire pit looks concise and reliable. At the same time, the ease of use and practicality in this model is very attractive. The fire pit has a waterproof cover that will allow you not to worry about getting snow or rain inside. Also, in the absence of a fire, you can use it as a bar or coffee table. This model of fire pit has good power – 50,000 BTU. At the same time, you can adjust the strength of the fire due to the built-in electronic device. It is also quite lightweight, so you can easily carry it. In general, this fire pit is extremely practical. Inside the table, you can store propane and do not worry about the ugly appearance of the tank. However, we don't like the control panel. It catches the eye, which spoils the overall composition. A small disadvantage of the design is the lava stones, which look a little faded against the background of the fire. But you can replace them with colored glass if you want.
11# Akoya Ourdoor Essentials 65" Rectangular Propane Fire Pit Table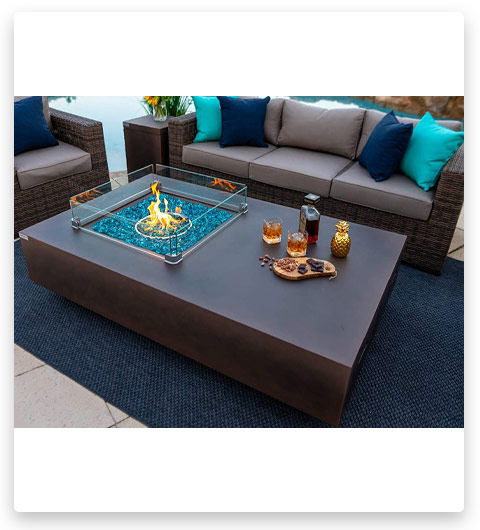 If you need an excellent fire pit design that people will throw envious glances at, then this model is for you. It is worth noting that this fire pit can be used as a large table. Its dimensions are really impressive: 60 inches long, 45 inches wide. Also quite comfortable height-16 inches. The design of this table is striking. Minimalism is combined with a bright accent on the fire pit, which is filled with blue fire crystals. Combined with the orange flame, it looks mesmerizing.
The heat output is quite good – 50,000 BTU, so it is suitable for use in bad weather. A small discomfort can be caused by the presence of a propane cylinder outside the table. It is connected using a gas hose. However, you can replace propane with natural gas if you wish. This model will serve you for more than a dozen years because it is cast in fiber-reinforced concrete and steel. However, it should be borne in mind that the price of such a fire pit is extremely high. If you have a large budget and want a stunning fire pit that will be remembered by all your guests, then you should look at this option.
12# Tacklife Propane Wired Fire Pit Table 28 Inch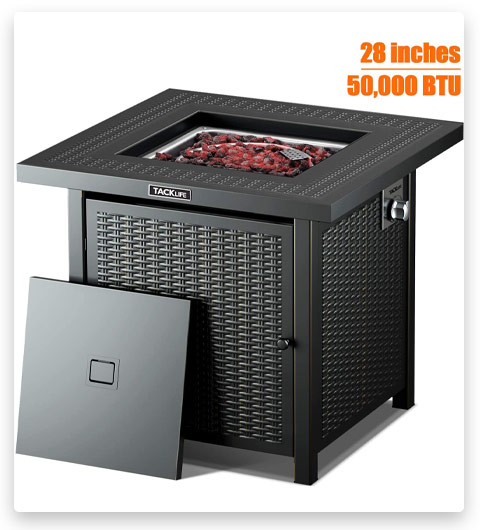 If you need a strict design and ease of use, we recommend this model. This fire pit can provide you with a good adjustable flame, as its capacity is 50,000 BTU. It will also please you with its quality. The model is made of stainless steel, which ensures a long service life. Also, a special coating protects the pit from rust. Thanks to the lattice design, this fire pit is not afraid of scratches or cracks. We don't recommend combining this model with a stone courtyard design. The fire pit will look better against the background of a lawn or tree. In the absence of fire, you can cover the fire pit with the lid that is included in the package. In this case, your fire pit will turn into a comfortable dining table or bar. It is worth considering this fire pit, as it has a good capacity, can be used as a table or bar, and is inexpensive.
13# Terra Flame OD-TT Small Fire Pit Without Table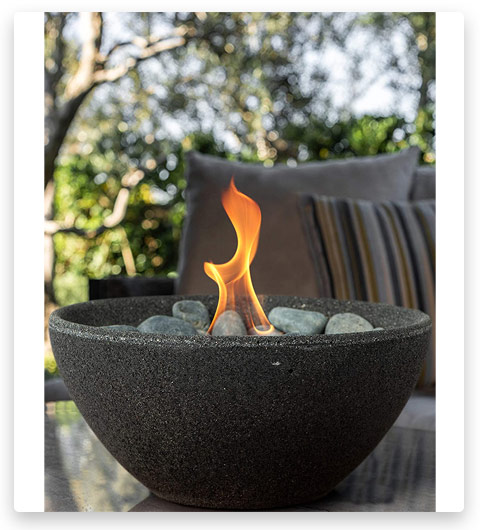 If you don't need a large fire pit that you want to put in the garden for a long time, we recommend that you consider such a small model. This elegant bowl is very light, so you can carry it and put it in any convenient place. At the same time, it will create a sense of harmony and comfort. The design of such a fire pit is extremely simple and concise. Such a bowl can be placed in the yard or by the pool, or you can even take it with you to a picnic. This model is cast manually from concrete. For ignition, a special TerraFlame gas cylinder is used, which is included in the kit. The power of this fire pit is quite small, only 3000 BTU. However, this amount of heat is enough to fry, for example, marshmallows. You can take a closer look at this model if you are looking for an inexpensive decorative element for your garden or home.
14# Elementi Manhattan Cast Concrete Propane Fire Pit Table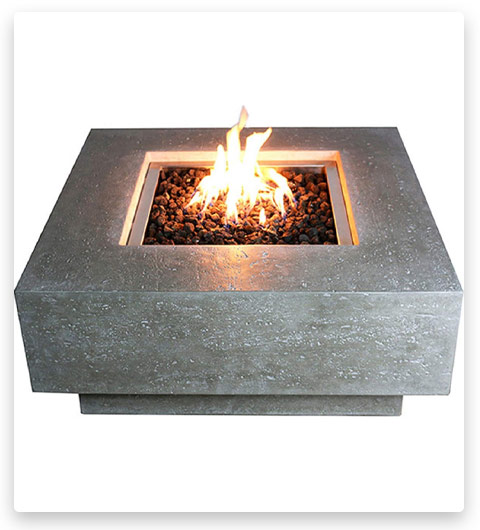 This fire pit has a rather specific color and design. But if you prefer strict cold shades in your yard, then this model will suit you. Sharp corners and elegant gray give this fire pit a certain zest. Of course, this design looks very expensive. The heat capacity of this fire pit is standard-45,000 BTU. This heat will not be enough for very cold areas, but for a warm climate, more is not needed. The dimensions are quite large: 36 inches long and 36 inches wide.
It is worth mentioning the table, which is spacious enough for drinks and dishes. At the same time, the flame is inflated moderately, which will protect your dishes from burning. This model does not provide convenient storage boxes for propane or other items. The table is made of reinforced concrete. This design is very strong and will last you for many years. This fire pit looks good, but it has an average capacity and a fairly high price. Also, this model is low-mobility, since its weight is 165 pounds.
How To Choose The Best Propane Fire Pit Table
Choosing a fire pit that perfectly combines good design, low cost, and high performance is quite a challenge. Therefore, we have compiled a small guide for you to help you make the right and informed choice.
Design. The fire pit table is an item that you will see and use almost every day when going out into the yard. Therefore, buying a beautiful pit that you like is very important. Today, there are so many fire pits in various designs, ranging from a simple metal frame to an elegant wicker style. You should take into account the design of your yard or house, the interior that will surround the fire pit directly affects how it will look in the overall picture. If you do not want to think too much about this issue, it is better to take a universal model – usually black or brown, made of metal. Most often, these pits fit perfectly into any environment.
Power. First of all, the fire pit must fulfill its main task – to warm and give people warmth. On average, a good burner has a capacity of at least 40,000 BTU. The best models have a capacity of 50,000 BTU or more. With these values, you can keep warm even when it is -30 degrees outside. If the fire pit has lower power, it's not necessary to ignore it. If you live in a warm region, you may not need a strong fire. But remember that if you are too hot, you can turn down the powerful burner. And if you are cold and you have a weak burner, you will not light it above the maximum value. Therefore, for cold and harsh winters, it is better to take a more powerful model.
Material. We already talked about materials at the beginning, but it is worth repeating and supplementing. Your fire pit should be made of strong and durable materials. This will give you confidence that the money you spent is well spent and the pit will become a permanent element of your yard. As we said, steel and stone are the best materials, but whatever you like will do as long as it is non-flammable and safe, of course.
Task. And in the end, decide what you need a fire pit for? Are you going to use this as a table or decor item? Or do you want to warm up on cold evenings with the whole family by the fire? Do you want to put a luxurious heavy model with wicker walls in your yard? Or do you need a portable compact camping pit?
By answering these questions for yourself, you will know what kind of fire pit you need and which you will not regret buying.
Conclusion
All the models we have included in the list are excellent choices. Some are more expensive, some are cheaper, but each of them is of excellent quality. We liked the 1# Tacklife Propane Fire Pit Table 28 Inch the most. It has great power, a fairly versatile design, and is very easy to use. Changing gas cylinders or servicing the pit will also not cause difficulties. What we like most is that the material from which the pit is made is resistant to corrosion. This means that the model will serve you for many years and you can enjoy the fire every day. All other options will also be an excellent choice because we have chosen only the best that is currently available on the market. We hope that our article was useful to you. If so, tell your friends about us and share our article. Have a nice rest!
Tags: #propane fire pit table / #fire pit glass wind guard / #fire pit table propane / #round propane fire pit table / #diy propane fire pit table / #patio propane fire pit table / #best propane fire pit table / #best propane gas fire pit table