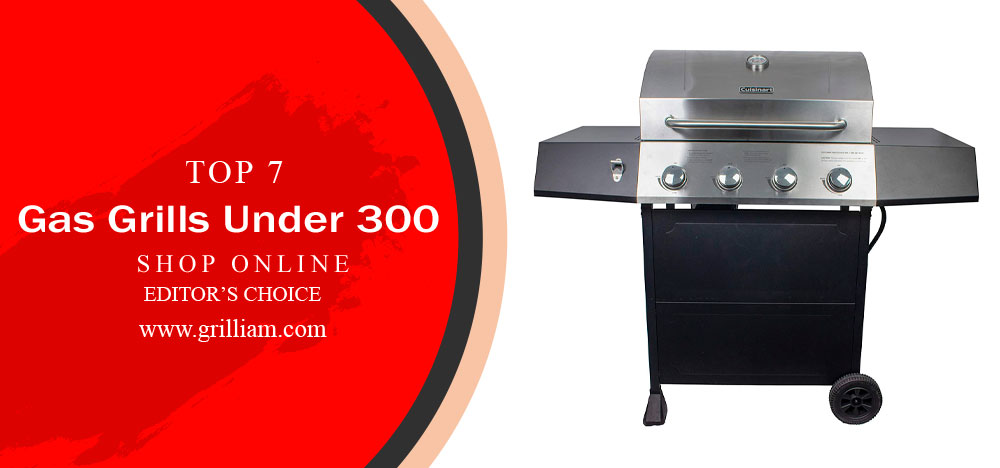 Best Gas Grills Under 300 – Top 7 Detailed Reviews & Top-Rated
In one of the previous articles, I told you about gas grills, why they are so popular, and why they are so convenient to use. Gas grills are very easy to use, that's true. Many beginner grilling lovers start with this type of grill. But the problem is that, usually, when you decide to buy your first grill, you don't want to spend too much money on its purchase.

Everyone has their own reasons for this: someone isn't sure that grilling is a hobby that he'll like, someone wants to start with a gas grill to gain the first experience and switch to another, a more complex type of grill, someone is simply limited on a budget. So, you get the point. So it was with me, it was with many of my friends who began their journey as a griller with a gas grill. Therefore, I decided to save you from this problem and, in this article, we'll talk with you about the best grills up to $300, where you'll definitely like at least one of them. So, let's take a look at these guys!
| Image | Product | Brand | Link |
| --- | --- | --- | --- |
| | Char-Griller E3001 Grillin' Pro 40,800-BTU Gas Grill, Black | Char-Griller | |
| | Weber Q2200 Liquid Propane Grill , Gray | Weber | |
| | Char-Broil Grill2Go X200 Portable TRU-Infrared Liquid Propane Gas Grill | Char-Broil | |
| | Cuisinart CGG-7400 Propane, 54 Inch, Full Size Four-Burner Gas Grill | Cuisinart | |
| | Masterbuilt SH19030819 Propane Tabletop Grill, 1 Burner, Stainless Steel | Masterbuilt | |
| | Fuego F21C-H Element Hinged Propane Gas Grill, Dark Gray | Fuego | |
| | Megamaster 6 Burner 753 Sq. Inch Propane Gas Grill, 720-0983 Black | Megamaster | |
| | Cuisinart CGG-180 CGG180 Propane, 31.5" H x 16.5" W x 16" L, Petit Gourmet Portable Gas Grill with VersaStand, Red | Cuisinart | |
| | Royal Gourmet GG2102 2-Burner Cabinet Liquid Propane Gas Grill, BBQ Outdoor Cooking, Red | Royal Gourmet | |
| | Coleman Gas Grill | Portable Propane Grill | RoadTrip 285 Standup Grill, Black | Coleman | |
| | Char-Broil Classic 360 3-Burner Liquid Propane Gas Grill with Side Burner | Char-Broil | |
| | Char-Broil 463673519 Performance Series 2-Burner Cabinet Liquid Propane Gas Grill, Stainless Steel | Char-Broil | |
Reviews of the 7 Best Gas Grills Under $300

Doing the reviews, I tried to emphasize the variety of manufacturers and chose the best gas grill from each company. Just so that you had a choice in a wide range of manufacturers, and there wasn't much that out of 7 grills, 5 were from Weber, which maybe not everyone likes. Although the Weber grills are very good. So, if you don't see a detailed review of some very popular grill in your opinion, then write about it in the comments, I'll definitely tell you about it.
1# Char-Griller E 3001 Grilling Pro 40 Gas Grill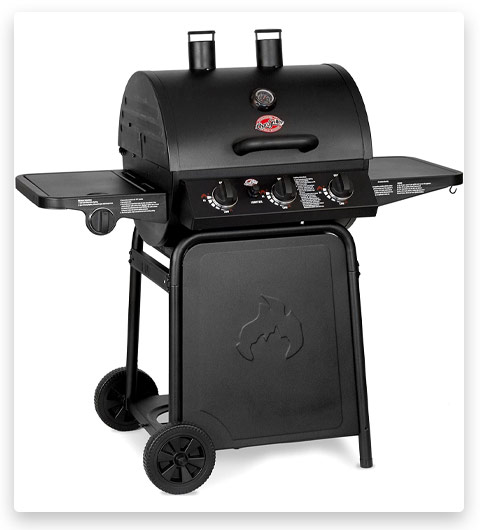 E 3001 has its own unique design. The black body made of durable steel with two chimneys from the start says that this guy is very strong and durable. And since the grill in your house will always be in a prominent place, this is a pretty important parameter. In general, the design is beautiful and aesthetic. But to assembly such beauty you need about 2-3 hours. When we assembled it with a friend, we spent about 2 hours on it because the instructions are not very clear and detailed.
Regarding the movement, it's very easy to roll thanks to the huge durable plastic wheels. Usually, much smaller wheels are placed on gas grills. You'll never feel the instability or the feeling that the grill is about to fall while moving with E3001. The grill is quite durable and with constant use and proper care, it will serve you for several years. But note that steel is not resistant to corrosion. This means that you shouldn't leave the grill in the rain for a long time. Otherwise, after 5-6 months, it'll begin to rust.
The best indicator of a long life is the warranty period. The manufacturer gives you a 5-year warranty, which is very comfortable. Especially considering that other grills have a guarantee for 1-2 years or even less. The design and body are made to a high standard, but what about cooking meat? In general, the E3001 provides a good uniform and constant distribution of heat within. The lid heats and cools quickly and well enough, but still a little worse than a similar grill from Weber (Spirit II for example). It takes a few minutes to adjust the flame on this grill. Otherwise, flare-ups occur, especially when cooking burgers and hot dogs. But as soon as you do this, cooking will go smoothly.
Char-Griller has an average cooking area, but this will be enough to accommodate about 10 burgers. If you don't cook dinner for 15 people, then 438 square inches will be more than enough to feed a family or a small party. Also included is a 12,000 BTU side burner for cooking vegetables or a side dish, so all your meals will be ready at once. The main burner can produce up to 40,800 BTU. The biggest difficulty in this grill is the assembly. You'll have to spend a couple of hours before you start using it. But believe me, it's worth it. The grill is very easy to move, made of high-quality and durable materials, it retains and creates heat well, and is also equipped with an excellent side burner. If you're going to start with this unit, then this is your best choice.
The price of the grill E3001 is about $200.
Key Features:
438 sq. inches cooking area
Cast-iron grates
Durable steel body
12 000 BTU side burner and 40 800 BTU main burner
48 x 28 x 48-inch size
192 sq. inches warming rack
2# Weber Q2200 Liquid Propane Gas Grill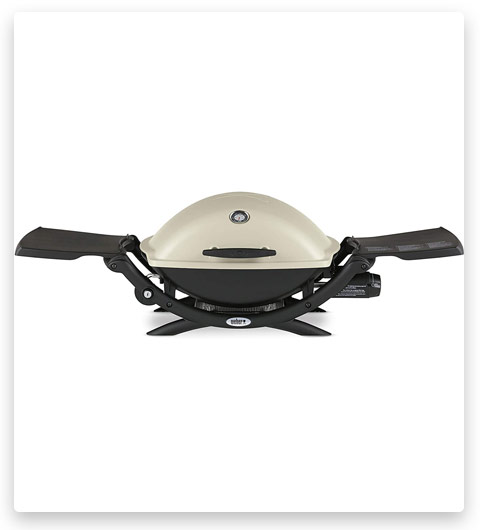 Another popular series of grills is Weber products. This company has gained popularity due to its high-quality and inexpensive products. The main feature of this grill is its compactness and lightweight. You can barbecue not only at home but also in the forest or on a picnic. The size of the grill is only 25 x 51 x 26 inches. The grill weighs 42.5 pounds or 20 kg. Not a feather, but it's quite possible to carry in hands.
You don't need to waste time assembling because the grill comes ready. All you'll need to do is change propane bottles from time to time. But to put a 14.1 or 16.4 oz. a bottle you don't need much time. The cooking surface, like the grill itself, is also not very large – only 280 square inches. The ad video shows that the grill can accommodate 12 burgers. But in fact, it'll fit around 7-8. But the cover is very well made. It evenly distributes heat inside the grill and is high enough that it allows you to place a small turkey or a chicken inside. Furthermore, I even cooked eggs on it a couple of times, you just need to find a suitable frying pan for this.
The design is minimalistic and elegant. The lower part is always black, but in the upper part, you can choose from 3 colors: gray (the most frequent), red, and black. Enlarged handles make it easy to move the grill from one place to another, even during operation. I also note that there is an electronic ignition function, side tables that are laid out, and a built-in thermometer on the top lid. It's also equipped with a burner control valve and regulates the flame fairly quickly, making it even. On the bottom is a container for ash, which you can simply shake and discard.
The grill is quite durable and many users say that this is the best grill they have had. Although at first glance it may seem that the Q2200 is made of plastic, in fact, it's cast enameled aluminum. Although it has been able to withstand water for a long time due to the enamel layer, I still don't recommend leaving it in the rain for a long time. The price of the Weber Q2200 is about $ 270. I think that this is a very tasty price, given its compactness, productivity, functionality, and quality of materials.
Key features:
Cast-iron body and grates
280 sq. inches total cooking area
Size: 25 x 51 x 26 inches
43.7-pound weight
It uses 14.1 or 16.4 gas cans
12 000 BTU main burner
3# Char-Broil X200 Liquid Propane Gas Grill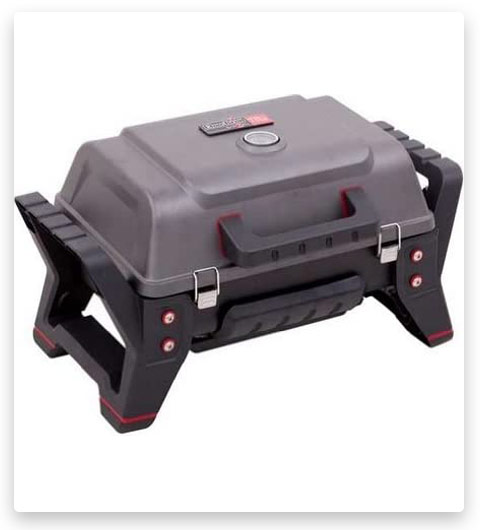 I used to think that Char-Griller and Char-Broil are different branches of the same company. But it turned out that no. So, do not confuse these brands. This is also a compact portable grill, like the Weber grill, but this model is much cheaper. Although it has a not-so-smooth and elastic look. But let's see how good it is. Char-Broil has a harsh and durable cast aluminum look. But despite its external bulkiness, it's not so large: 23 x 15 x 13 inches and weighs only 20 pounds. The grill is very small, so it even fits in a sports bag.
But if everything is fine with the appearance and packaging, then with cooking meat and work some troubles can arise. The device has very limited temperature control and works very hot even at low settings. And although the manufacturer claims that the grille eliminates flashes of fire, this is far from the case. The small size of the grill leads to its heating and even the handles are sometimes hot. I also recommend attaching cans of propane only during grilling, and then immediately disconnect the can. Because many of my friends and other users had leaks in the regulators. But despite all these shortcomings, the grill is very well designed and has great potential. You can cook meat, burgers, or vegetables, even on a small surface of 200 square inches.
The main grill burner can generate up to 9,500 BTUs almost instantly. The speed of heating and cooling is one of the main advantages of Char-Broil x200. The grill is also equipped with an ignition button and a built-in thermometer on the lid. The most important thing that makes this grill stand out is its price. Excluding the case and the additional warranty, it costs only $ 100. I think that you'll also like the fact that the grill doesn't require special gas cans and works from the usual 1 pound can. Despite all the shortcomings, this gas grill is very good in terms of assembly and compactness. I'd recommend it as a budget replacement for Weber Q2200.
Key Features:
200 sq. inches cooking area
Demands: 23 x 15 x 13 inches
20-pound weight
Stainless steel grates
Cast aluminum body
9,500 BTU gas burner 
4# Cuisinart CCG-7400 Four-Burner Full Size Gas Grill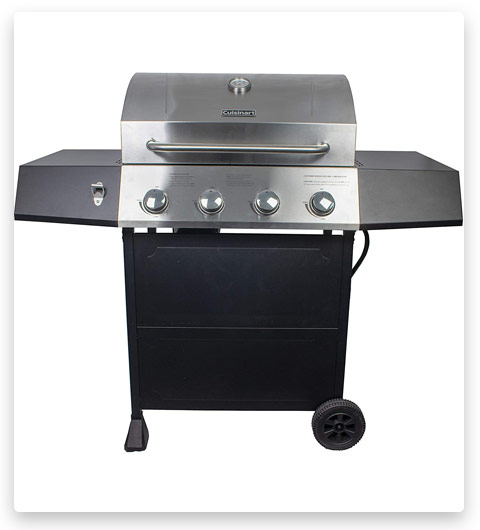 So, now let's talk about less popular, but no less high-quality brands of gas grills. I've never bought products from this manufacturer before, but many of my friends say that Cuisinart is strong and durable. Besides, the rating on Amazon speaks for itself. The main feature of the grill that people buy is the large cooking surface of 443 square inches. However, this is not the only remarkable feature that the grill is equipped with.
The CCG-7400 is equipped with four gas burners with a power of 11,000 BTU each. In total, you get 44,000 BTU, which is quite a lot for almost any type of meat. As I said, in conjunction with such a huge surface of 443 inches on the surface and 67 inches on the heating rack, this allows you to make lots of a large number of burgers or hot dogs or place several steaks on the grill. Basically, this grill is designed for large meetings.
With the distribution of heat, the grill is also doing well. It's equipped with cast-iron cooking grates. And such material as cast iron distributes heat very evenly and becomes seasoned over time. Such grates very rarely need to be replaced. But remember that this is a rather "dirty" material that needs to be cleaned every time after use. Also, cast-iron grates are very susceptible to rust, so you have to save them from water. Dry the grates after every cleaning.
Of course, such a grill cannot be equipped with side tables. They are quite roomy and measure 18 x 13 inches. By the way, burners can be used by setting each temperature mode. This means that on the one you can fry the steak, on the other a hamburger, and on the third set the low mode and let the steak "reach" and become juicier. There are many options with which you can experiment. The grill is made of stainless steel and you can even leave it outside in the rain. Burners handle, and the body will survive this and will continue to operate normally. Moreover, the grill trolley is covered with a layer of enamel and does not require special care.
It remains only to say about the functionality. The grill is equipped with four burners with which you can ignite the grill. At the top is a built-in thermometer that shows the temperature quite accurately. Trolley wheels are similar to Char-Griller E 3001 and are equally durable and stable. During the movement, there's no feeling that the grill isn't stable. This is a very high-quality grill, and actually, for a very long time I chose which of the two grills to put first on the list – Char-Griller or Cuisinart. In general, if you need a premium gas grill, then you should definitely take a look at this model.
Key Features:
Four 11,000 BTU gas burners
443 sq. inches cooking area
Stainless steel body
Cast-iron grates
18 x 13-inch side tables 
5# Masterbuilt Smoke Hollow PT300B Propane Grill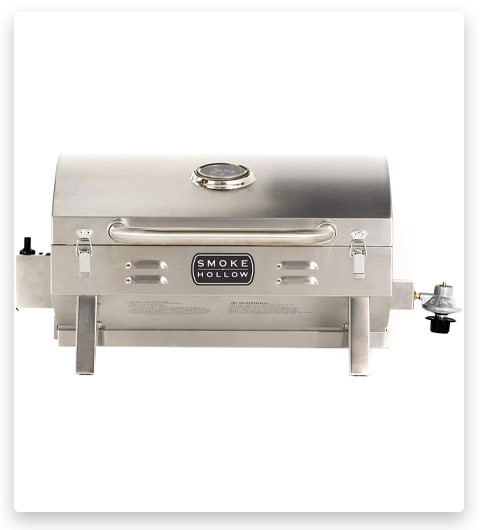 Masterbuilt is designed for a 1-pound gas can and doesn't require special gas cans for work. The grill is equipped with one U-shaped stainless steel burner with a power of 10,000 BTU. The cooking surface is not so big – only about 205 square inches. But this will be enough to fit 4 steaks or 7-8 burgers. For such a small size, the burner is very powerful and can reach very high heating temperatures.
Also, you can use a warming rack measuring 100 inches. In combination with the main surface, you can cook vegetables on a rack at the same time as steaks in the main zone. But the grill is equipped with only 1 burner, so you can create only 1 heating zone when cooking, unlike the previous model. Most tabletop grills have short and narrow legs, which leads to an unstable position and sometimes falls. Smoke Hollow PT300B is equipped with wide and folding legs, which provides a very stable grill and position.
An accurate built-in thermometer is installed here, showing the temperature and a pan for grease and drops collected from the meat. So cleaning and temperature control in this grill is a very simple task. In general, this is a rather small grill with dimensions of 27 x 17 x 12 inches, which will satisfy all the needs of the grill. The grill material can withstand the effects of water, and a powerful burner and built-in thermometer allow you to achieve maximum control over the meat. Besides, it's very inexpensive and costs only about $ 100.
Key Features:
Stainless steel construction
205 sq. inch cooking surface
100 sq. inch warming rack
1 U-shaped main burner with 10,000 BTU
Weighs 21 lbs.
6# Fuego Element F21C-H Gas Grill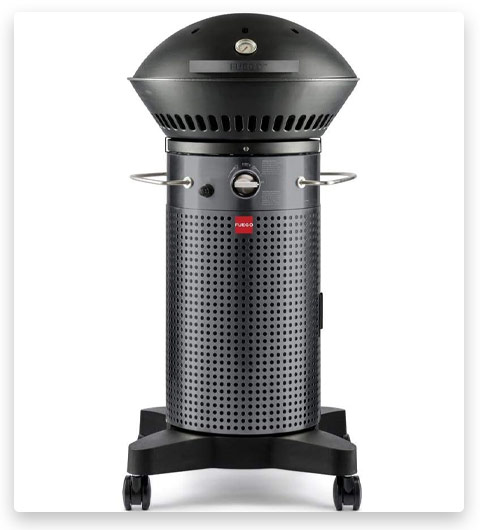 This is perhaps the most compact gas grill that is not desktop or portable by definition. Fuego weighs 72 pounds or 45 kilograms, but thanks to the 4 wheels at the bottom, it feels very light but not very stable on the ground. Honestly, the transportation feels so easy as if you were rolling an office chair over the ground and not a 72-pound grill. The grill itself consists of only a few parts (about 10) and its assembly is about 30-40 minutes. You only need a screwdriver and a bit of dexterity. If your assembly it together with someone, then it can take you 20 minutes or less. The package includes an AA battery ignition button, a built-in thermometer, and the case itself.
Problems can only occur with the door in front of the gas bottle. Personally, my lower magnet, unlike the upper one, didn't completely tighten the door and a small gap appeared. But this is not such a big problem. Initially, you can choose cast iron or stainless steel grill material. I personally chose stainless steel and didn't regret it. But users who chose cast iron often reported that it began to rust after exposure to water.
The coolest thing is that with such a small area you get just a huge cooking area – as much as 346 square inches! It will fit 12 burgers, 6-7 steaks, and even average pizza. So this is definitely a plus. Now let's move on to grilling. Fuego may have a large number of burgers, but does he cook them well? In short, yes. The metal handle allows you to adjust the flame from two gas pipes or from a large outer ring. So with the zones of direct and indirect heating, everything is in order. Each burner can reach a capacity of 11,000 BTUs.
The only sad thing is that cleaning the grill takes quite a while. I had to set the grill at full power for 10-15 minutes, and after cooling, clean it with a brush with soapy water. If you're looking for a grill that can be placed even in the smallest garden or garage, and which perfectly feeds a fairly large group of people, then this is definitely your choice. Such a beast costs a little more than $ 250, which is a very, very attractive price for such performance.
Key Features:
Weighs 72 lbs.
346 sq. inch cooking area
Cast-iron or stainless steel construction
11,000 BTU main burners
Dimension 21 x 21 inch 
7# Megamaster 720-0983 Propane Gas Grill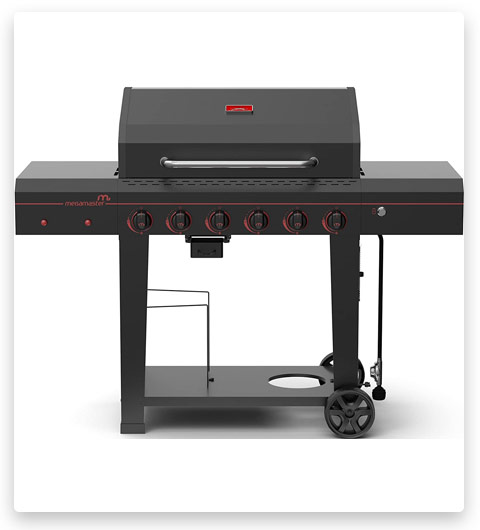 If you dream about the ability to regulate the flame as much as possible, then with Megamaster you can achieve this. After all, there are already installed 6 gas burners with a total power of 54,000 BTU. The grill is quite large and made of stainless steel apart from the cooking surface. The cooking grids are made of enameled cast iron, which allows heat to be distributed evenly. The Megamaster has the largest cooking surface of all grills on this list – 543 square inches. This is enough to place about 16 burgers or 8-9 steaks. Basically, such grills are chosen by fans of large parties when you need to feed a lot of people.
Moreover, there is a warming rack with a total area of ​​210 square inches on which you can cook vegetables with a serving of meat. Like many stationary gas grills, the Megamaster is equipped with two strong wheels at the bottom, a hole for the tank, and a tank locker. This is a very convenient feature to install your gas bottle firmly and reliably.
Not only the cooking surface has a large size, but also the side tables. They are really huge, and you can cut or peel almost any product on them. Also, they are great for storing kitchen tools or something else. Besides, the grill has a very accurate built-in thermometer, which allows you to monitor the temperature during cooking. Of course, as in most high-quality grills, there is a function of electronic ignition. Although the cooking grates are made of cast iron, which requires a long and difficult cleaning, they are covered with enamel, so you won't have any problems with the process of cleaning the grates. This model even comes with porcelain tamers to protect gas burners. But also I noted two minuses.
First. Side tables don't fold and don't separate, so you need a large place to store the grill. If saving space is the key parameter you need, it's better to look at a small (Fuego F21C-H) or portable grill (Weber Q2200). Second. The grill is equipped with an excellent 6 main gas burners, but it doesn't have a side burner. So, for fans of side burners, such a model is also not suitable. But in general, if you put a priority on a large cooking surface and precise control of temperature zones, then this is the item that you should look at. The price of a grill is about $ 225, excluding expert assembly.
Key Features:
Cooking area 543 sq. inch
210 sq. inch warming rack
6 main gas burners
Power 54,000 BTU
Electronic ignition
Stainless steel body
Cast-iron enameled grates
Dimensions: 59 x 23 x 46 inches 
How Gas Grills Differ From Others?

This is a very old question that has been asked more than once and I am sure will be asked more than once. Let me quickly explain to you what's what. When you cook food on charcoal, you get the flavor of wood chips, which saturates all the meat. Because of this, the meat takes on a more "smoky" taste.
The gas grill is equipped with ceramic or metal grates that cover the flame. Besides, gas doesn't produce as much smoke as burning coal. On the other hand, a gas grill produces more steam, which impregnates the meat and makes it more "juicy"
This is about taste. Now let's talk about cooking time and other features. A charcoal grill requires much more time to heat up. This may delay your meal a little.

On the contrary, the gas grill heats up very quickly. The average time of all my gas grills that I had was about 10-15 minutes. You don't need to constantly monitor the temperature in the gas grill, because it supports the temperature itself, unlike a charcoal grill. Moreover, you can even control the temperature in the gas grill. When you start using a propane gas grill, you'll understand when you need a lower or higher temperature. The third advantage is that you can use the gas grill when it rains or snows.
Gas grills are easier to clean than charcoal grills. Because gas doesn't leave black traces on the surface and doesn't burn. The only problem you may encounter when cleaning gas grills is burnt meat or other products. Gas grill manufacturers often sell their products with several accessories. This may include side burners, lighting and kitchen tools, storage racks, and even bottle openers. Thanks to this feature, many grillers prefer gas grills.
Gas grilling is much safer than using charcoal. Parts of hot coal can burn your hand, and in the wind, non-extinguished coal can even ignite. The disadvantage of gas grills is that they are more expensive than most coal grills. If you don't want to spend a lot on the grill and love the smell of wood chips on the meat, then take charcoal grills. If you need maximum benefit, comfort, and safety, then the gas grill is definitely a favorite here.
What Can I Expect From A Gas Grill For Less Than $300?

The best representatives of gas grills, such as Weber Spirit II E-210 or Dyna-Glo Smart Space, don't differ much from a good grill for $250-300. Yes, they have a little more precise temperature control, a better construction quality, and there are some accessories from manufacturers. But overall, the difference of $ 50 between the two grills isn't so much felt. For example, the only difference between Weber II and Char-Griller E 3001 Grilling Pro 40 Gas Grill in our list is that Weber has a mobile app to monitor the cooking process. The rest is almost the same grills.
Of course, when you buy a grill for $ 70-100, then you definitely won't get the best quality overall. You may have flare-ups or a side burner missing, but these aren't such big problems. But if you take a grill in the middle price segment for $ 200-250, then I assure you that for 1-2 years it'll work like a clock. And it almost won't differ from more expensive models.
Ultra-low-cost grills are needed mainly to try yourself in grilling or specifically to experience a gas grill. And when this hobby develops into a more serious one, then it's time to think about buying a more expensive grill. In these reviews, I tried to collect the best grills from various manufacturers, so that you had a choice from the widest possible range and everyone could find something for themselves. And so that it doesn't go beyond our budget.

Frequently Asked Questions About Gas Grills
Tags: #best gas grills under 300 / #best gas grills under $300 / #best propane gas grills under $300 / #best rated gas grills under 300 / #best natural gas grills under 300